We were so in need of a relaxing, sunny family holiday and Corfu seemed to tick most of those boxes, so off we went for a (non-sponsored) 10-day trip. 😉
We flew from Charleroi Brussels South Airport and it's approximately a two-hour flight.
Let me share my '9 things to do… in Corfu!' with you all today:
Hopefully it can inspire you.
1. Stroll through charming Corfu town
Corfu Town is the capital of the island and is especially charming and romantic in the oldest parts of town.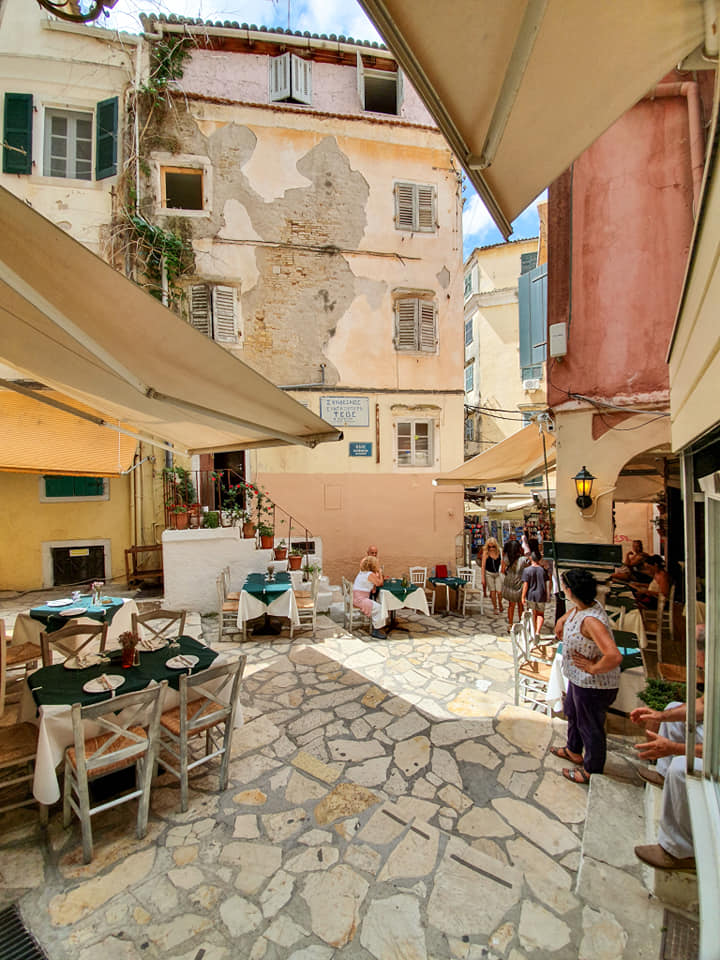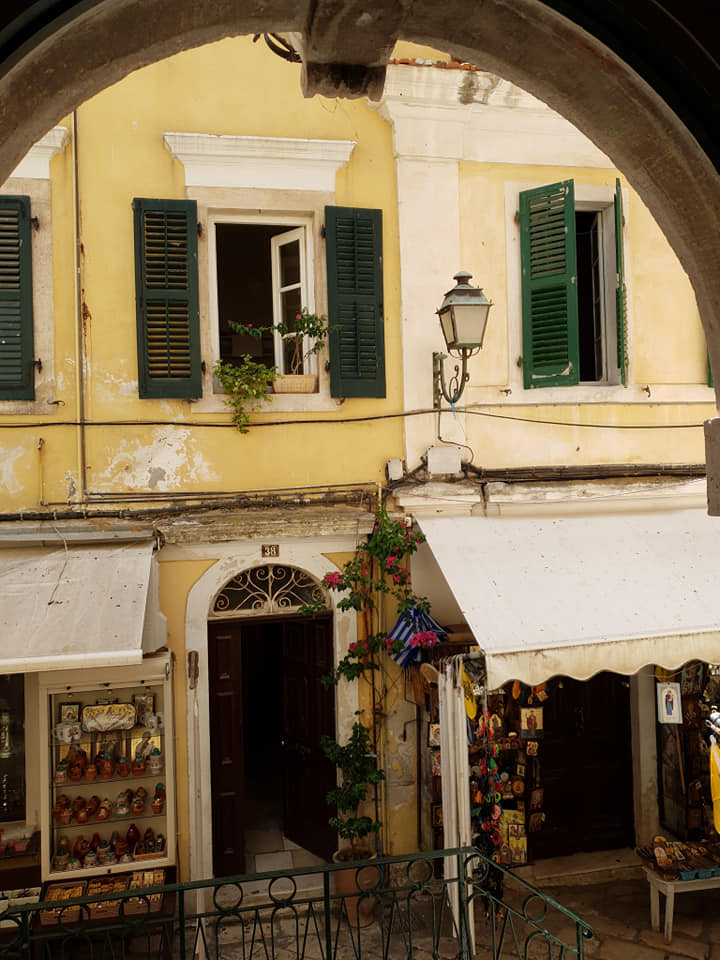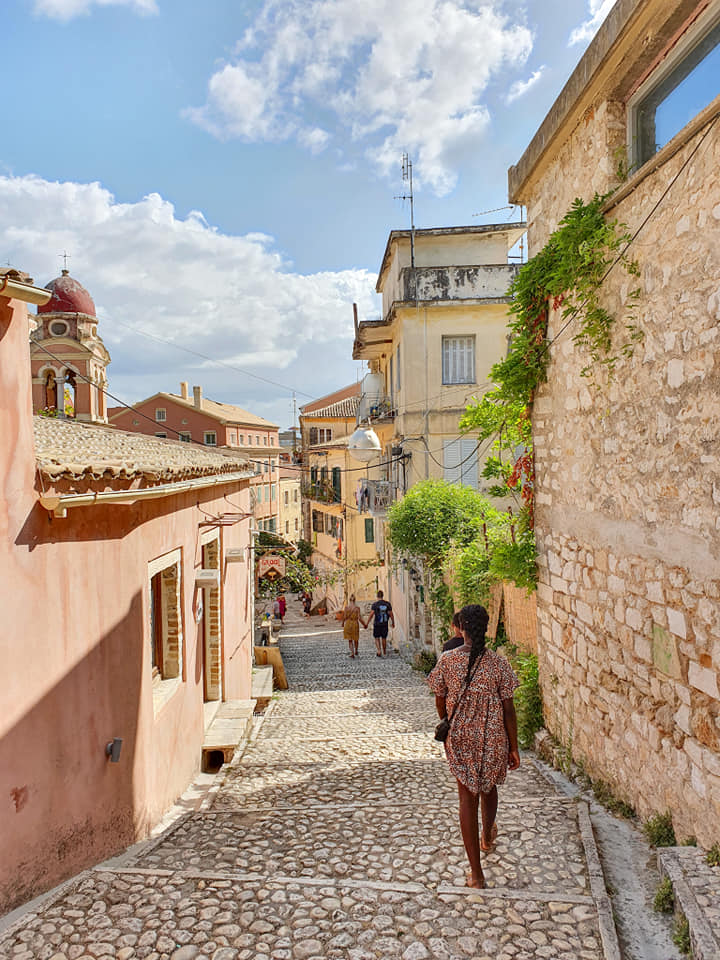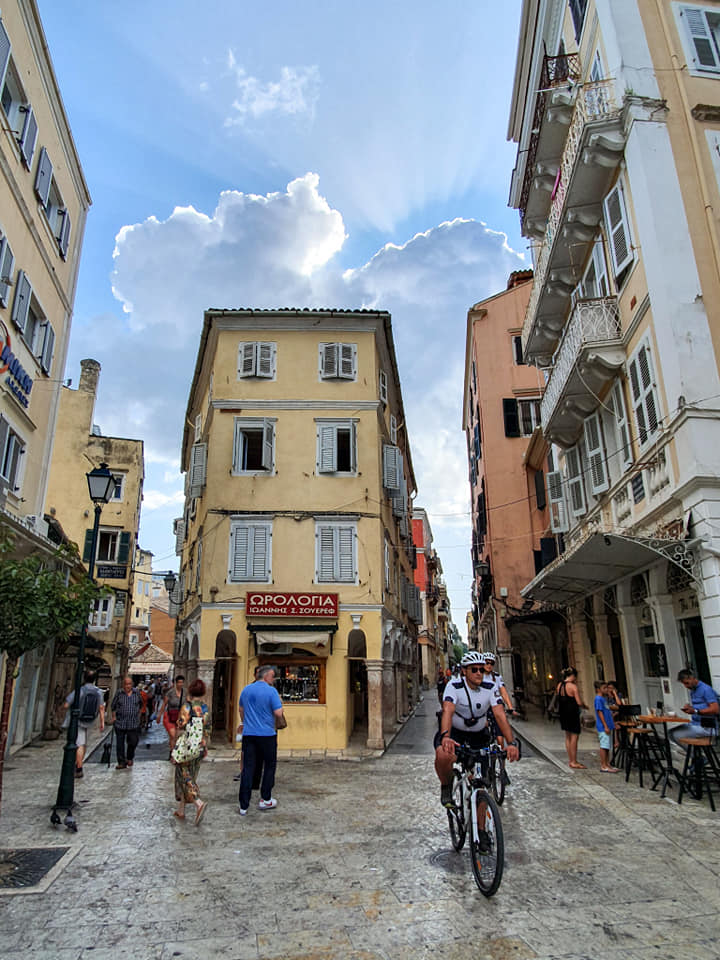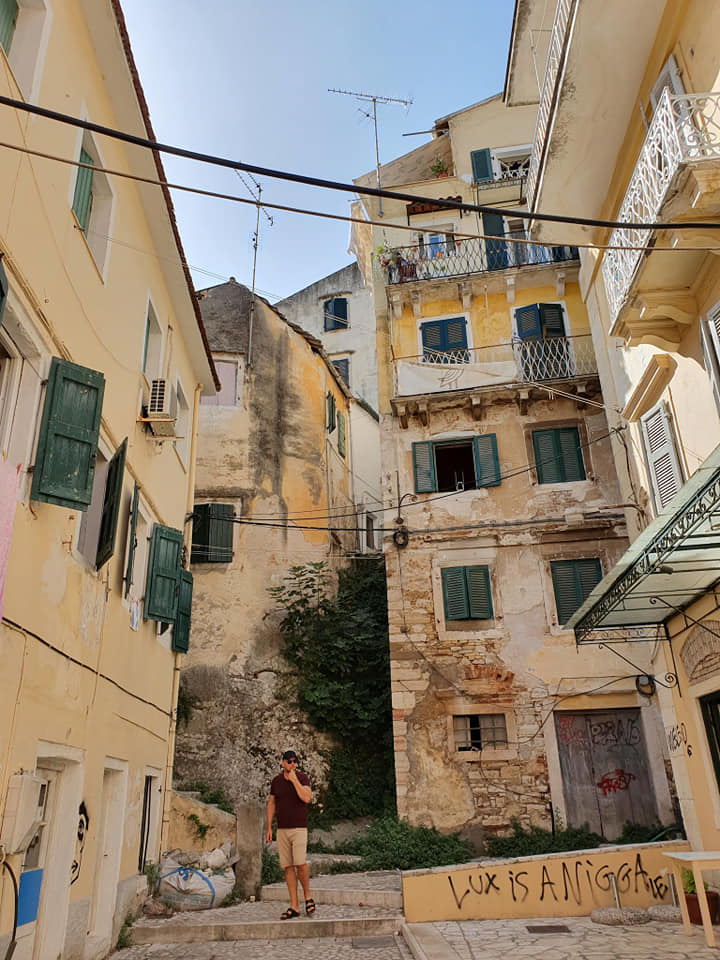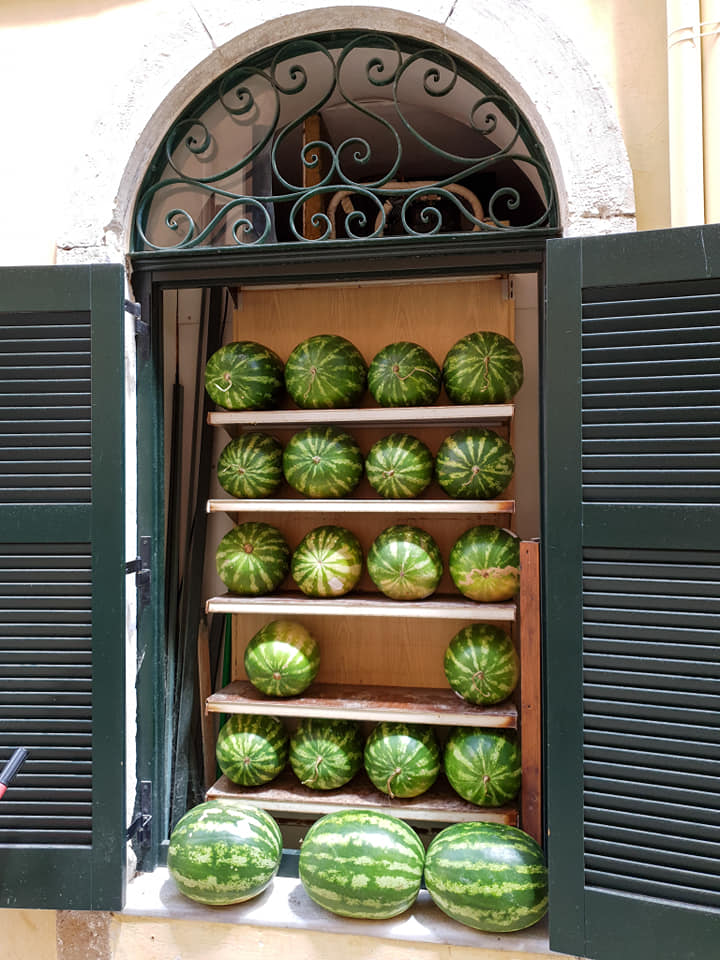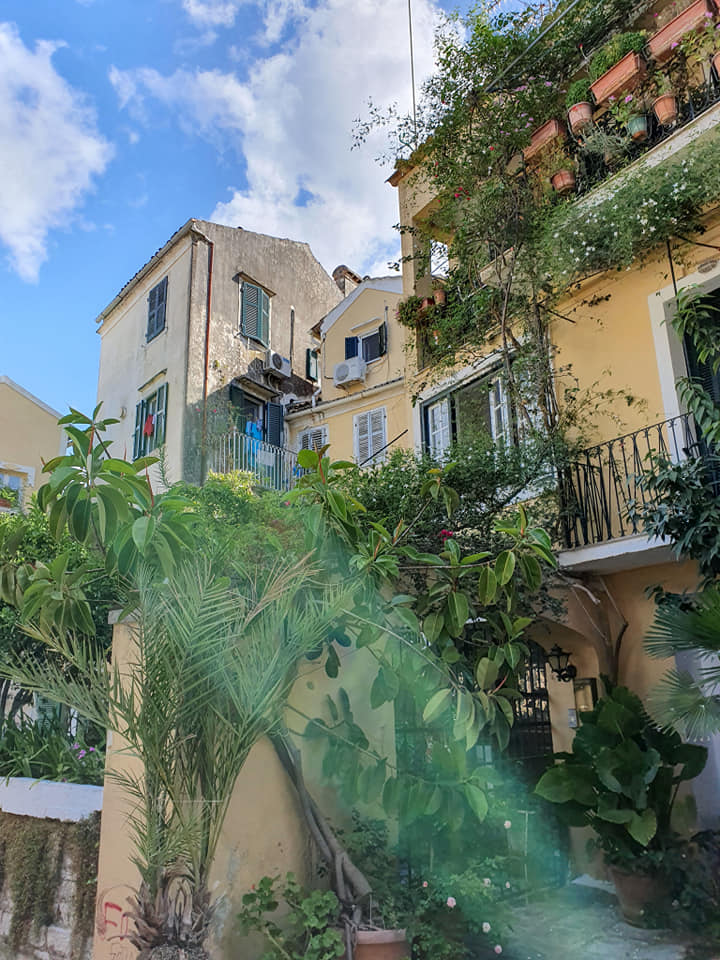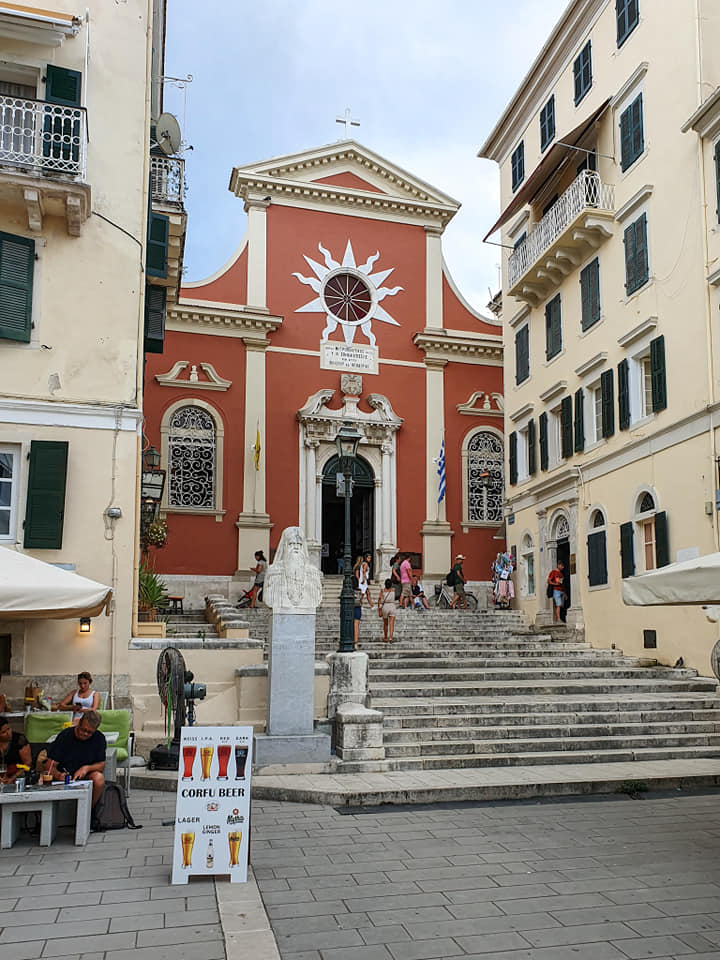 It is a perfect example of ancient Venetian and Byzantine style and is made up of little streets with local shops and tavernas.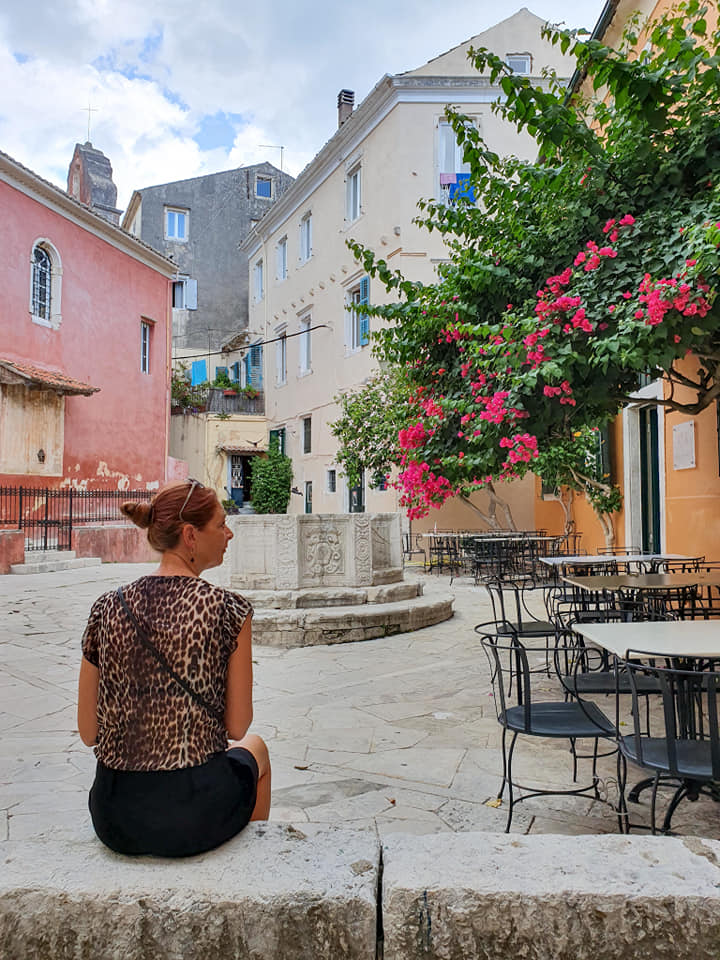 The Liston is an arched stone colonnade modelled on the Rue de Rivoli in Paris.
Make sure to pop by the local market for some fresh honey or some sardines to grill.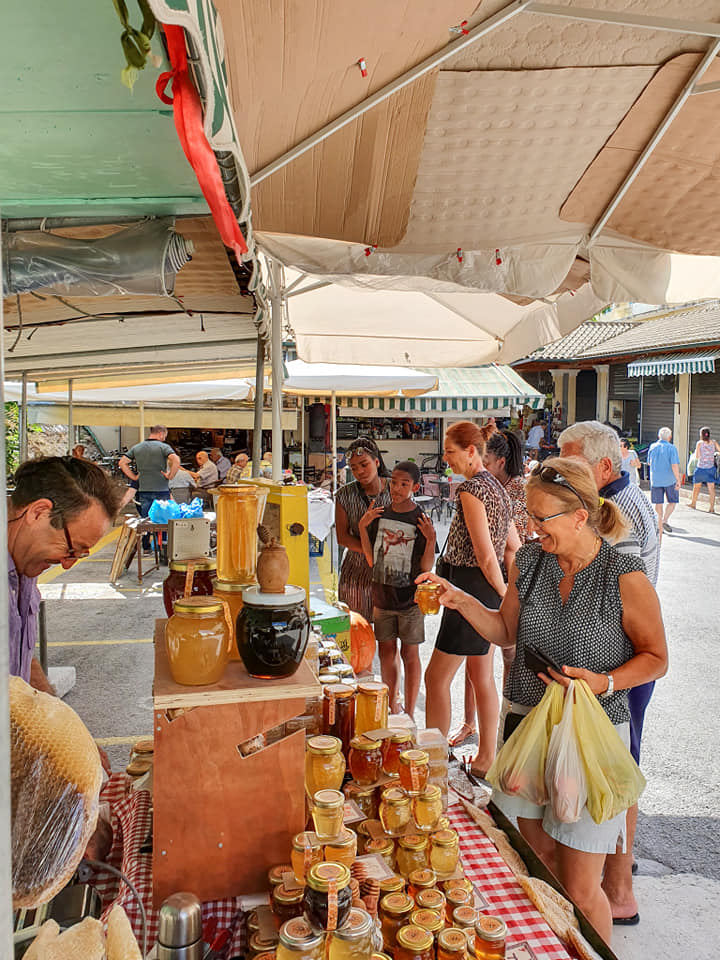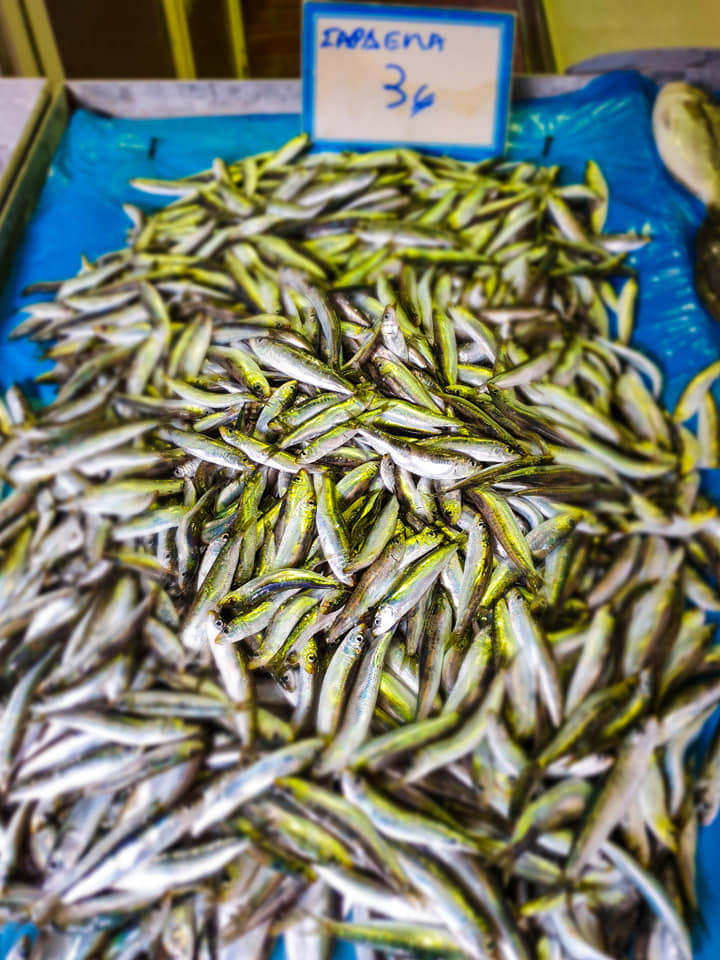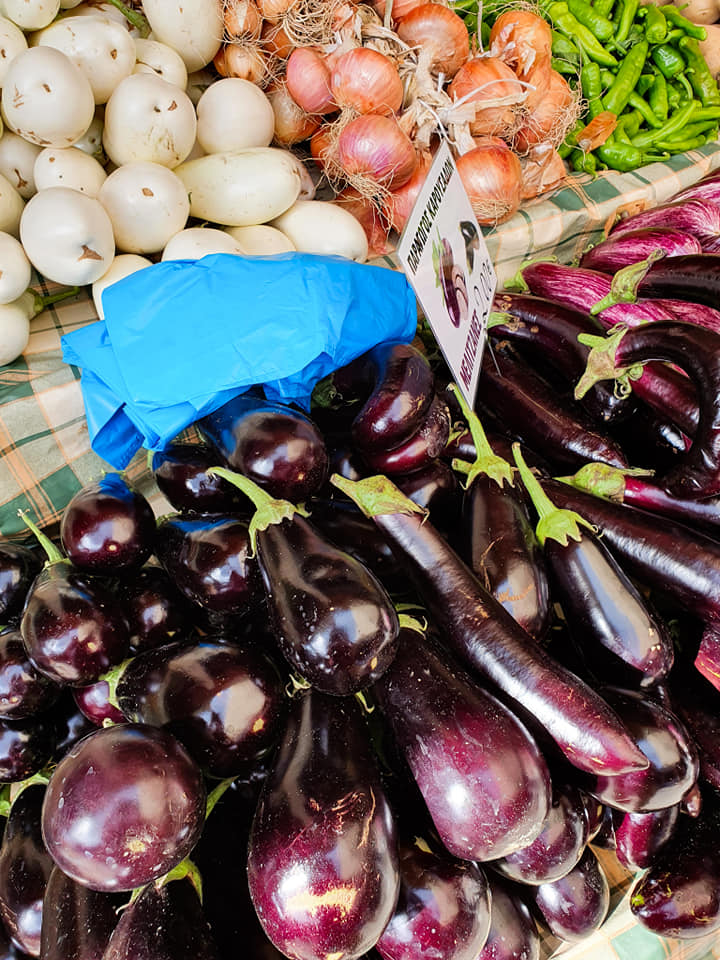 The town is surrounded by the sea and in between two fortresses which you can visit. We went up to the old fortress just before sunset and that was quite magical.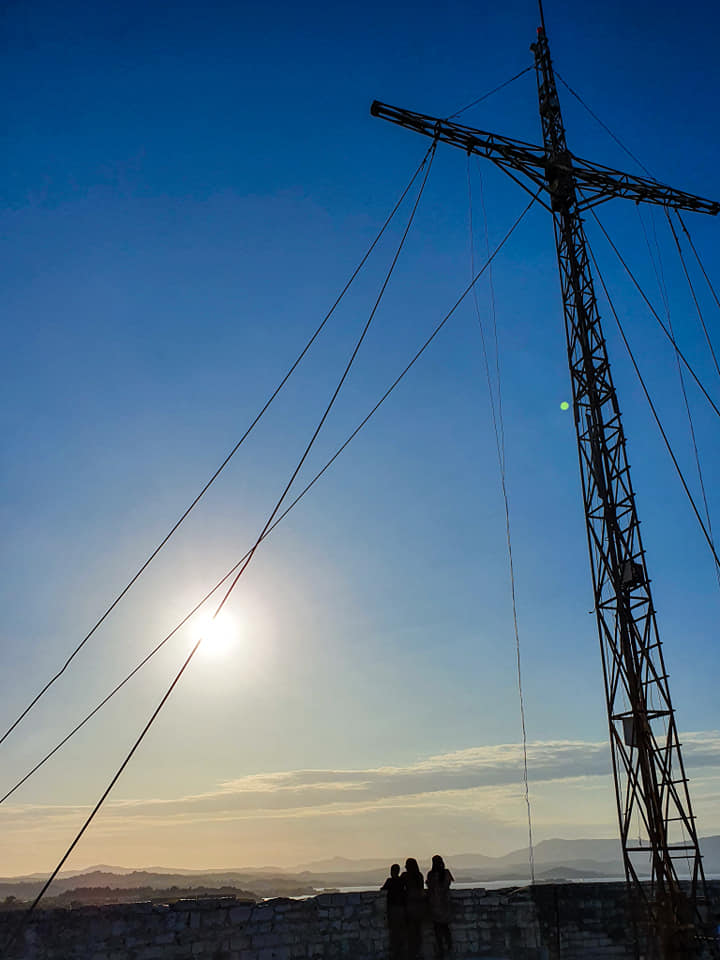 It even has its own seaside lounge bar at Falaraki' called Imabari, which we loved going to for a drink and a swim.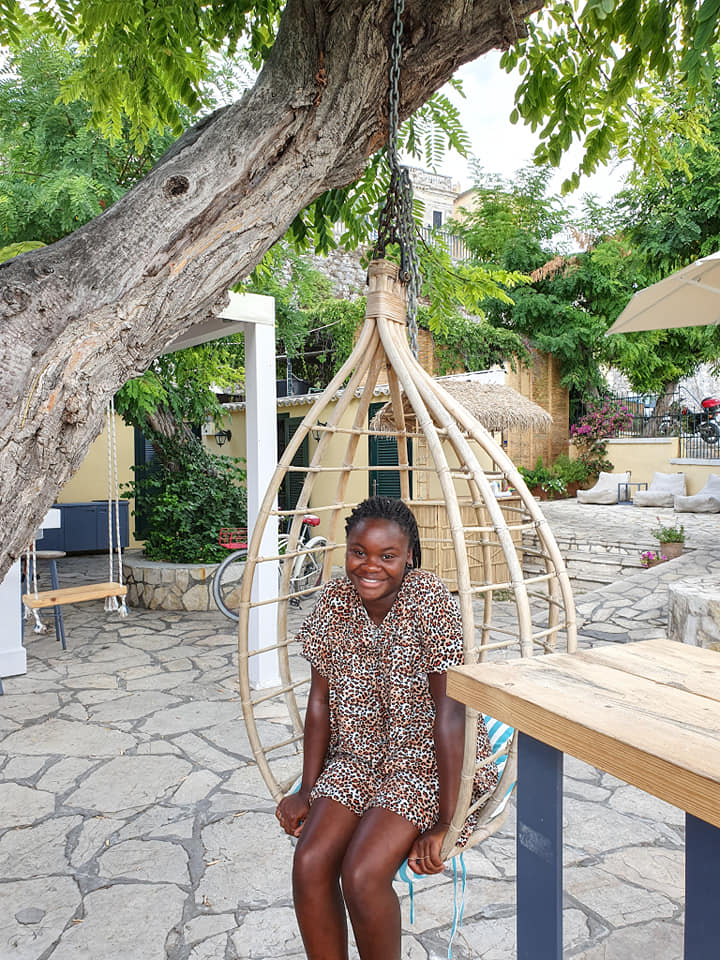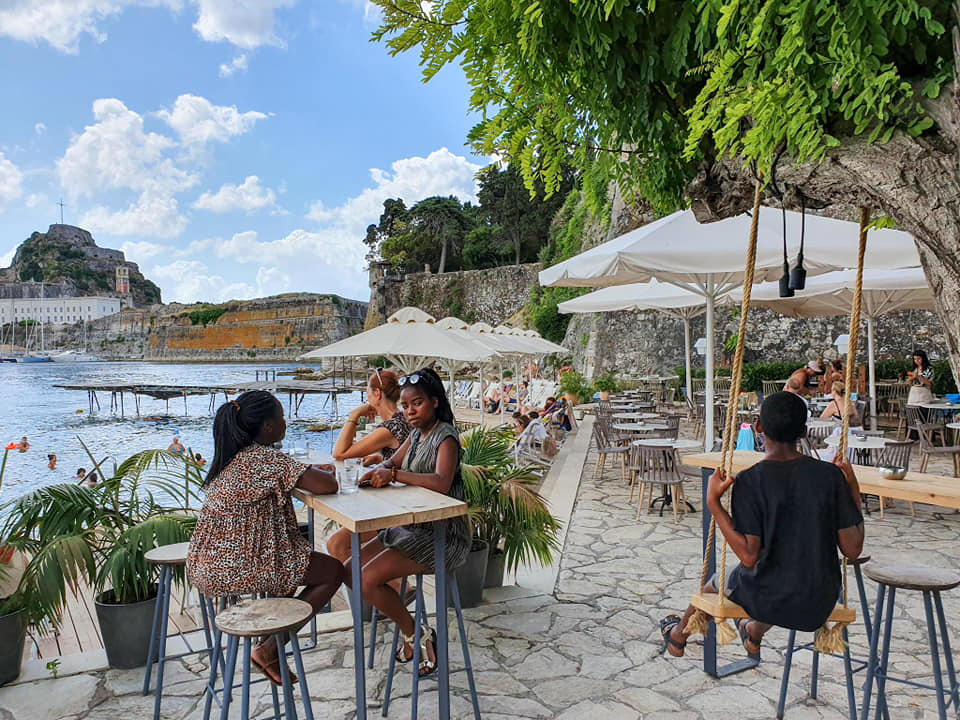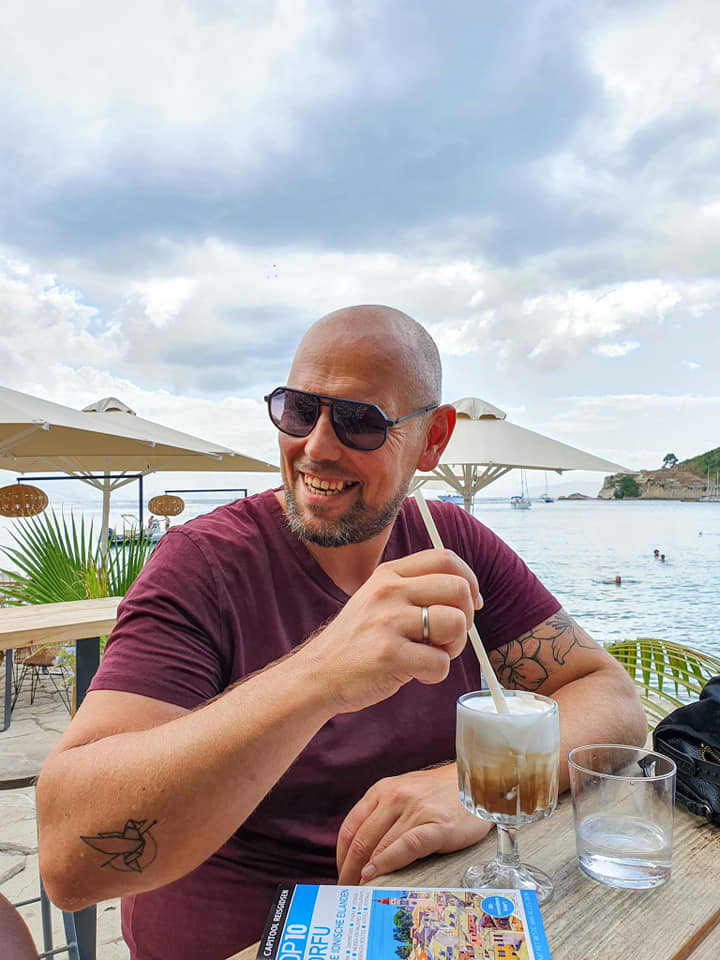 Corfu Town can get busy in summer, but is so worth your visit!
2. Explore Lake Korission and the Bioporos organic farm
One day we drove south and explored the region around the beautiful lagoon Korission.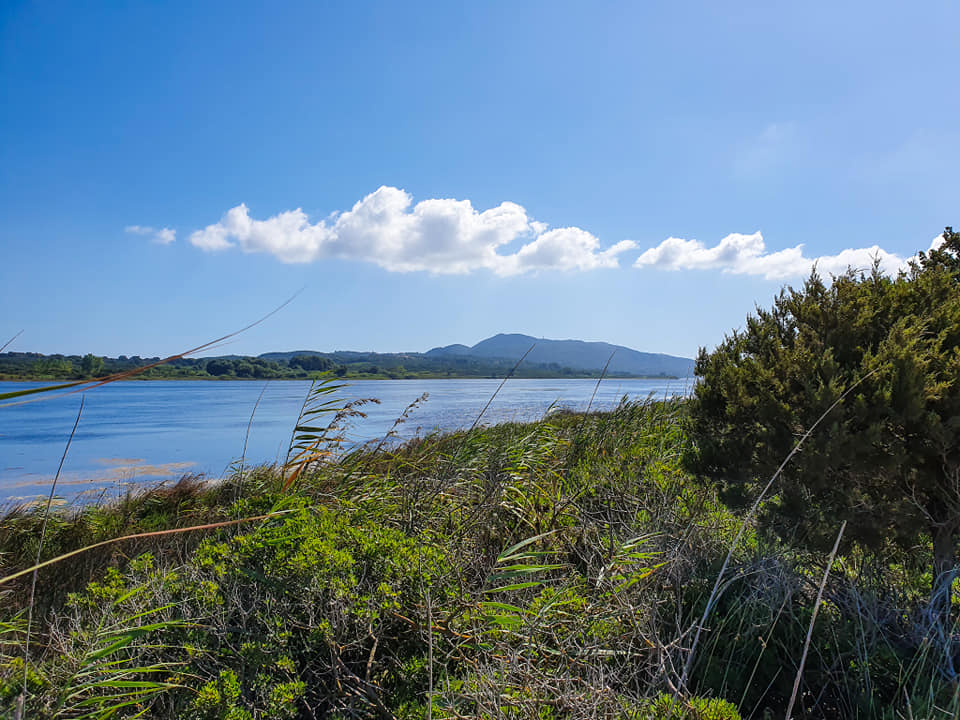 There is a popular small stretch of sandy beach between the lagoon and the sea where we first spent a couple of hours.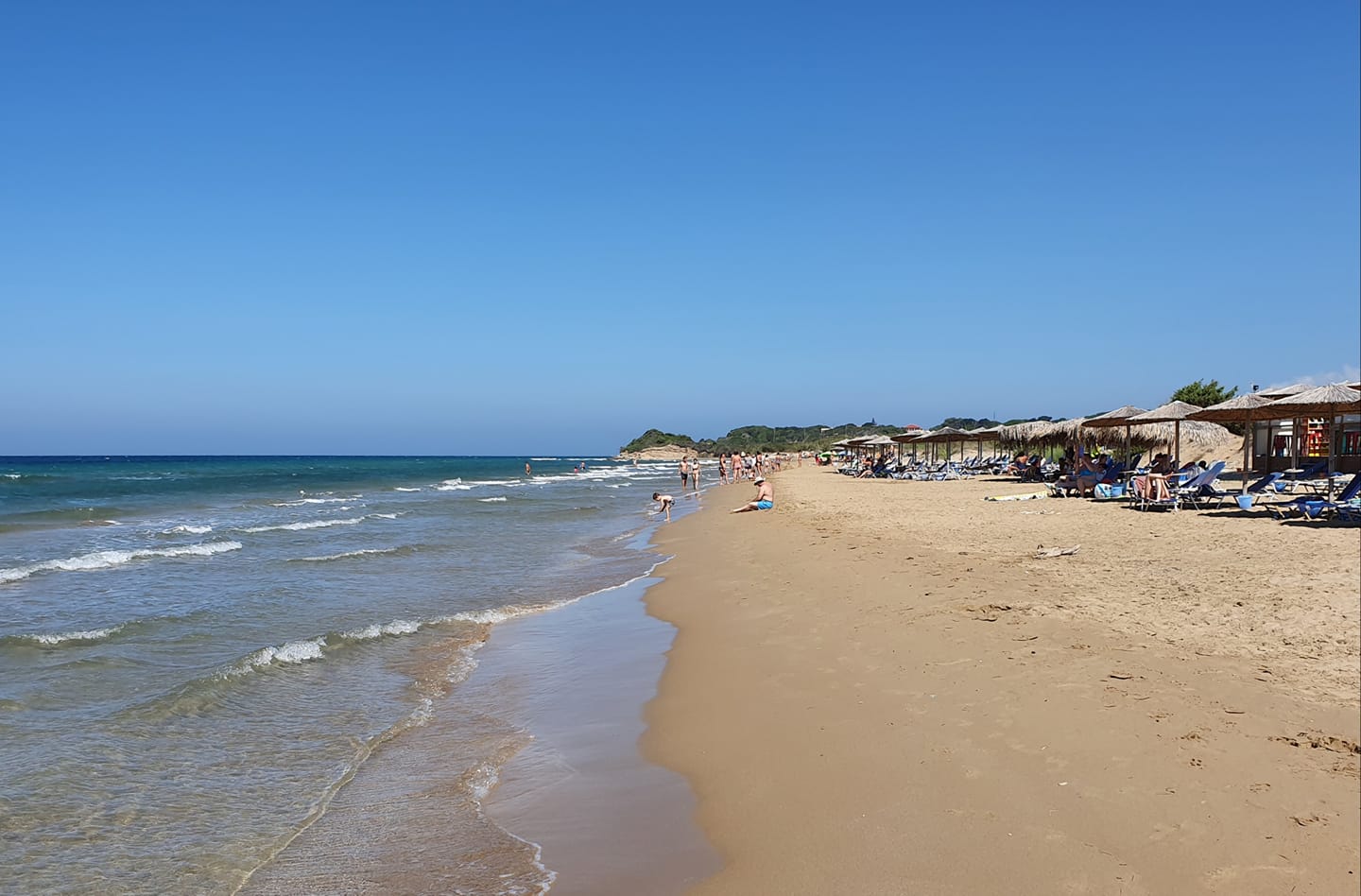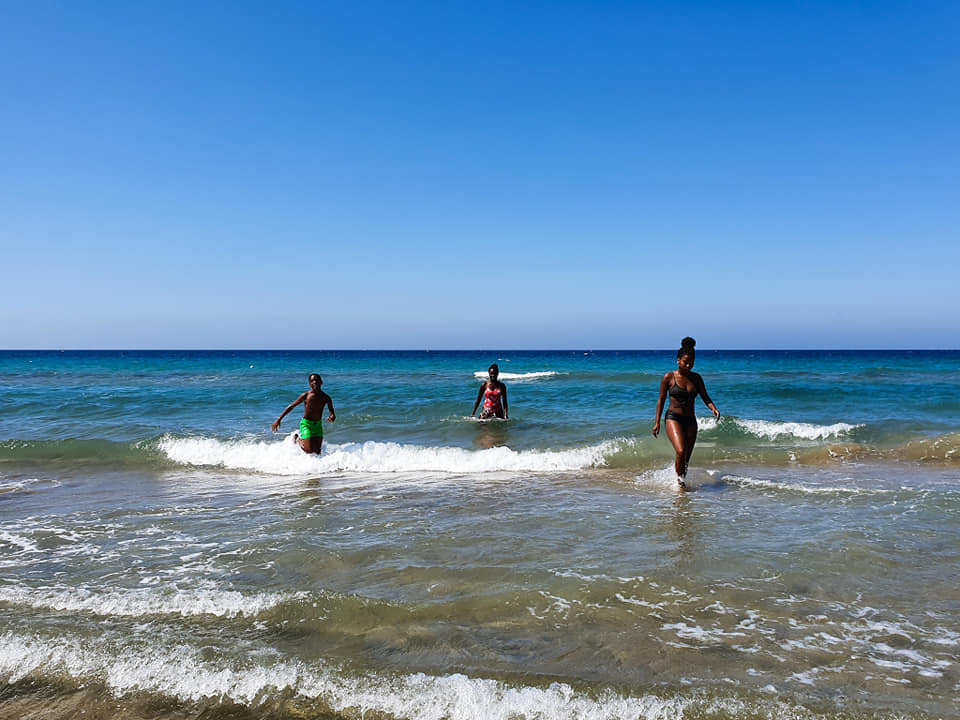 Just behind the lagoon you can find the Bioporos farm.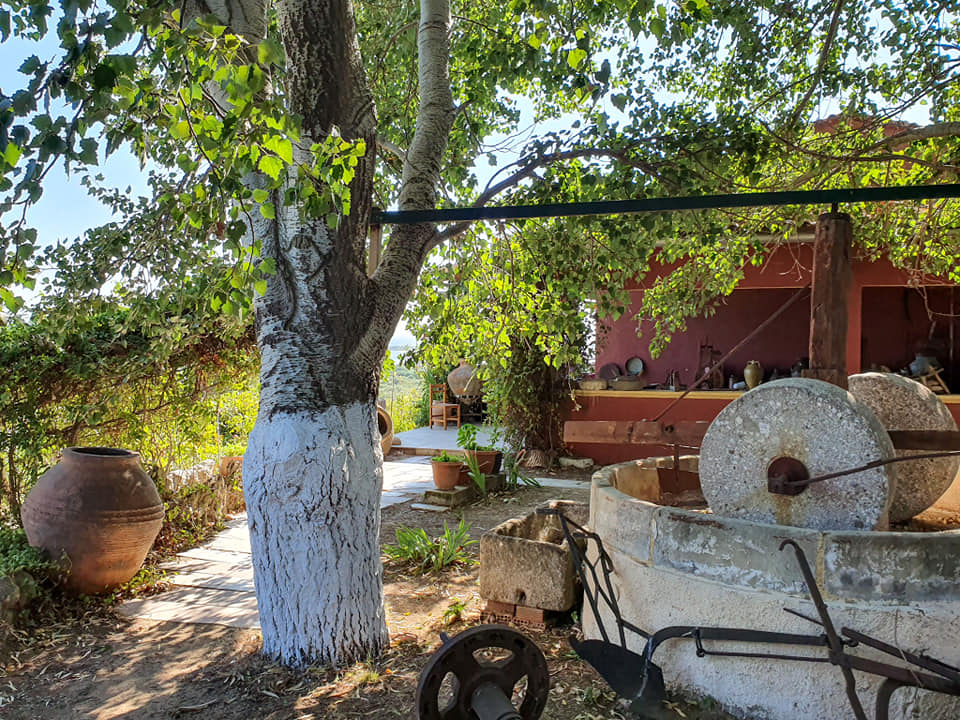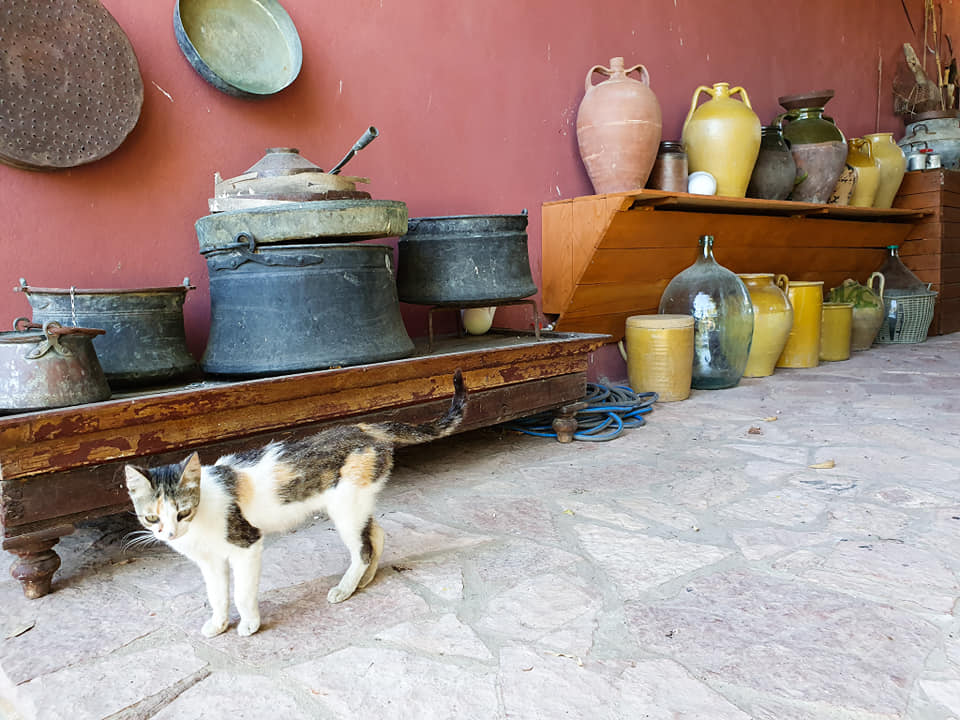 The farm is an ecotourism where you can stay if you want and the organic farm cultivates olive trees, seasonal fruits and vegetables and they've also developed a small beekeeping unit. We walked all the way down to see the lagoon.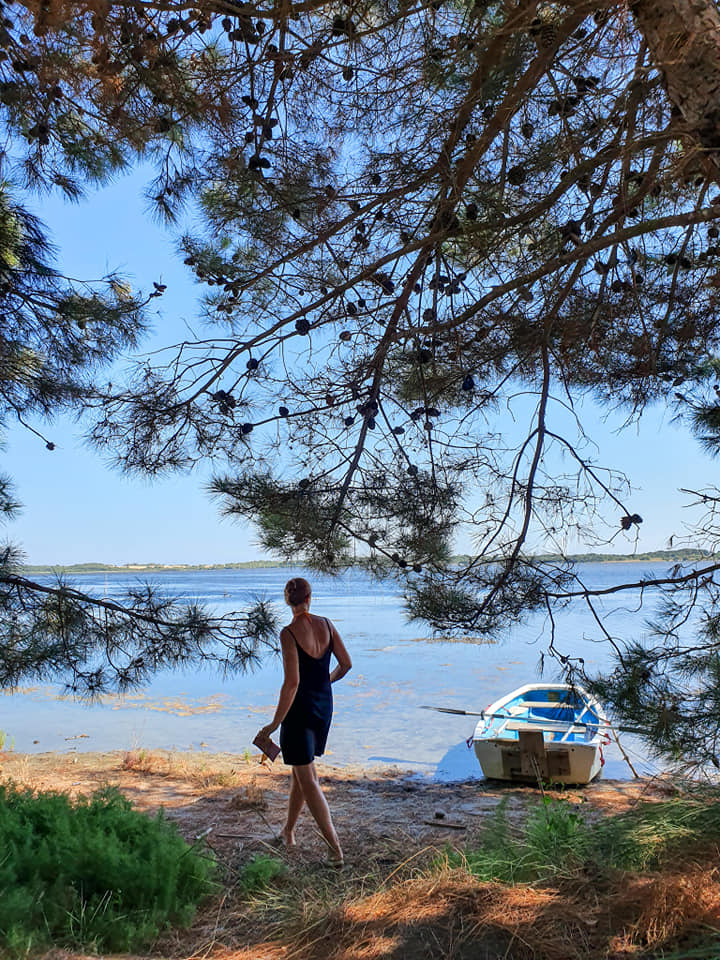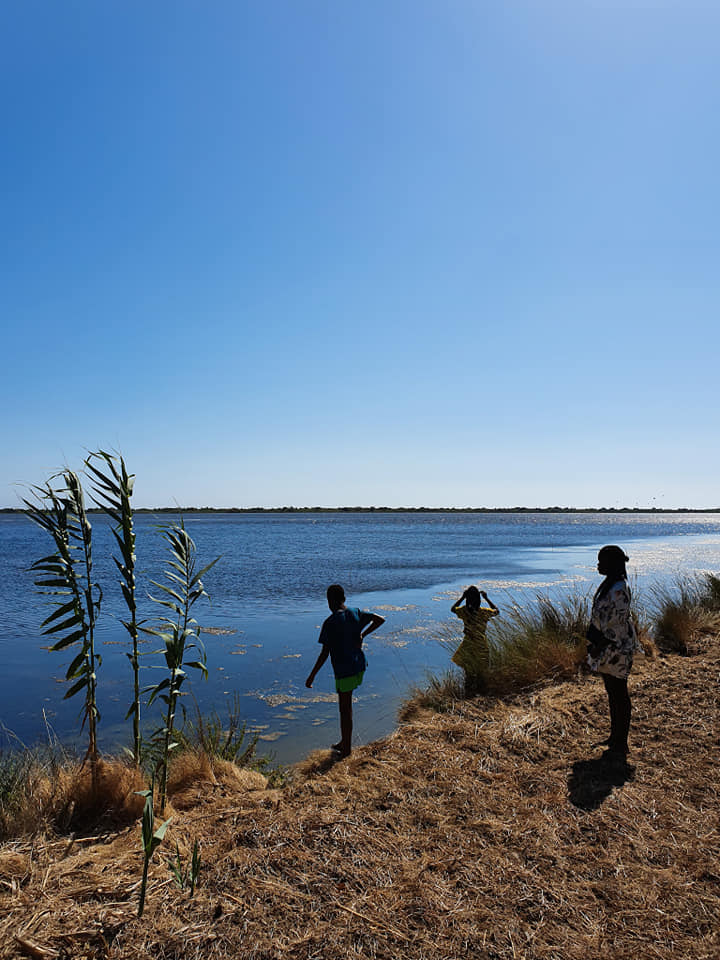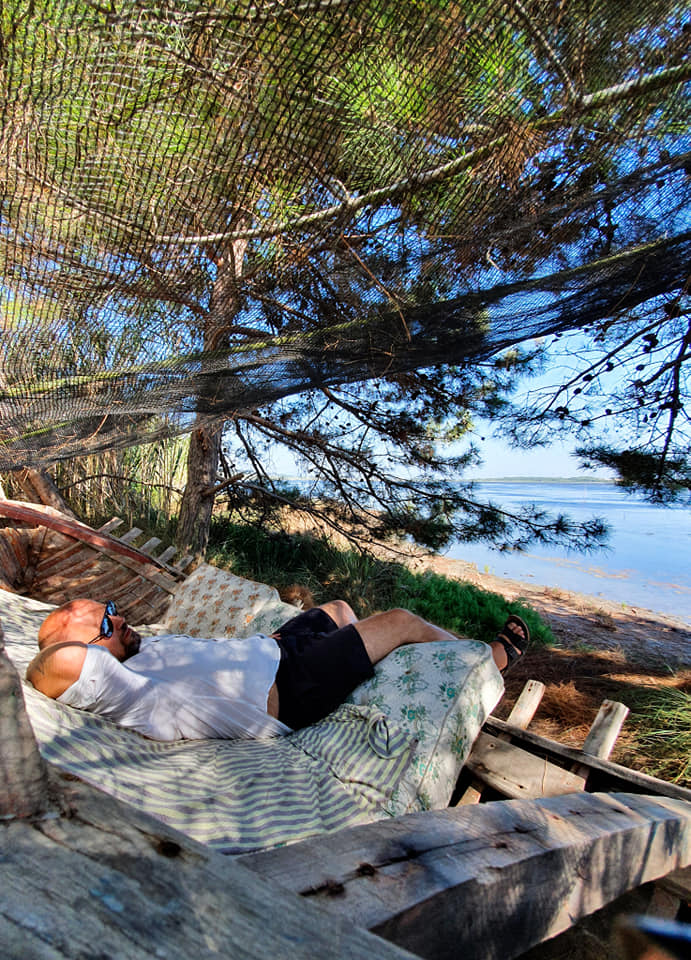 We also stayed for dinner and that was absolutely lovely (although it took quite a long time to prepare but I guess the pace at this 'place of peace' is a bit slow anyway. 😉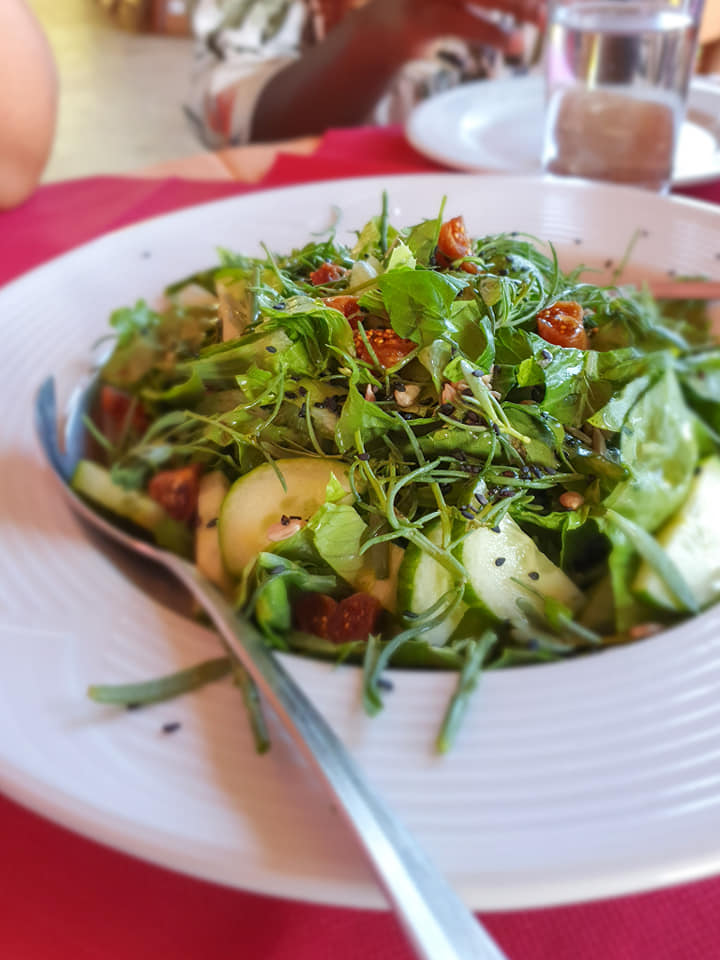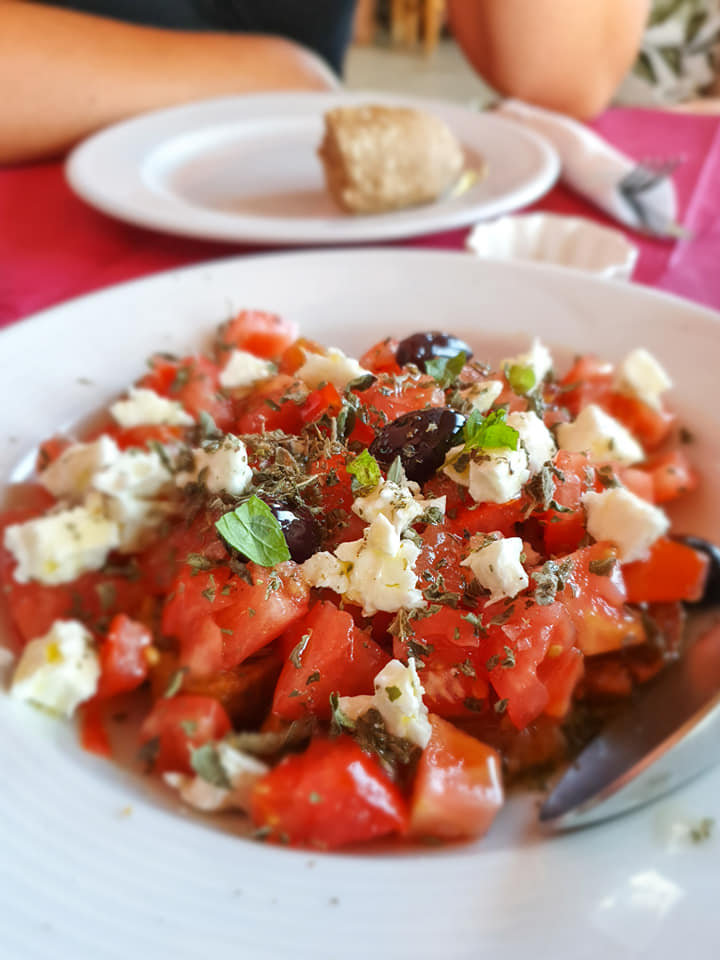 3. Hit the beach
And there are many of them! That's the fun part of this island, you're never far from a beach. Just stop alongside the coastline, take the stairs down and jump in!
We visited several beaches, all with crystral blue waters.
The pictures below are taken during our visit to Kassiopi, where you can swim with lovely views over Albania.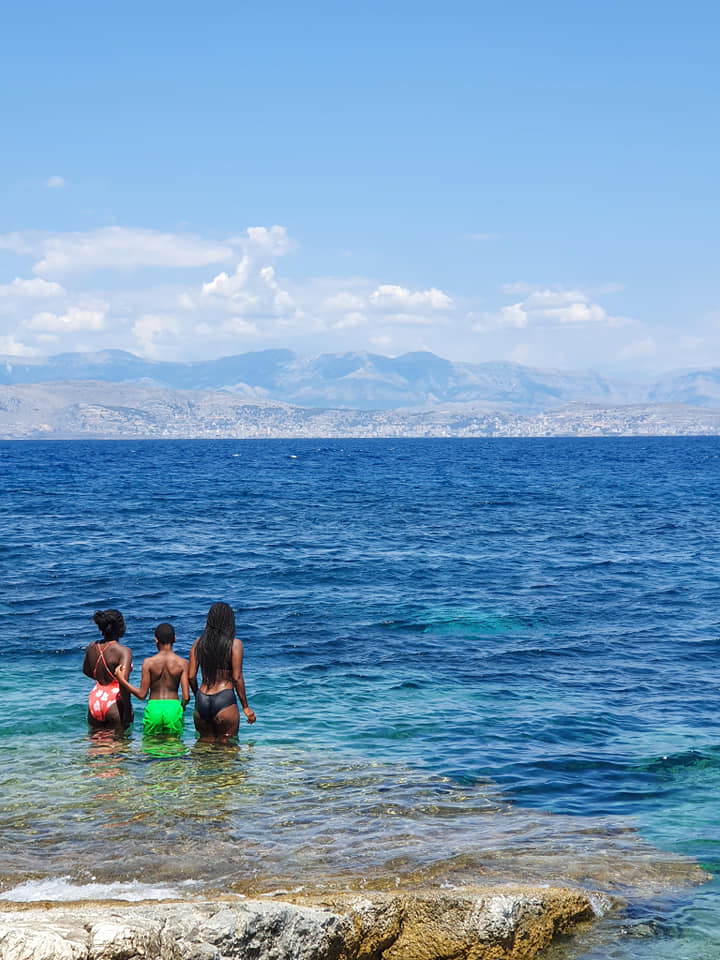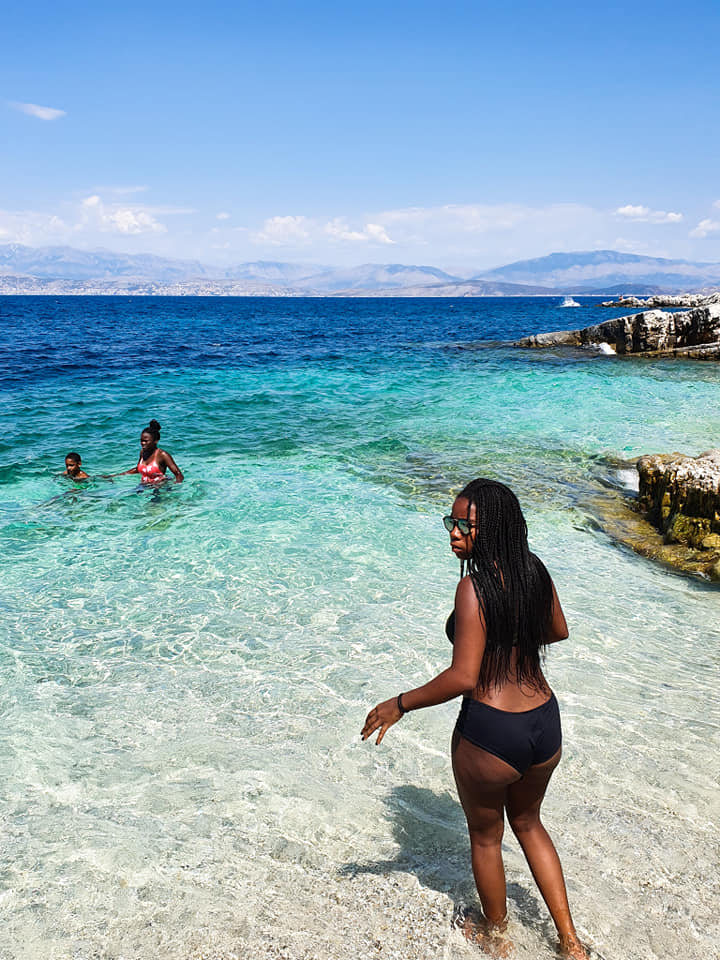 4. Rent a boat
At Paleokastritsa we decided to rent a boat with the lovely people (father and son) of Corfu Explore Boats. You (luckily) first get a short introduction on how to drive your boat before they let you off to sea.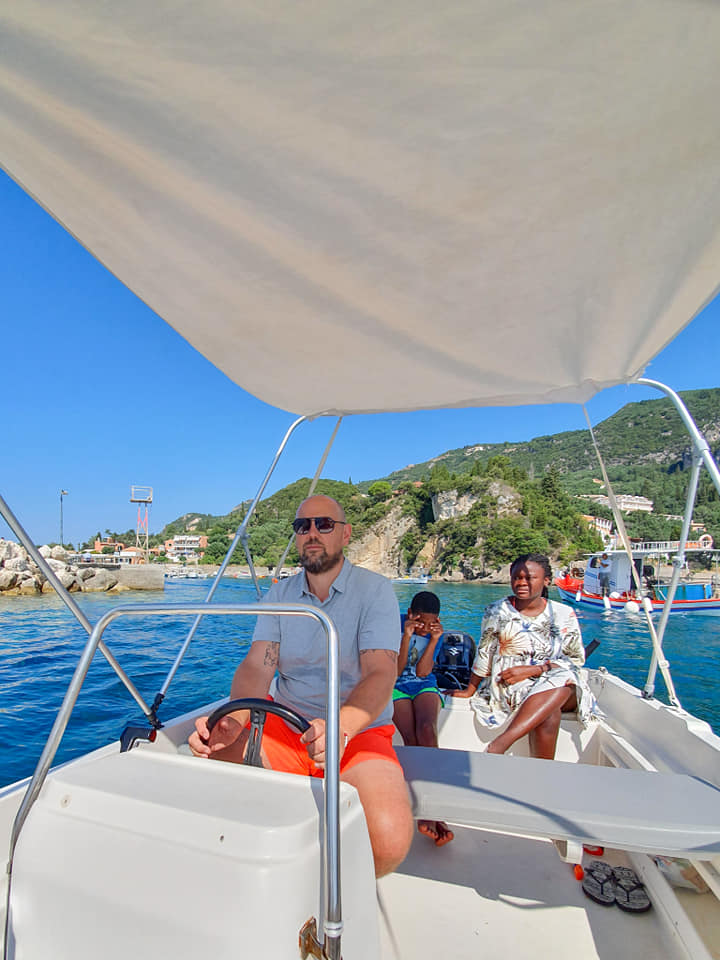 We had a truly wonderful day exploring the stunning hidden beaches around Paleokastritsa such as Paradise Beach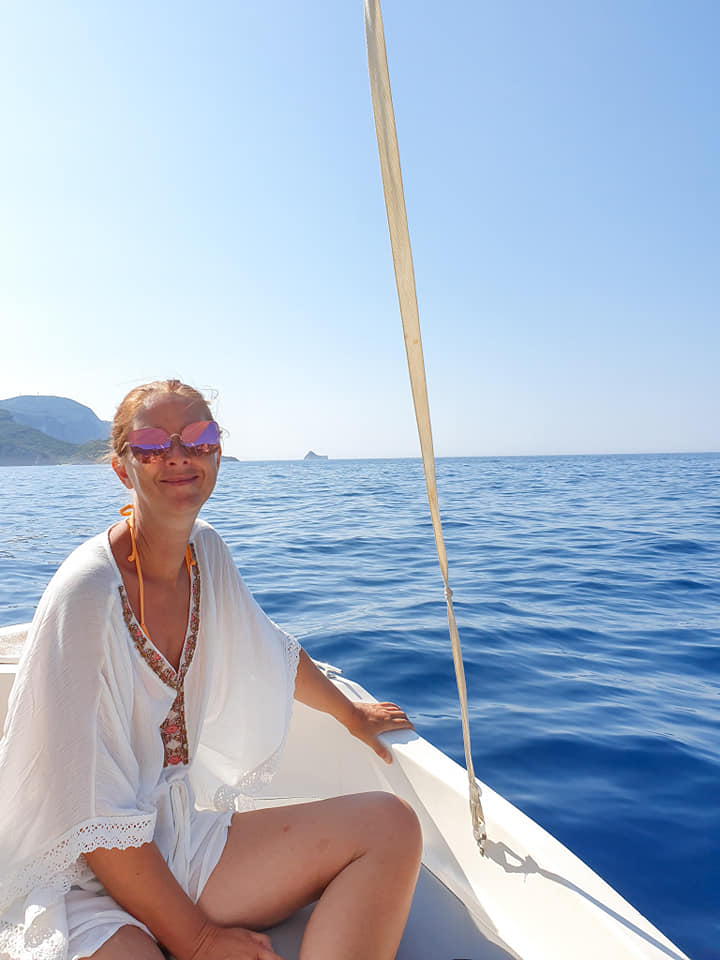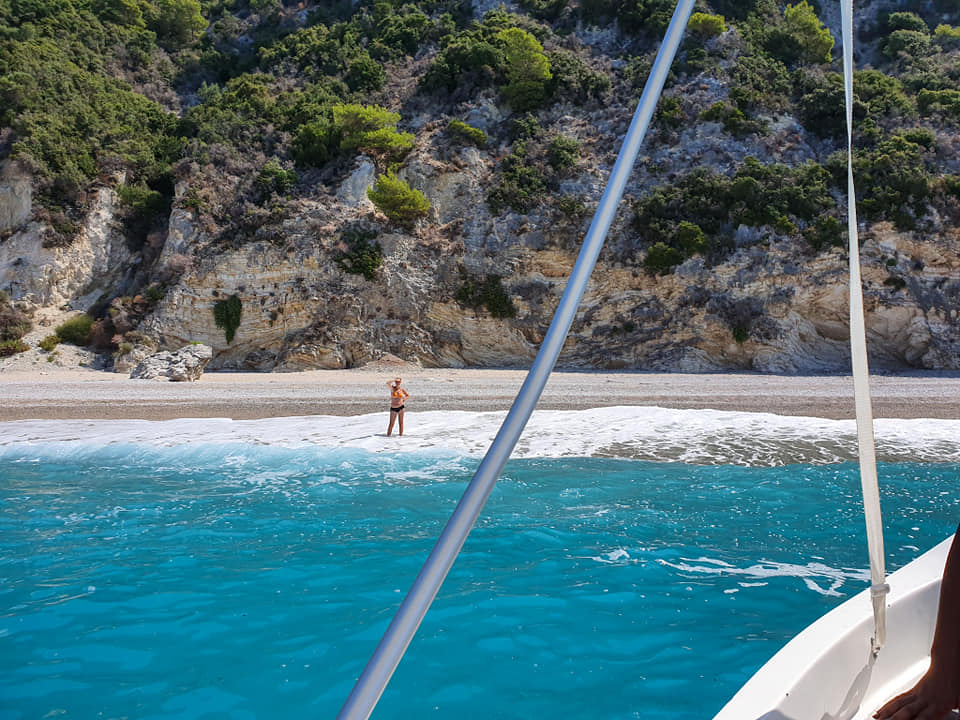 and (our favourite of the day) beautiful and deserted Kastelli.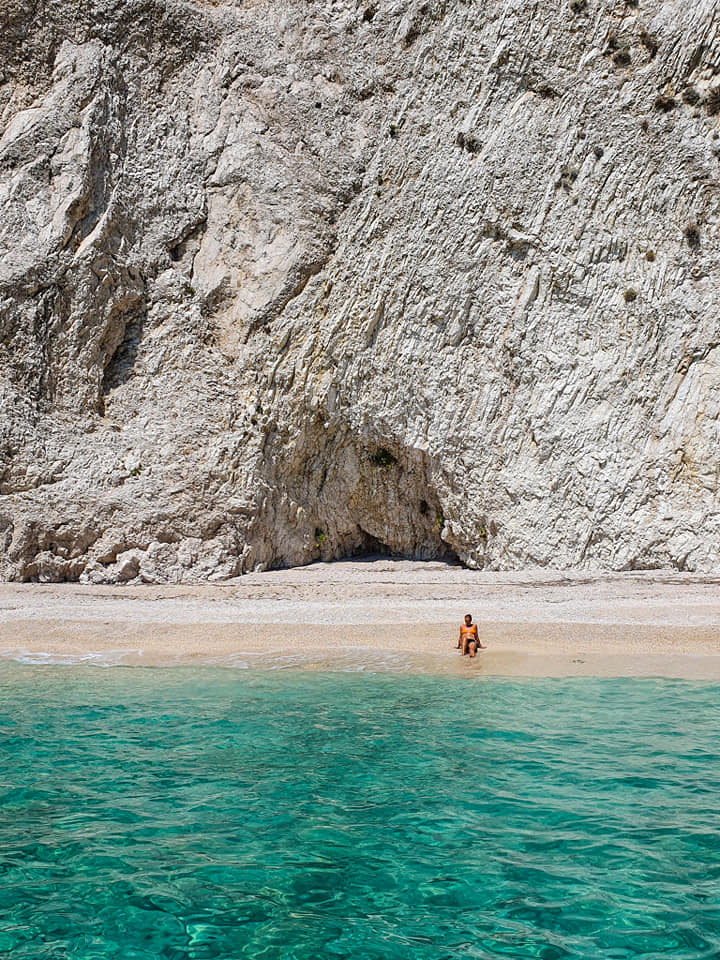 Our kids (and we) had so much fun jumping on and off the boat all day.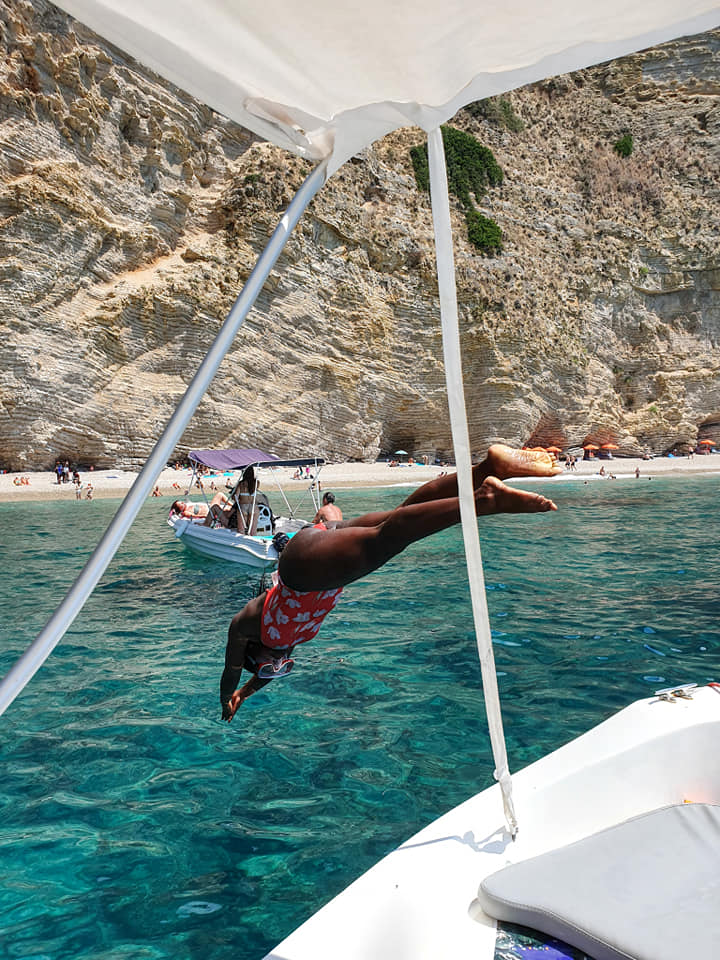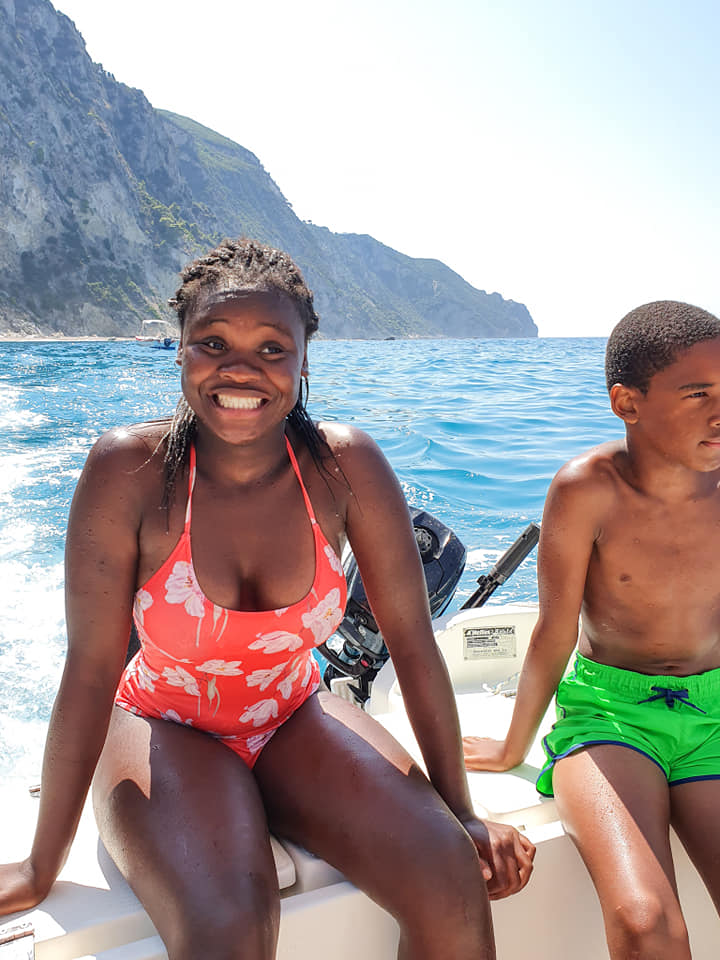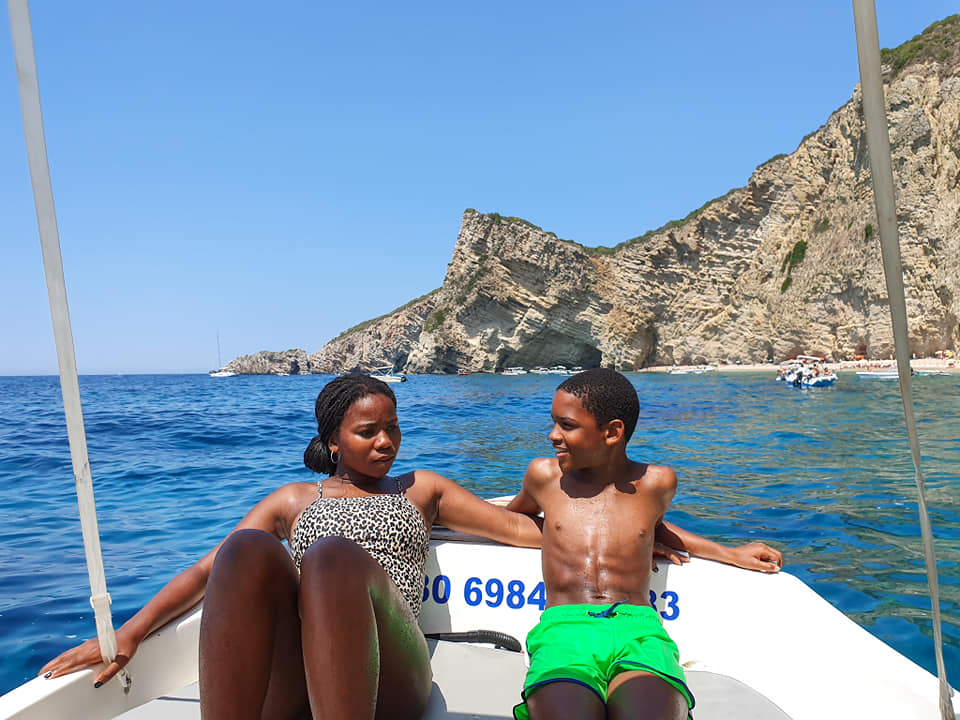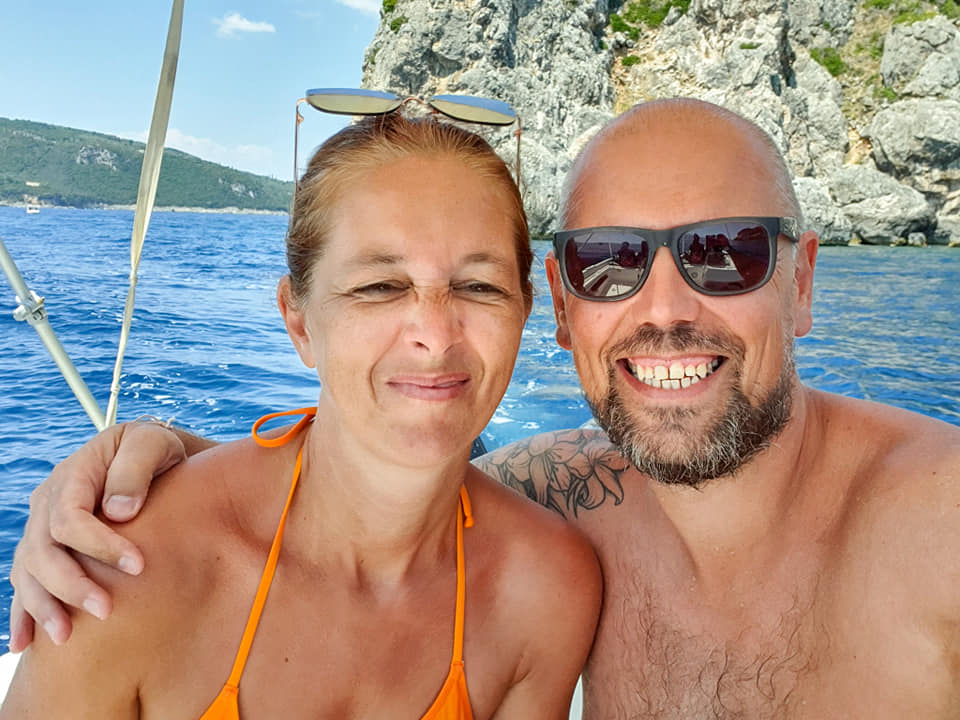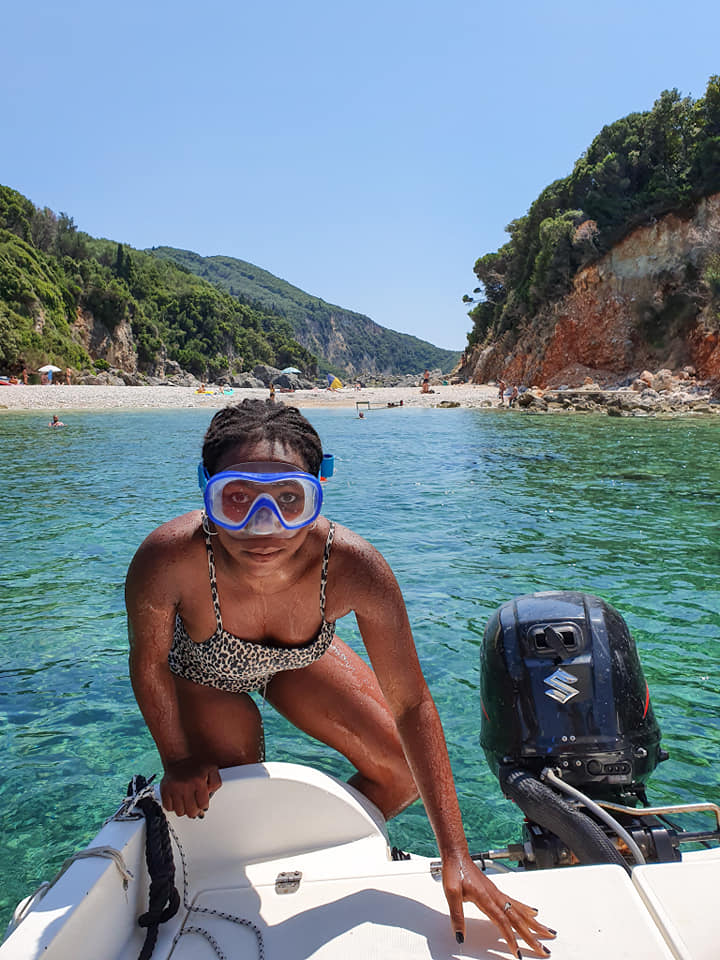 And yes, they give you a cooling box to go on the boat so your Mythos stays cold all day. 😉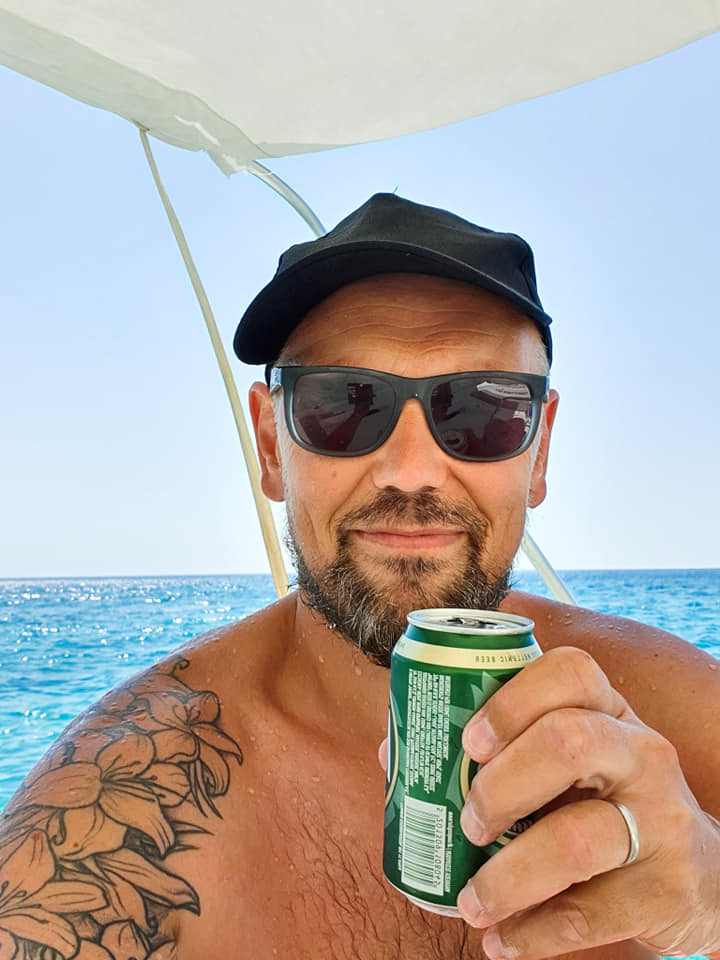 With around 120 euros for the day, petrol included, we think this is a top-activity!
5. Visit Vlacherna monastery
This was – for me – the highlight of our trip.
We even went back a second time the last morning of our stay just because this place is just so beautiful.
The Vlachеrnа Monastery is tiny, but its setting is so beautiful, it really moved me.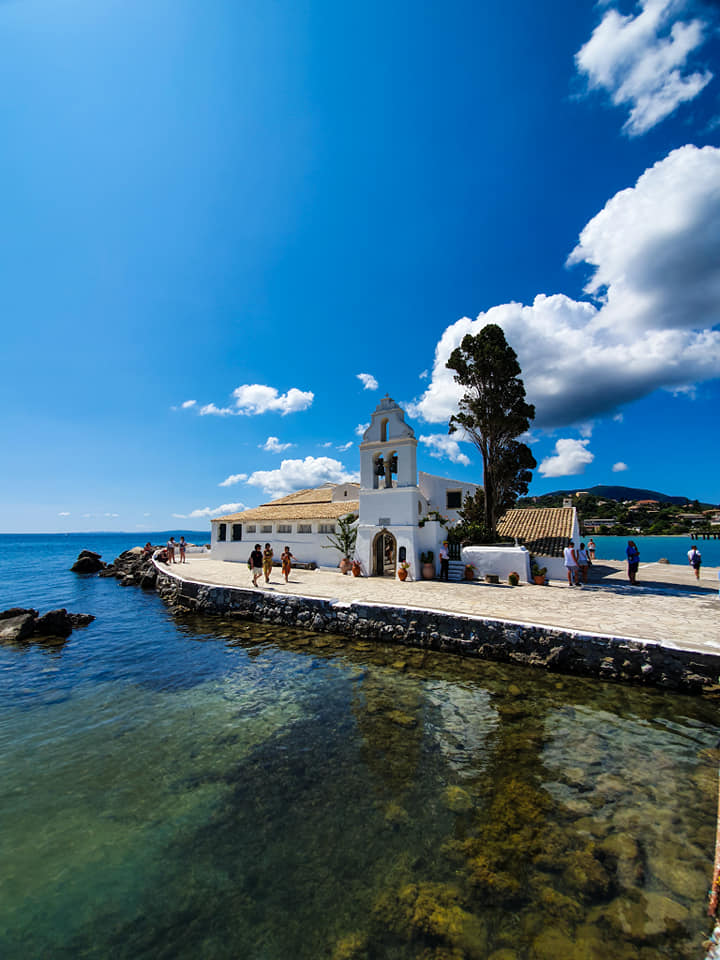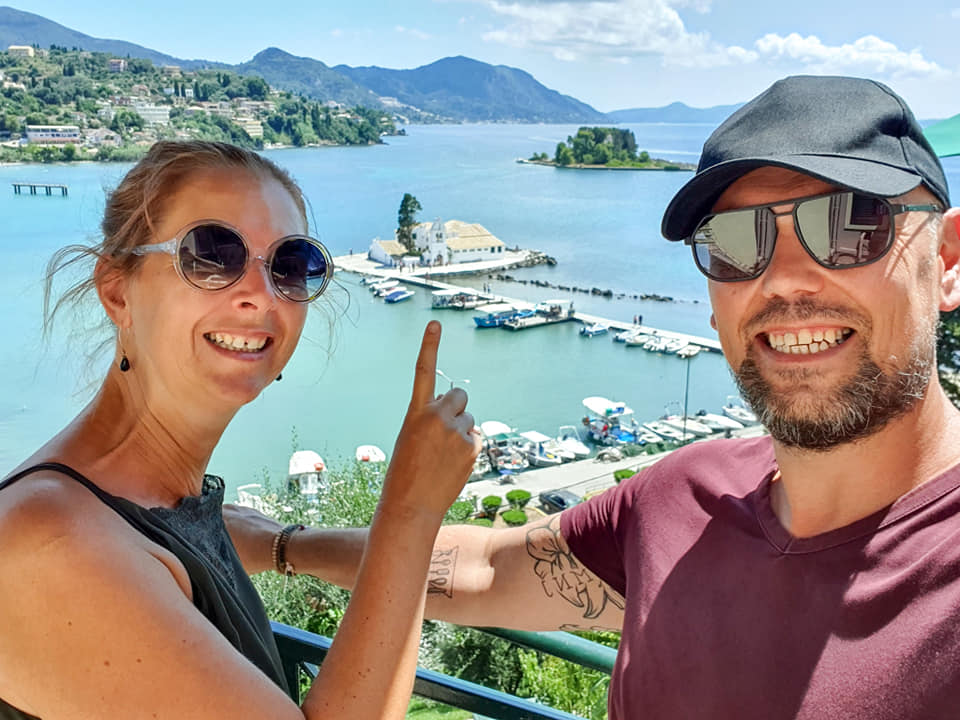 From the bridge next to the monastery, you can experience airplanes landing and taking off right above your head as the airport is just a few hundred metres away.
Not that it seems to bother the cats snoozing here all day…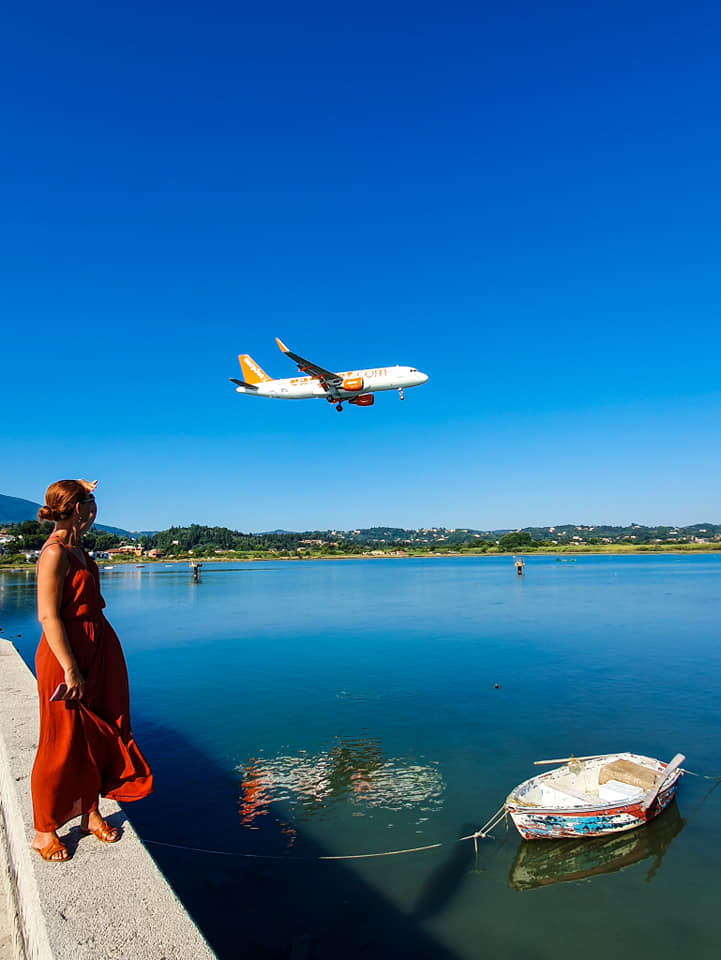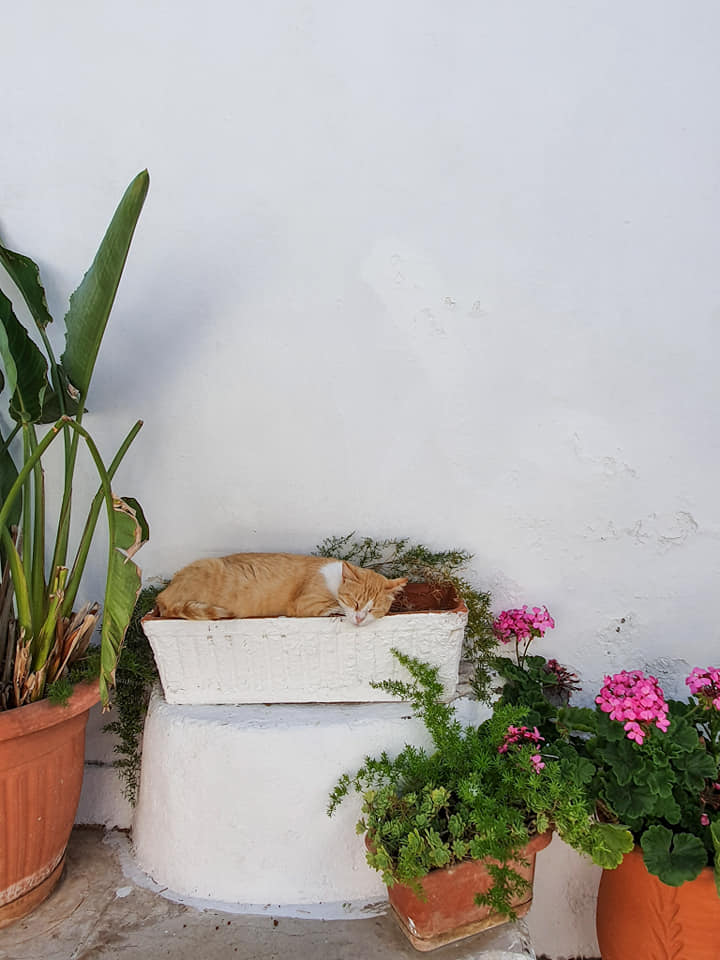 6. Discover Paleo Perithia, one of the oldest villages on Mount Pantokrator
This old village is partly still abonded and dates back to the 14th century.
The road towards the village is steep up-hill so be prepared.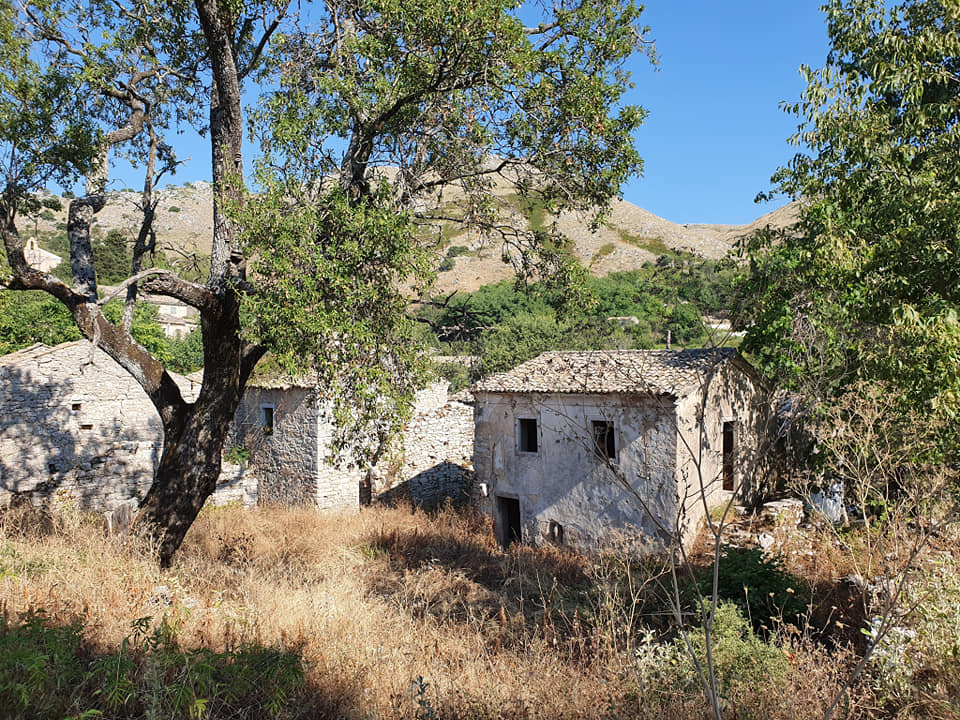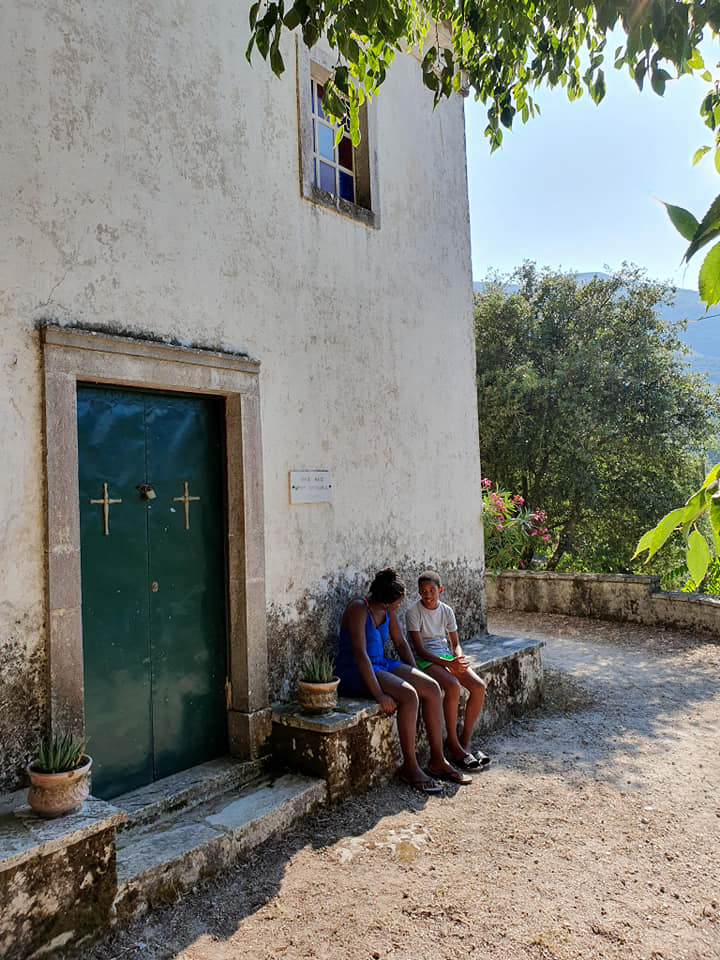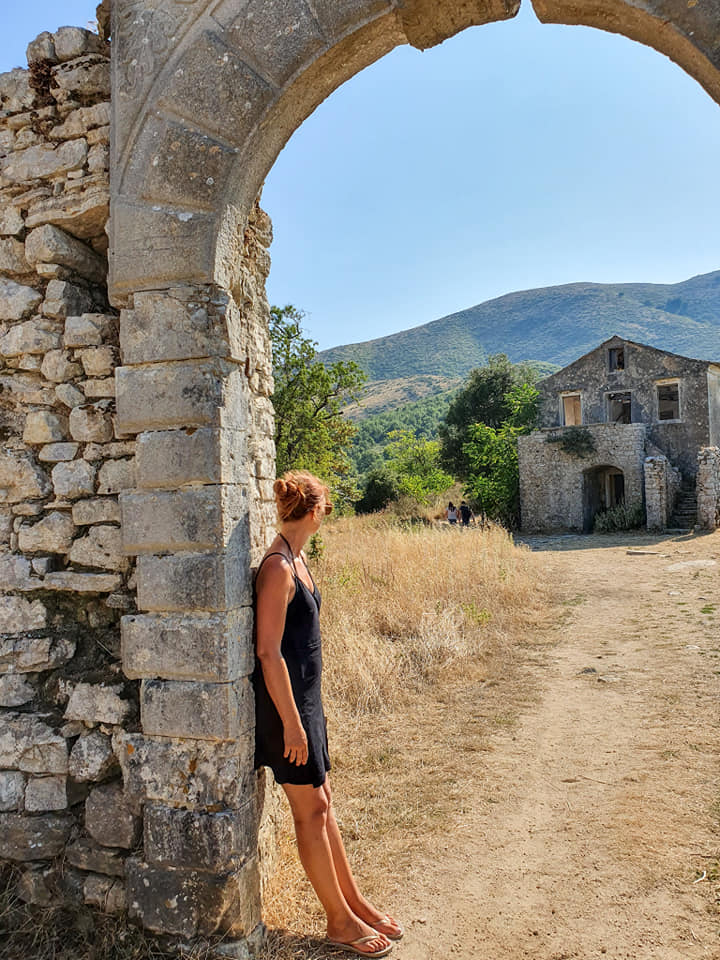 It is considered to be one of the best kept traditional villages in Corfu.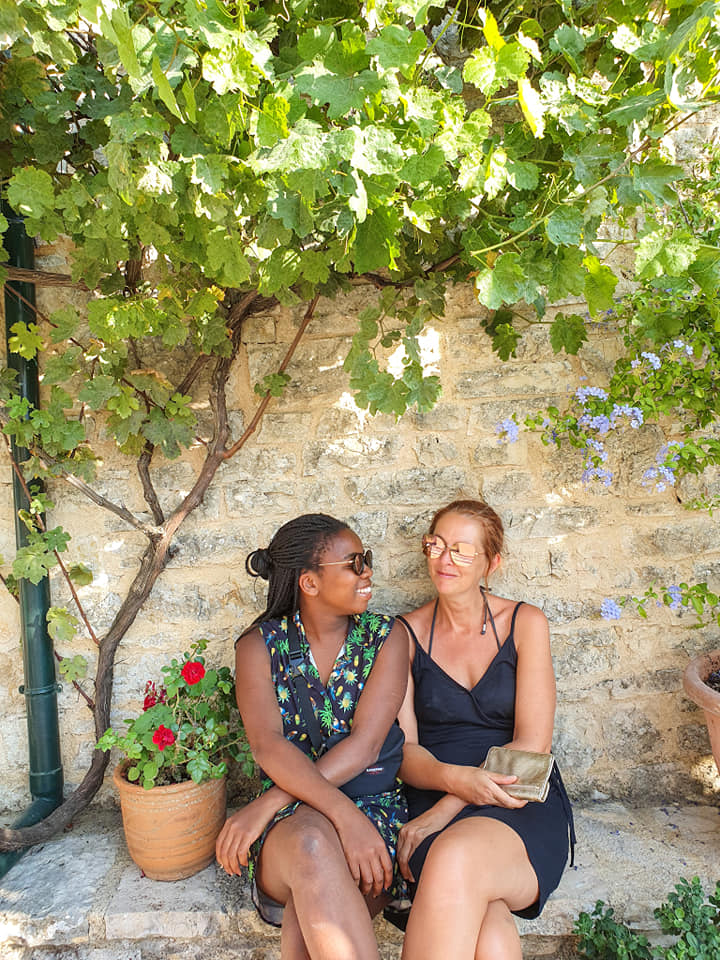 Stroll through the village and stop for lunch or dinner on the village square (more about that later on!).
7. Pretend you're Sissi at the Achilleion
When someone first mentioned I should definitely go and visit Sissi's palace in Corfu I thought that person didn't know what she was talking about… Sissi? In Corfu?
But hey, turned out they she was absolutely right. 😉
The Achilleion was the summer residence of the Austrian empress Sissi and was built in late 1800's.
Lovely place, beautiful terraces and gardens with a view.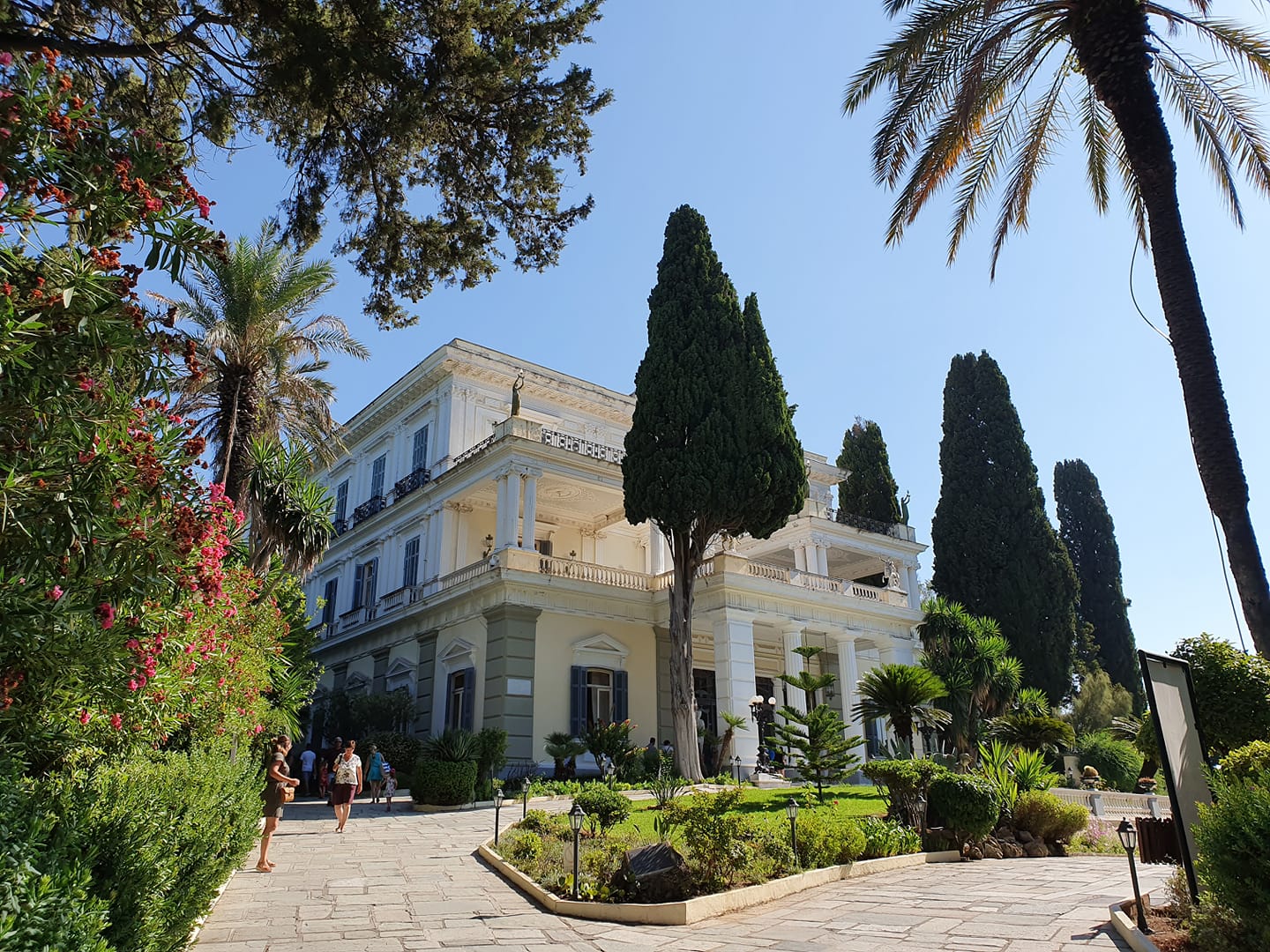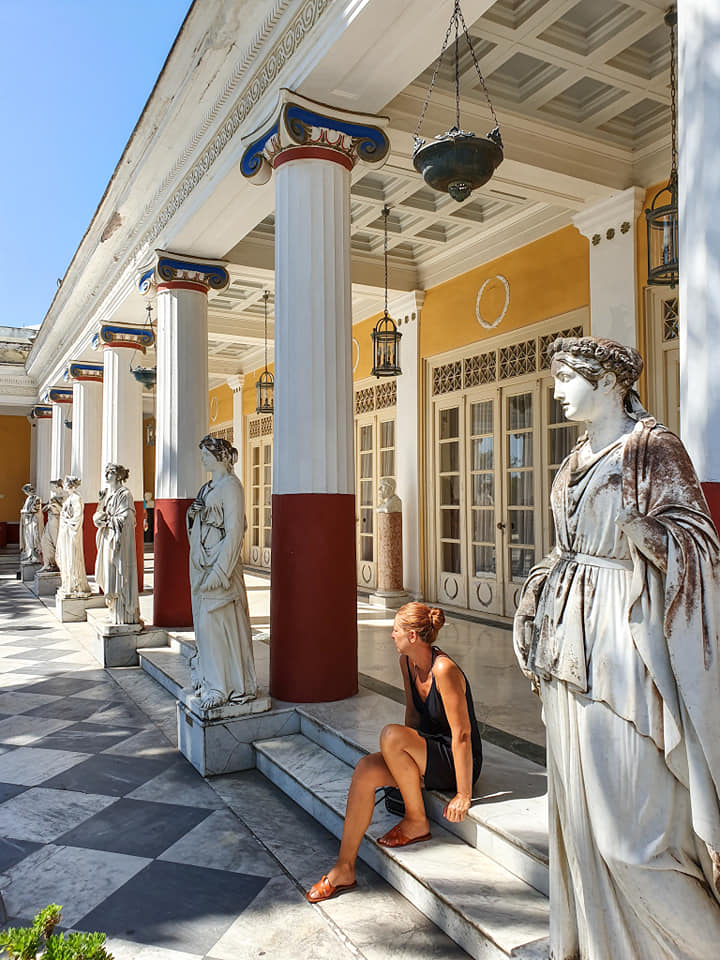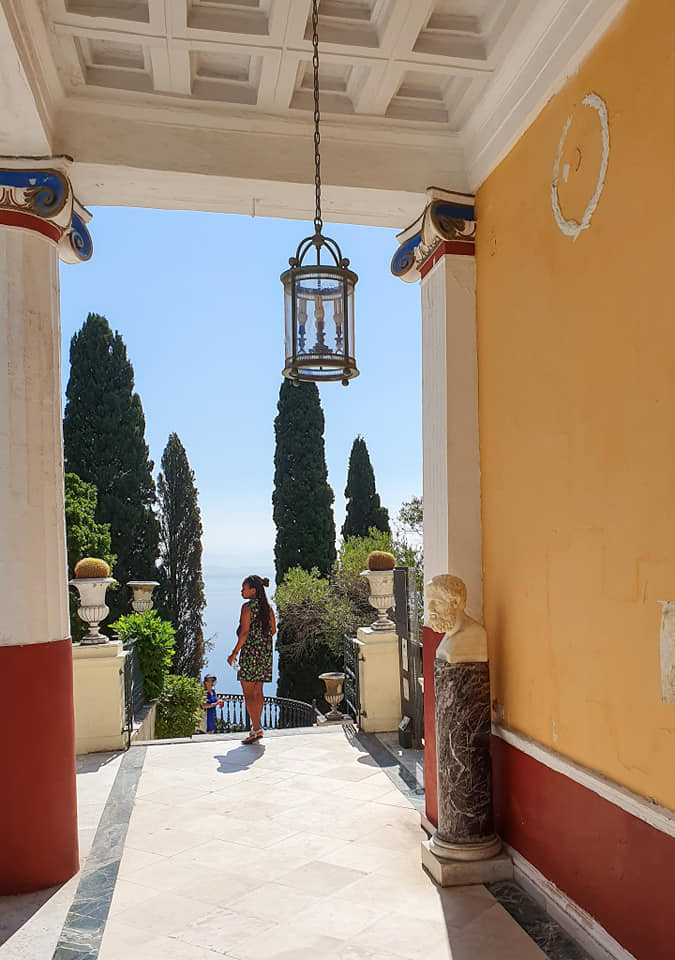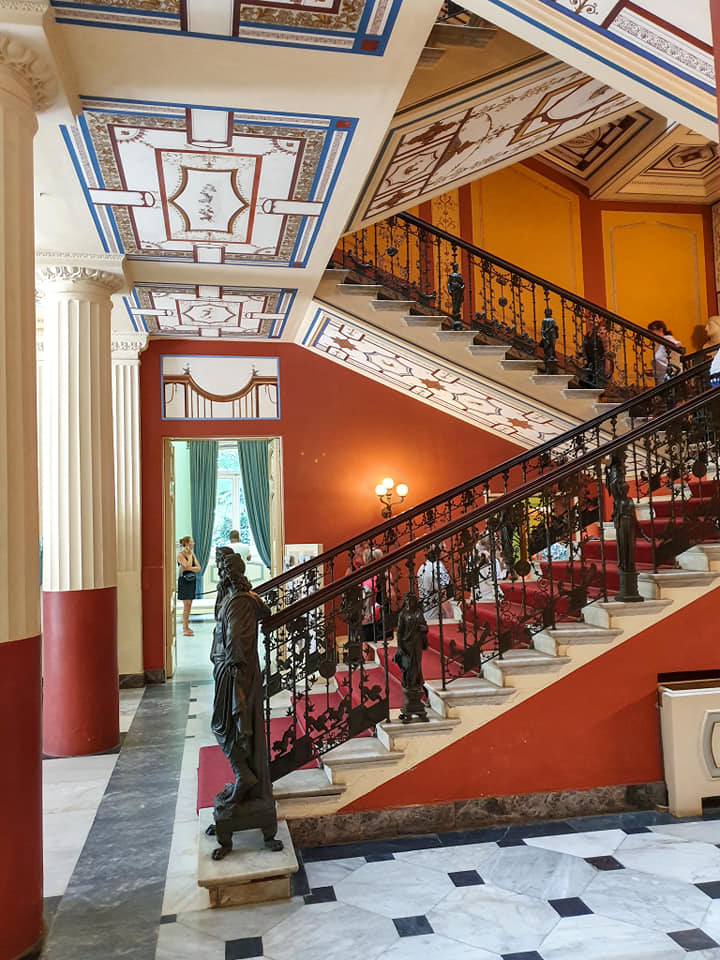 8. Drink coffee with the locals
Our last Airbnb was in the countryside, so one day we walked from the house to the next village, being Kastellani and had coffee (and delicious orange cake) and later on dinner as well on the village square with the locals.
So charming these small Greek villages!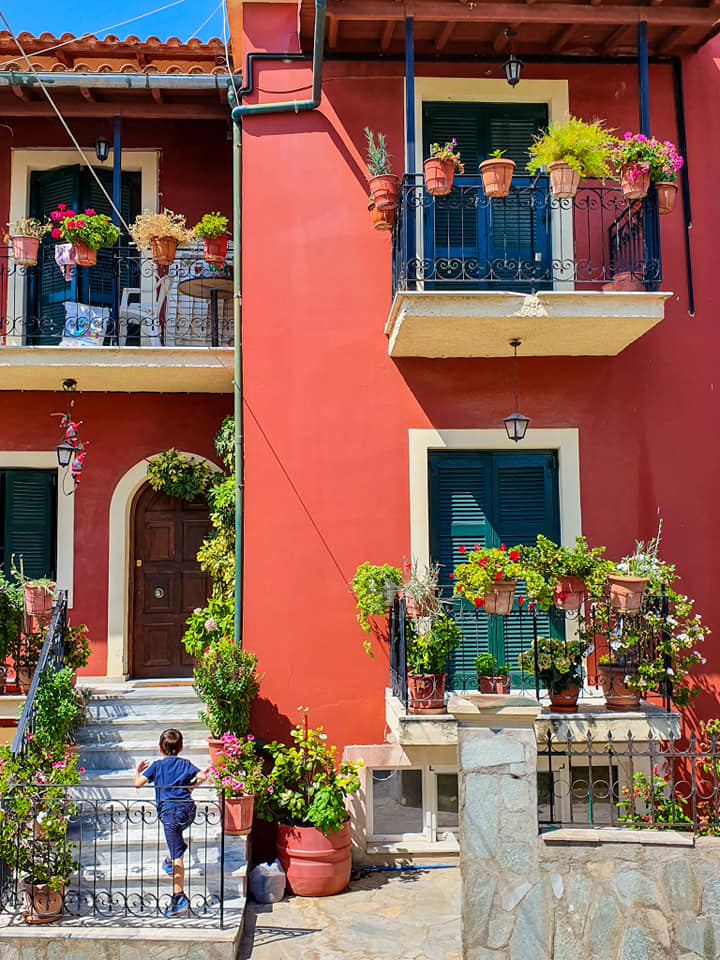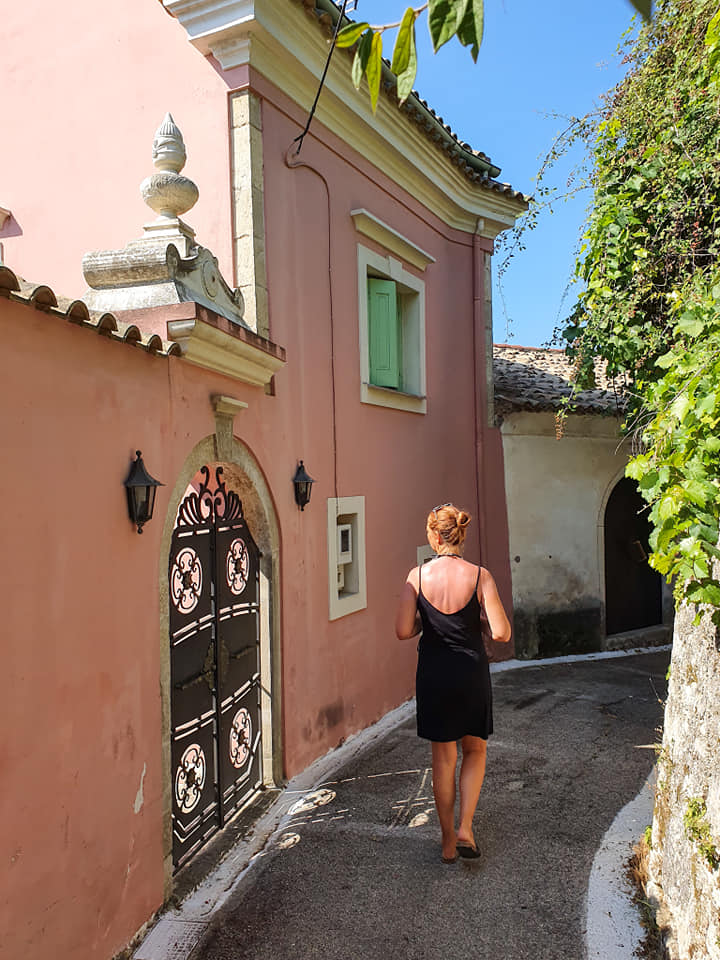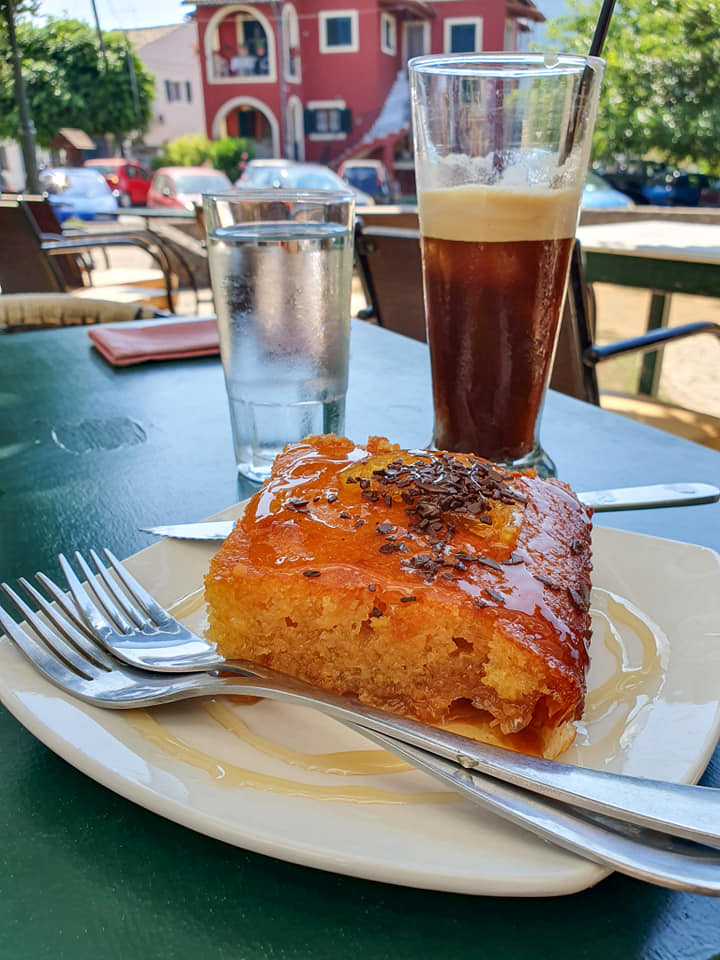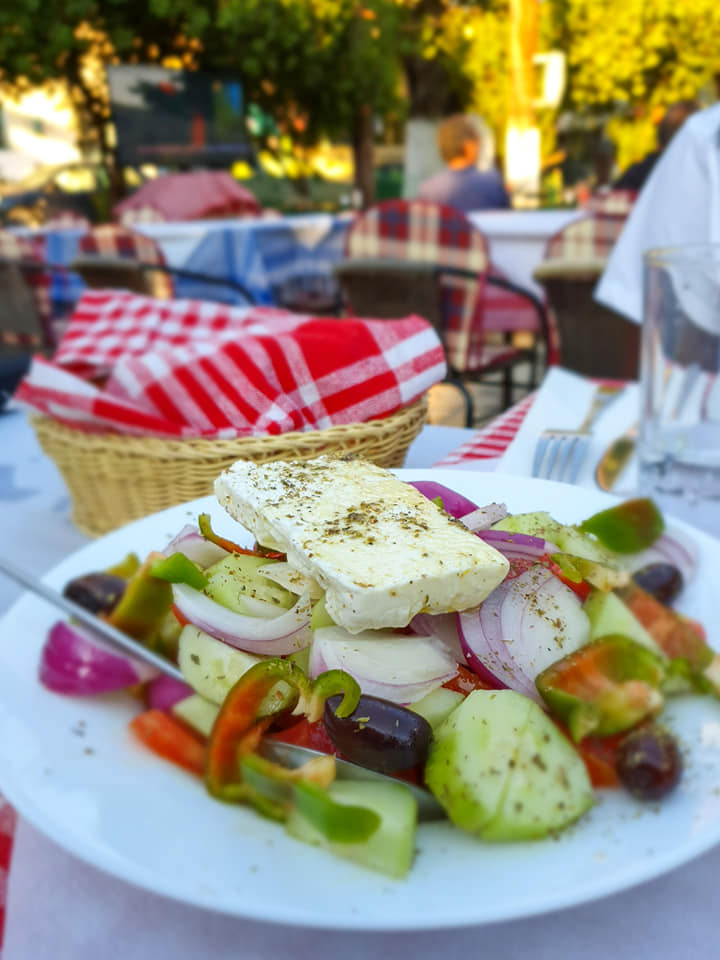 As you probably guessed already, it's quite necessary to have a rental car to get around easily on the island. We rented from Enterprise and were very satisfied with that.
9. Rescue a donkey
We also visited the corfu donkey rescue center which does an amazing job looking after abandoned and unwanted donkeys.
Leave a donation and support this cause. Kids loved our visit.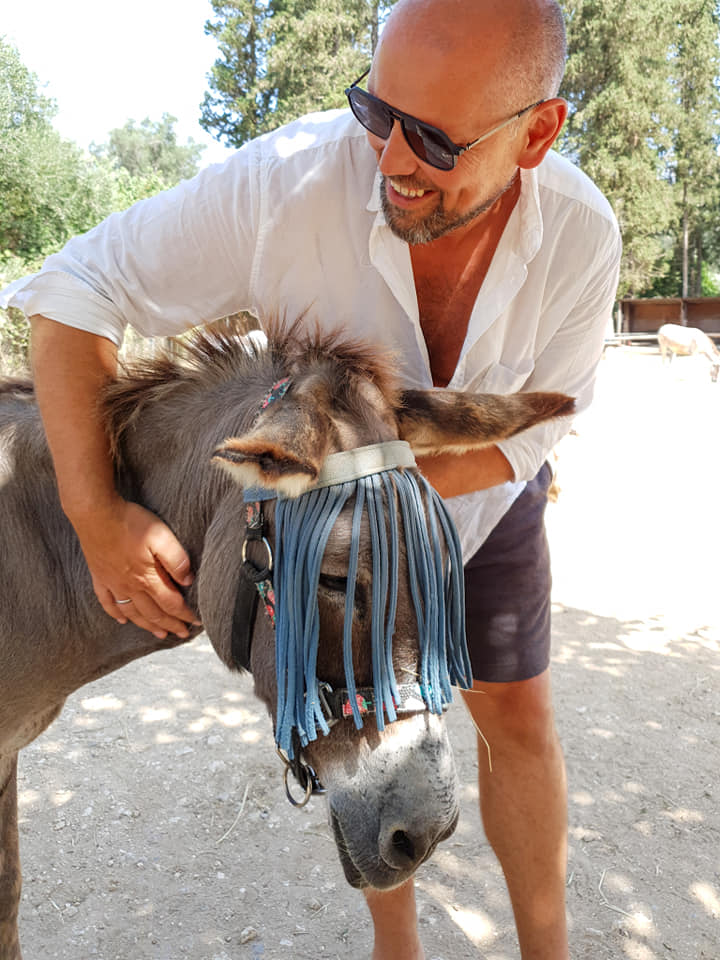 On your way back from the center, make sure to stop at Doukades and have a drink on the town square.
Cute little village with an excellent bakery!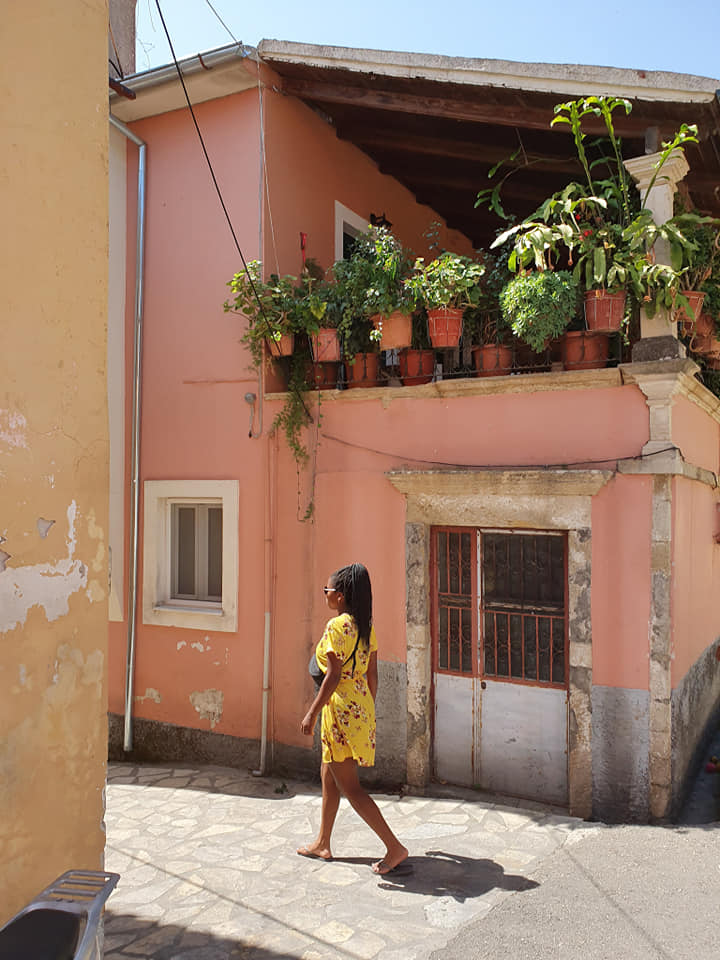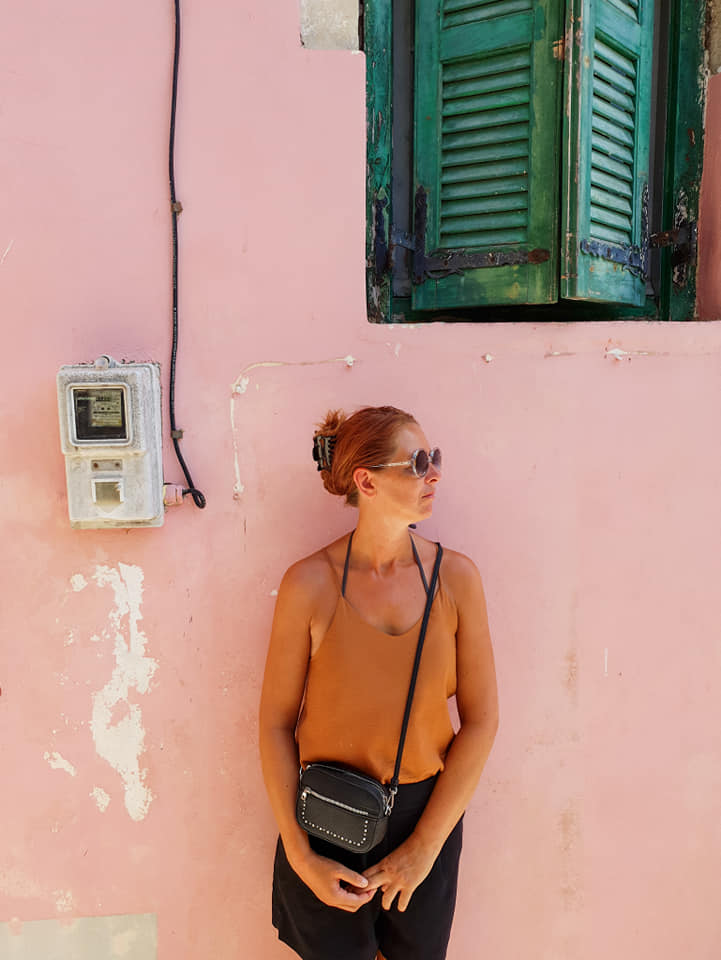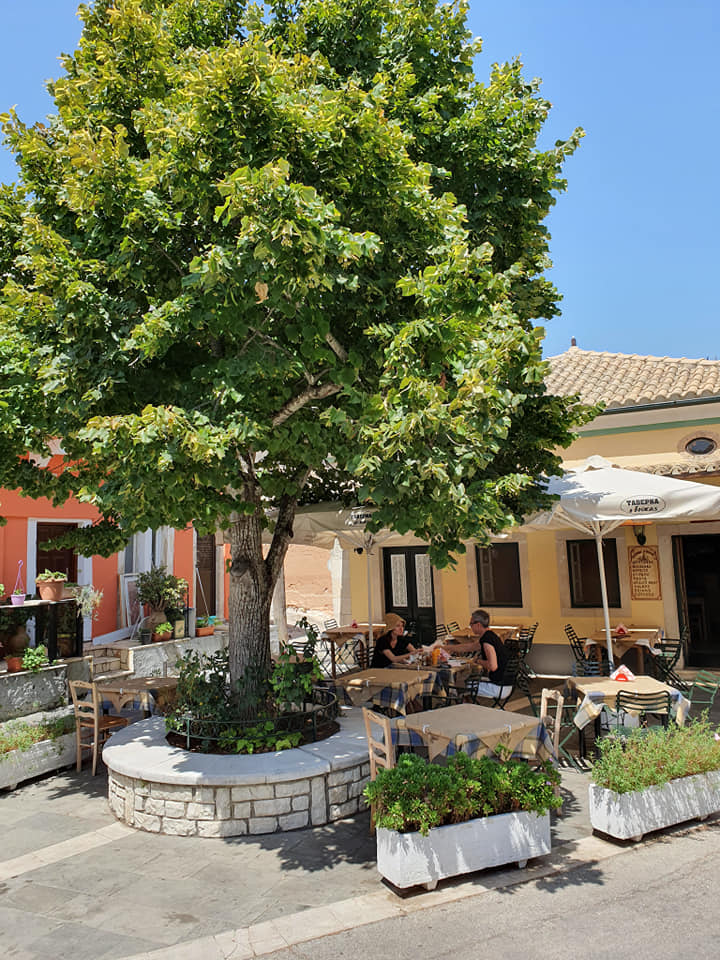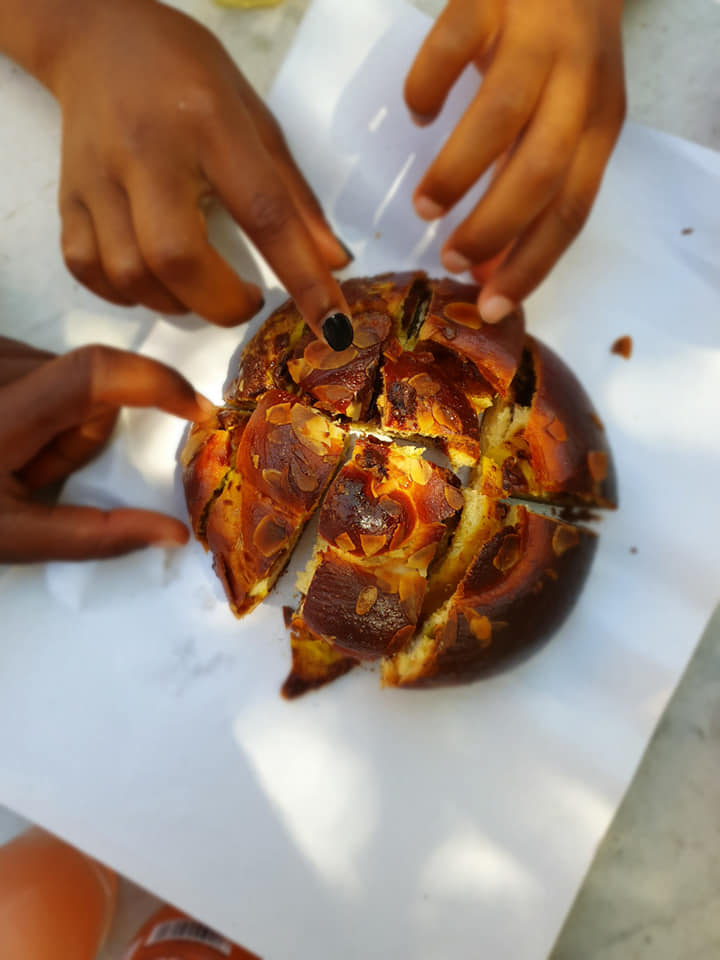 Places we stayed at:
We first stayed two nights in the heart of Corfu Town in a lovely bed and breakfast called The Puppet Guesthouse.
We occupied two rooms, our room being on the top floor (4th) offering a fantastic view over the city from the terrace.
We loved the spacious and very clean rooms.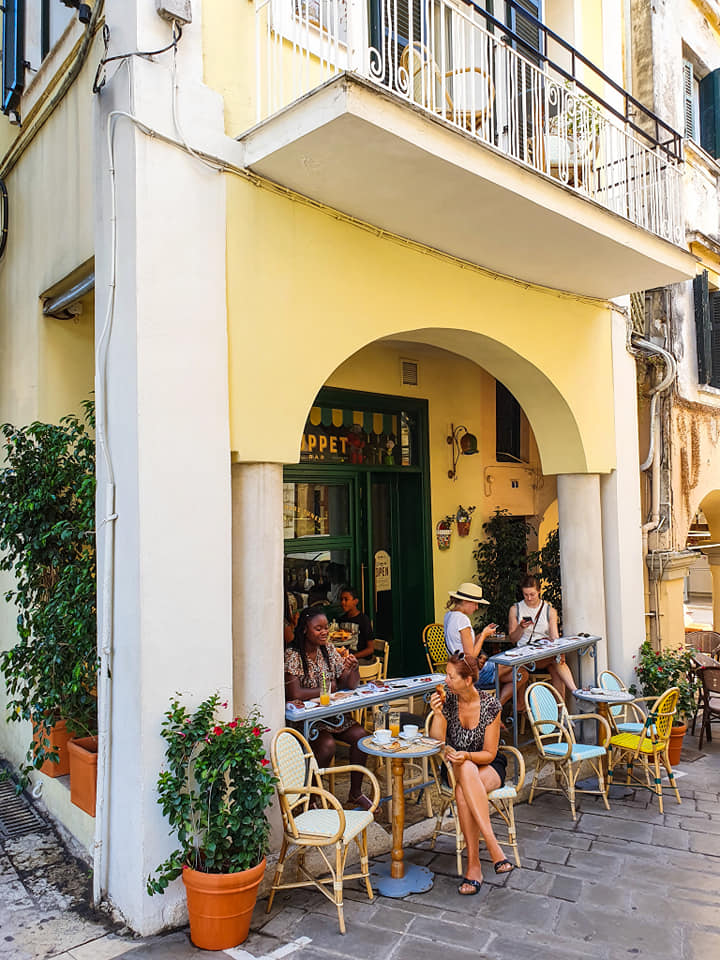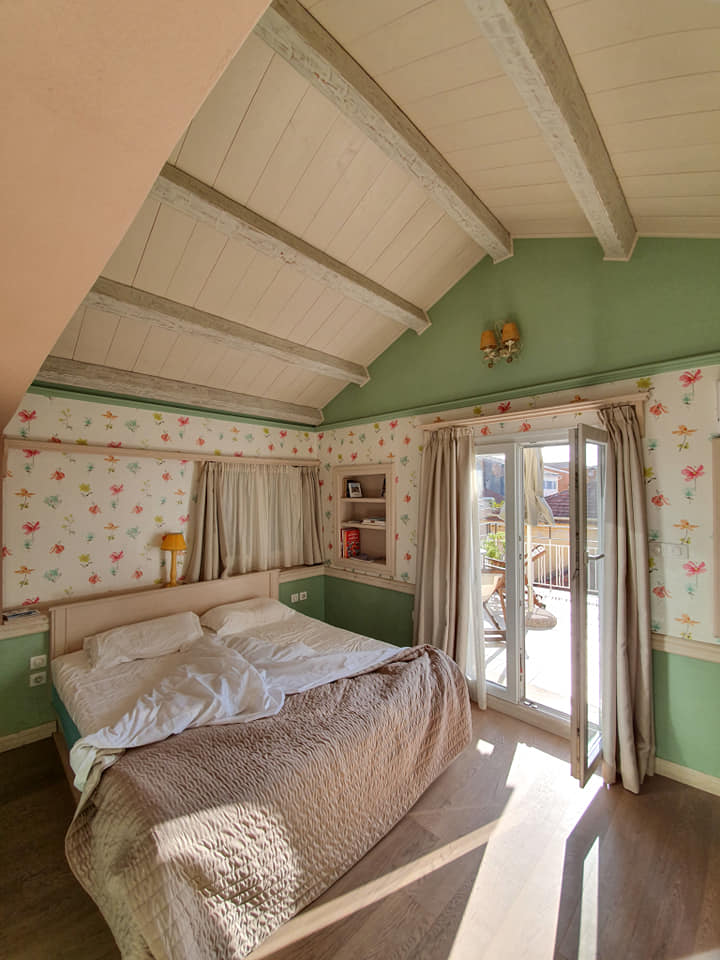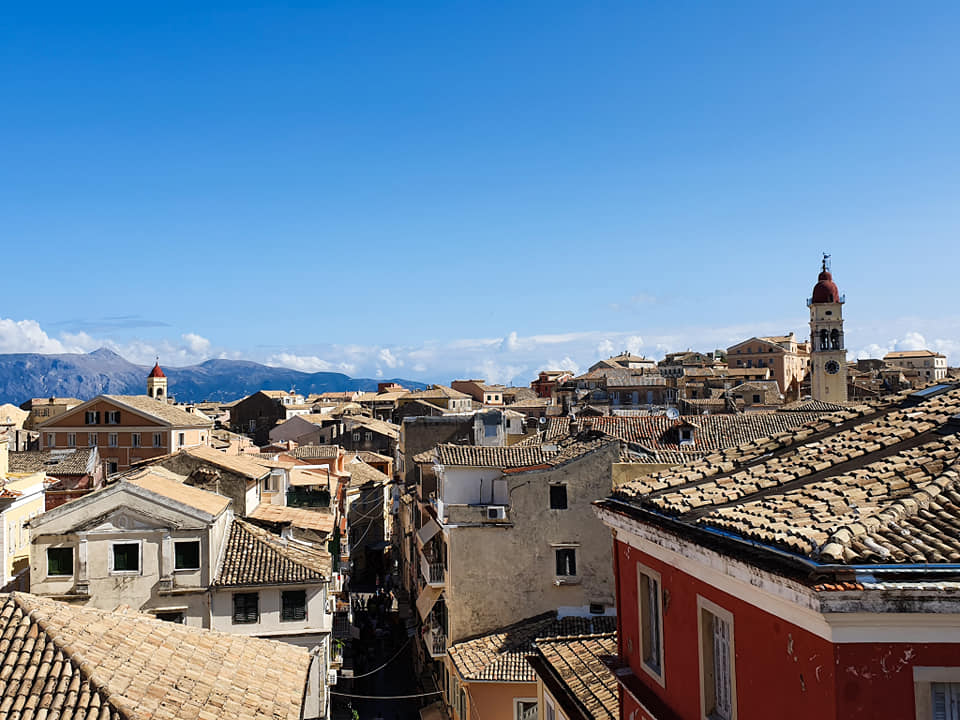 And the breakfast was really good too. Yoghurt, fresh fruit, tasty croissants and toast, juice and gooood coffee!
And over breakfast, sympathetic owner George gives you all the top tips on where to go in Corfu! Thx so much for that!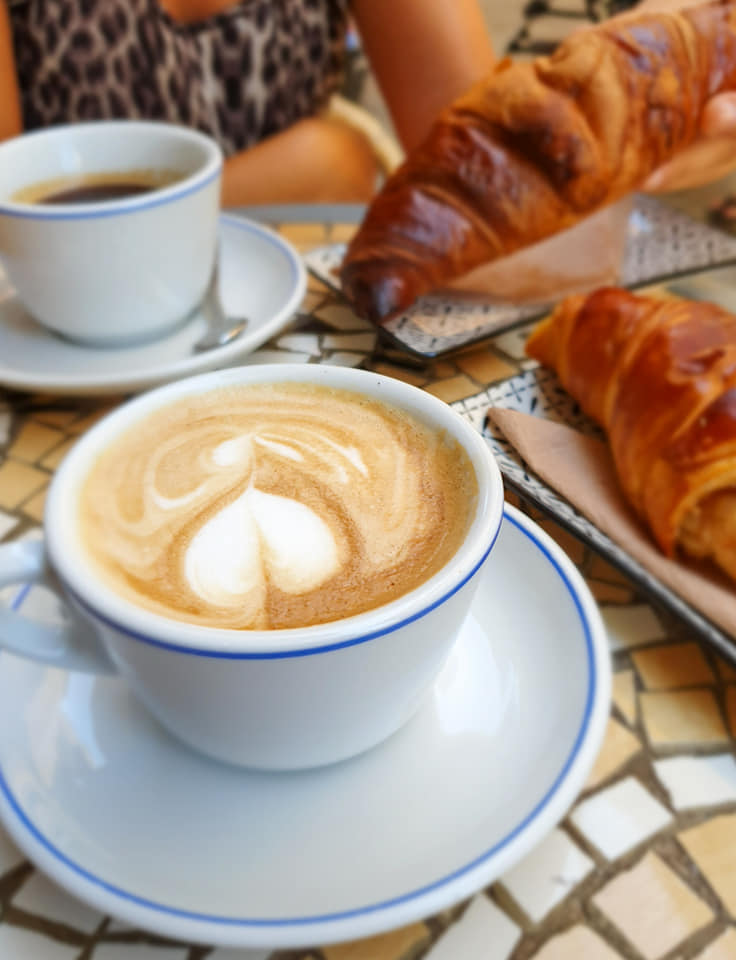 After that, we rented two houses through Airbnb.
The first one, Villa George,  was located in Nisaki (more to the North) and was huge, offering a large living room, three bedrooms and a very well equipped kitchen.
But what we liked most were the amazing views from every room and especially from in and around the lovely pool. Highly recommend this one! The inside of the house might not have been entirely to our taste, but still pretty good. Very convenient little supermarket just at the bottom of the hill too.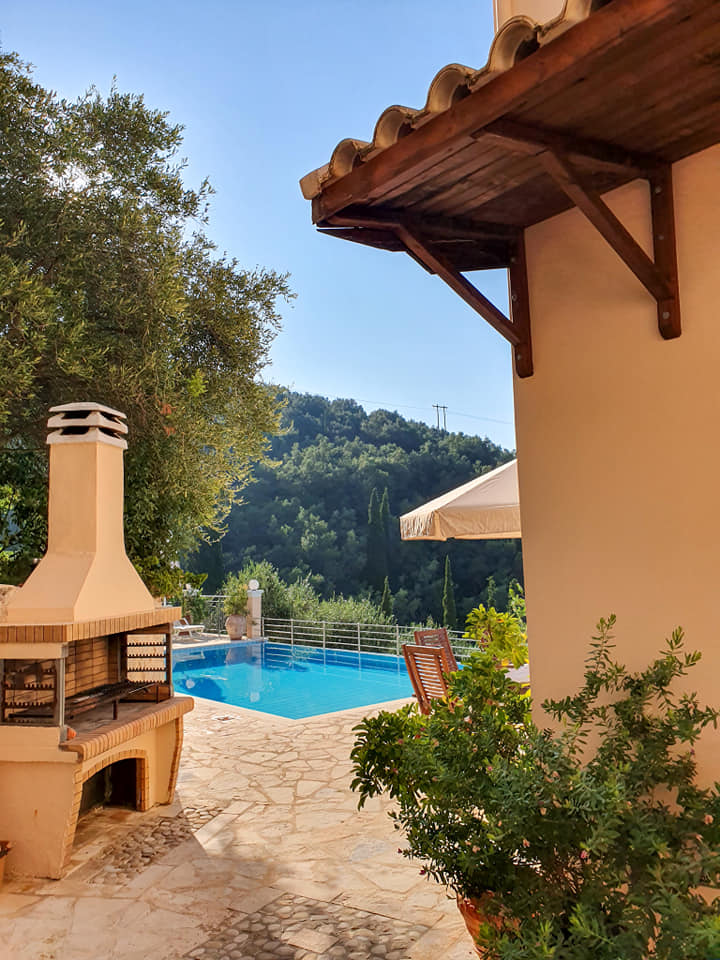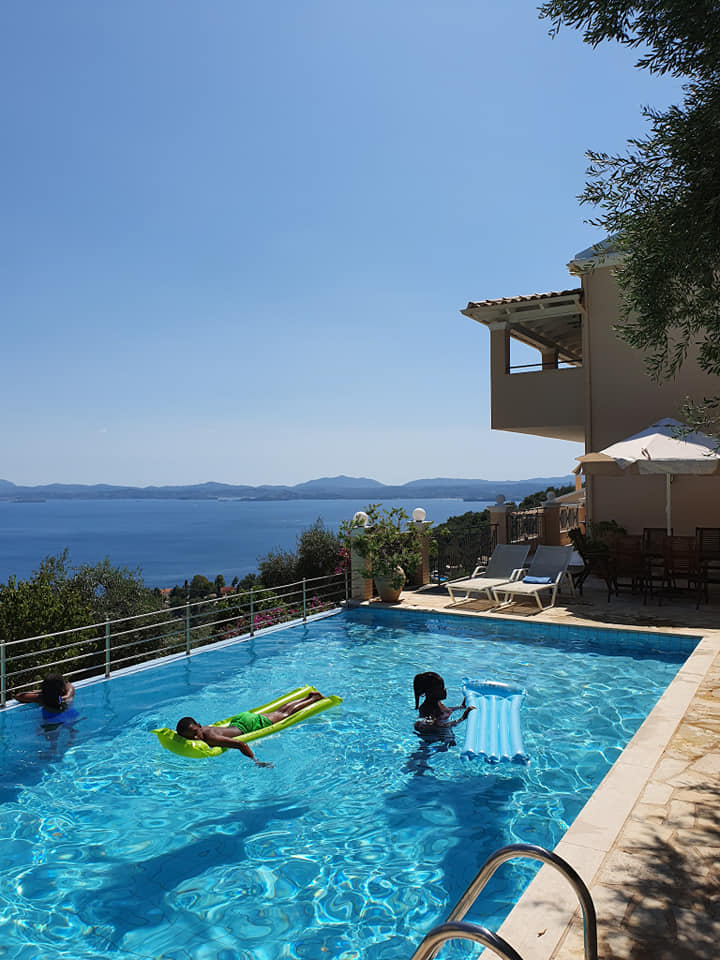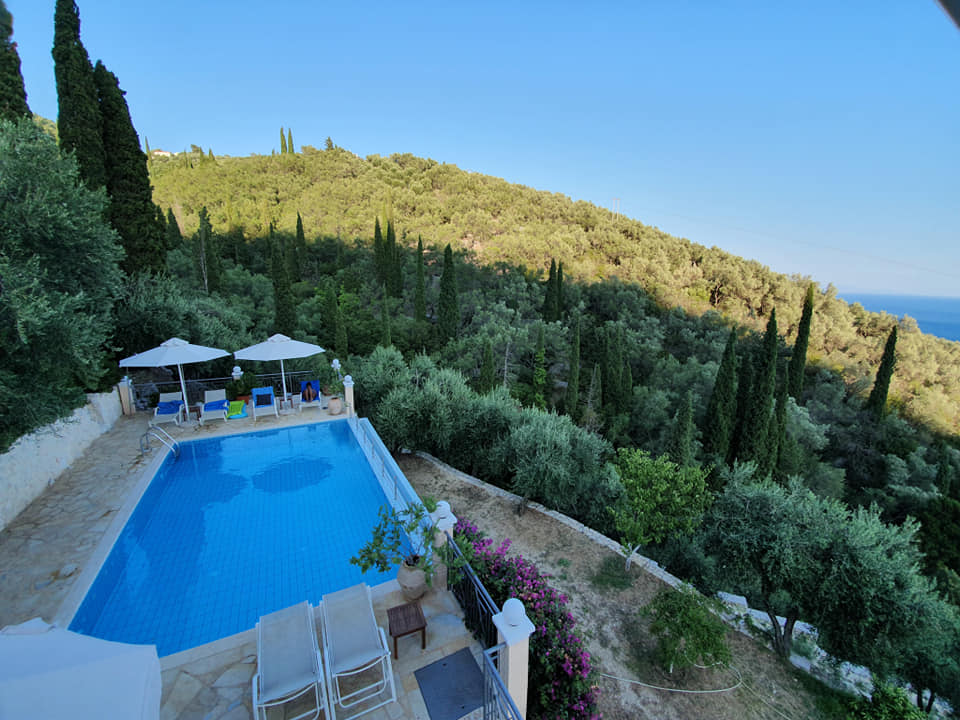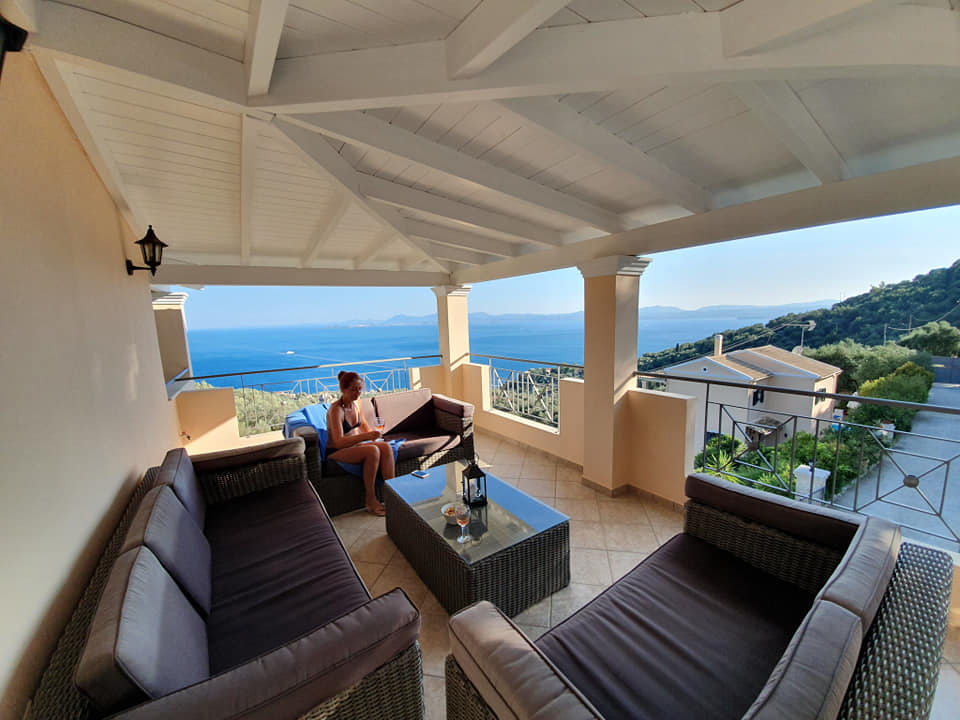 Our last house, Villa Nikos, was in the quiet village of Agios Porkopios and did have a stylish interior, 3 bedrooms of which one with jacuzzi and a lovely outside pool area. This kitchen however was not so well equipped, but I managed anyway. 😉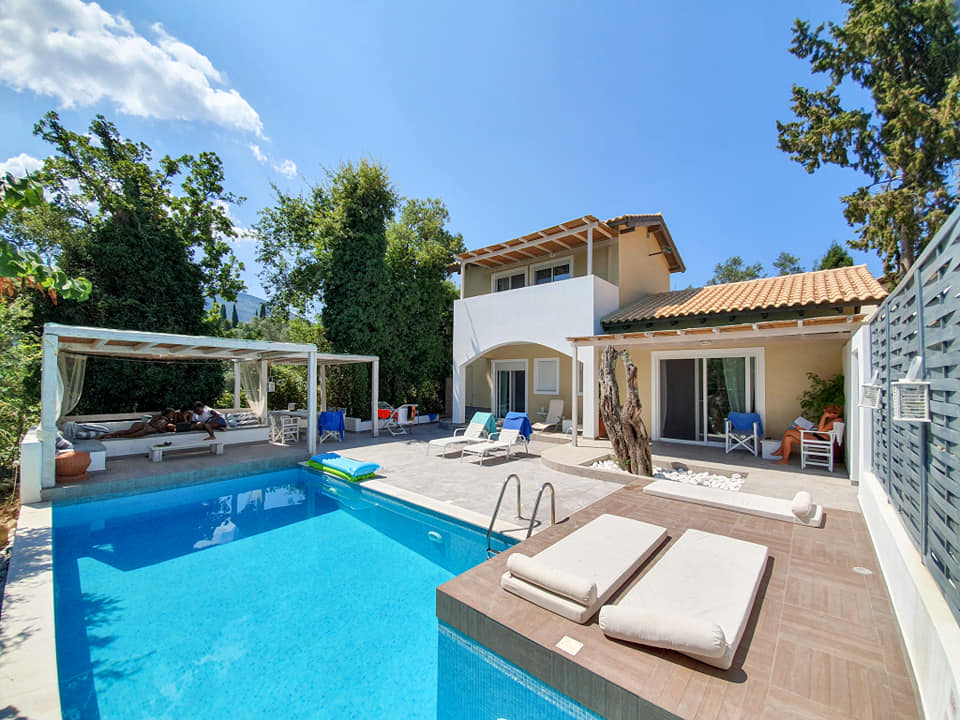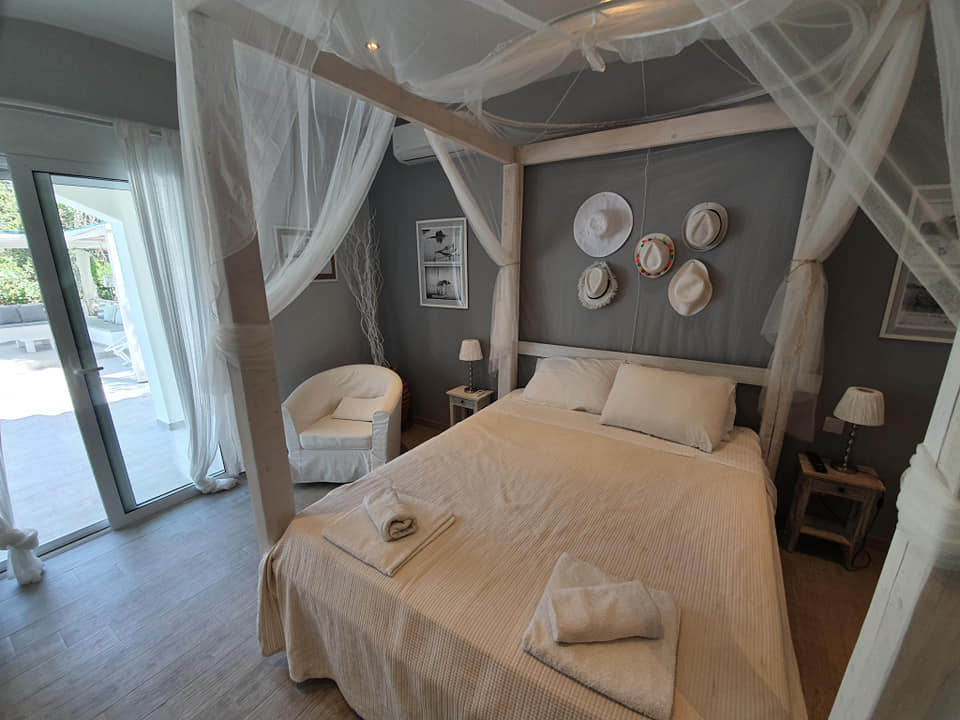 Places to eat and drink we really liked:
We were lucky to get a table at this popular hotspot right in the heart of Corfu Town and just opposite from our B&B.
Lovely fresh grilled food for a reasonable price. We like!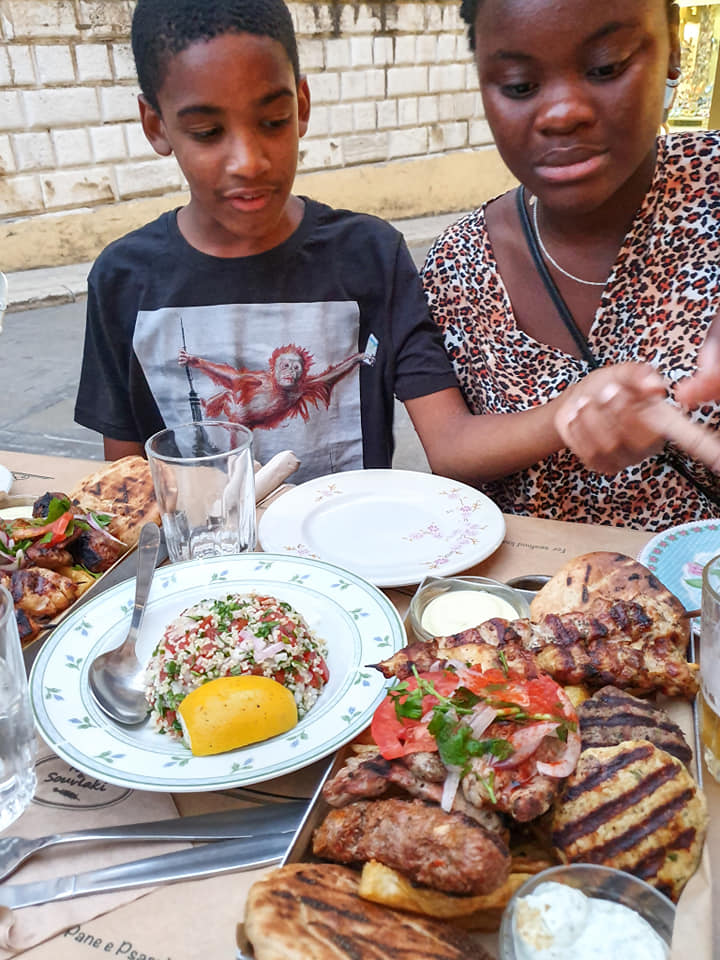 This stylish taverna in Barbati is thé place for fresh seafood combined with lovely seaviews. Not the cheapest place, but worth going! It was close to our villa so we ended up here twice during our stay. Those sardines!!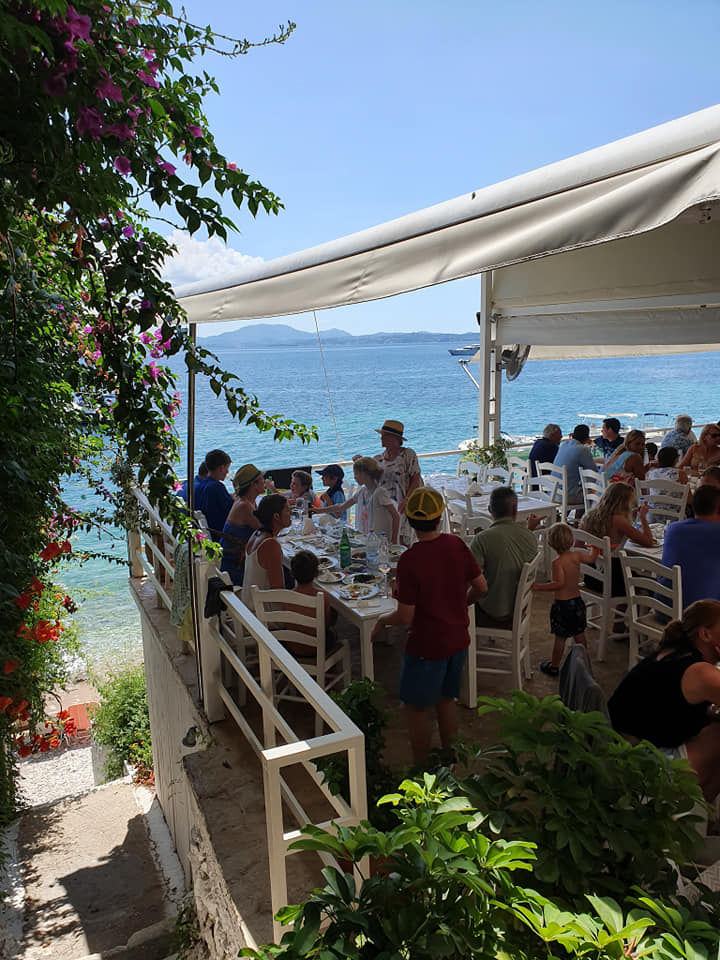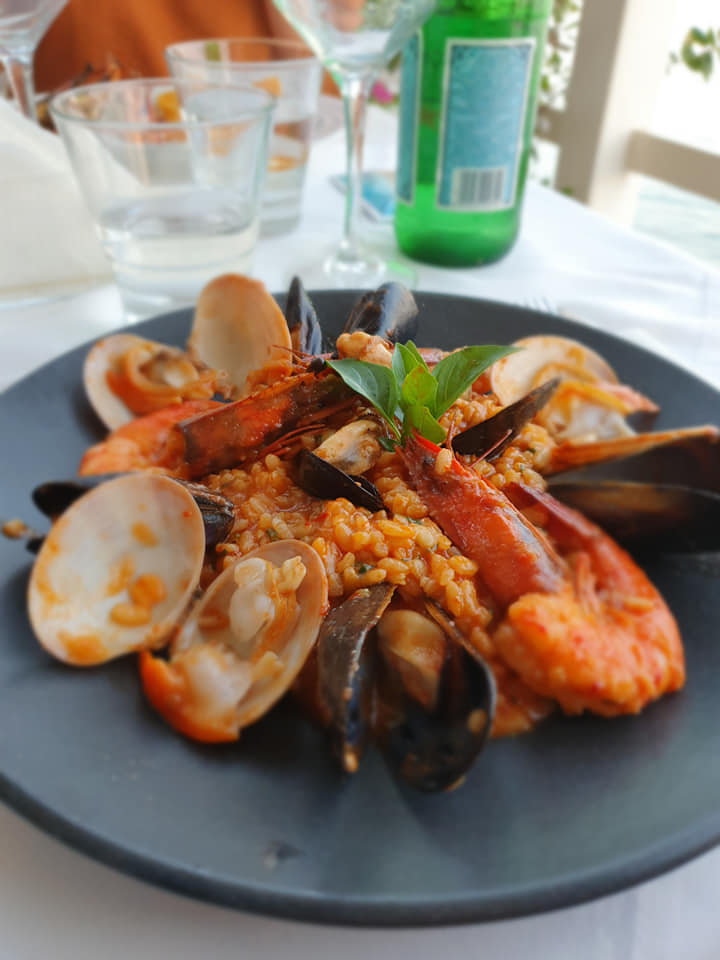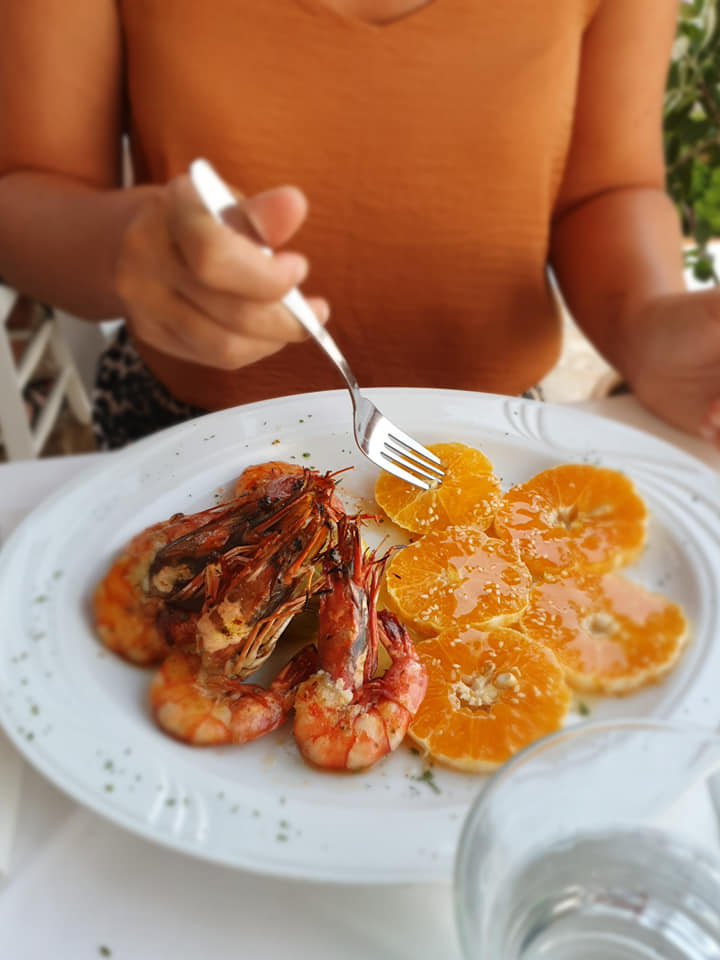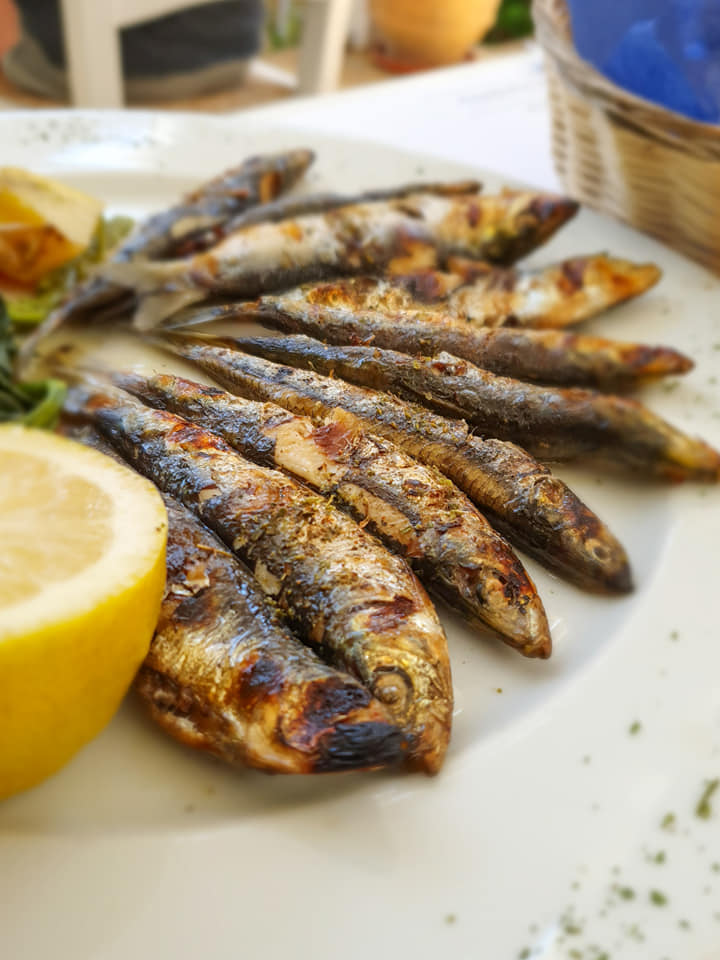 This lovely restaurant offering fantastic views over Paleokastritsa was no doubt thé best one we visited during our holiday.
Super friendly service, lovely fresh food, amazing views.
I can only say: a must-visit!!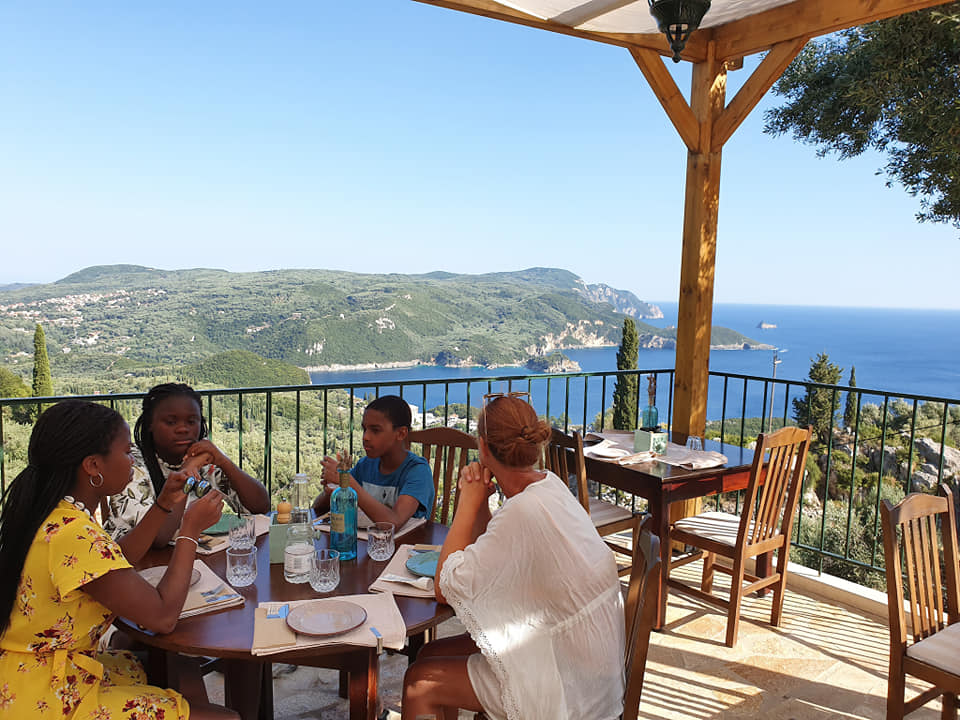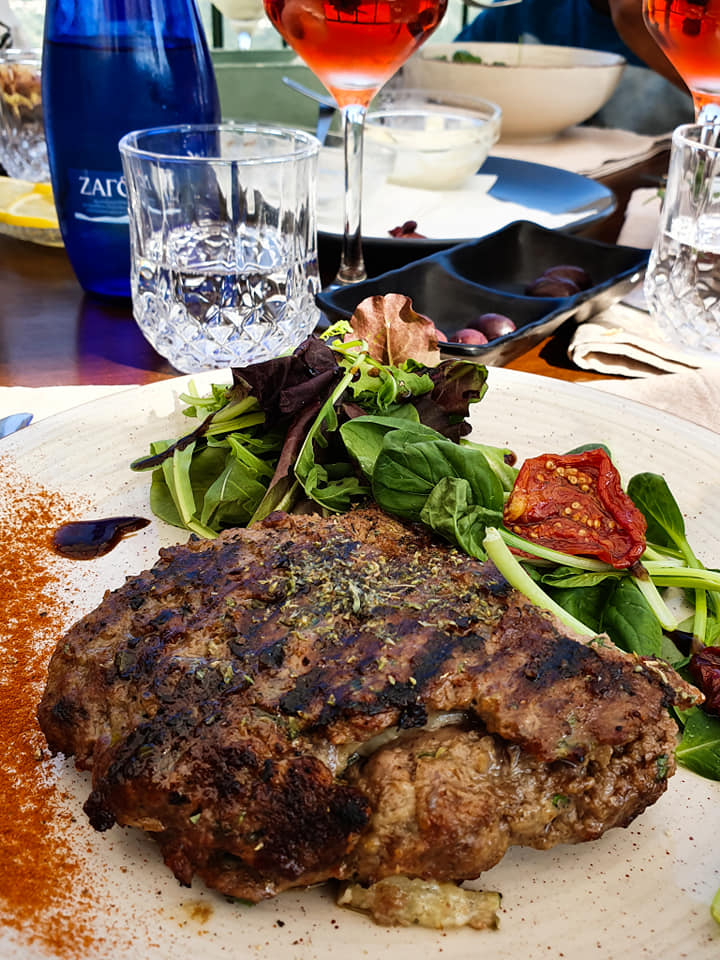 In Corfu Town we had a traditional Greek lunch at family-run Pergola Taverna in the Jewish quarter.
Good food, good prices. Recommended!
We stopped for dessert in this friendly place with indeed ' a golden view' in Agioi Theodoroi. That pastry…mmm. That ice-cream… mmm. 😉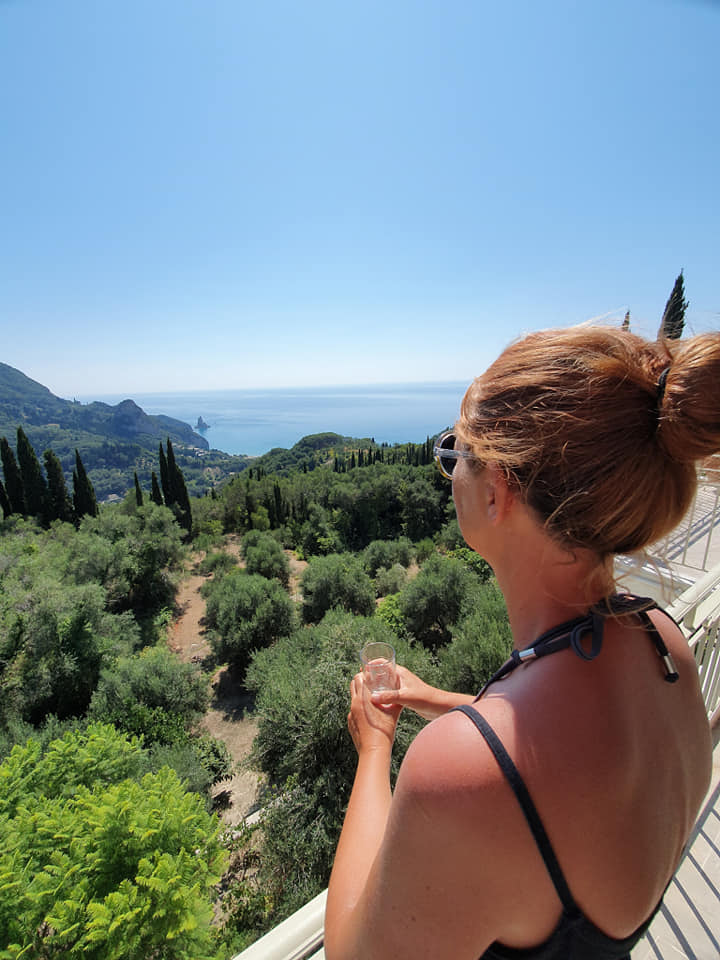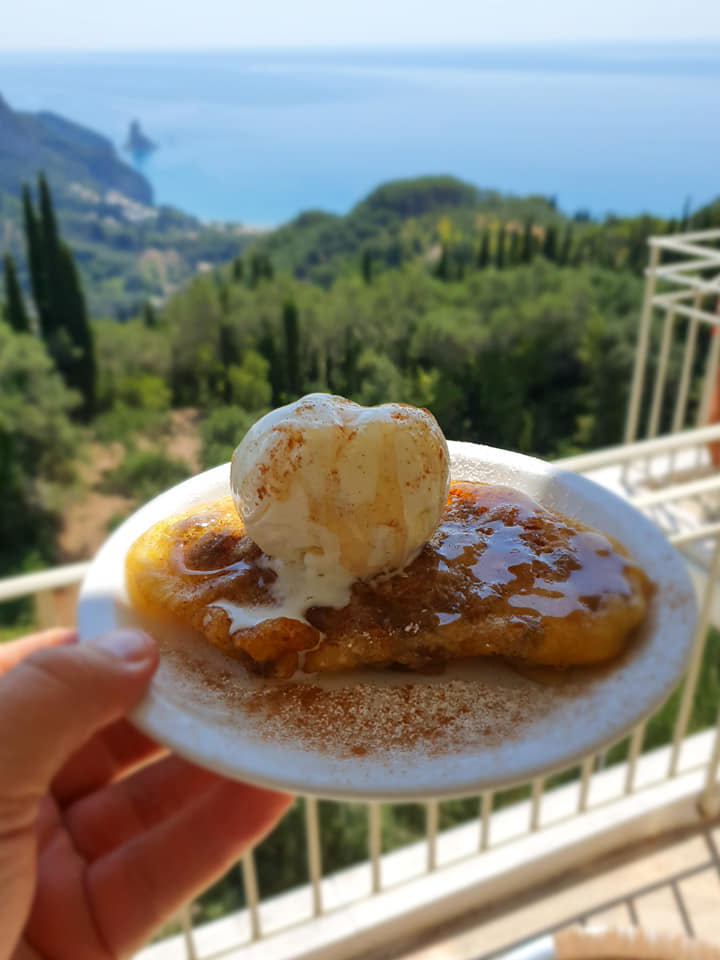 We so enjoyed our dinner at this friendly village taverna. Lovely views from the terrace and delicious ginger beer, still made according to the grandfather's old recipe. Quite a treat!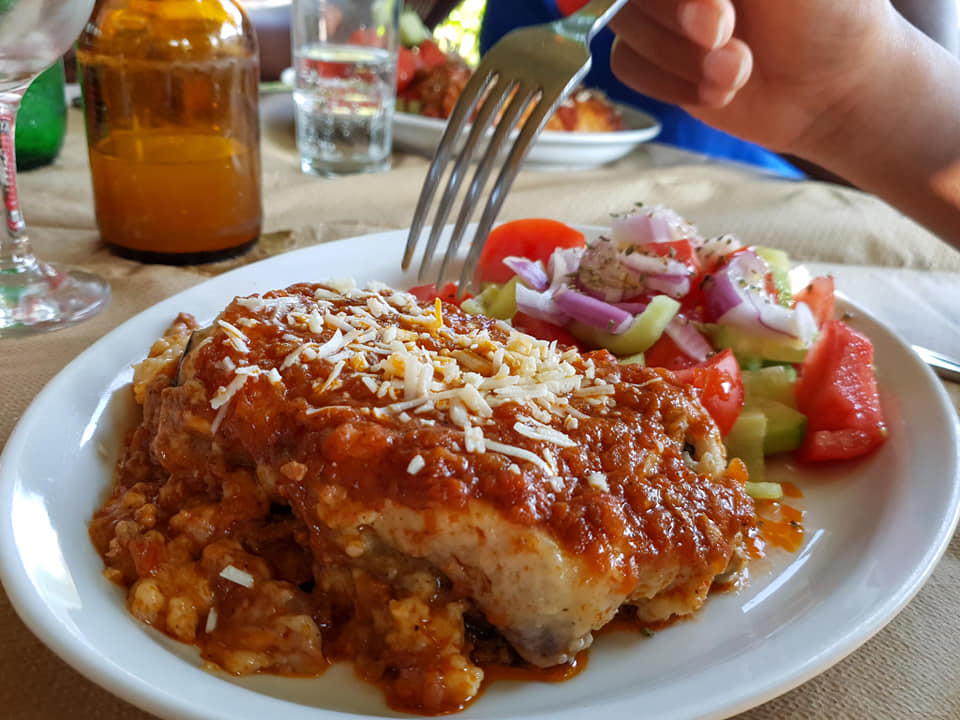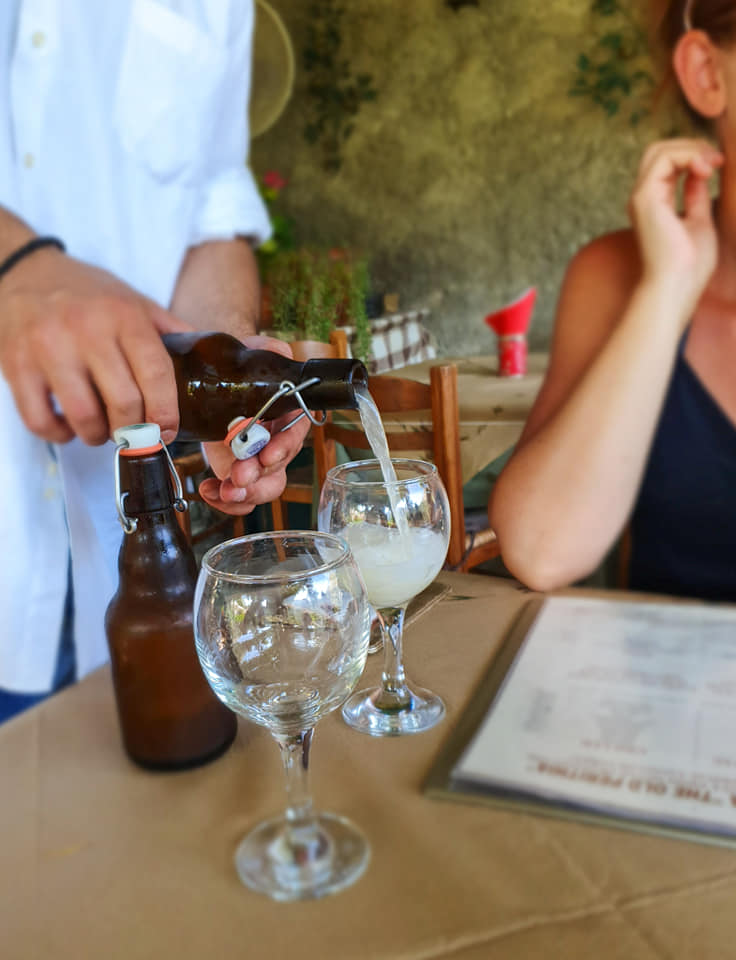 So, Corfu?
Yes! Go and experience this Greek island for yourself. You won't be dissapointed. I certainly wasn't. 😉
Special thanks to the lovely people at Optiek De Putter in Aarschot for always providing me with thé best and coolest eyewear.