Exactly 25 years ago – while being in our final year of teacher training – Byevamaria and I went on a  tour of Israel together with our classmates. And we still cherish those memories today.
So we found it was high time to head back and since we heard Tel Aviv turned into this 'cosmopolitan buzzing city by the sea' over the past years, we chose to head there for 5 days, just the two of us (hurray for 3 kids on scoutscamp!).
But please, don't expect this post to be the 'ultimate guide to Tel Aviv'. Many bloggers wrote about this city before me and I'm sure you can find out all the important stuff from them. 😉
This is more our story of what we did and what we liked and as usual we don't always go for the touristy things or the restaurants everyone desperately needs to visit, but we tend to more 'go with the flow and see where we end up sort-of-thing'. Does that make sense to you?
If it can inspire you in some way, great! If not, no problem. 😉
And just for the record, this blogpost is not sponsored in any way.
Good to know beforehand maybe is that TLV is a much bigger and also a slightly more expensive city than we initially thought… So prepare for some long walks (unless you use the electronic steps you can find everywhere!) ànd be prepared to spend some money.
In summer – as we experienced these past days – it can also get really hot! So hydrate was the keyword during our trip.
Best time to travel – if you can – would be between May and June or September-October.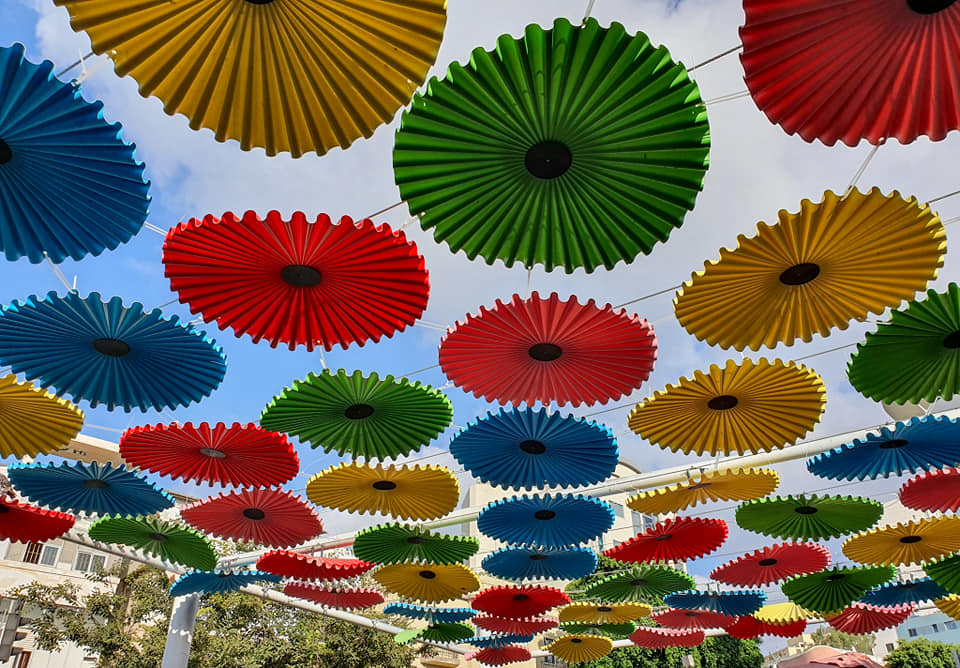 Here are my top 10 things to do in Tel Aviv (TLV):
1. Go to the beach and 'walk the boardwalk'
Tel Aviv boasts many beautiful beaches so of course we had to spend some time on the beach. Going to the beach is really a lifestyle here as many Tel Avivians spend some time here every day, including a lot of families.
The beach infrastructure is absolutely great with lifeguards, outdoor gyms, playgrounds, beachbars… you name it, it's here!
And we've never seen a more impressive collection of beach bodies than here in TLV… and no, I'm not talking about myself unfortunately… 😉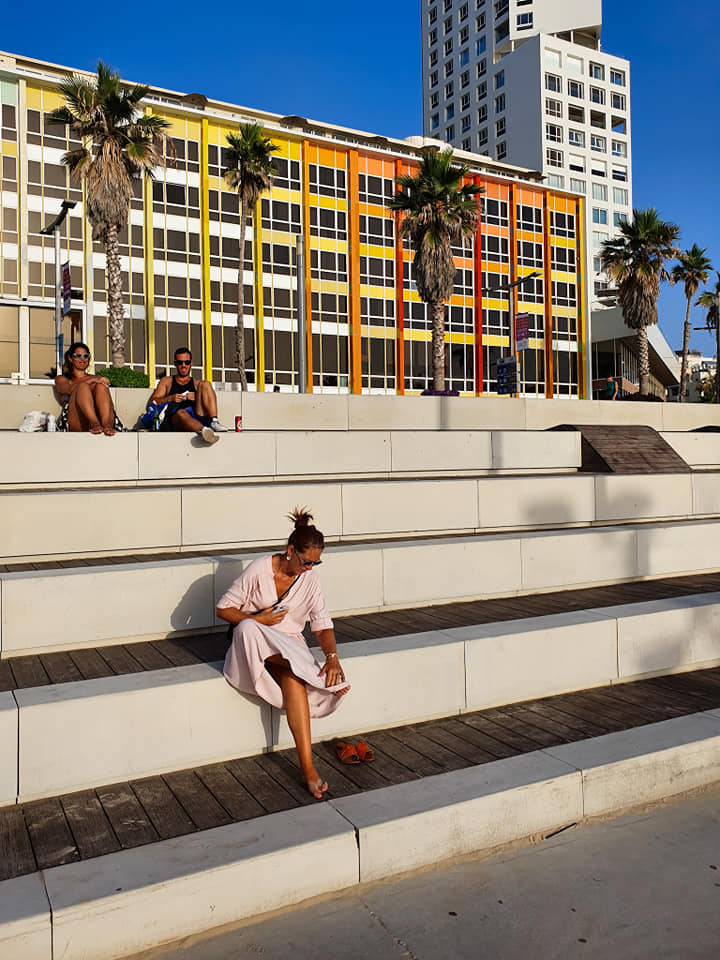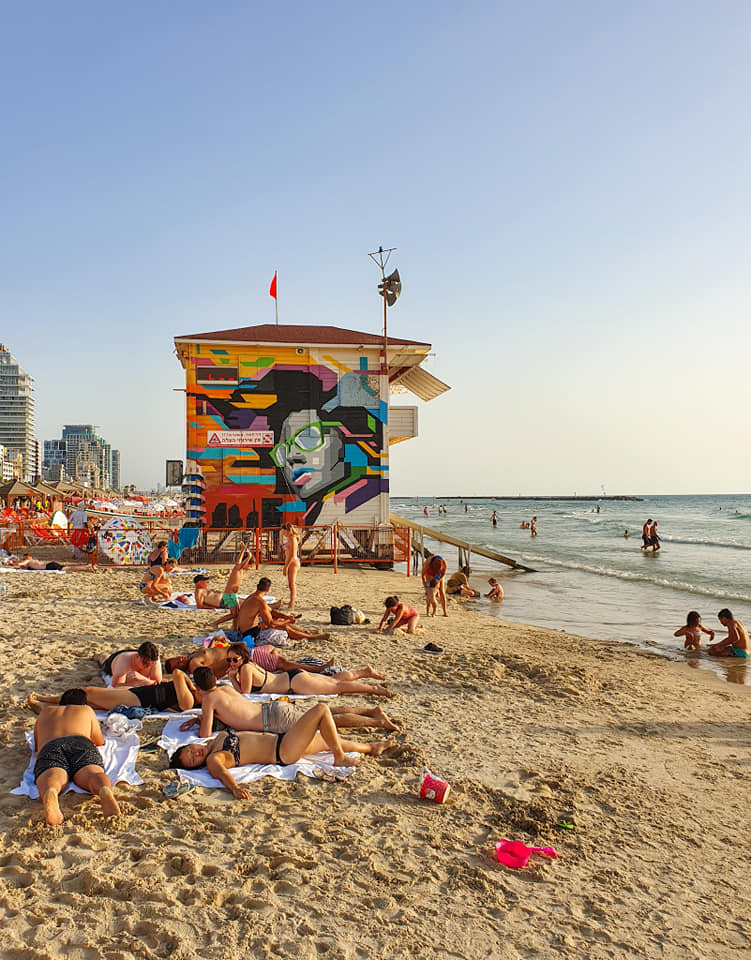 You can easily rent your beachchair and umbrella via a machine under the boardwalk and then a staff member will help you set it up.
Plenty of beach bars to choose from too. We quite liked La la land and Gazoz Beach.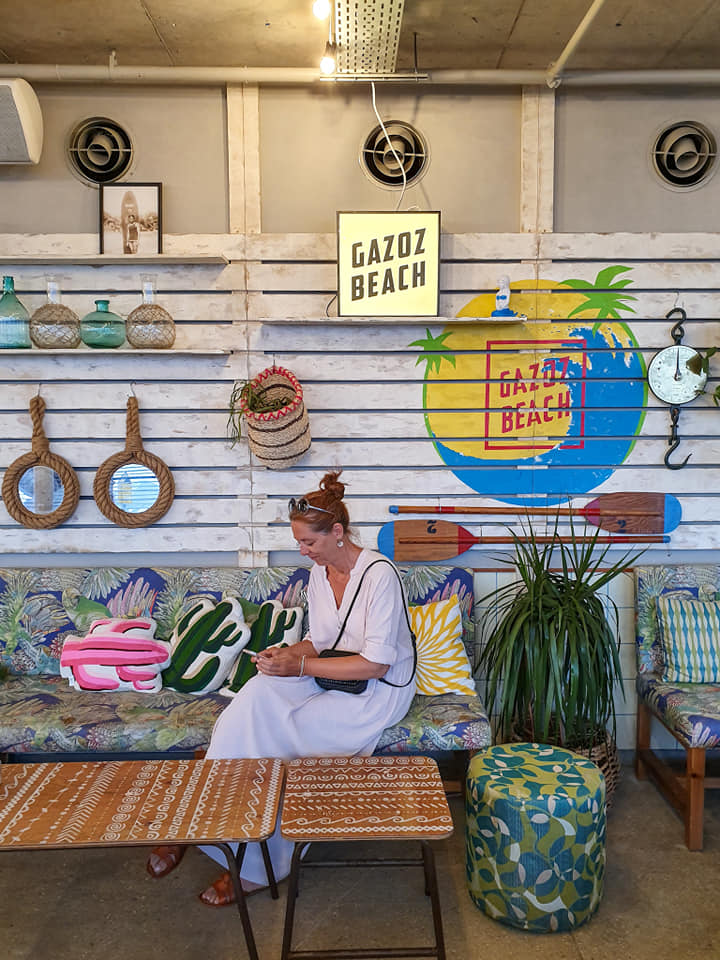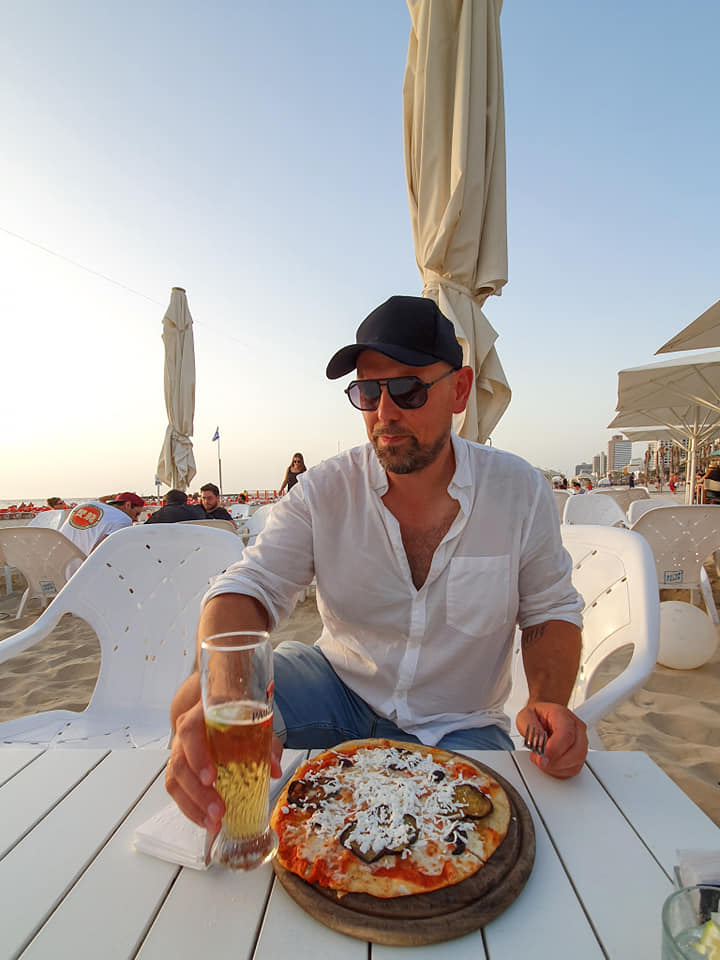 The Tel Aviv boardwalk is thé place to feel the TLV-vibe. Day and night people are jogging, powerwalking, riding their electric scooters up and down this miles-long boardwalk.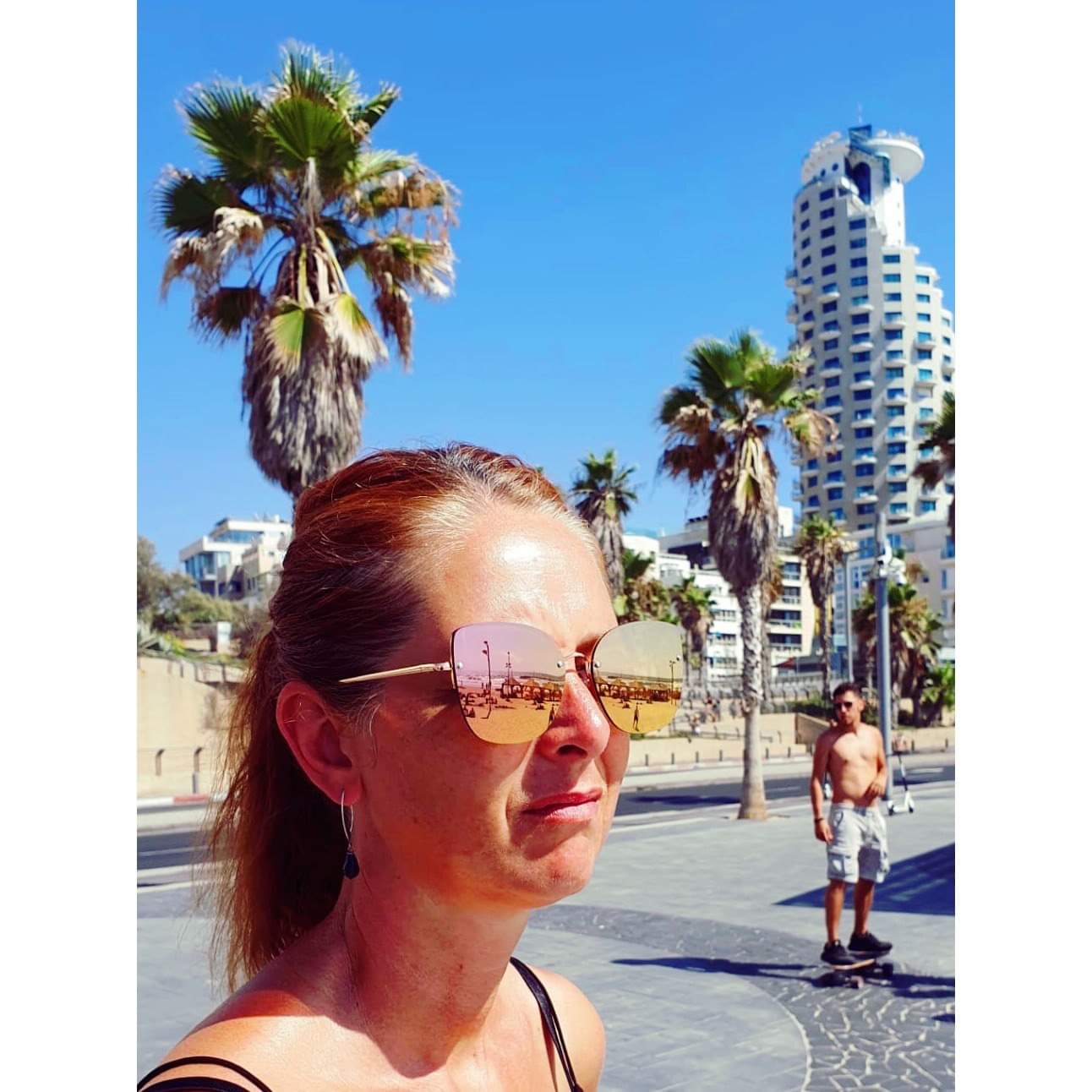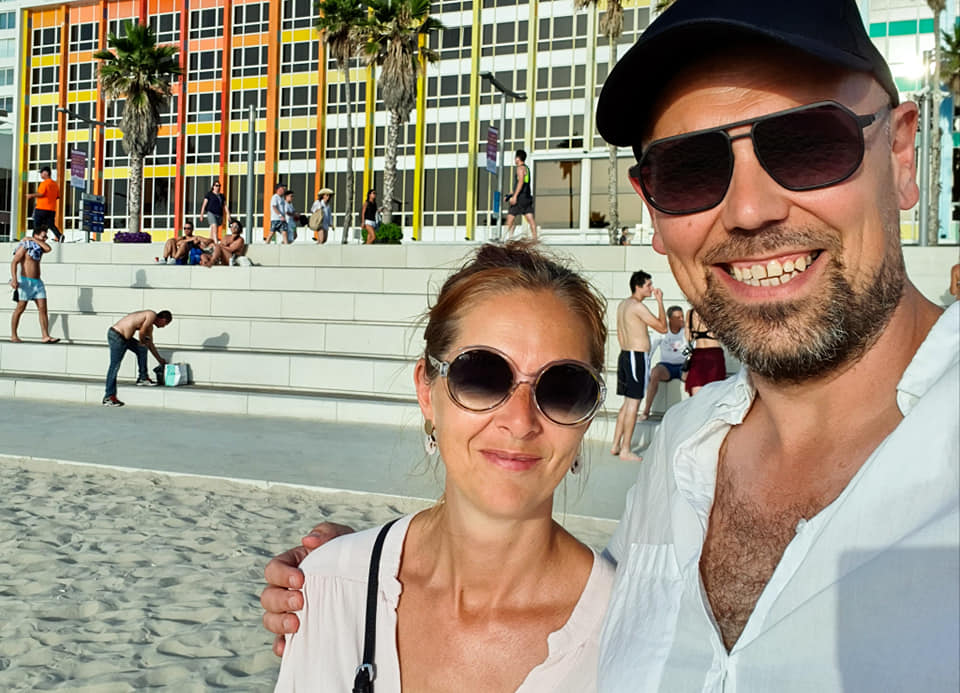 The boardwalk is also the perfect spot for some sunset watching, as we did on our walk back from Old Jaffa.
Amazing also to see how on Friday evening so many families come to the beach and the adjacent parks to celebrate the start of the weekend and Shabbat. Shabbat starts at sundown on Friday and lasts until sunset on Saturday evening and also means that there is no public transport on Saturdays. Unlike in other cities in the country, many restaurants and bars in TLV do stay open during Shabbat and the beaches fill up with both locals and tourists.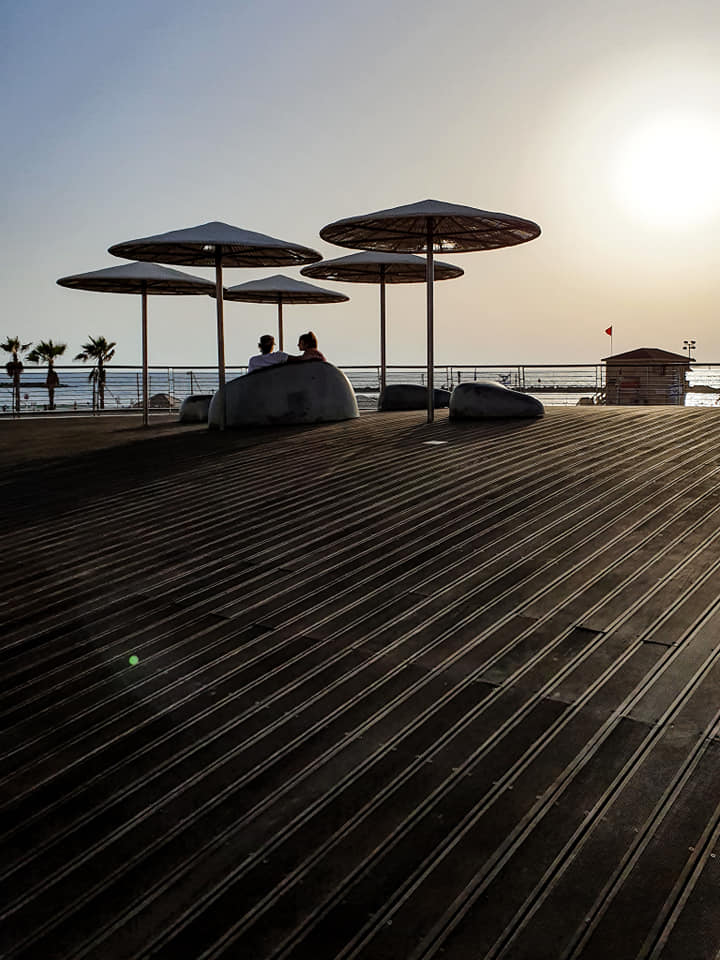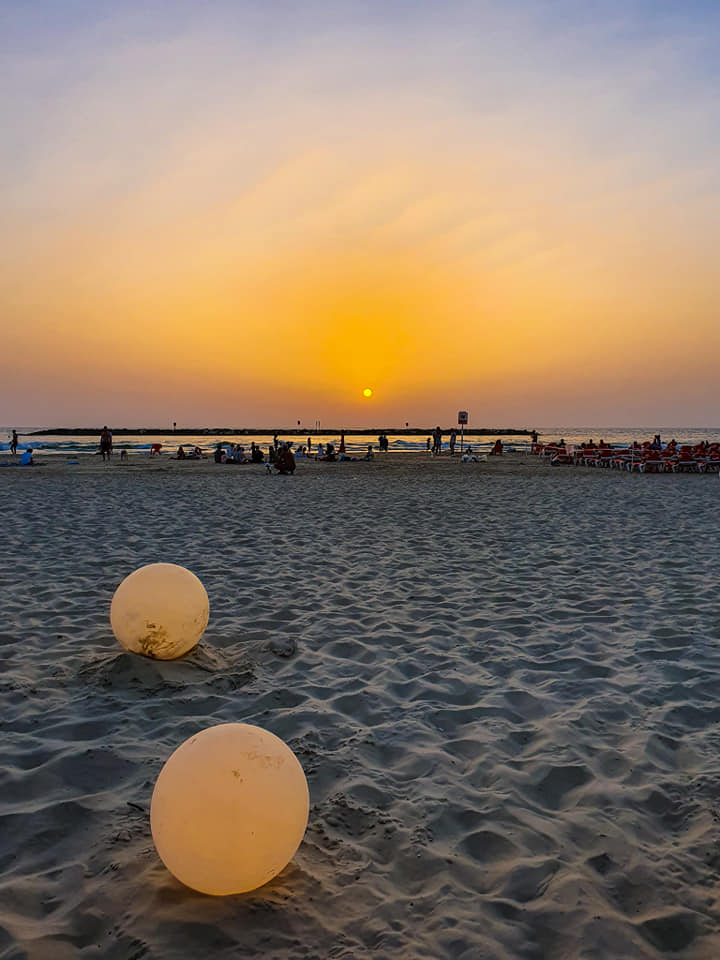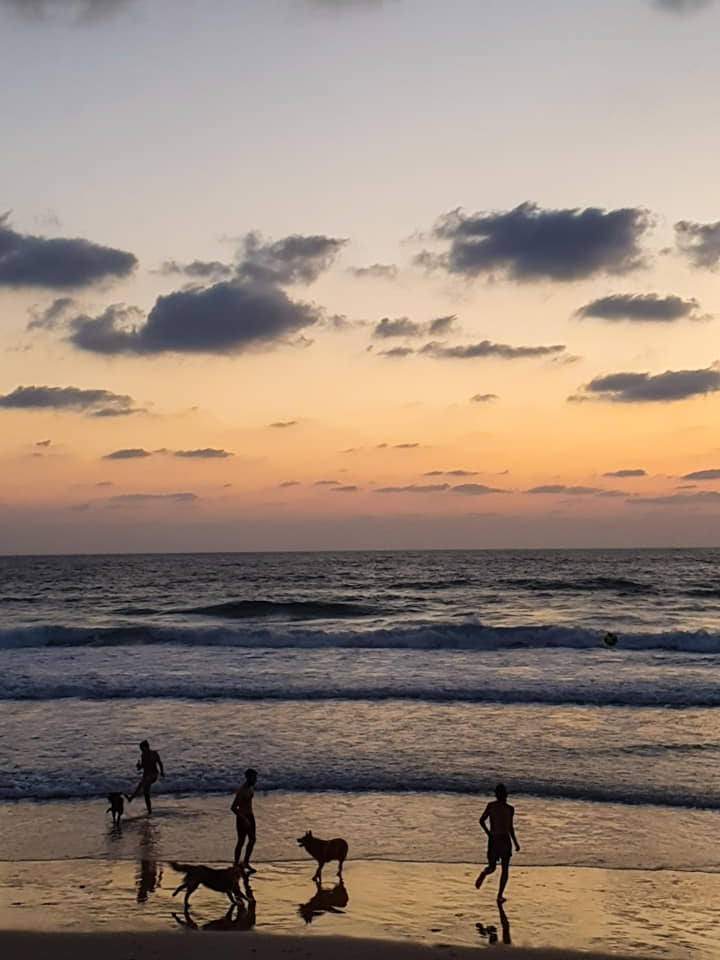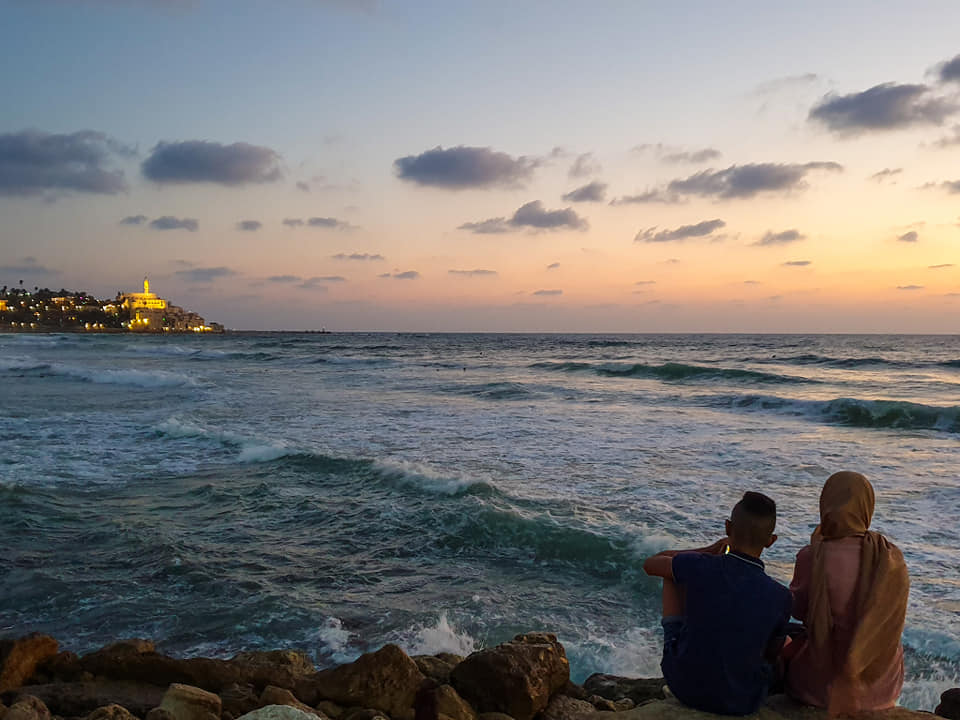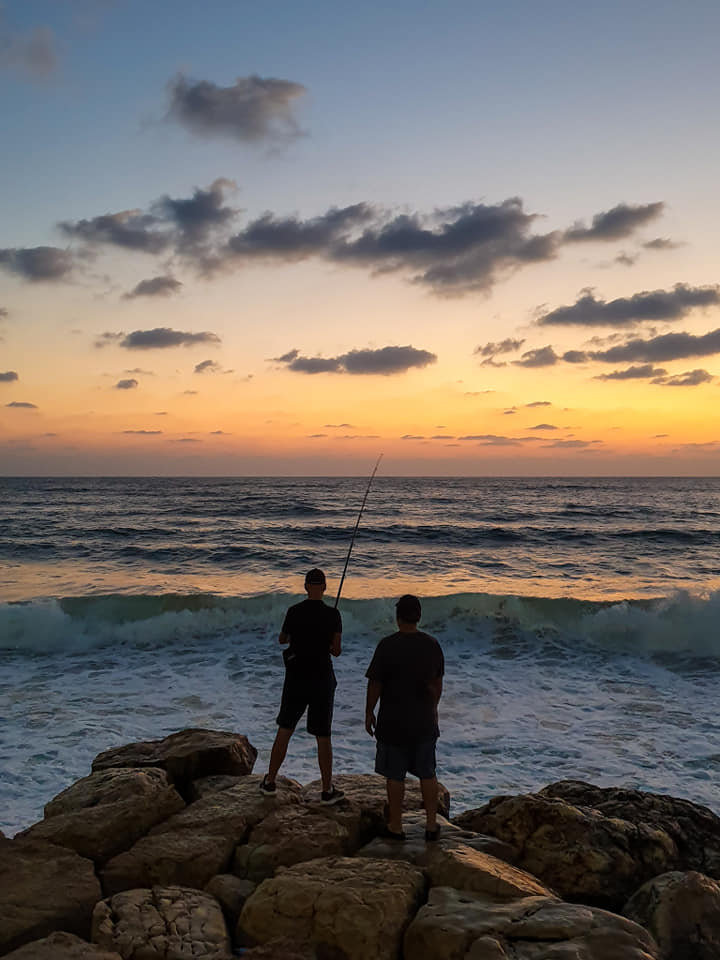 2. Visit the Museum of Modern Art
Truly stunning architecture (!) and an amazing collection in this fascinating  Museum of Modern Art, located in the middle of the city. And not only the modern art is great, but you can also see some wonderful works by old masters such as Van Gogh, Picasso, Monet and Klint.
Worth while going there! (and it's nice and cool in there too…)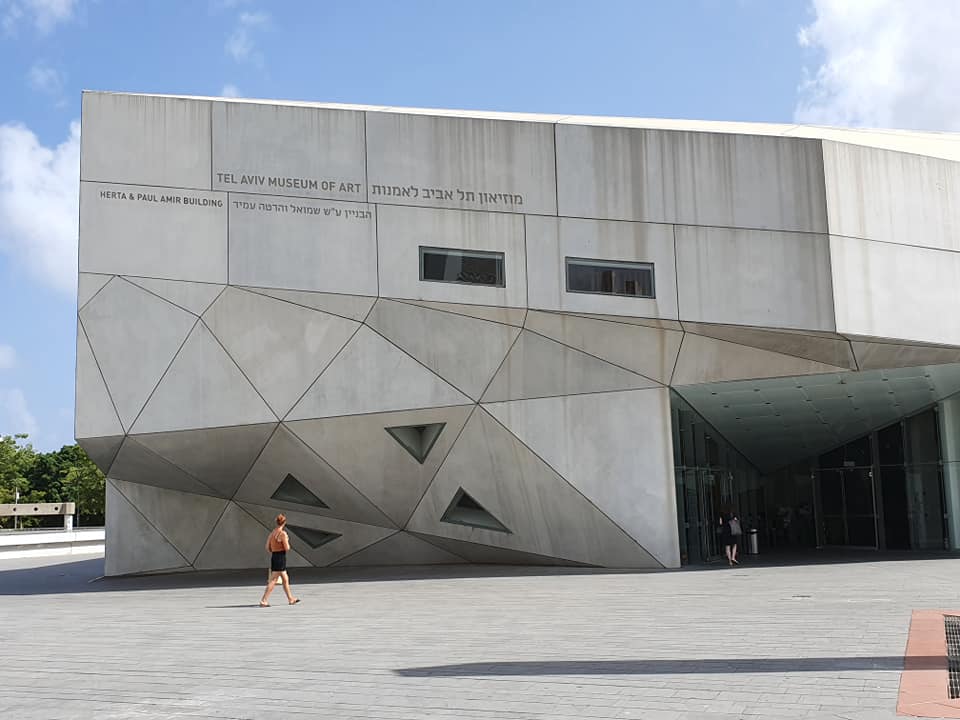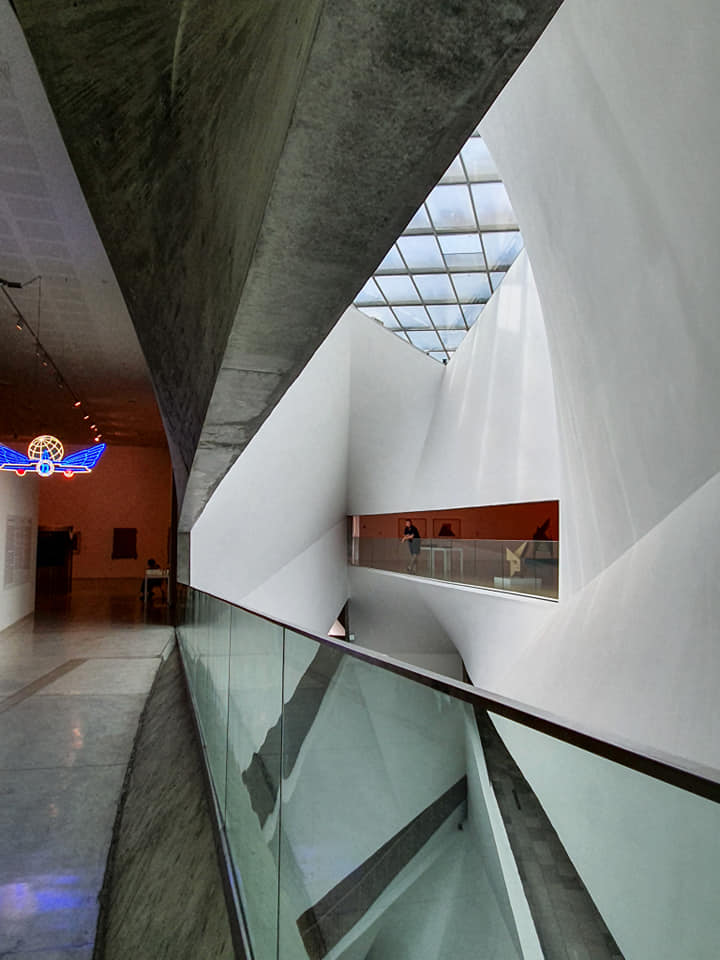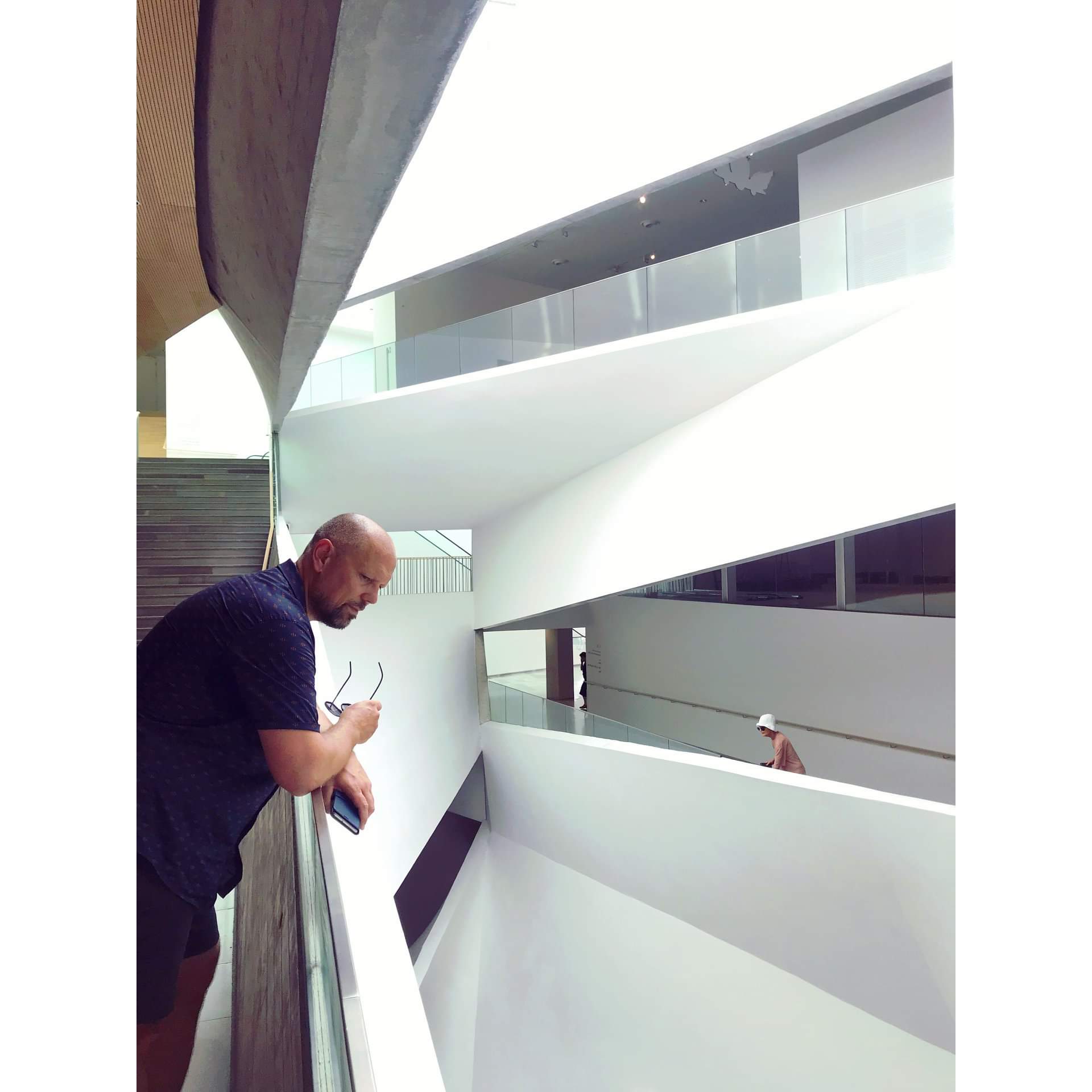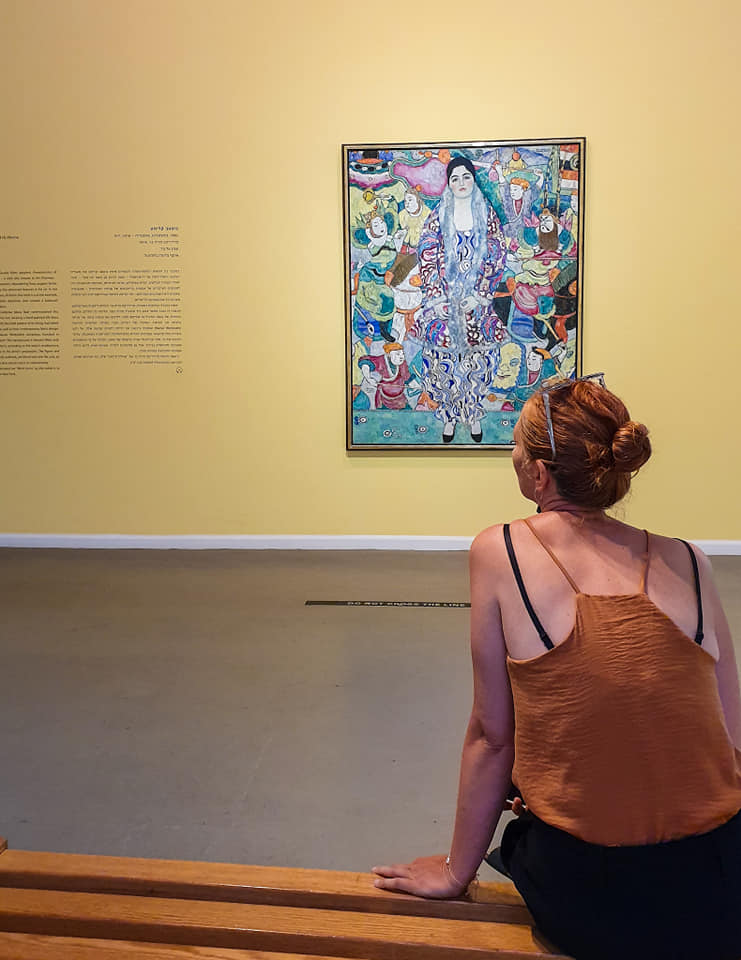 3. Visit Old Jaffa
We walked twice from our hotel to the old harbour city of Jaffa which is just south of TLV and is now a part of the city.
We absolutely loved it there!
Start by visiting the old port (and maybe have a drink at the seaside kiosk upon entering Jaffa),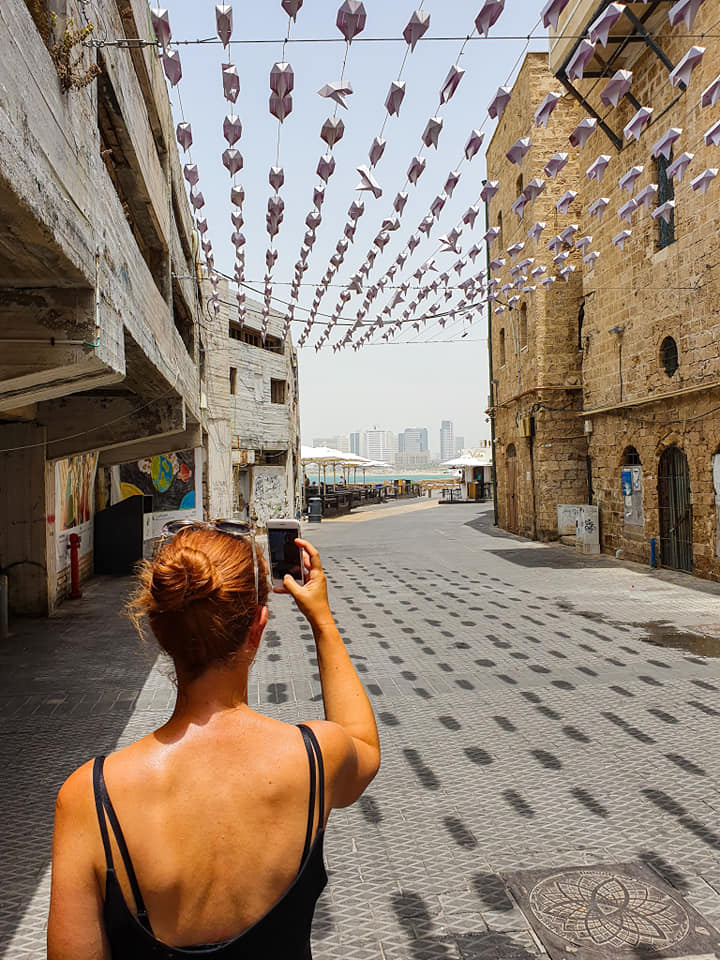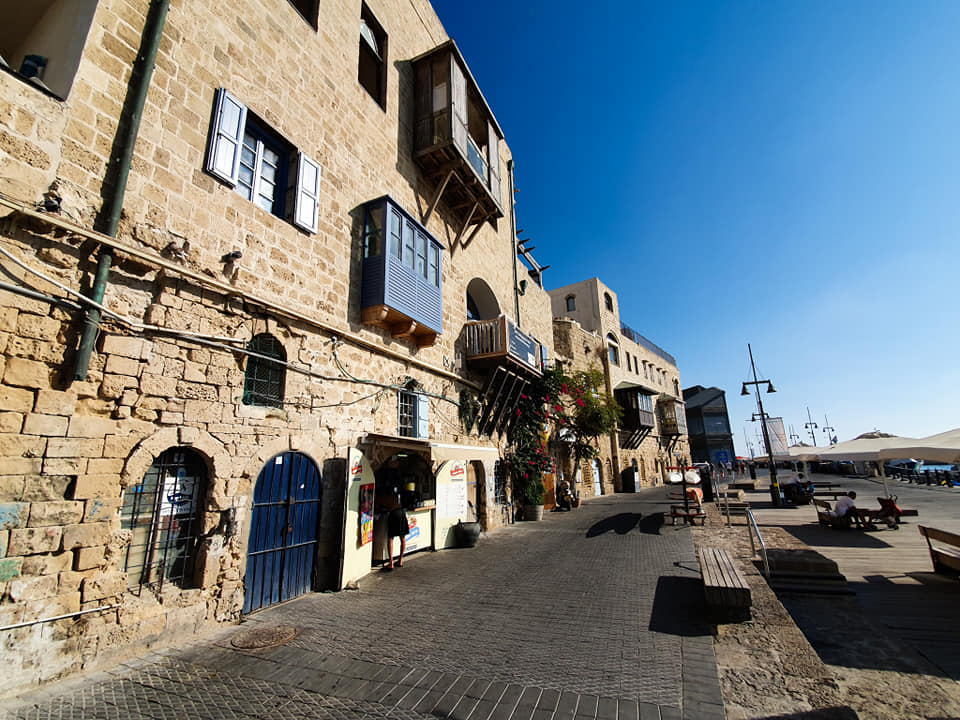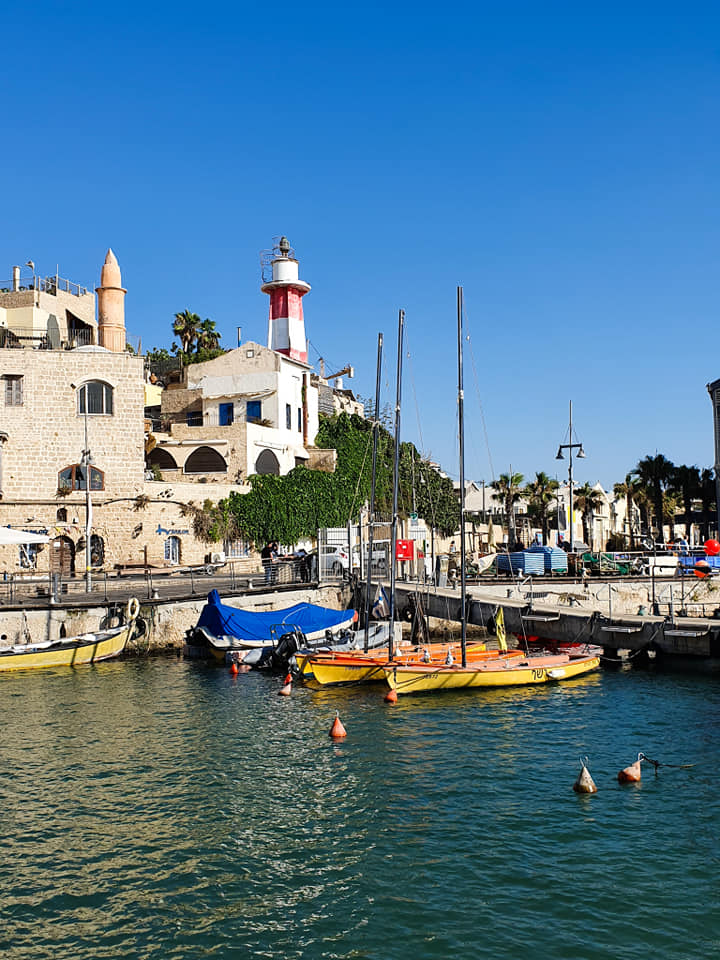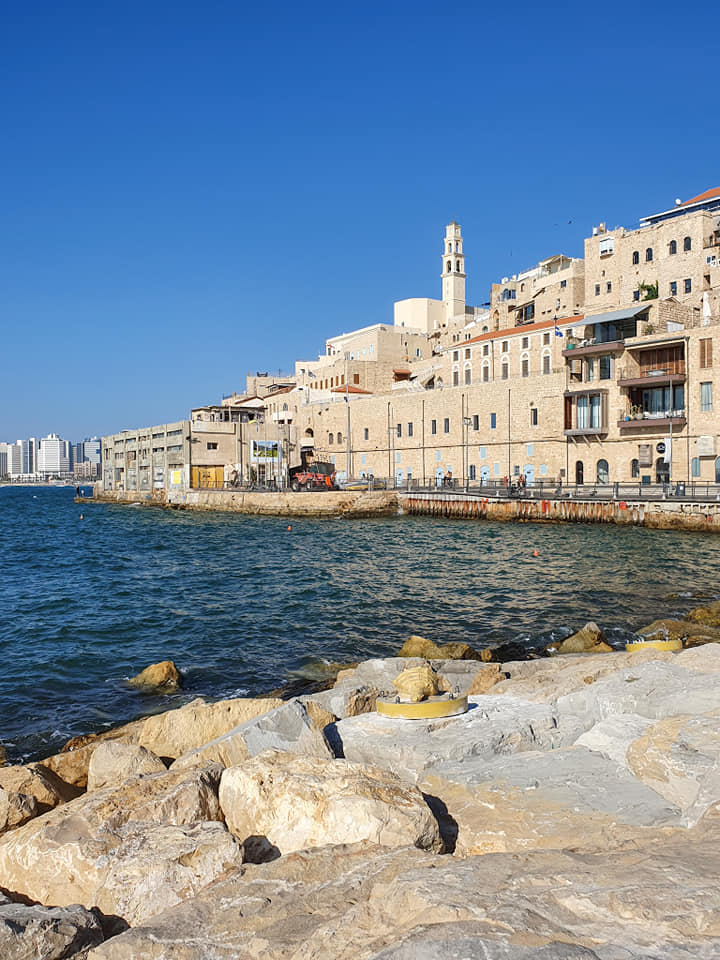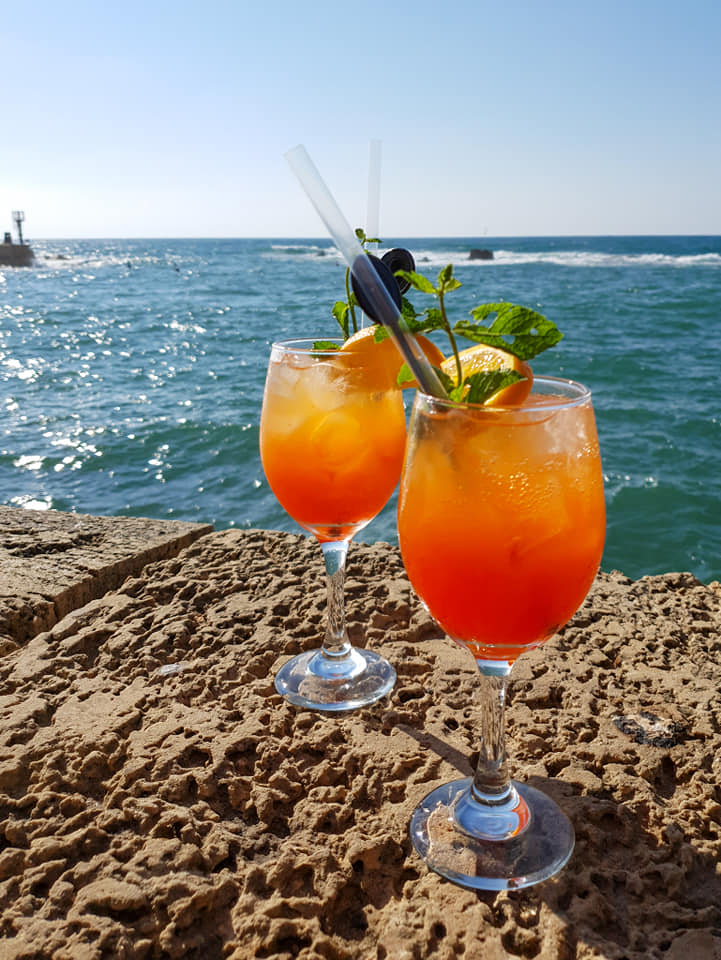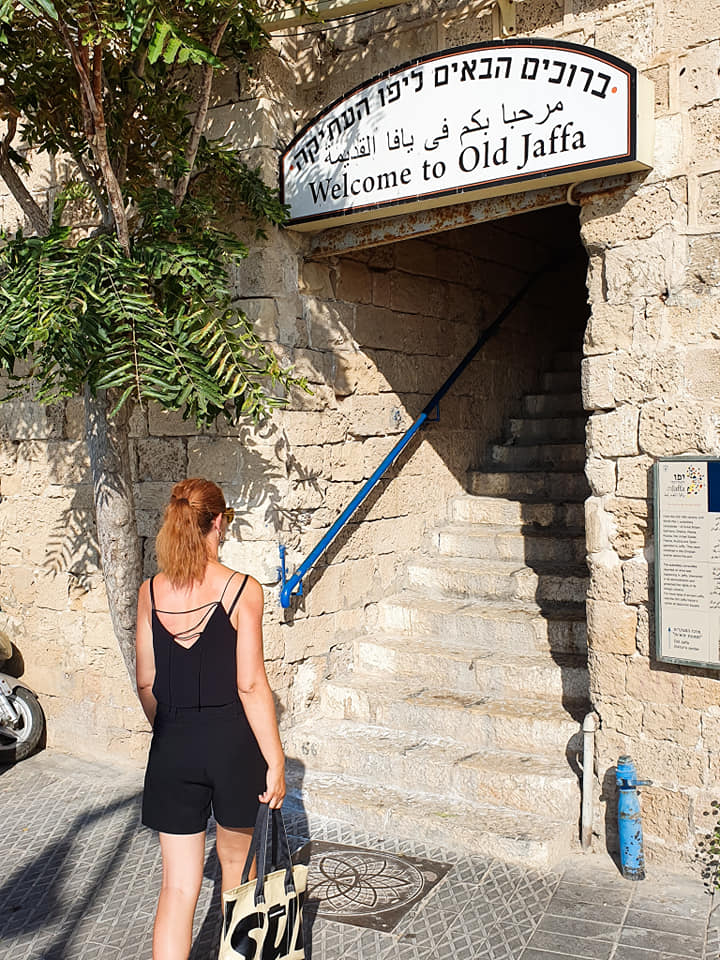 wander through the charming ancient streets and alleyways and visit the flea market and some of the lovely shops or art galleries in this area.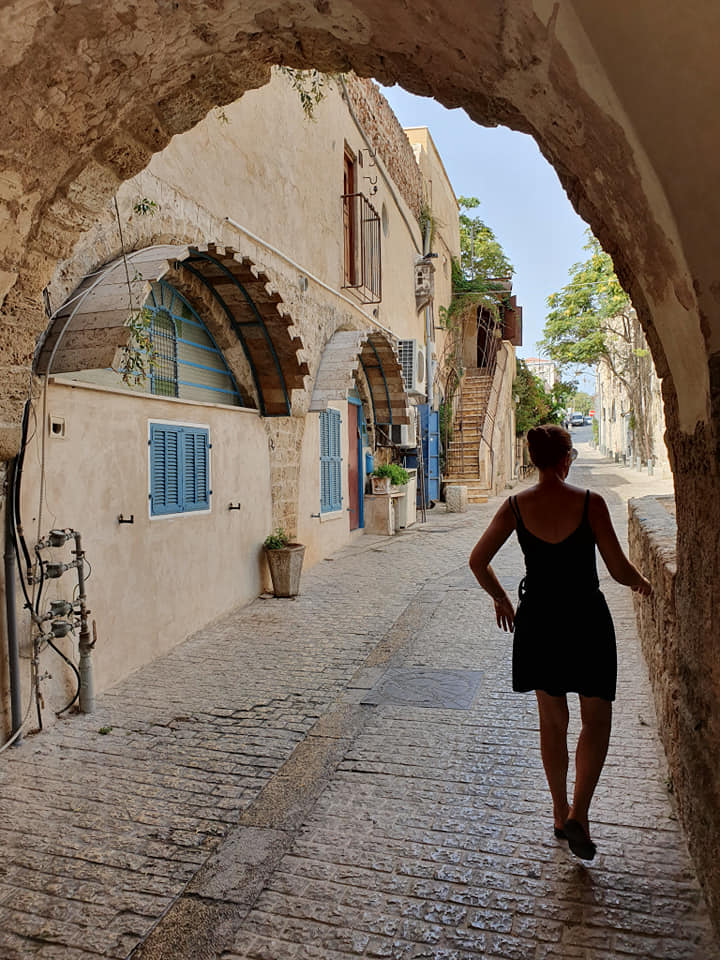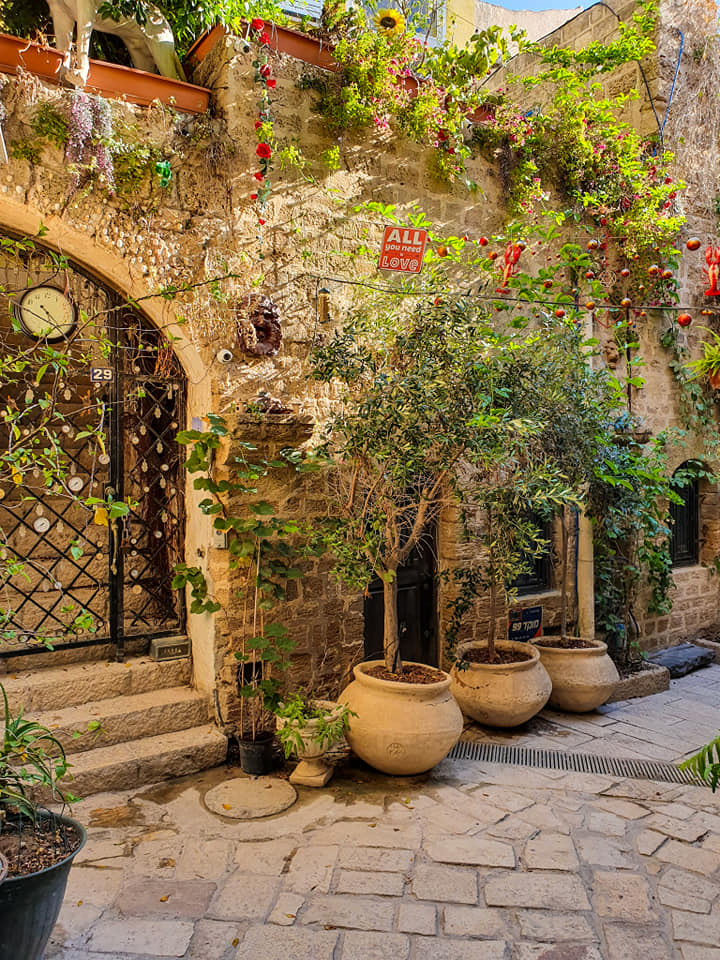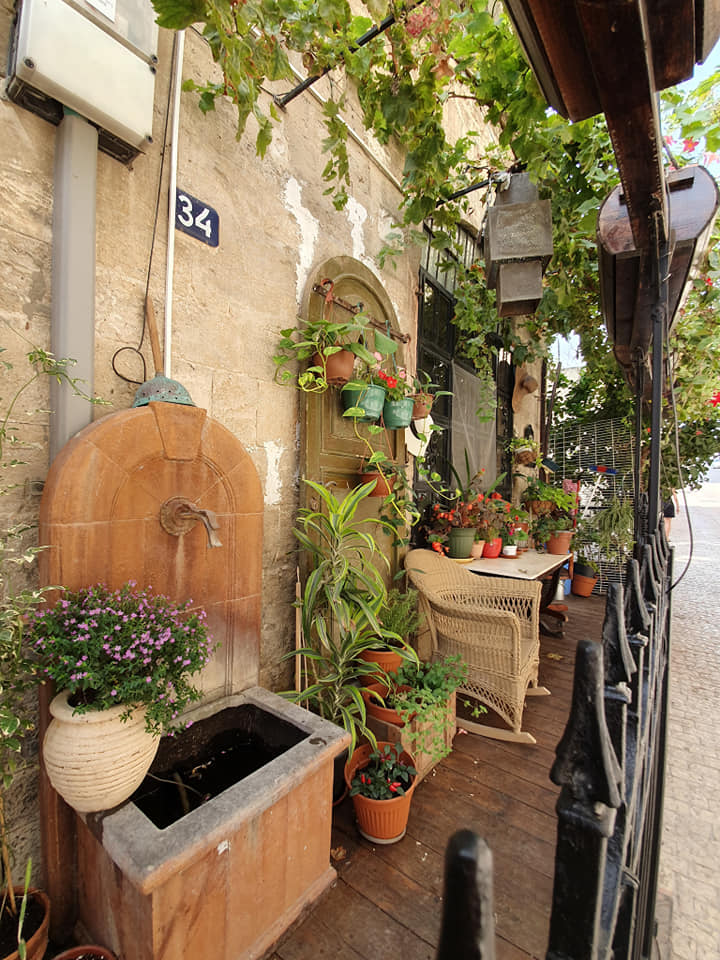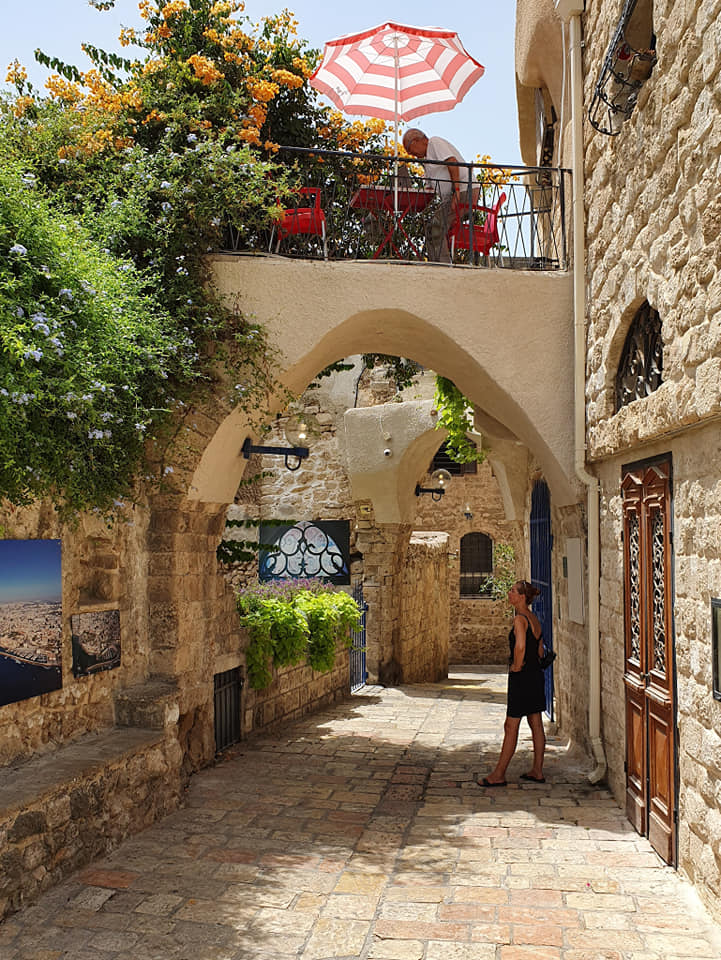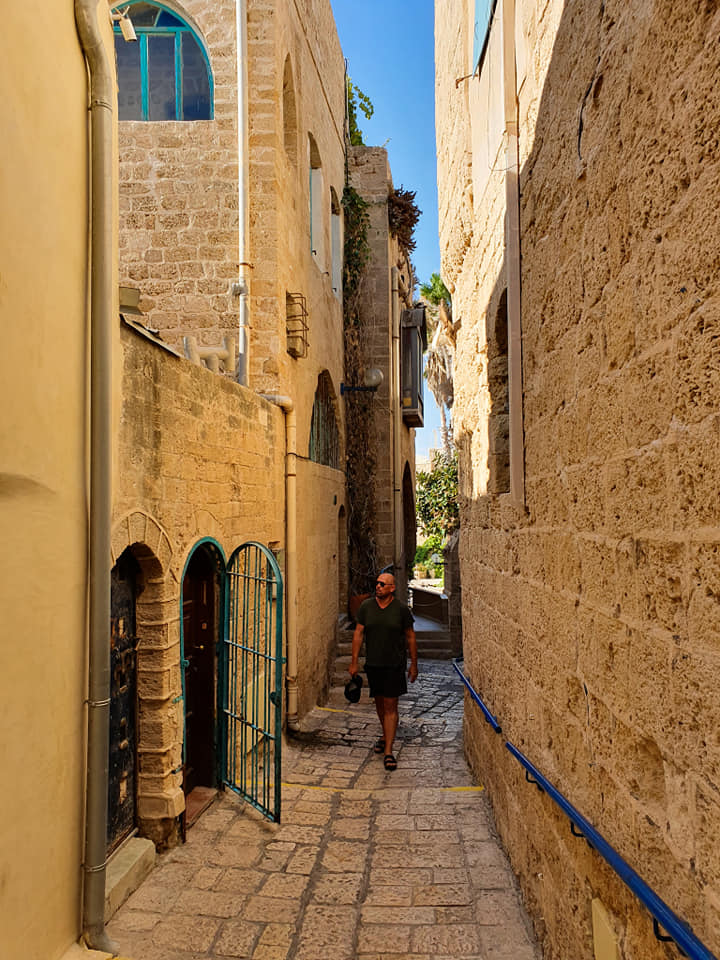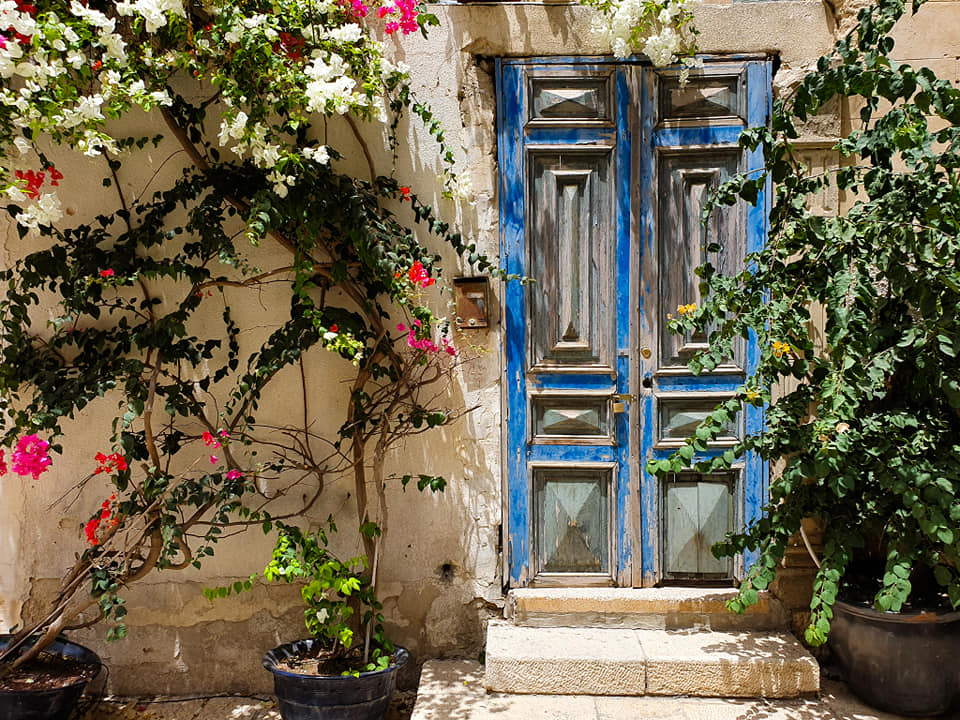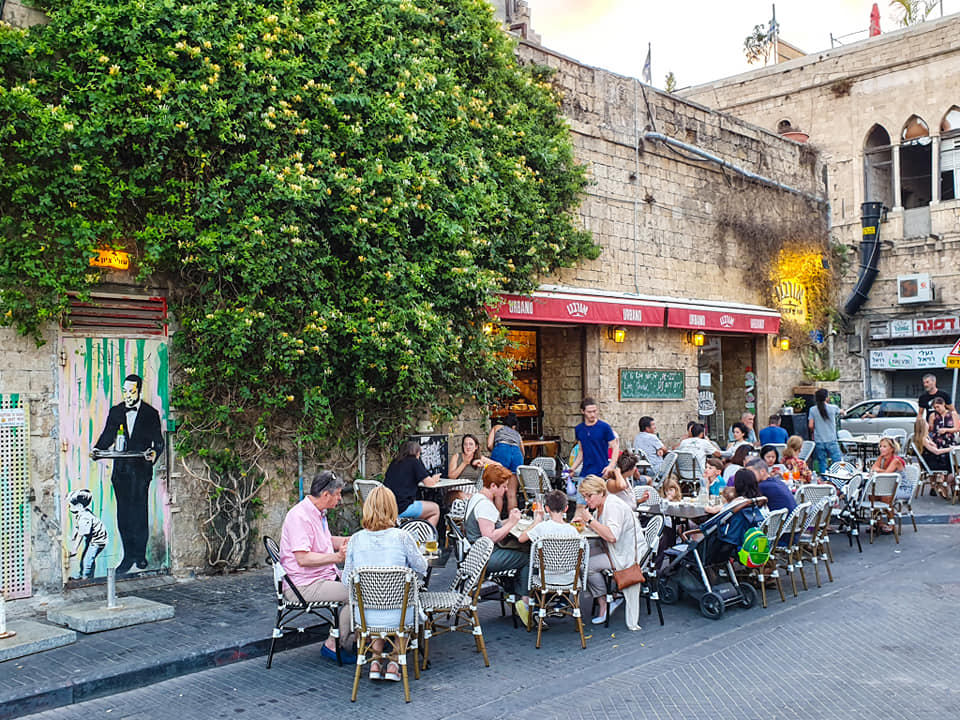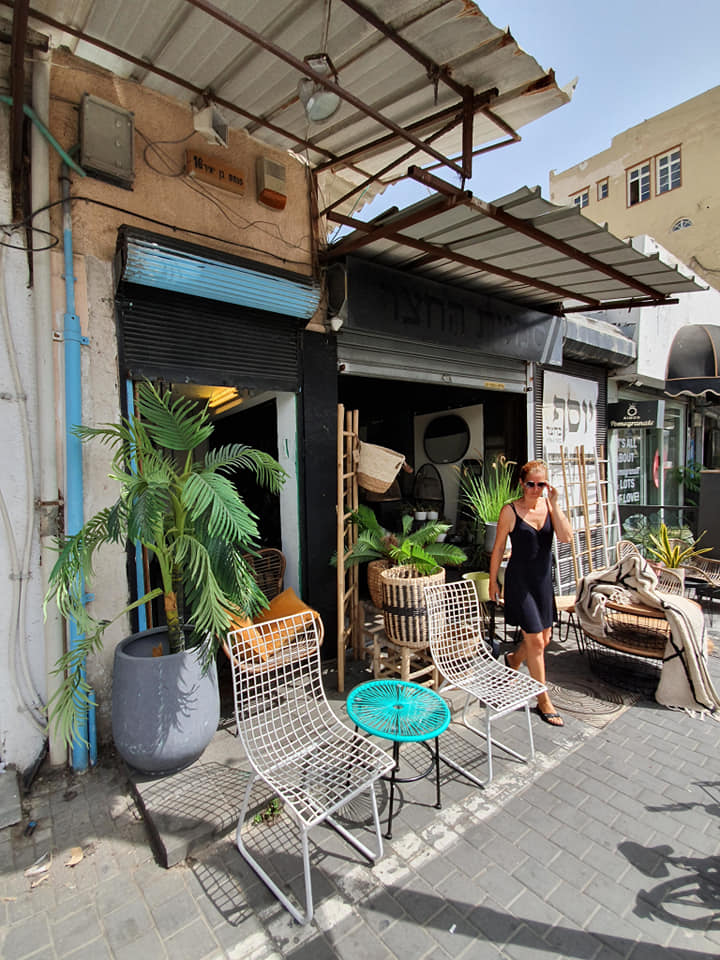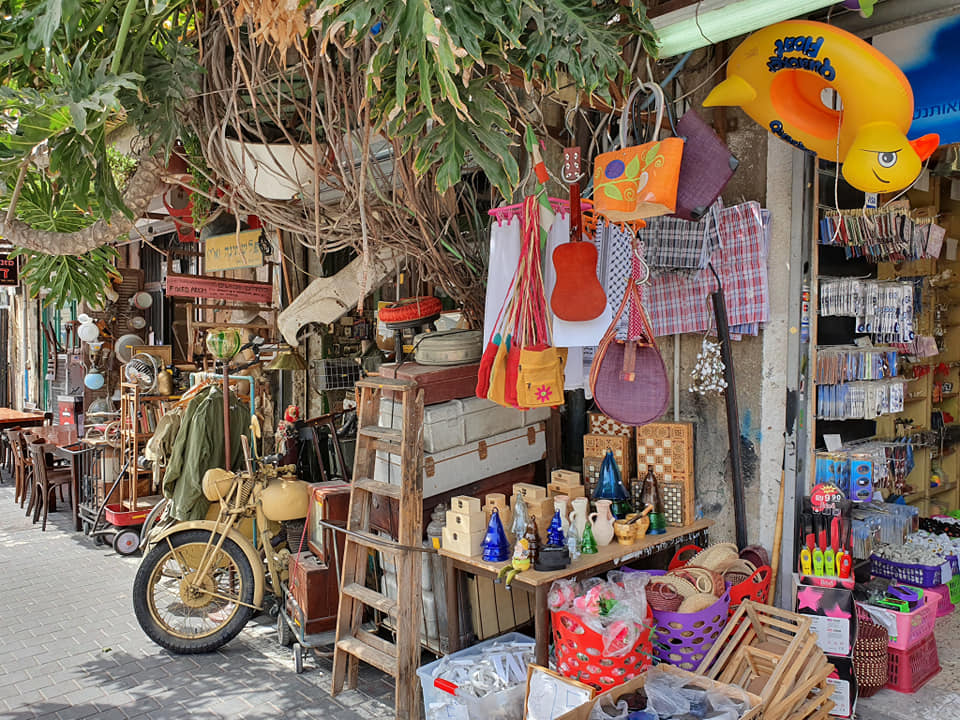 On top of the hill, you'll find St Peter's Church.
The original church dates back to 1654 but has been destroyed and rebuilt a couple of times throughout history.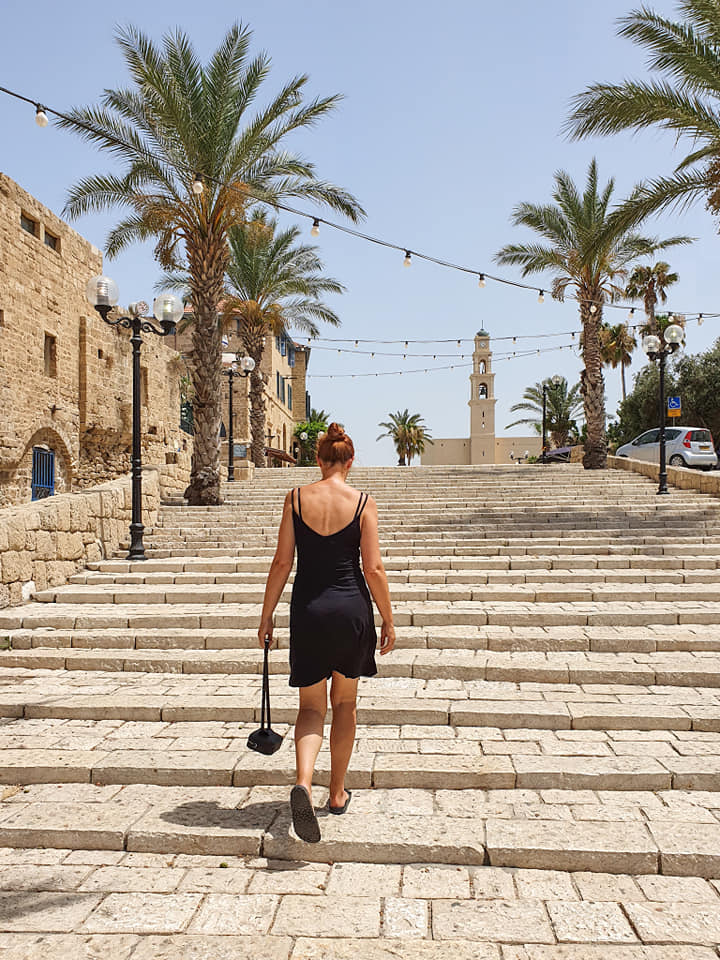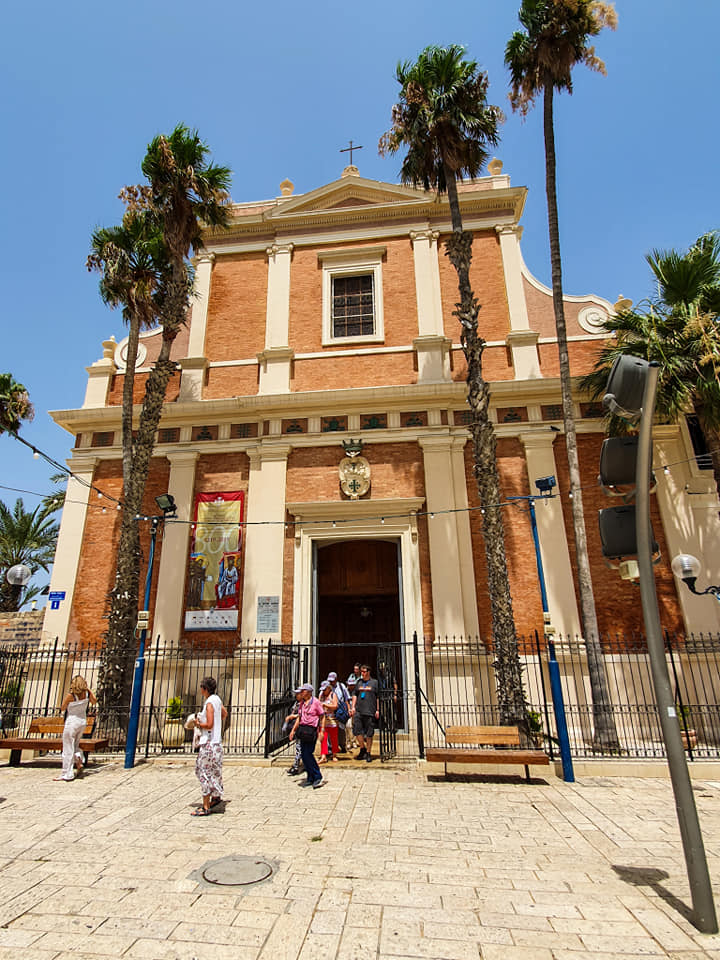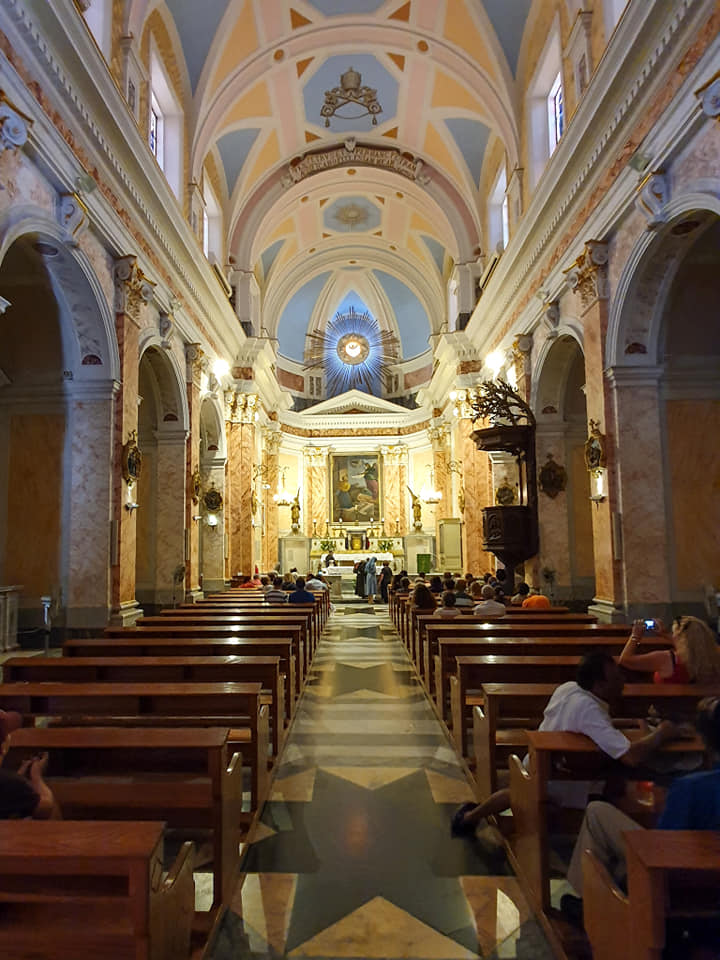 and just a bit further on the hill you have a really amazing view over Tel Aviv. Perfect for some couple-selfies…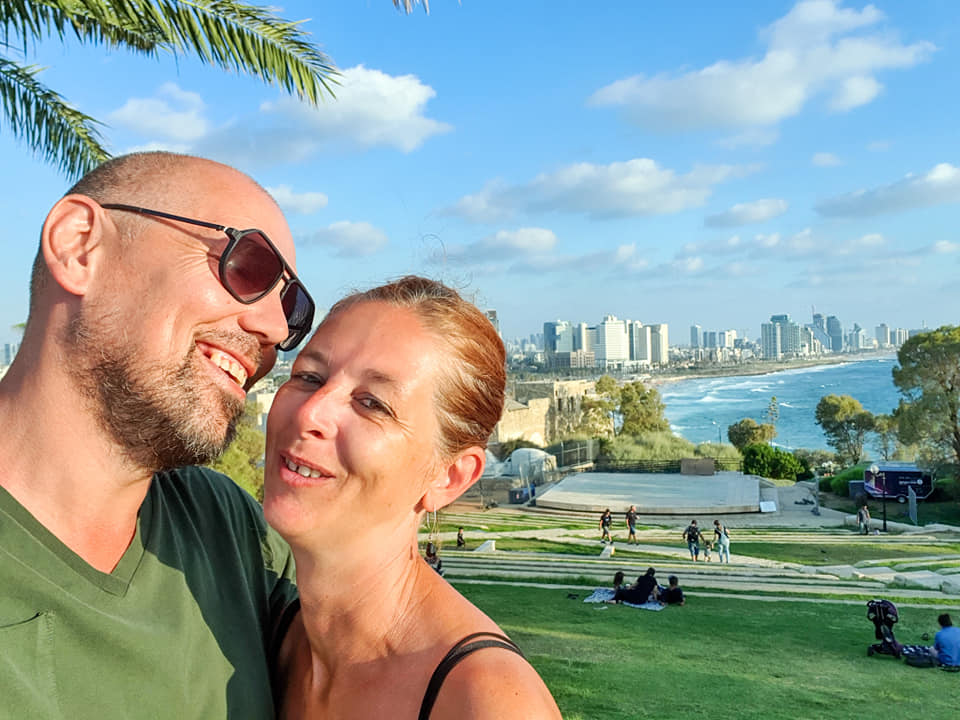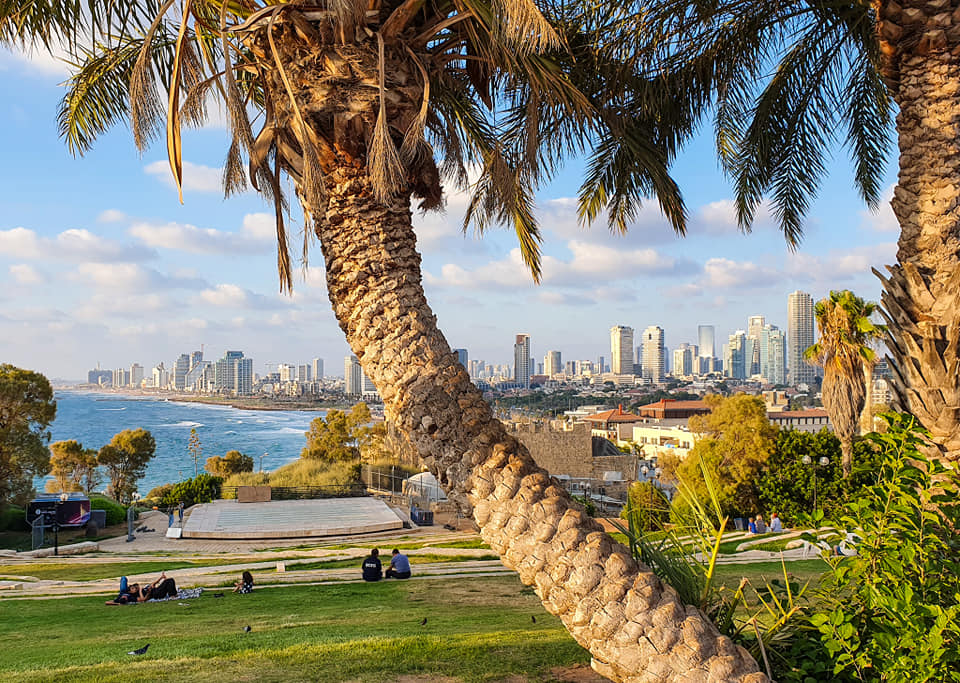 Let me also mention we had a lovely Greek dinner here at Kalamati right on the cosy square in front of St Peter's Church.
Tasty lamb gyros!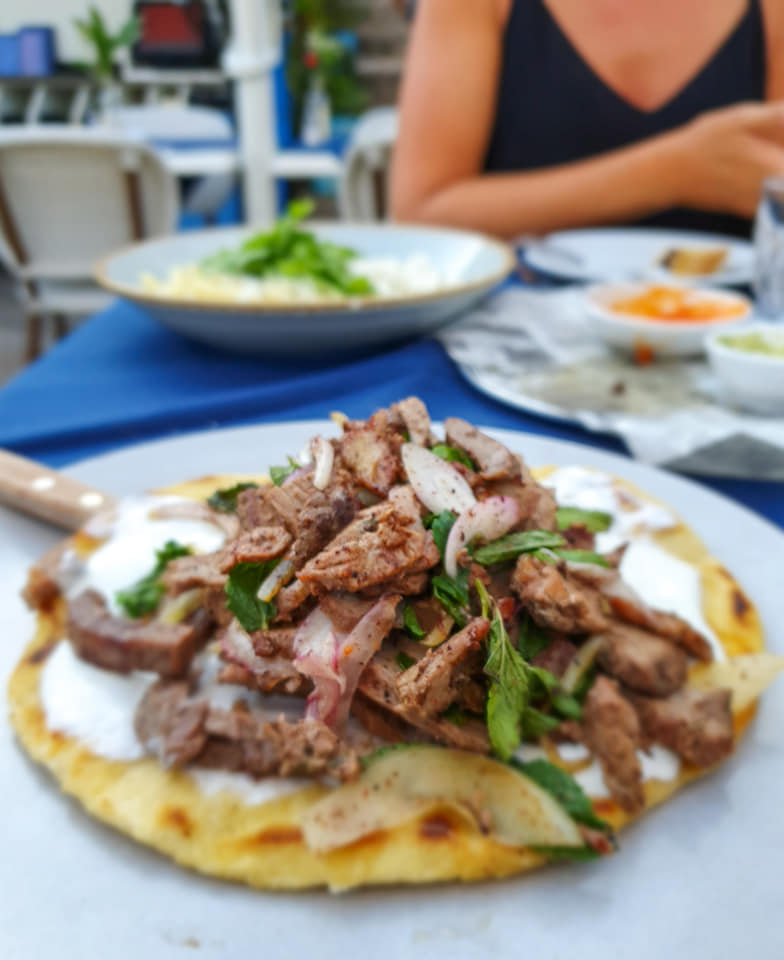 4. Eat lots of frozen yoghurt and ice-cream
Nothing better to beat the TLV-heat than some frozen yoghurt or ice-cream and there are plenty of these places around!
We tried two and liked them both.
La Goffre in Jaffa (friendly staff, so we went twice!) and Anita's in Neve Tzedek.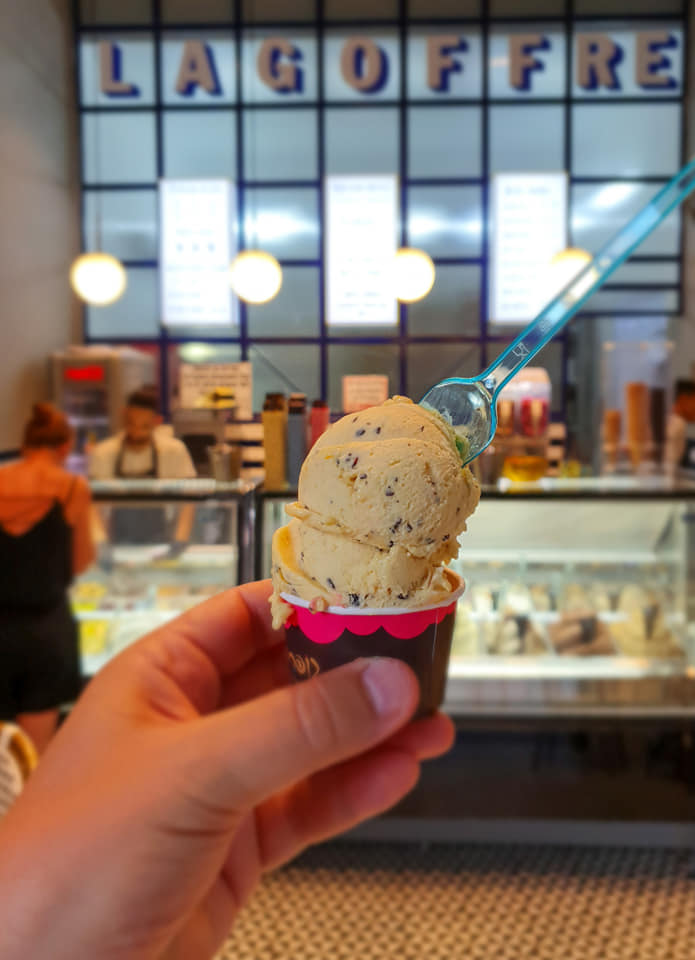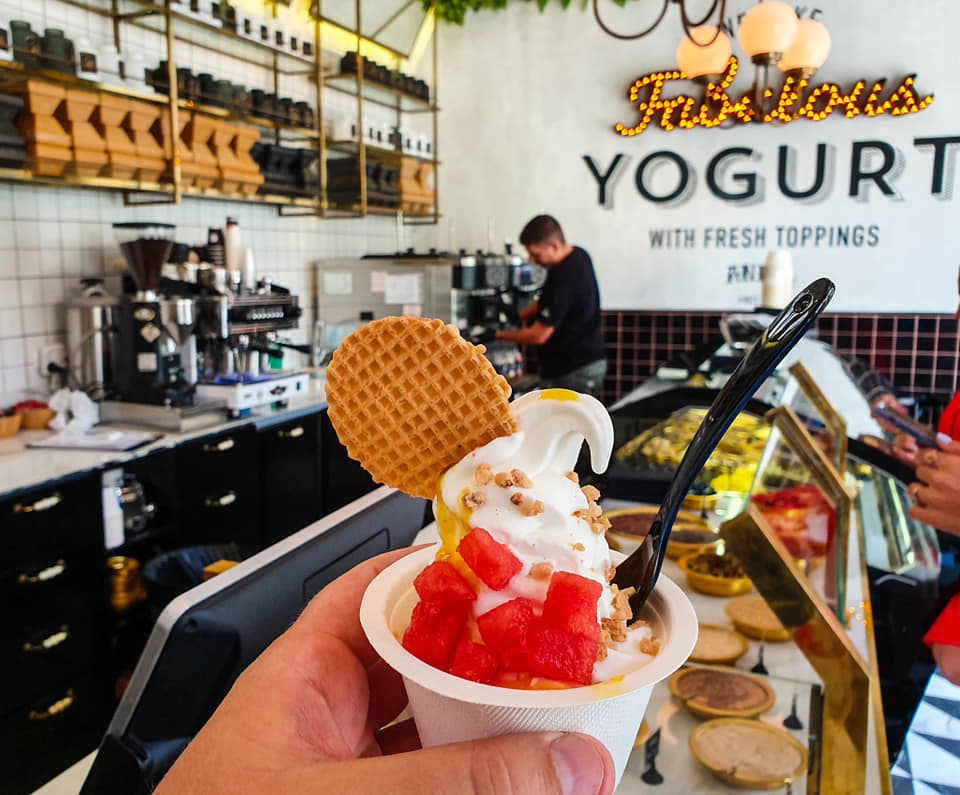 5. Go for coffee (hot or cold)
The ones who follow me on Instagram know that we are both coffeelovers, so discovering new coffeeplaces is what we like to do. And yes, TLV offers plenty of those. Amongst our favourites are:
Under the tree (North Tel Aviv).
A wonderful place to sit and watch the world go by. Friendly staff as well!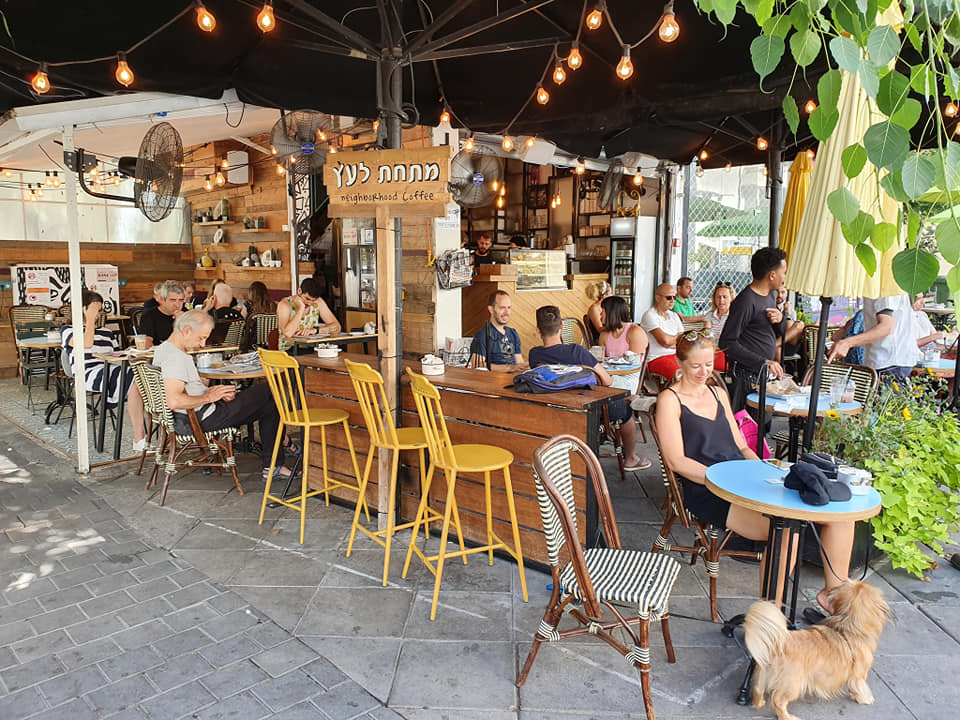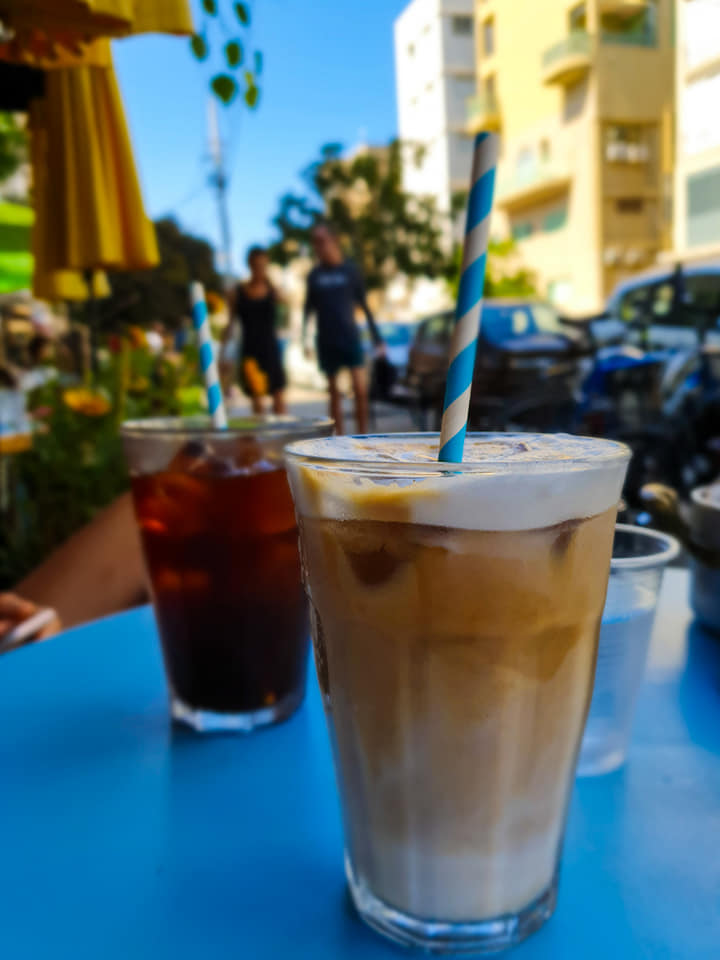 Such a cool place!
Lovely interior. Great coffee.
Loved the bohemian vibe here! (so I took too many pictures)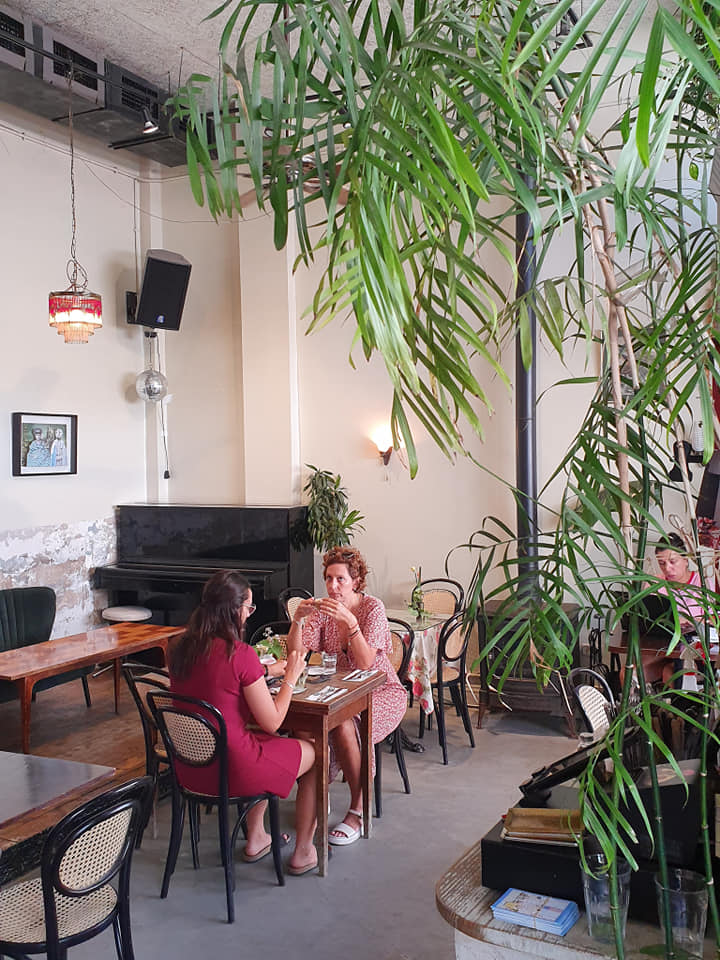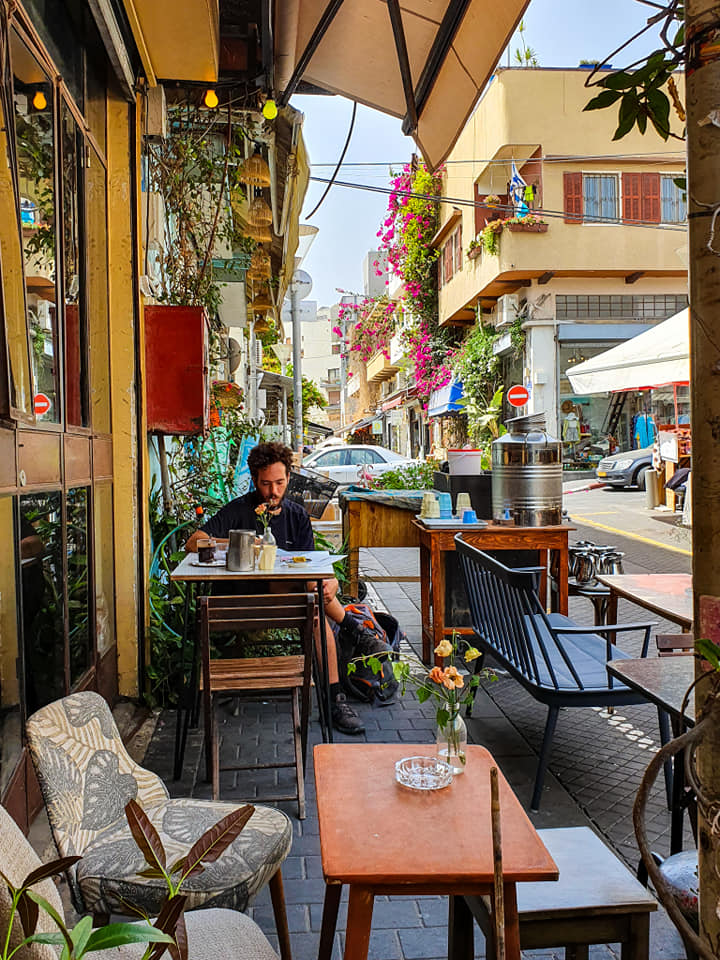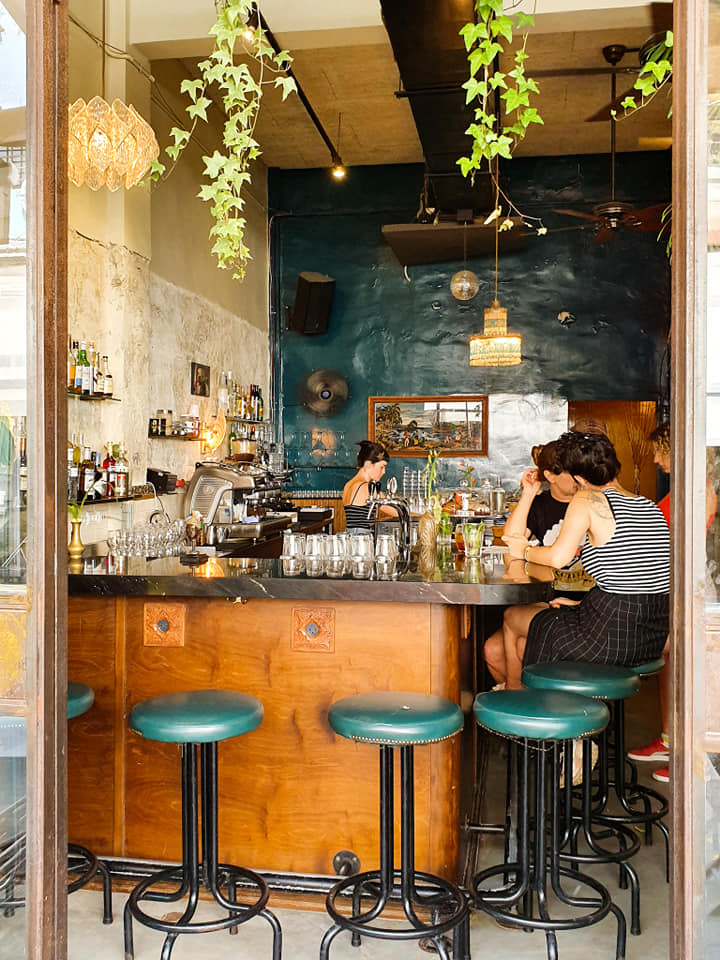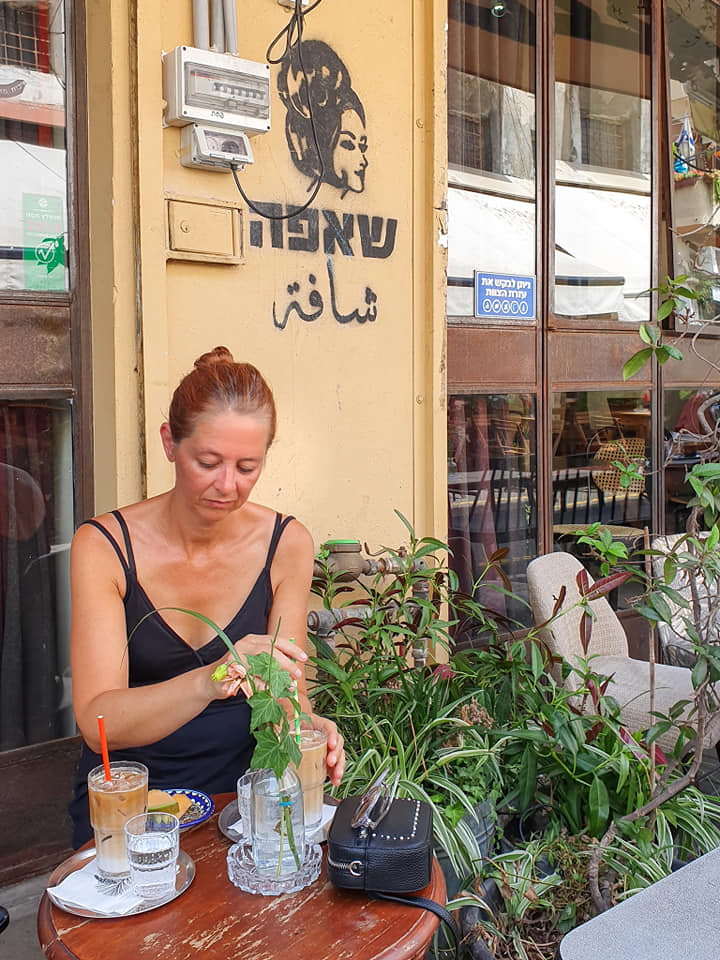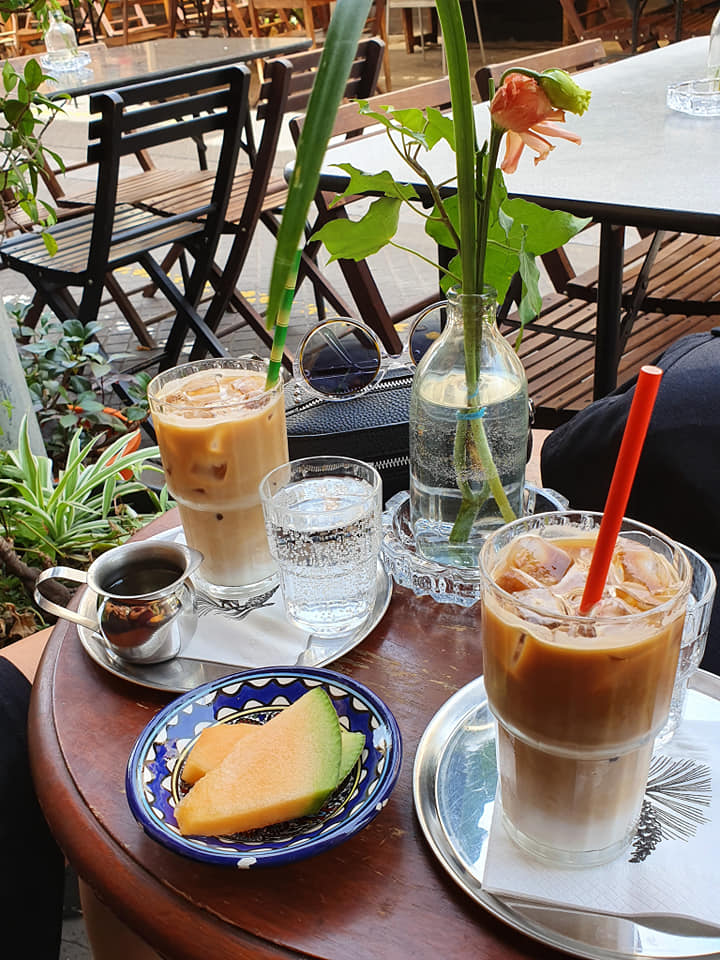 Great coffee and from their terrace on Dizengoff square, you can admire the great buildings lining the square, the fountain in the middle ànd the passers-by.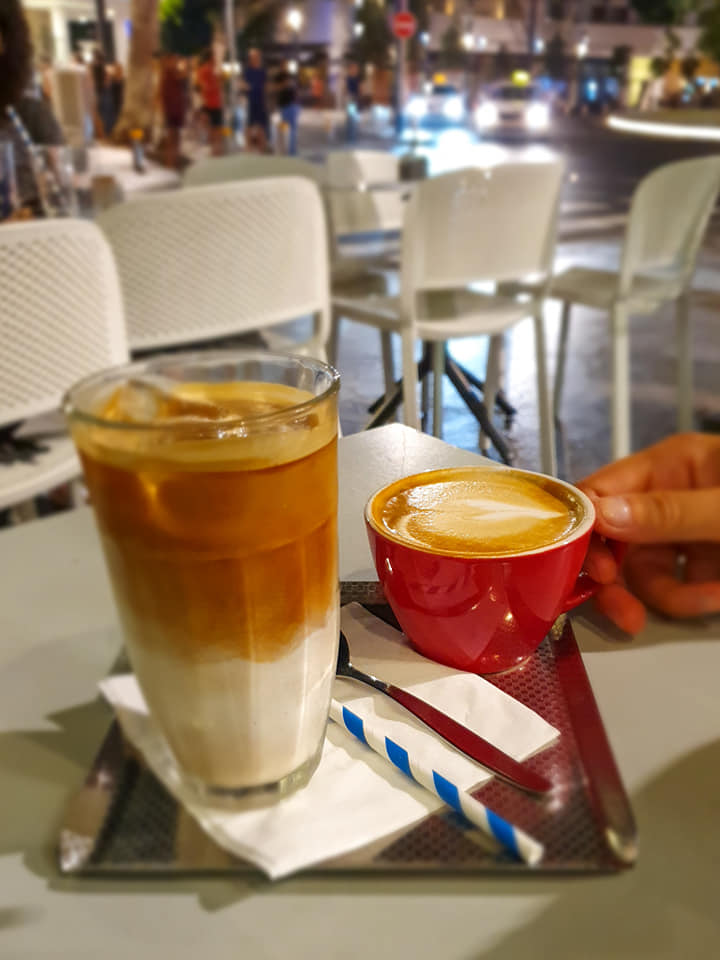 Upmarket and trendy café/resto with a real 'Sex and the city-vibe' (I swear I saw Carrie sitting here sipping a Cosmo… or was it Byevamaria…?)
Located in the TLV-Fashion Mall so easily combined with some shopping (if you're into that sort of thing).
Maximum points to the friendly bartender!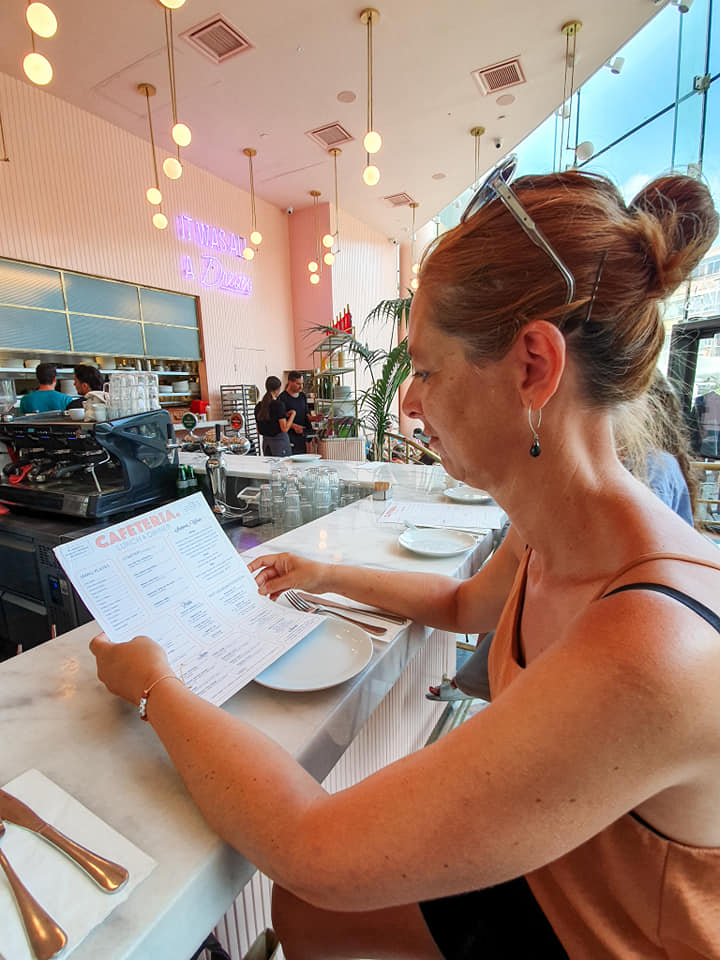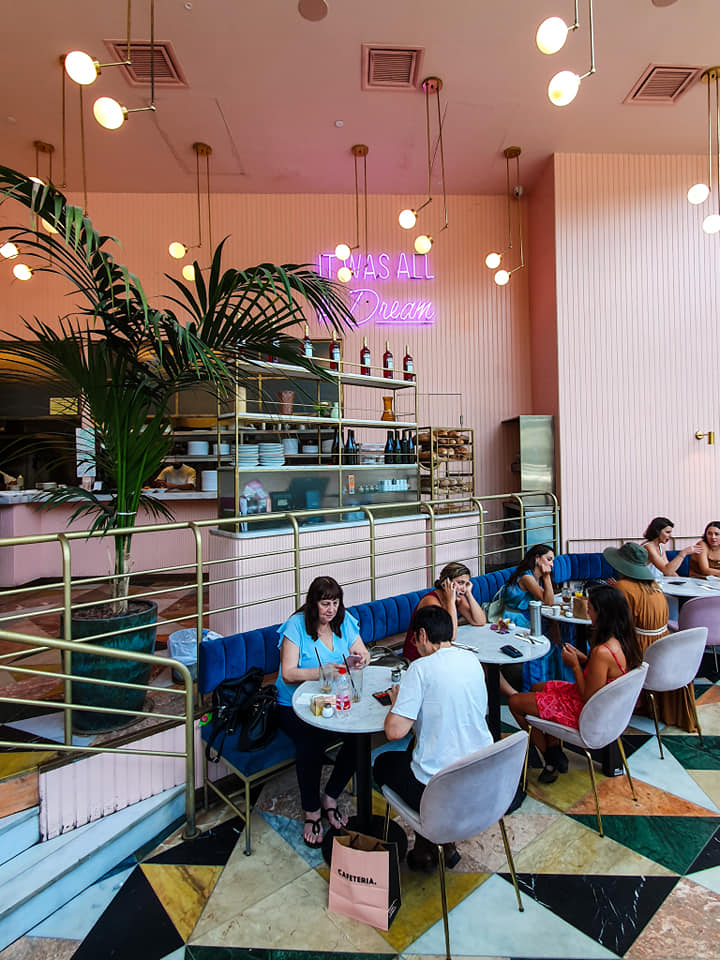 6. Go to the market
No place better to really 'feel' a city as at a market. Carmel Market is very busy and buzzing with life as both locals get their supplies here while tourists overflow the market. Still, worthwhile stopping by. Levinsky's spice market is also a definite go-to. We also went to Kitchen Market in North TLV, a small foodmarket with stalls selling everything from fresh meat to fruit and veg, cheeses and so on.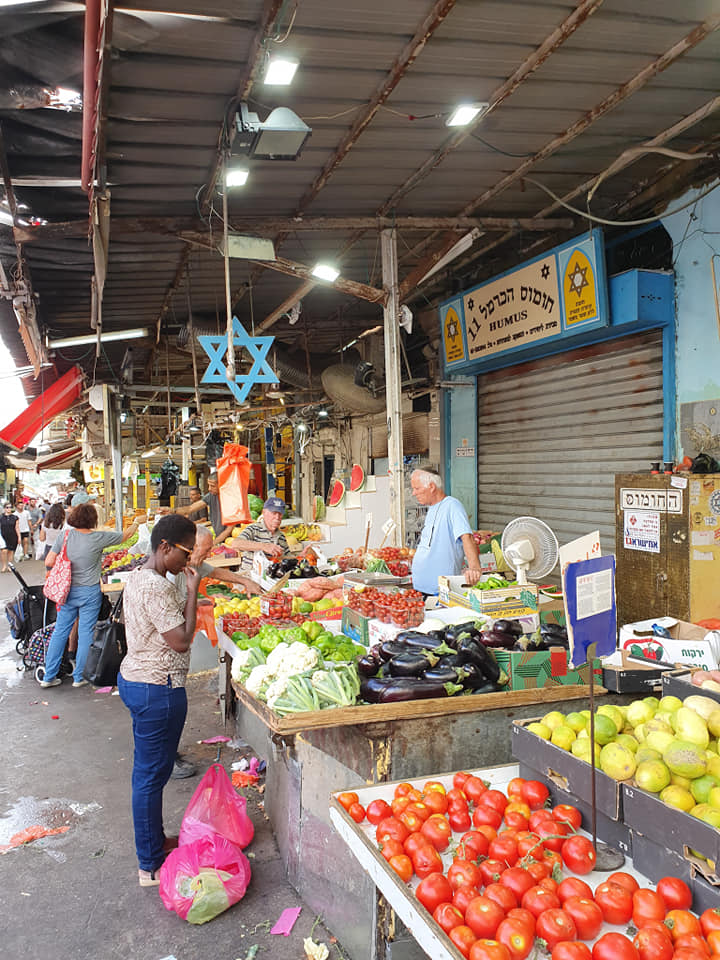 7. Walk down Rothschild Boulevard and admire the Bauhaus style
Paris has the Champs Elysees, Barcelona La Rambla and TLV has this tree-lined boulevard called Rothschild Boulevard, great for an afternoon walk under the shady trees. Start at Habima Square (have a look at the great sculpture called 'Uprise') and head down the boulevard. Maybe you'll pass by the mobile library and you can read a book while having a rest.
Grab a coffee on your way at one of the cute kiosks.
Admire the wonderful Bauhaus buidlings lining this street, some ancient and in need of renovation, others beautifully restored.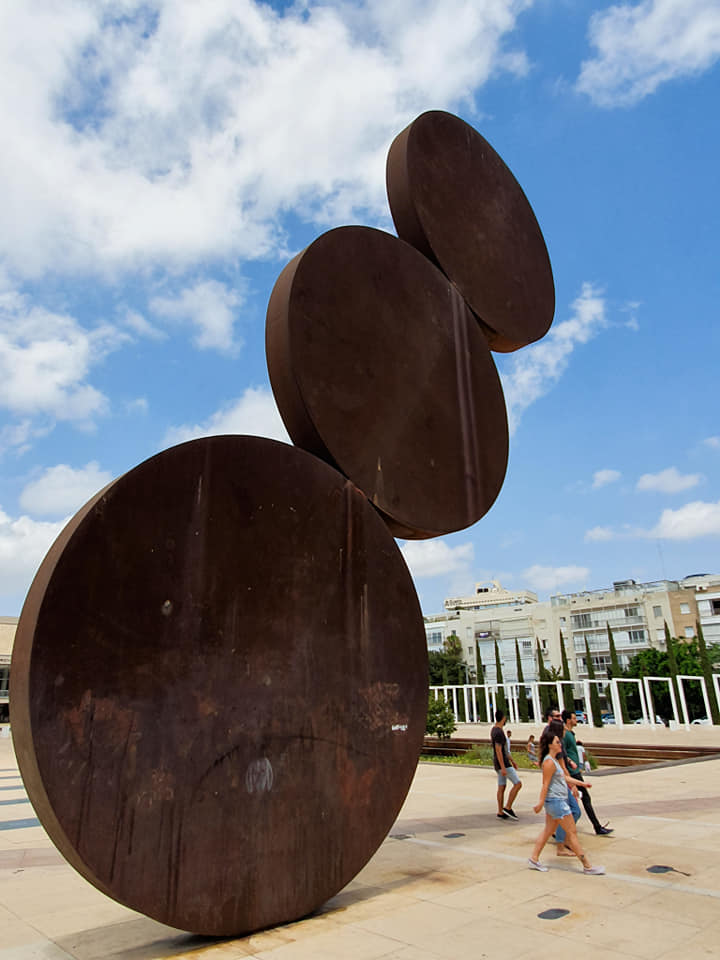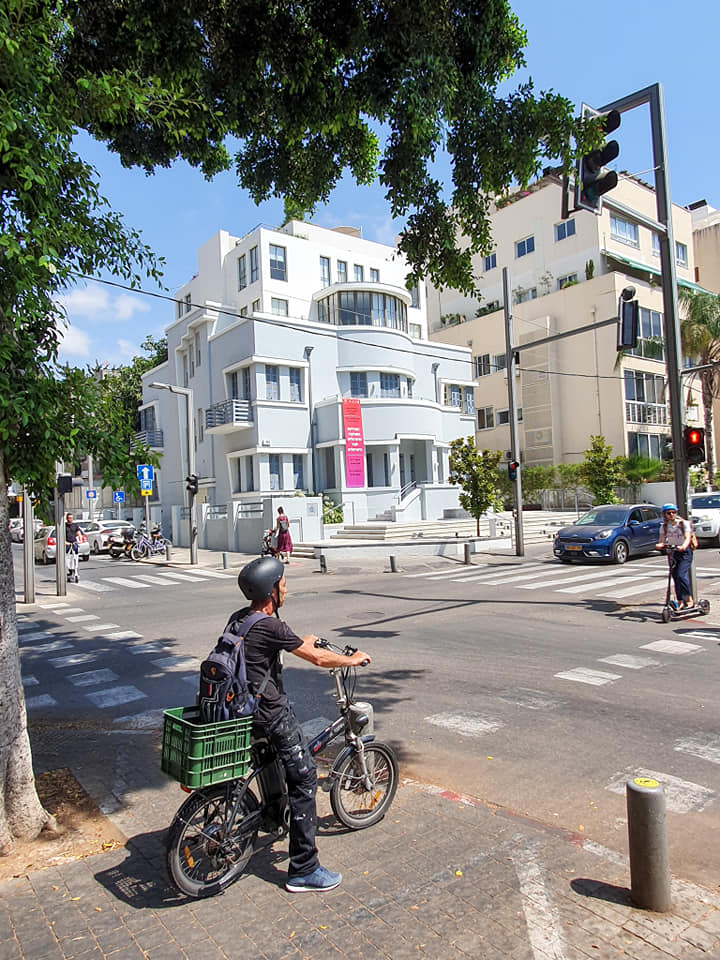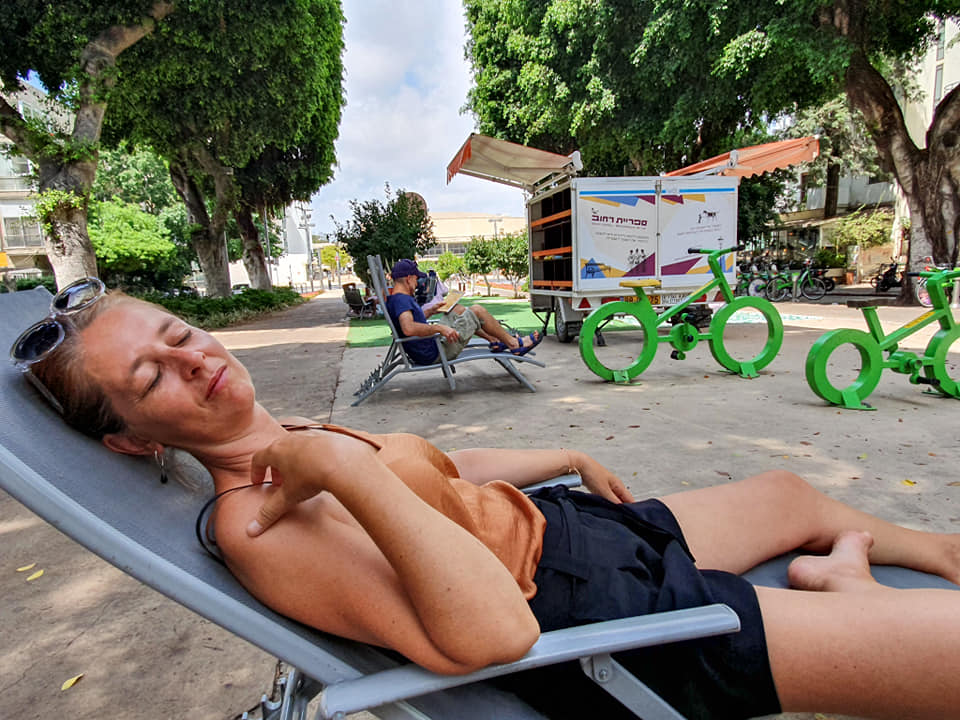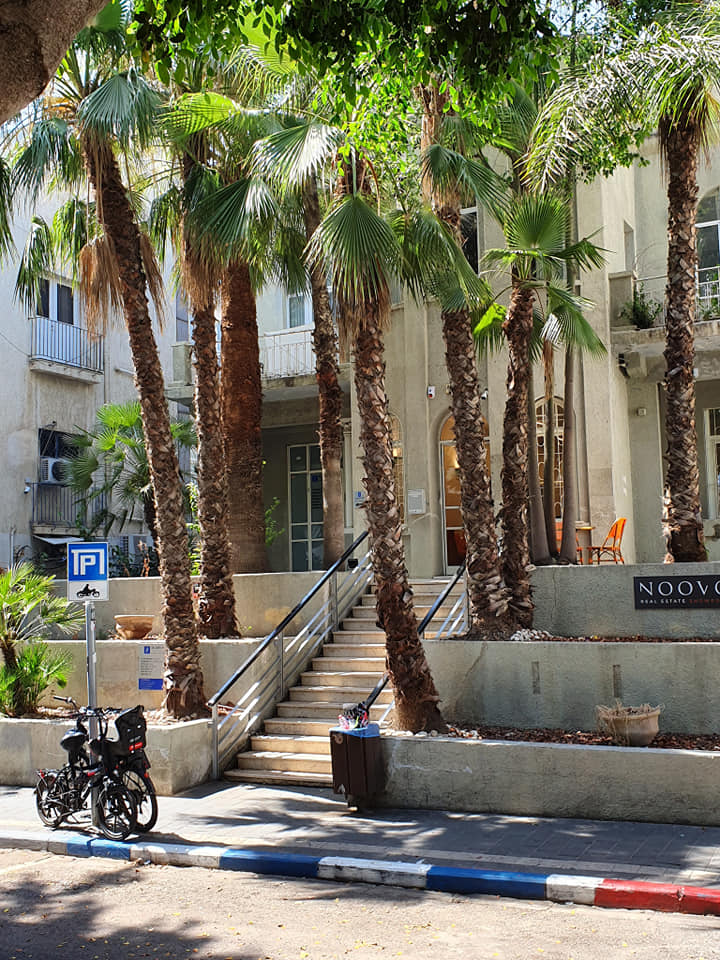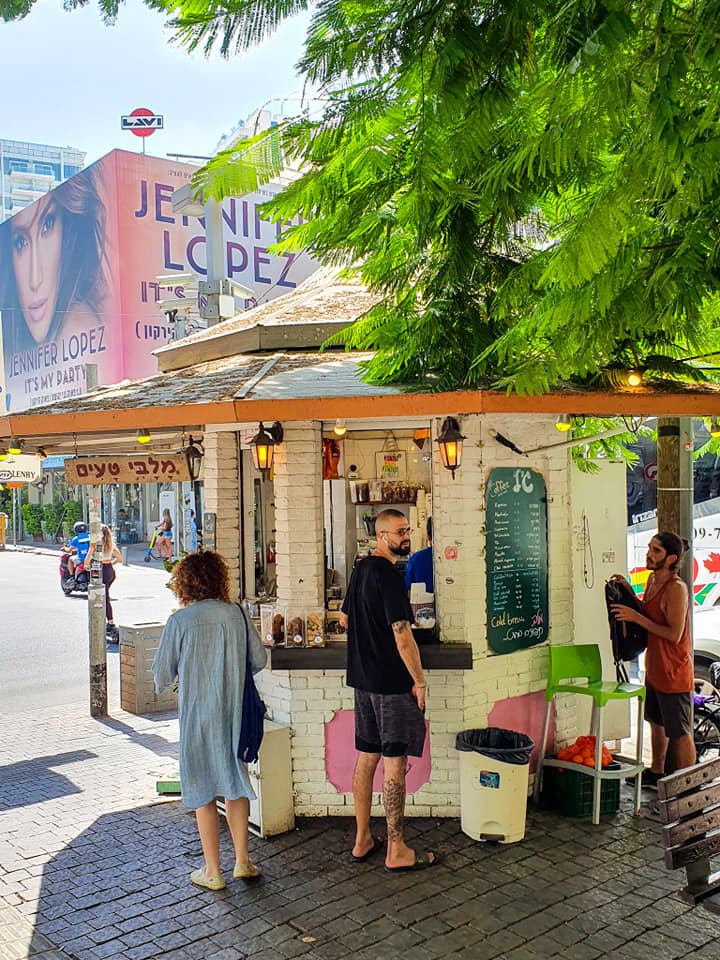 8. Go to Café Levinsky
Yes, the Café Levinsky is not more than a hole in the wall, but oh boy, it was our immediate favourite!
Was it the girl that talked with passion about her fermented fruits or the crazy van that doubles as a seating area for customers… I don't know, but I would walk the extra-mile for this place if I were you.
The fermented fruit soda was by far thé most special drink I've ever had!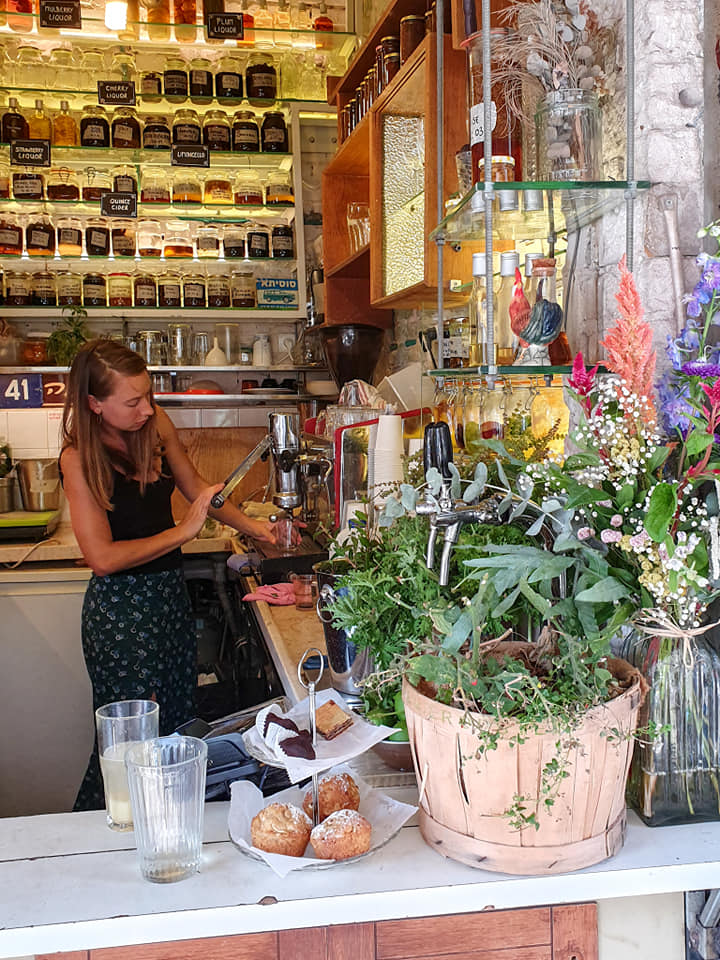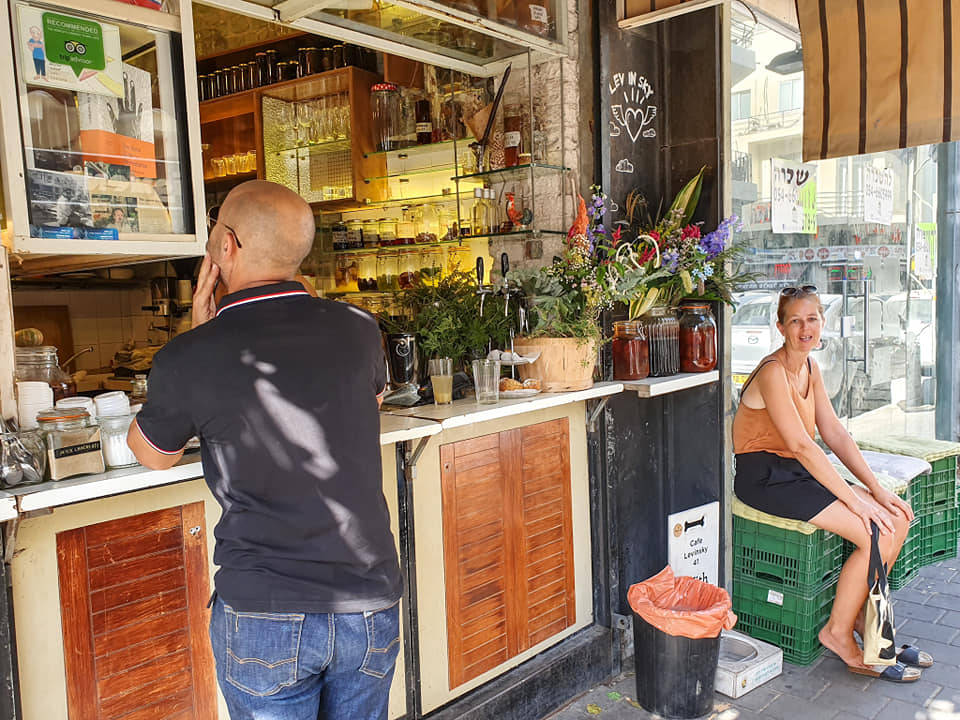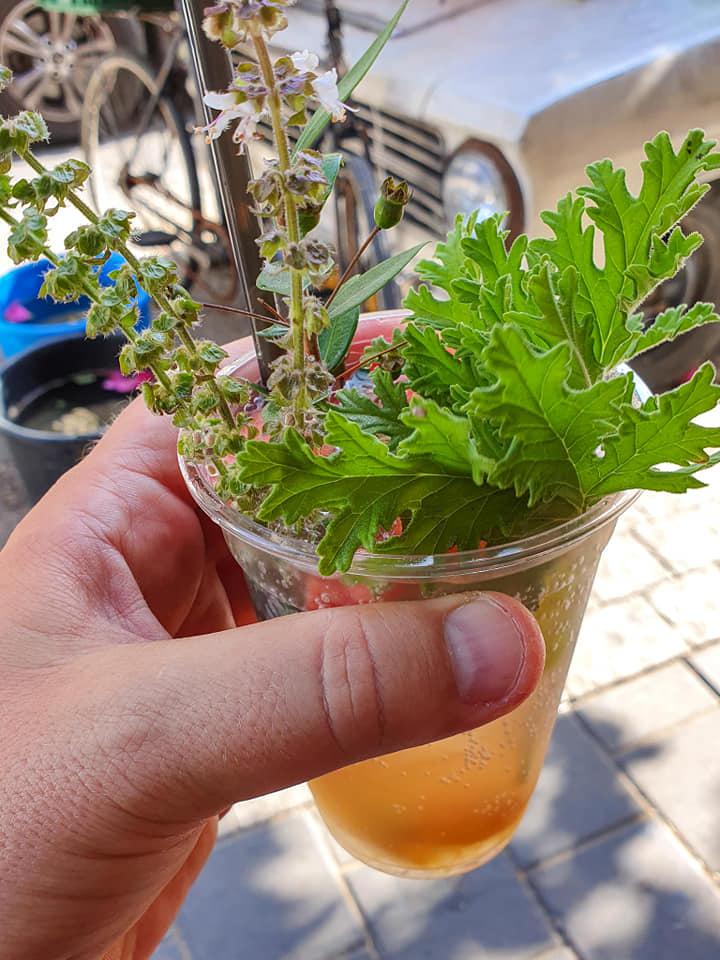 9. Wander through hip Neve Tzedek and up-and-coming Florentin
Both are interesting and quite artistic neighbourhoods, full of cute little shops, bars and restaurants.
Both interesting during the day ànd at night. Extra-bonus is the streetart you can spot here.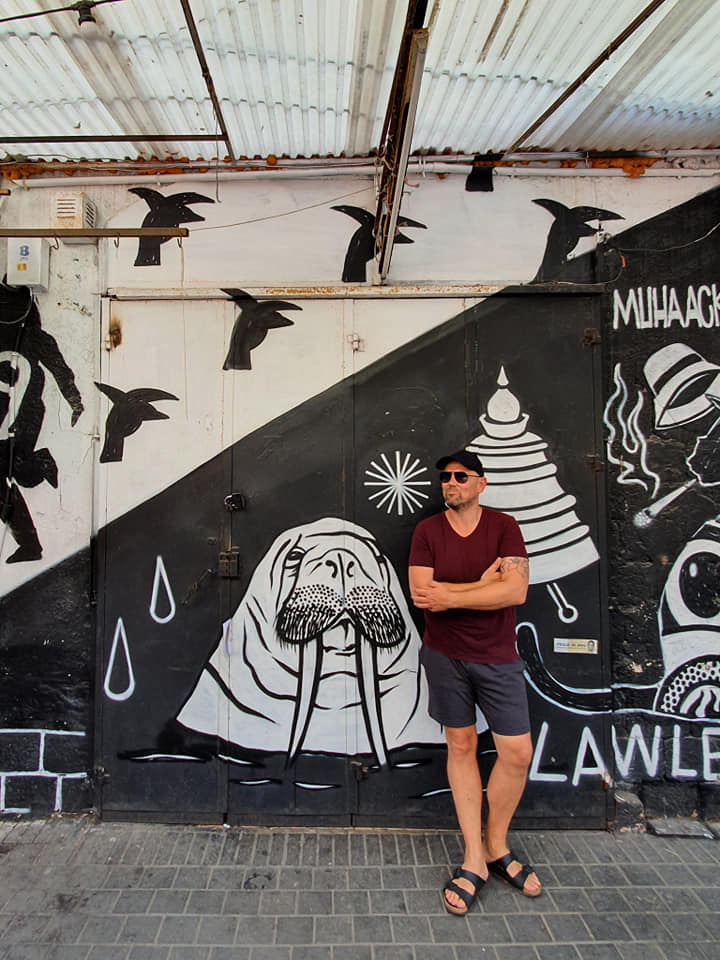 My top tip here is definitely Epicerie fine. A cute little deli with the most lovely little hidden green terrace.
Just perfect for a drink or something small to eat.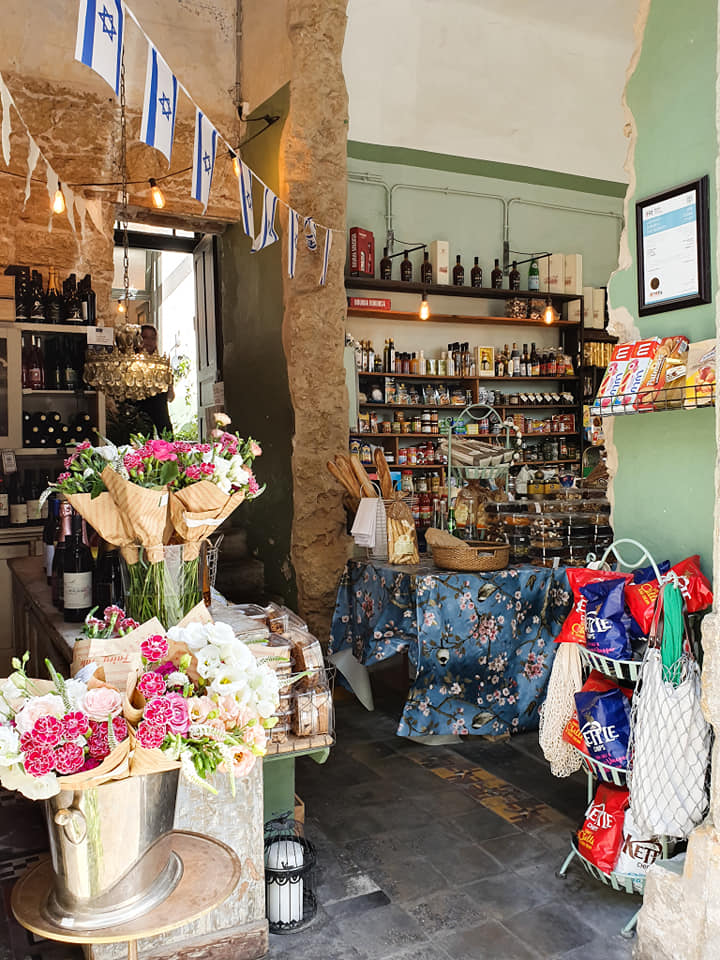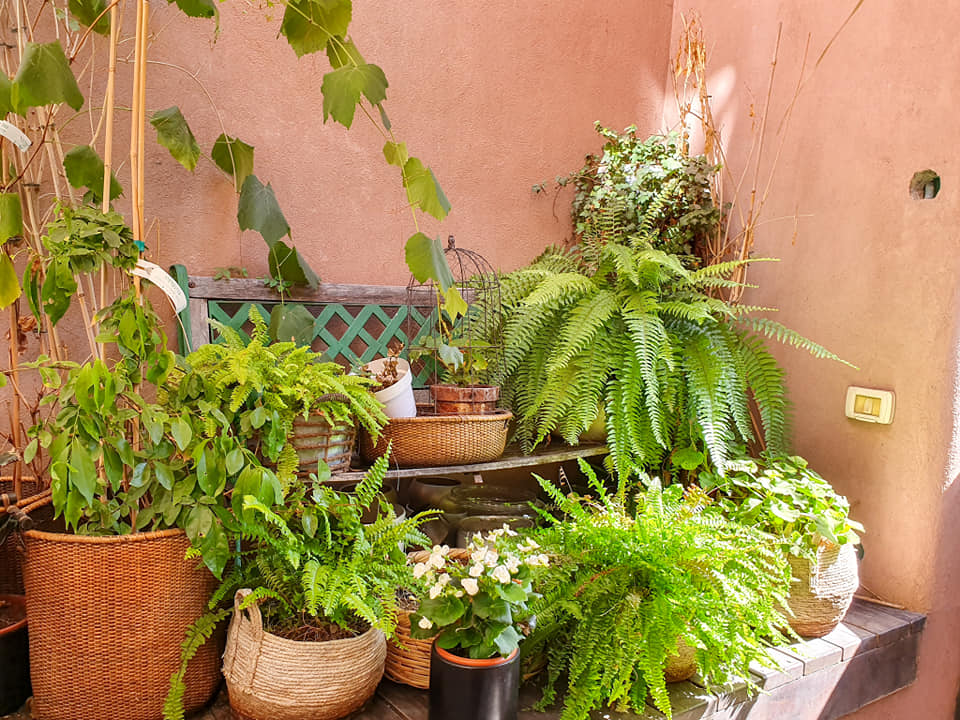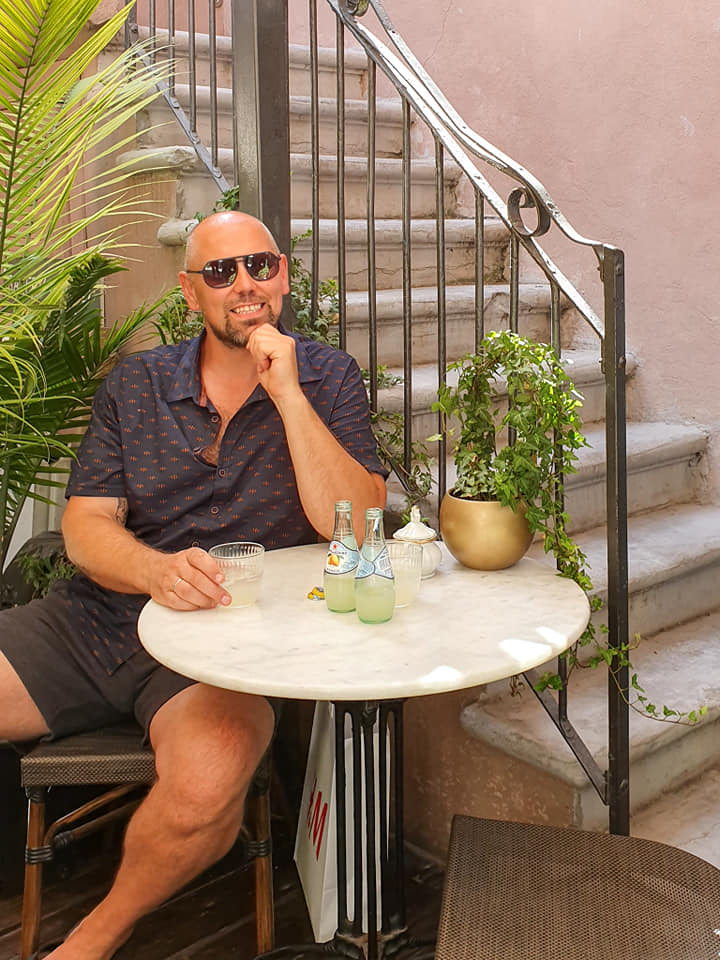 10. Have thé best vegan food ever
Anastasia is a trendy little restaurant serving thé best vegan food around. Both our dishes were just soooo tasty, absolute foodie heaven!!  Friendly staff, lovely atmosphere. Prices are reasonable.
 Highly recommended!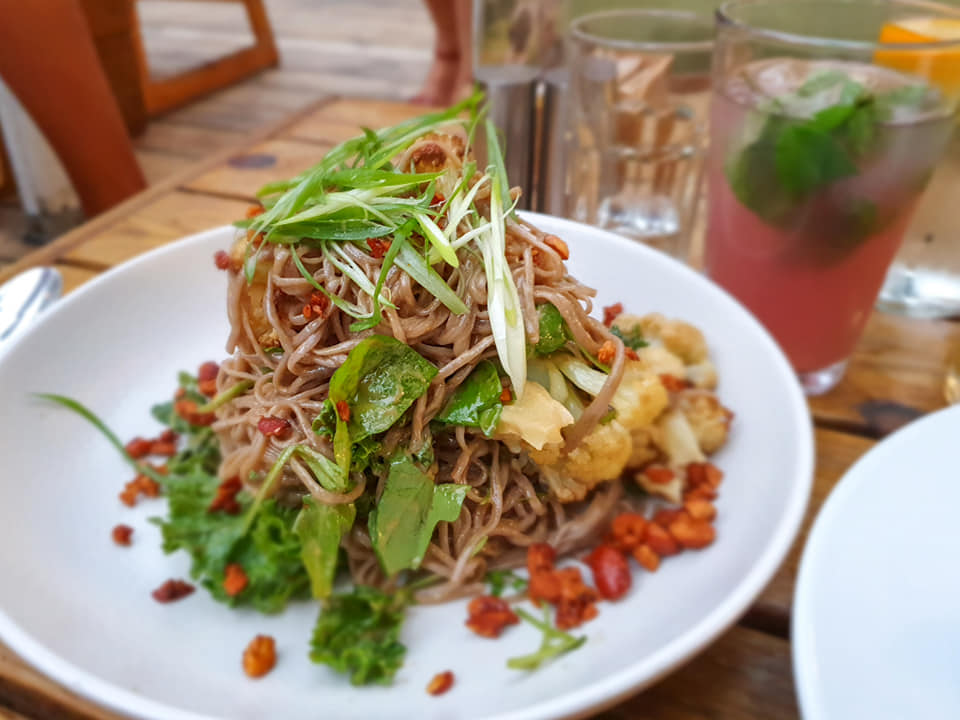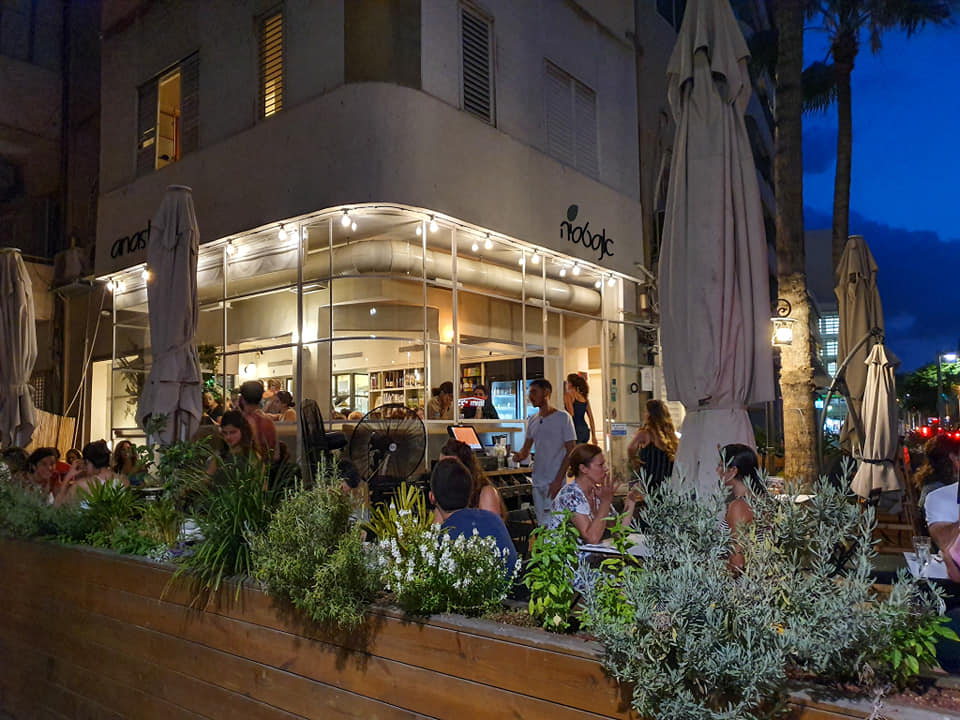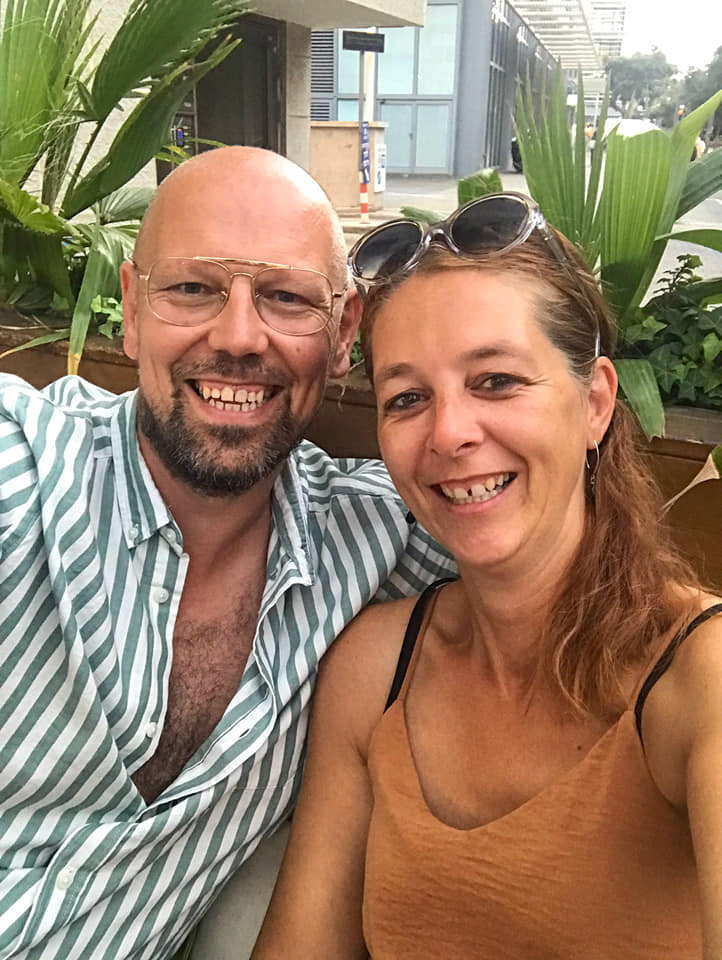 Some extra-info and tips:
We stayed at the excellent Prima Hotel just across from Frishman's Beach. Loved the spacious sea-view room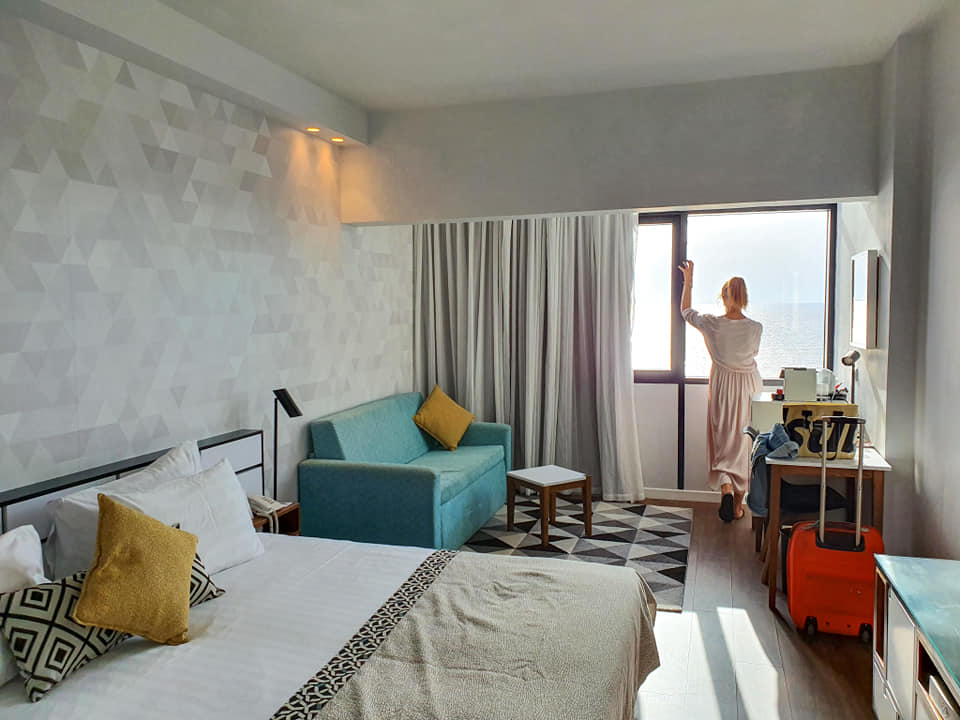 and the excellent breakfast (Greek style as the breakfast room doubles as a Greek tavern at night).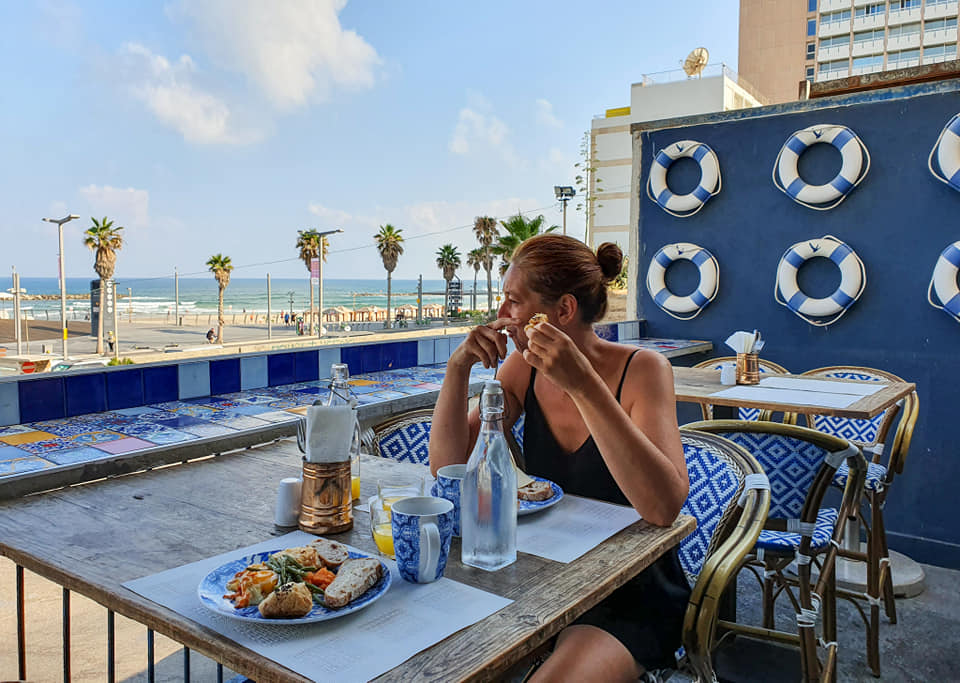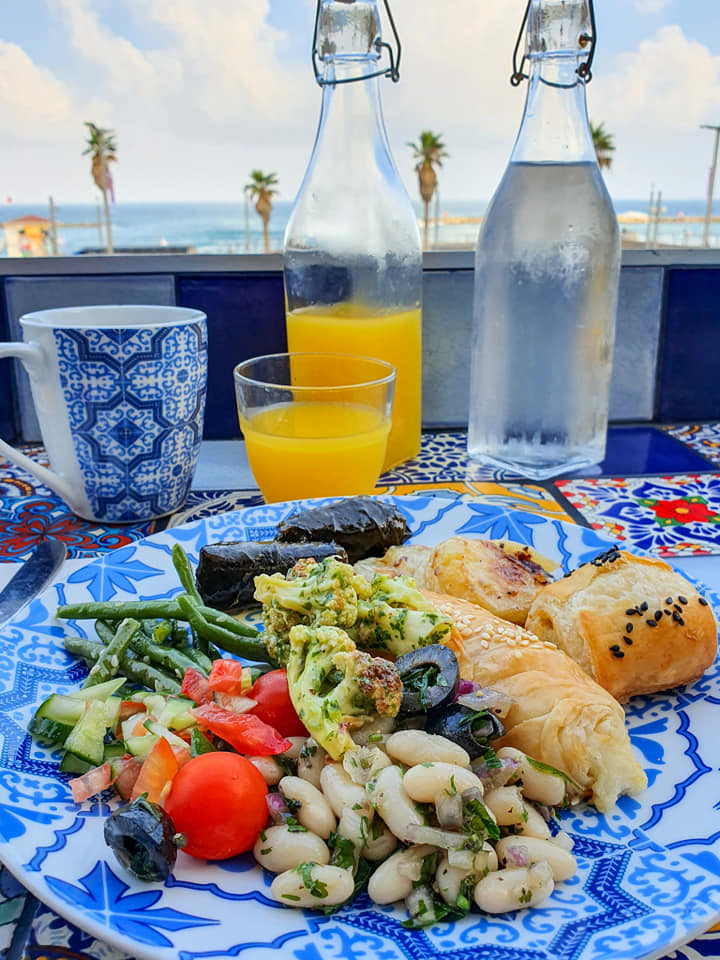 Also appreciated the free coffee and sweet and hearty nibbles every afternoon… ?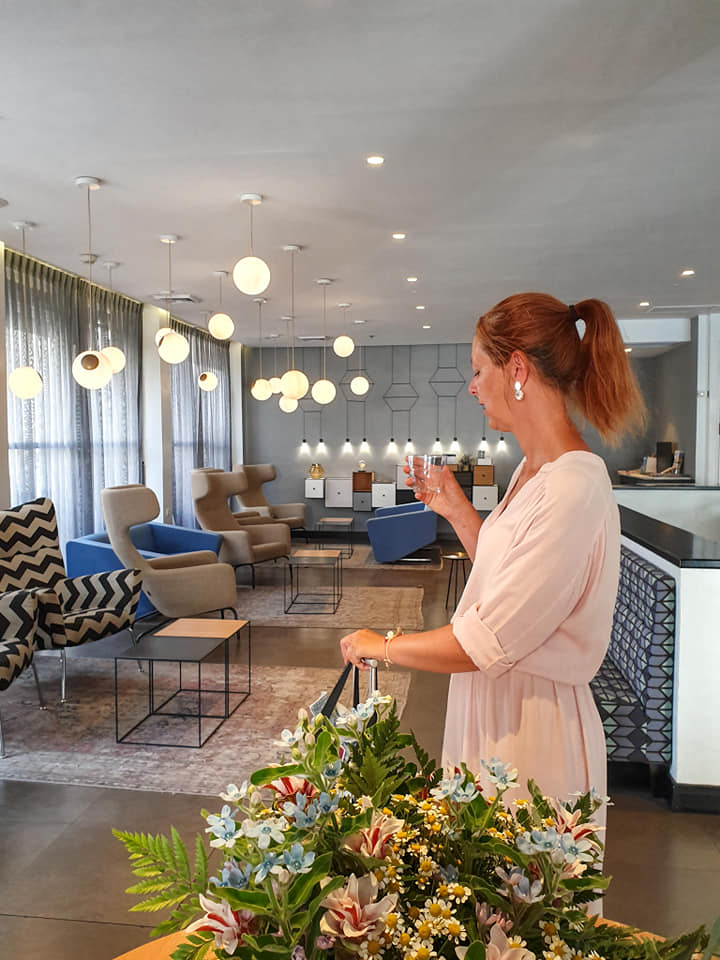 We flew Brussel Airlines directly from Brussels to TLV, as usual booked through Connections.
It's a 4-hour flight from Zaventem to Ben Gurion Airport. We took a train at the airport straight into the Tel Aviv city centre.
The great thing about TLV is also that there are so many great places to eat all kinds of (street and other) food!
To end, let me share some more of those with you:
We enjoyed the most delicious falafel prepared by this super friendly old man running a small falafal bar in Frishman Street together with his wife. (forgot to write down the house number)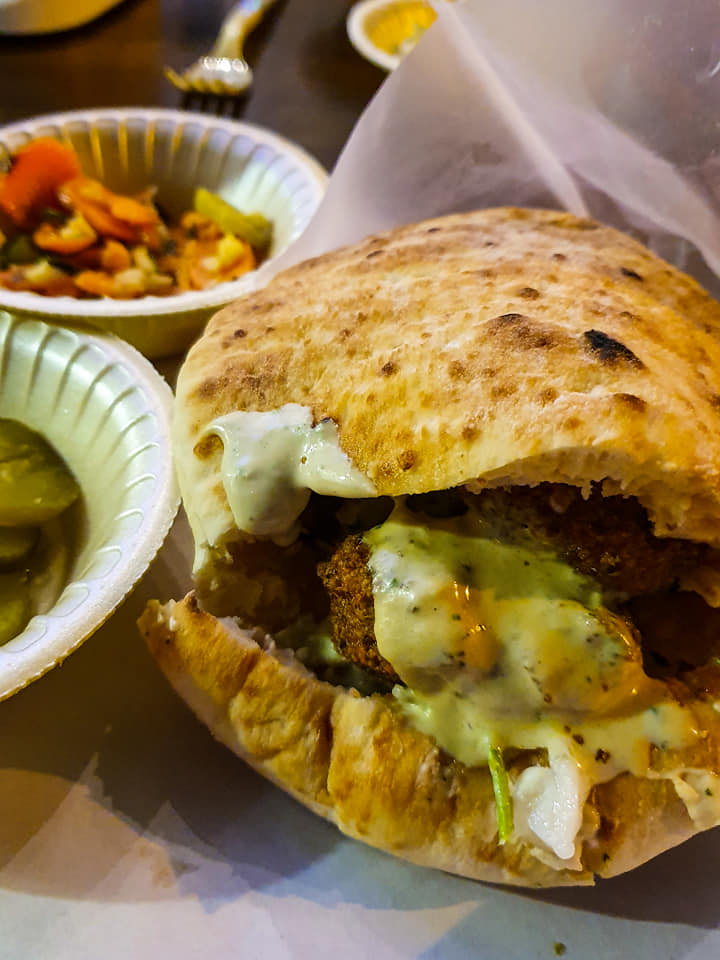 And one day we passed by Hashachen Townhouse Café and were drown in by the smell of the homecooked food. The chef fills up your plate with the menu of the day. Real food = Loved it!!!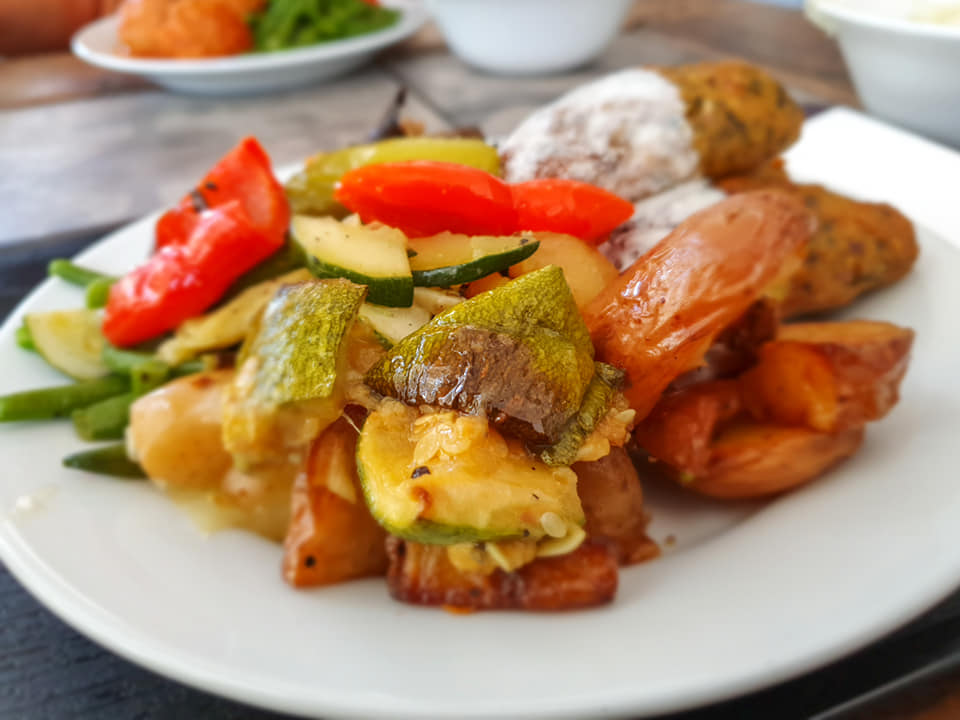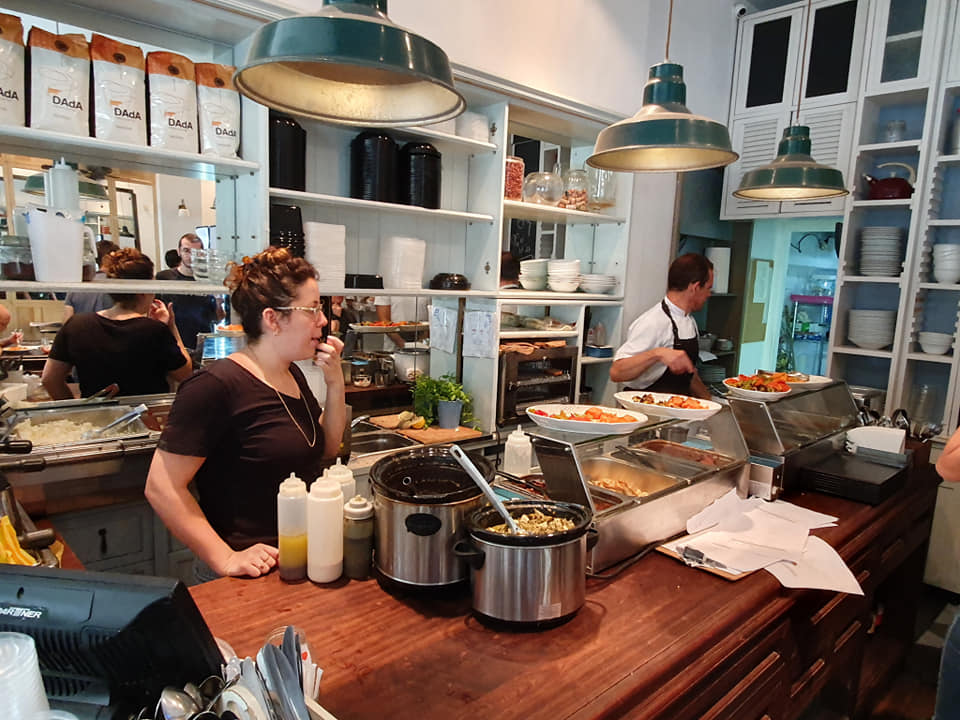 OK, last one now, promise!
The grilled eggplant and the ceviche at Bistro 60 in Jaffa were also… delicious.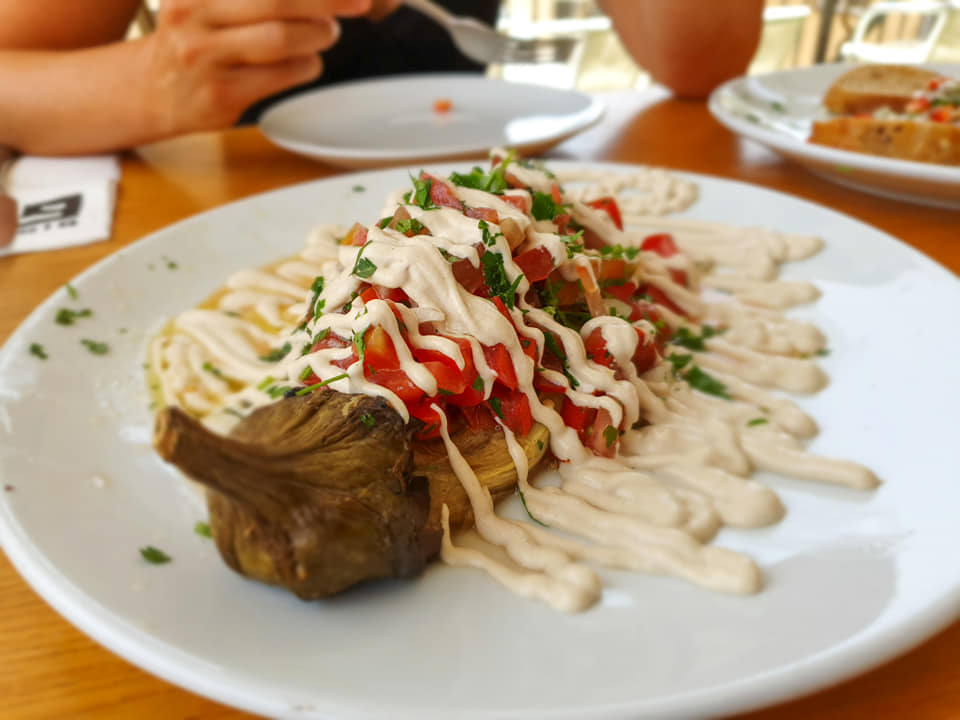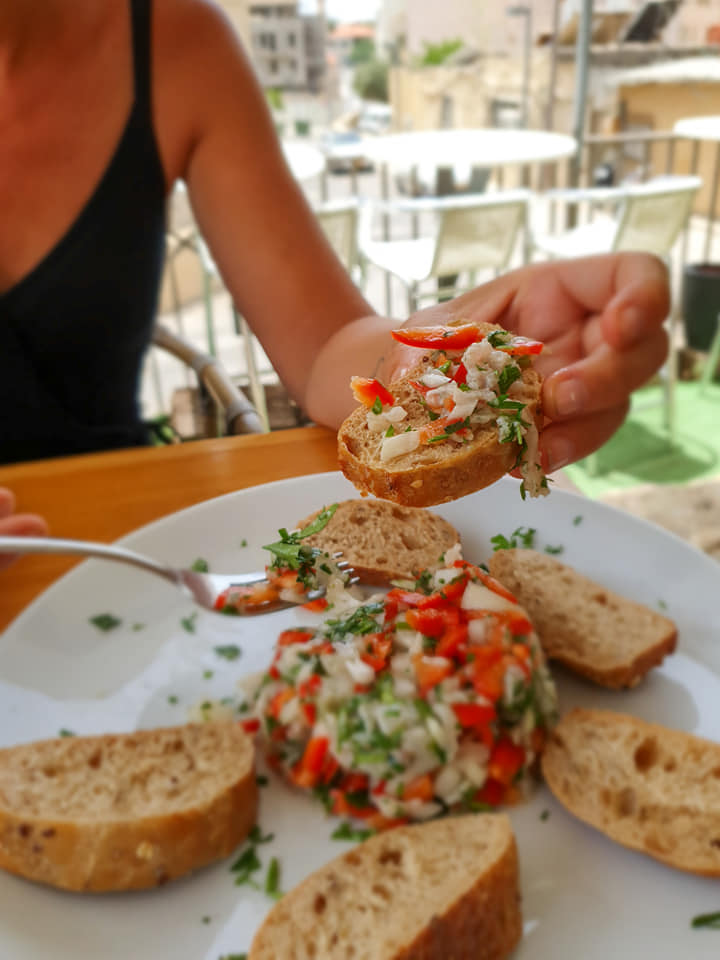 So, Tel Aviv… perfect for a short getaway?
Yes, certainly if you love your food, are in need of some sunshine and love going to the beach!