A road trip together with my son… I had been thinking about that for quite some time and this summer, it finally happened!
We chose to go to England, because we both love it so much, as you can read here as well.
I was lucky to team up with Toyota Belgium and they provided us with a  cool CH-R Hybrid to try out.
We started our adventure in Calais, where we boarded Le Shuttle to Folkestone.
After only 35 minutes we were already driving on the left!
First stop was Kingsdown, on the Kent coast.
We stayed on a lovely camping site, situated between Dover and Deal, called Kingsdown Campsite.
From the site, you have stunning views out over the sea.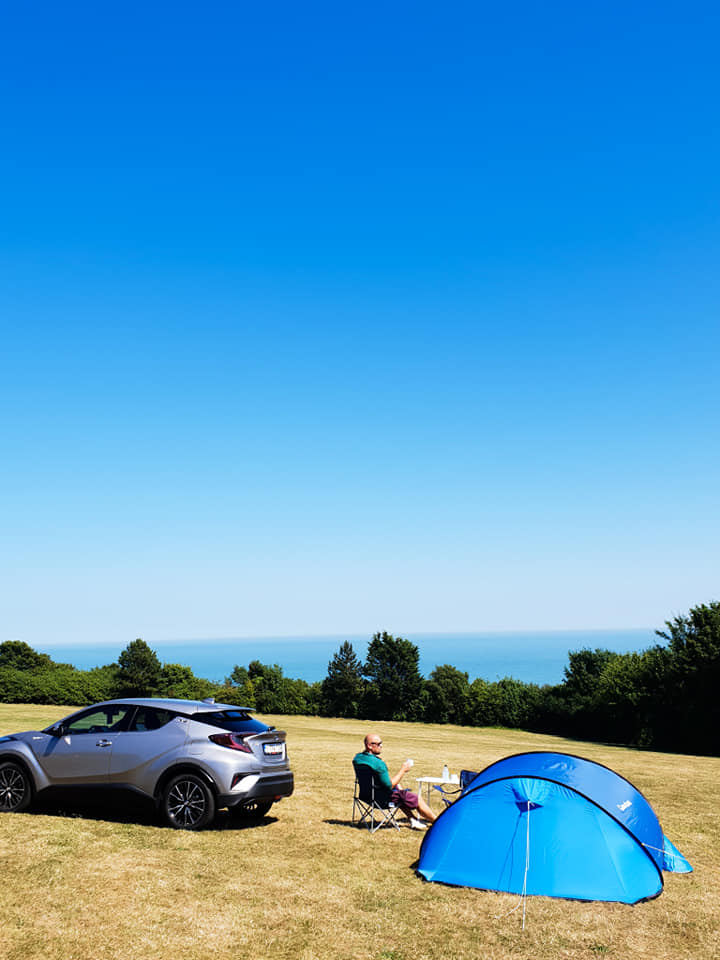 Facilities are clean and staff very friendly.
It was not busy at all, so plenty of space to put up our small tent.
There is a little pathway which gets you down to the pebble beach in no time.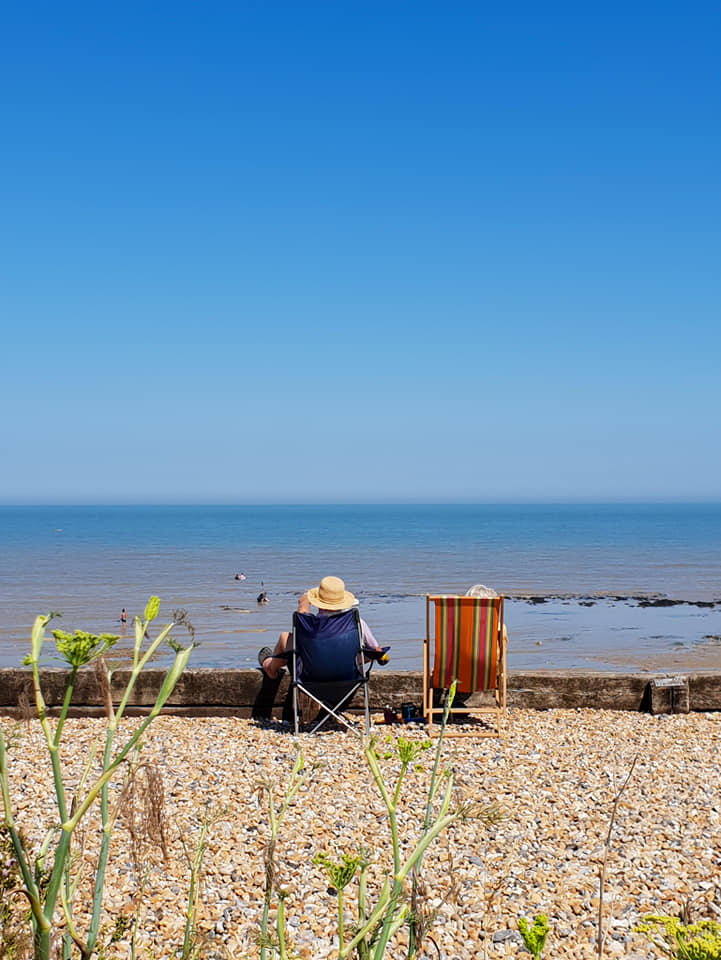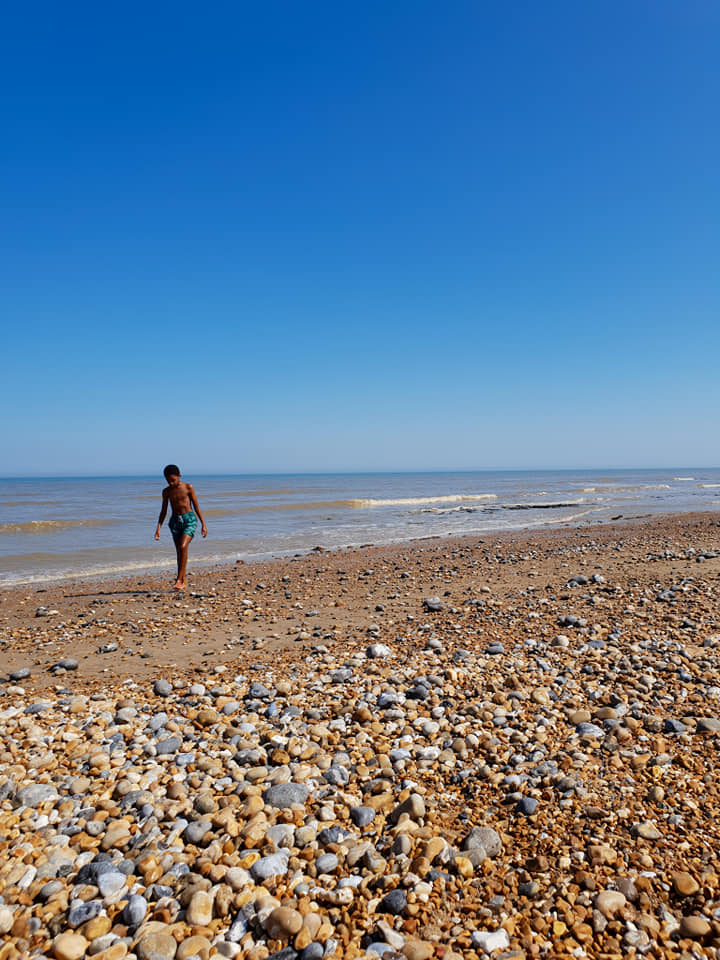 The three pubs nearby are all family friendly and serve good food (on a Sunday, only until 6pm, so we had fish and chips in nearby Deal).
Be aware of hungry seagulls! Just saying… 😉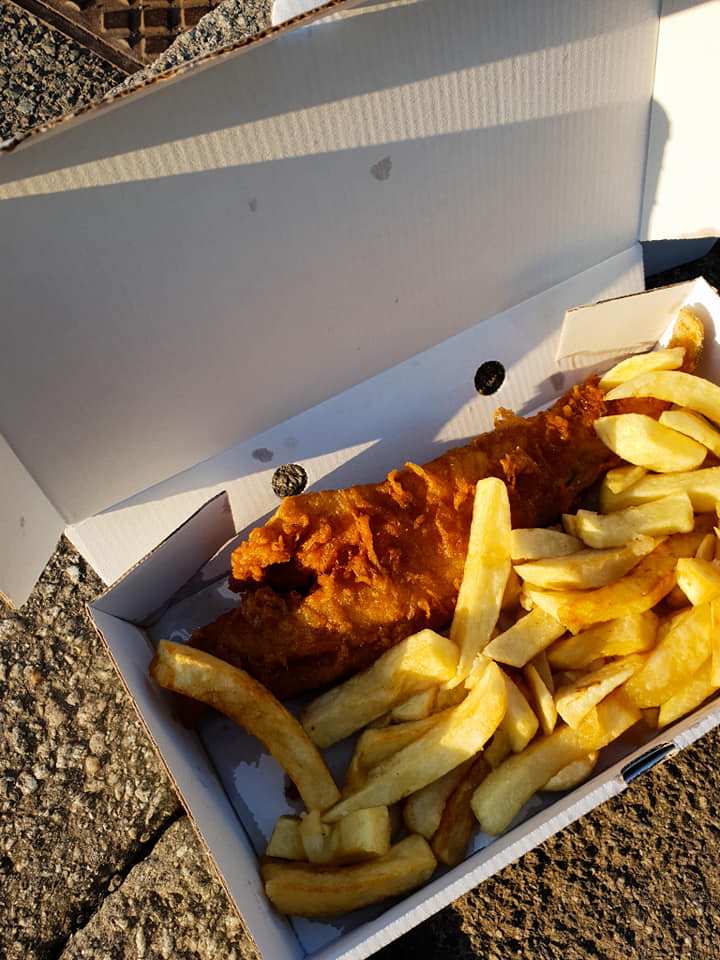 Nothing nicer than cooking your own breakfast outside, no? So baked beans it was.
By the way… thx to Collishop for the good working gas stove!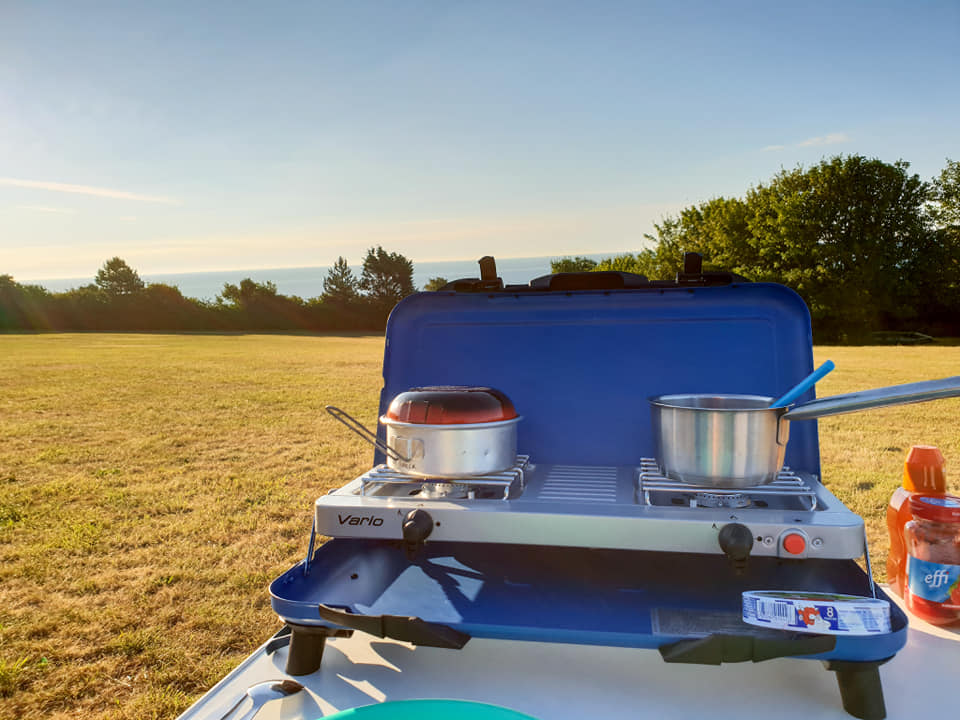 The campsite is definitely a place I can highly recommend ànd to come back to with the entire family!
I also loved all the lovely seaside cottages in the surroundings of the campsite.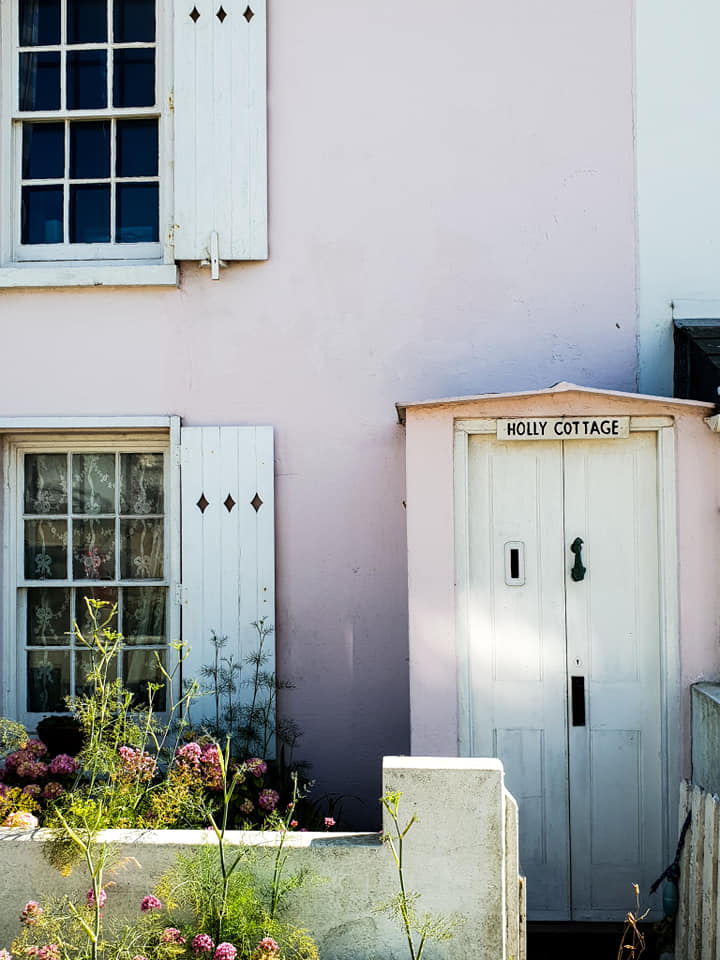 The next day we drove on to Cambridge. It had been more than 20 years since I last visited.
On our way over, we had a little break at Saffron Walden, because we were in desperate need of some black tea and scones. 😉
Molly's Coffee shop proved to be the right choice!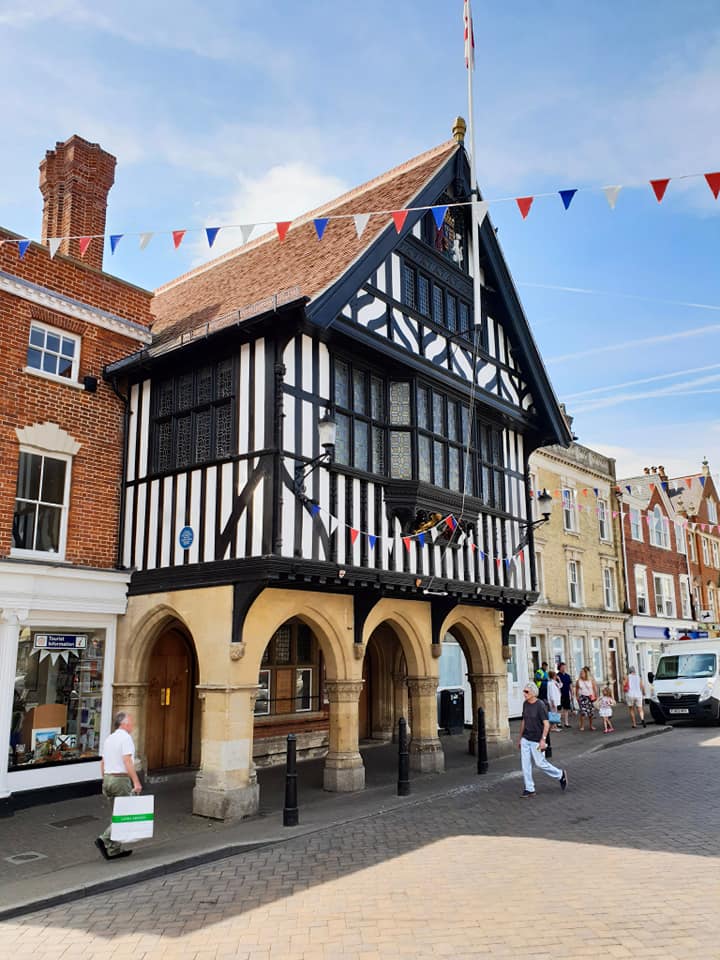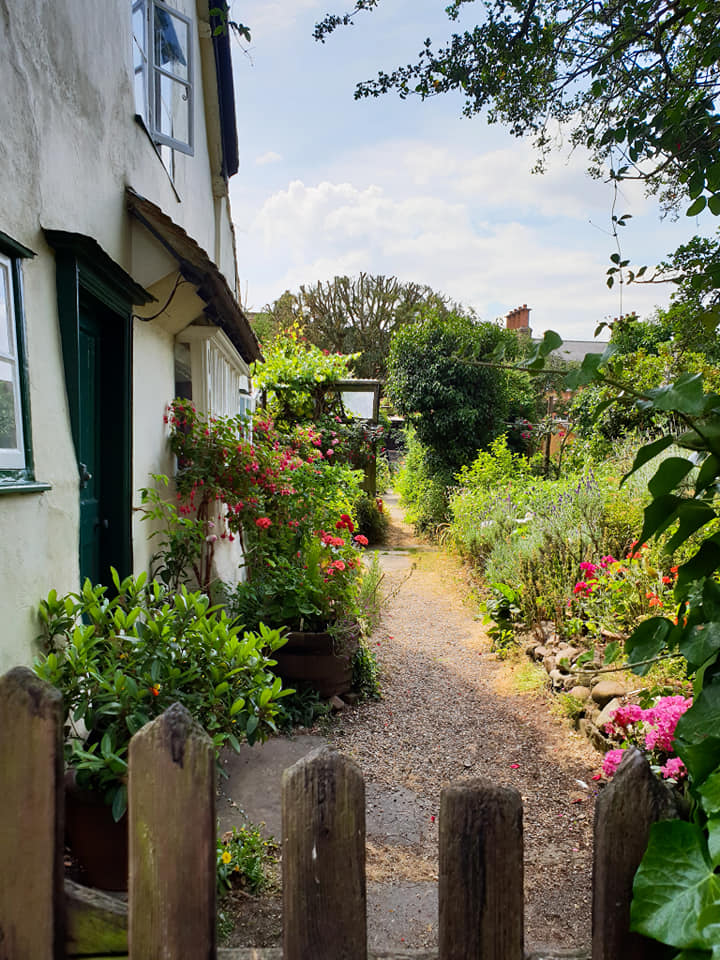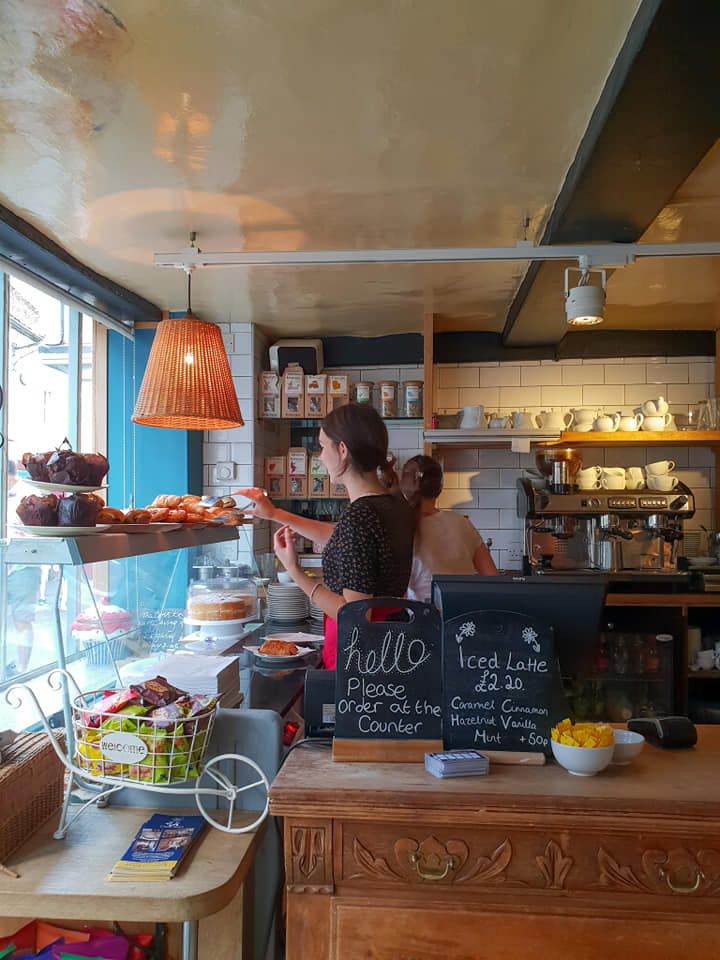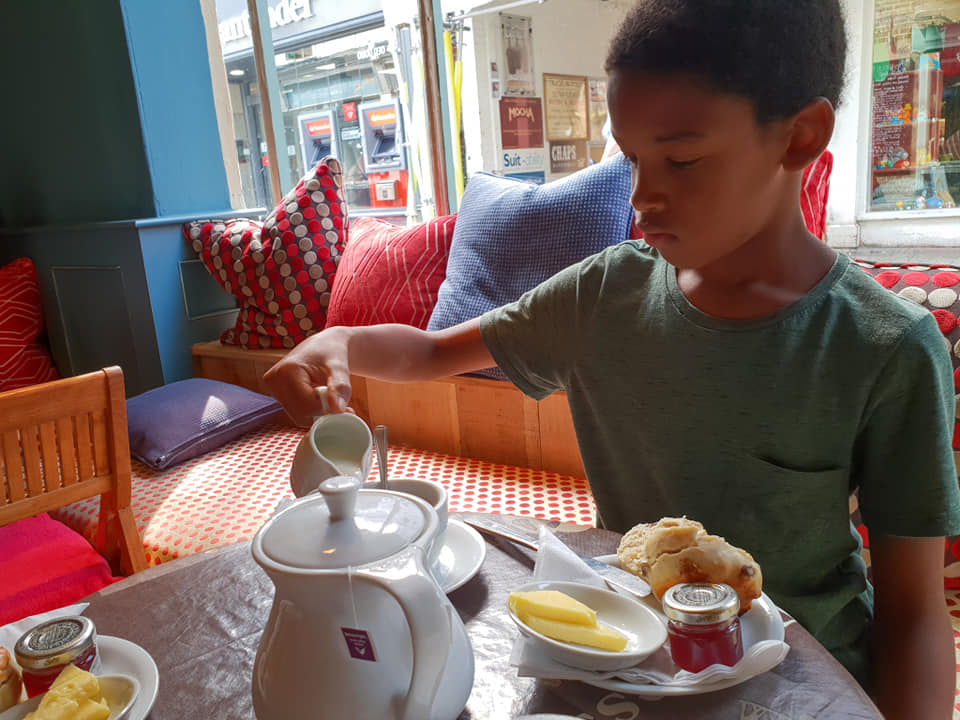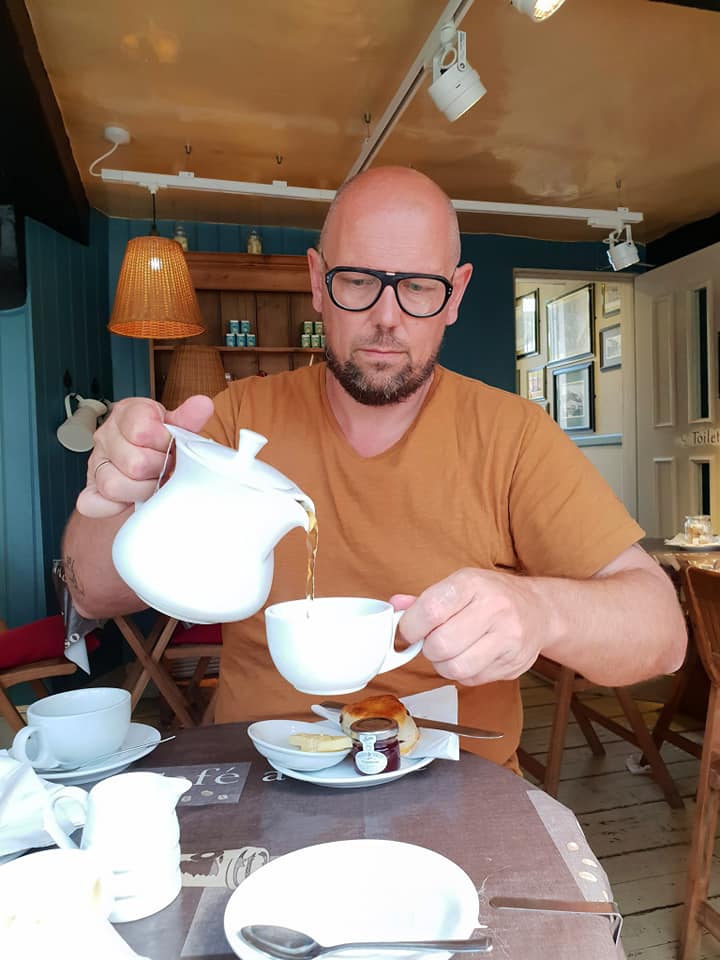 In Cambridge, we went on a guided punting tour on the river Cam with Rutherford's and really enjoyed the funny (and sometimes historically and politically incorrect) stories our guide Keiran told us. Especially the one about Charles and Camilla. 😉
The tour takes you along all the picturesque bridges and colleges, and there are many along the route!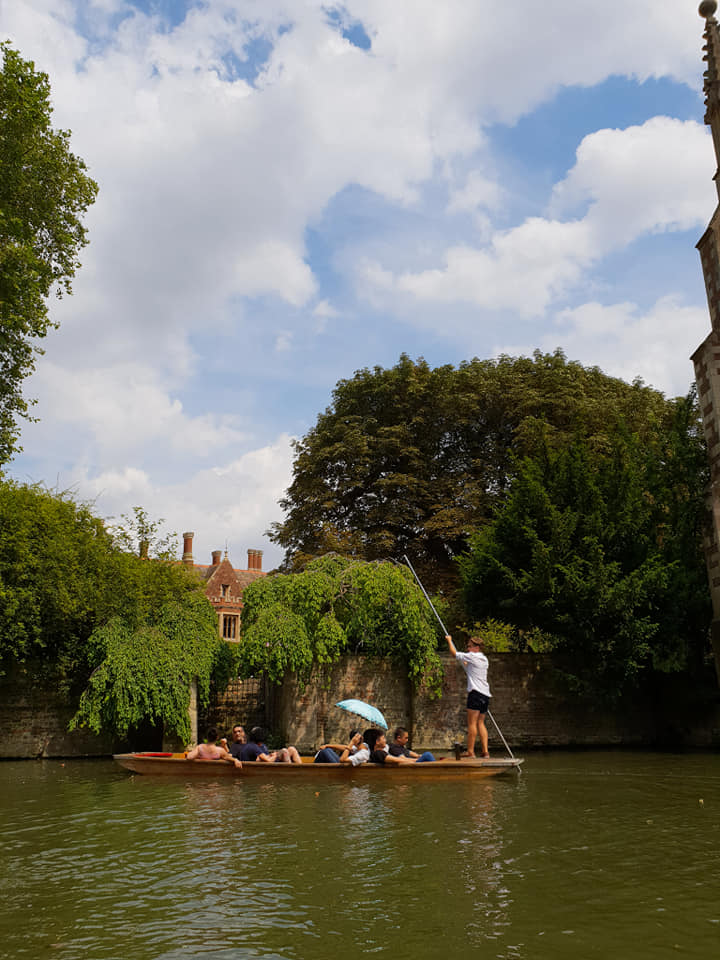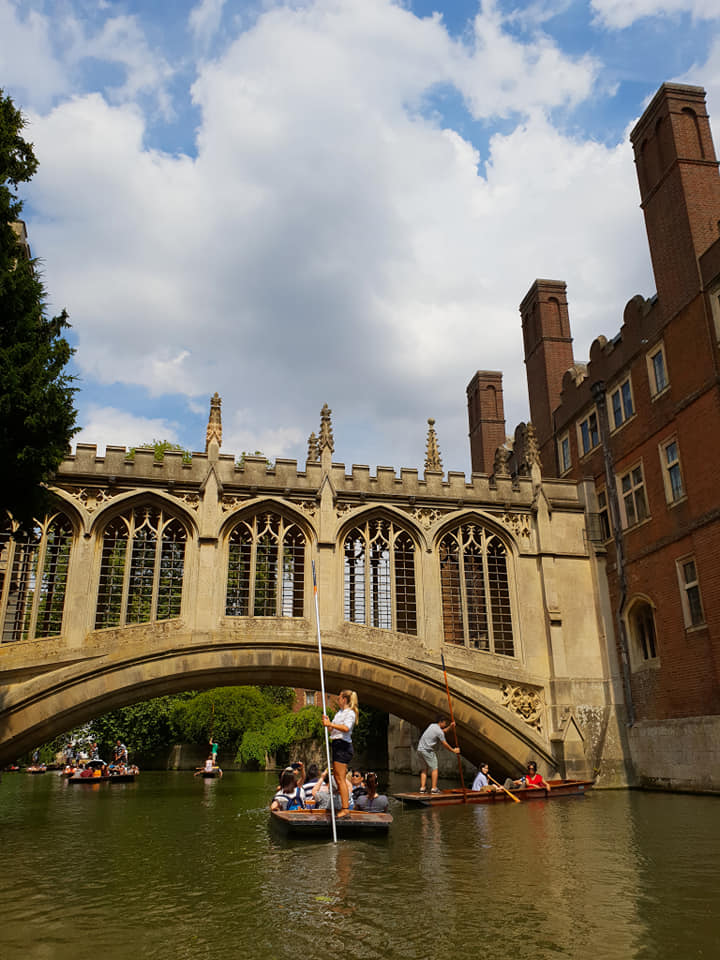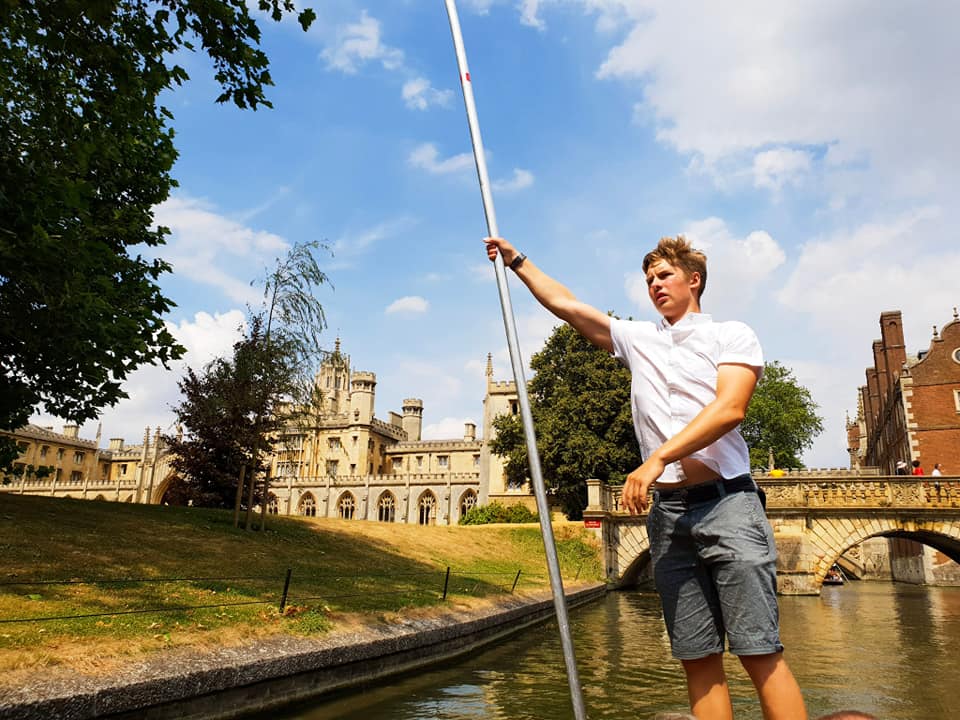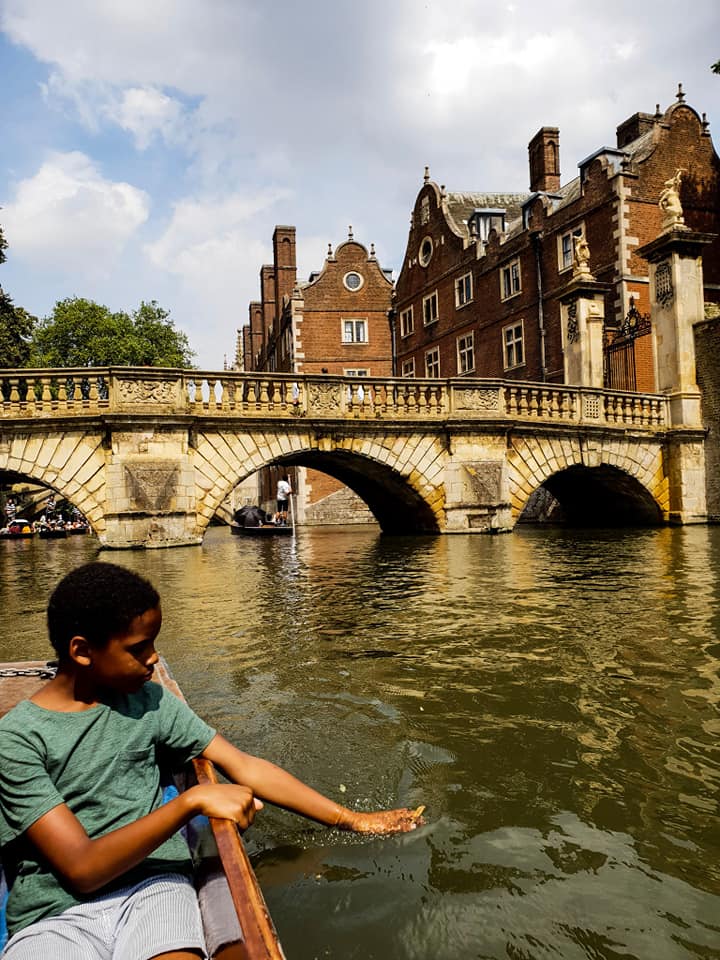 Cambridge is really charming,but gets quite busy in summer…
so we decided to drive on and spend the night in a lovely farmhouse bed and breakfast called Grange Farm House in the small village of Euston, near Thetford.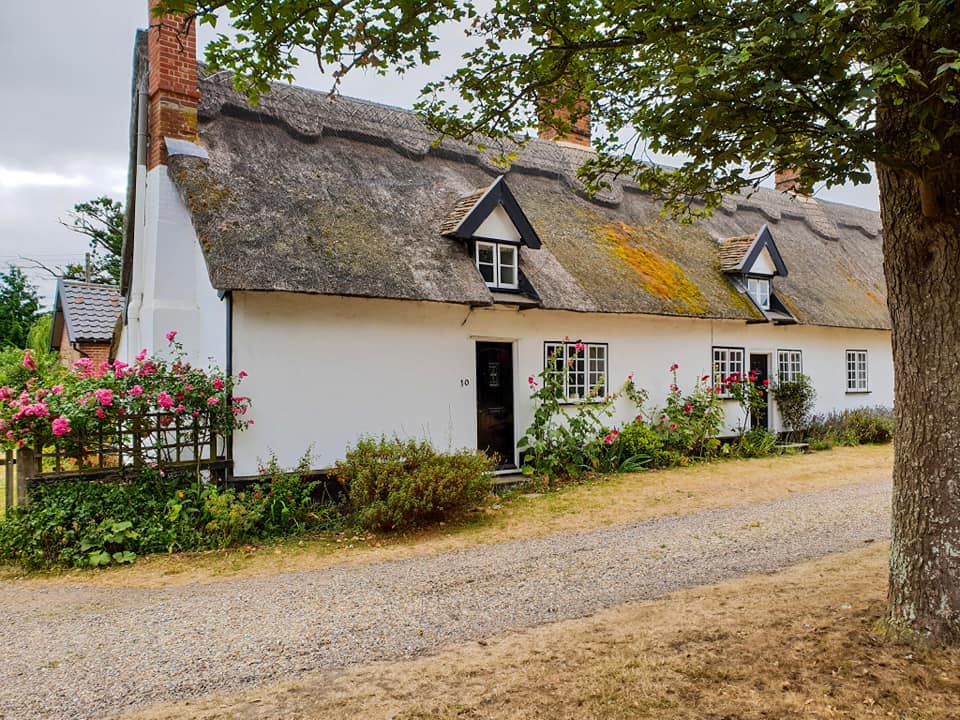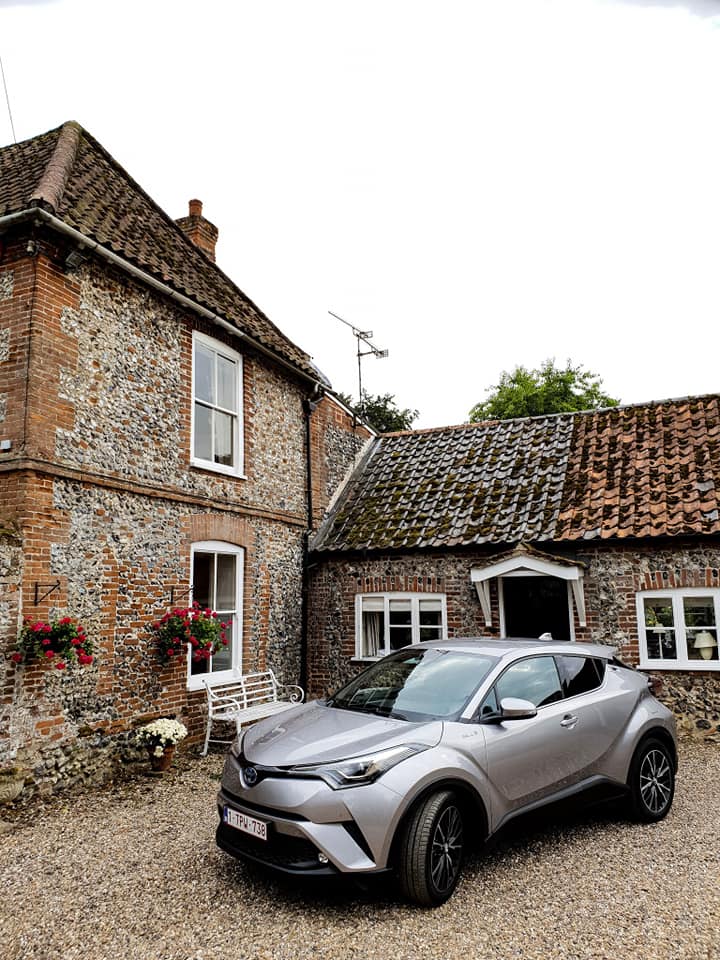 The owners, Thibouche and Philip, will give you a very warm welcome in to their lovely farm b&b.
Our room was very spacious and comfortable. We enjoyed dinner and a truly scrumptious breakfast there as well.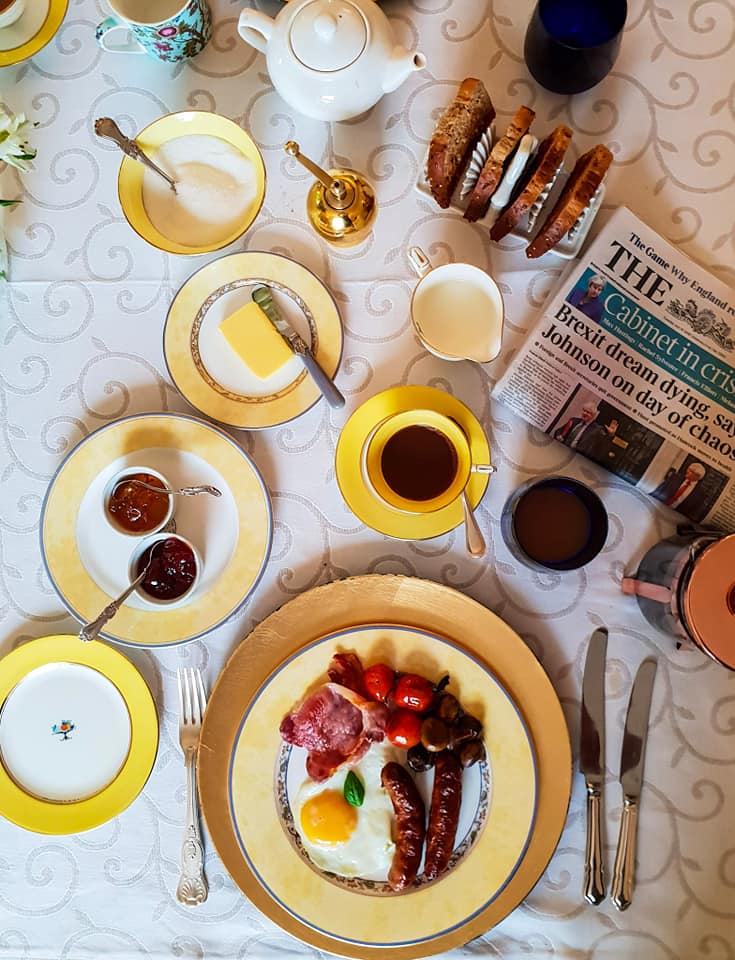 After a short walk through the village and to the enormous Euston Park,
Ely cathedral was next on our list. Truly impressive and a must-visit!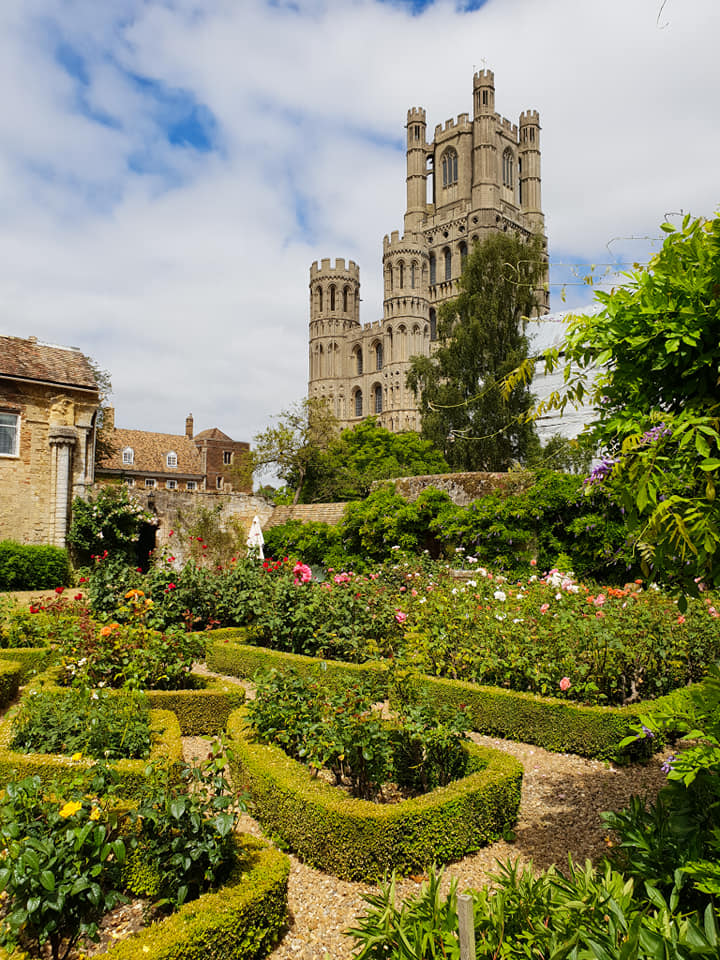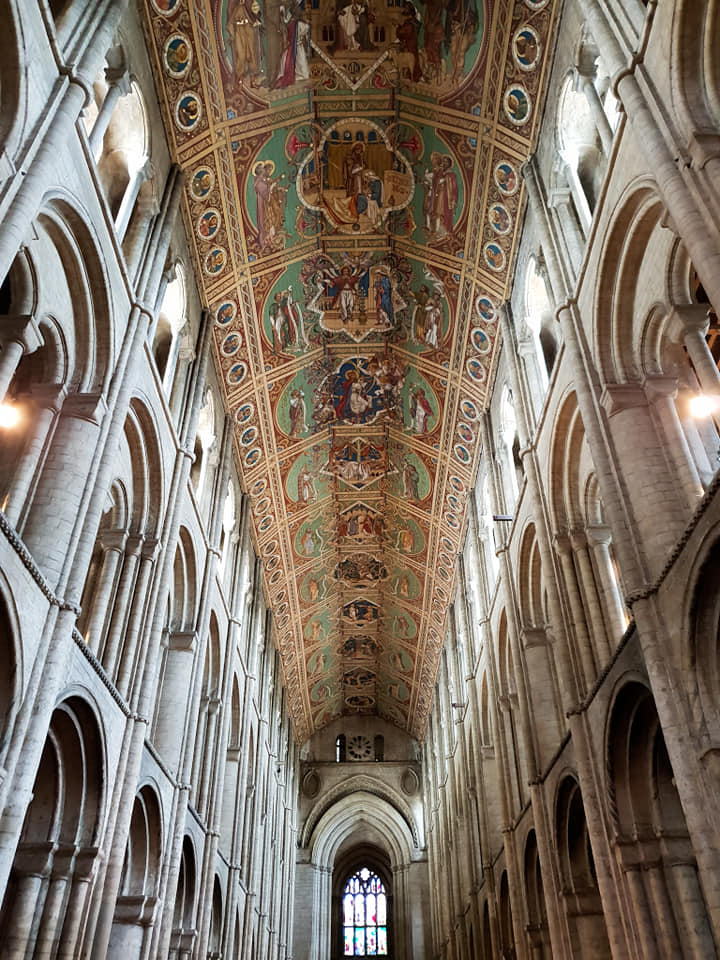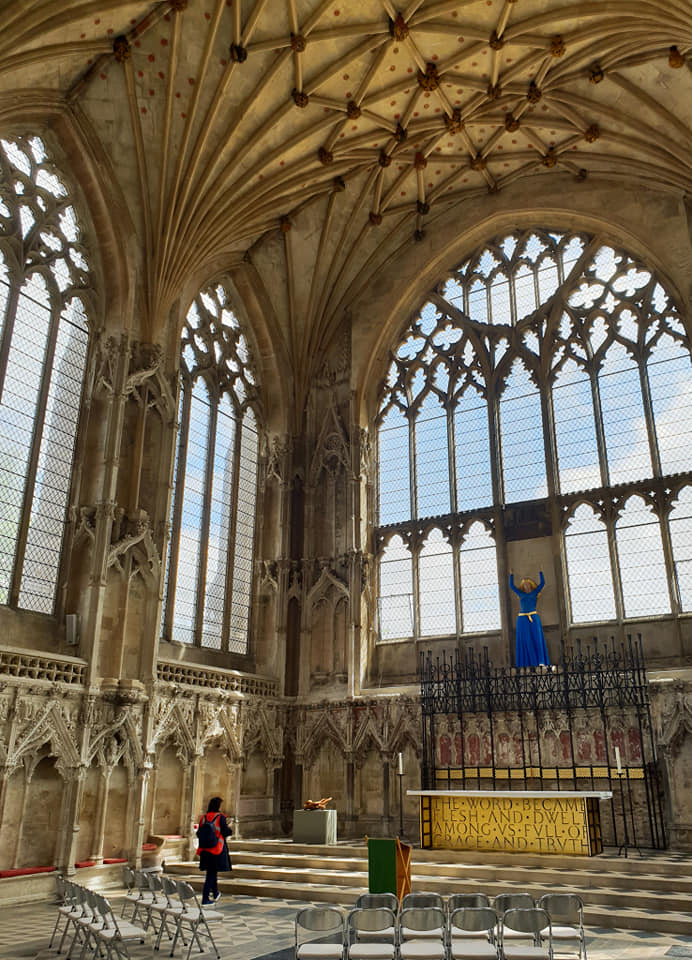 After a lovely lunch at the Lemon Tree Café,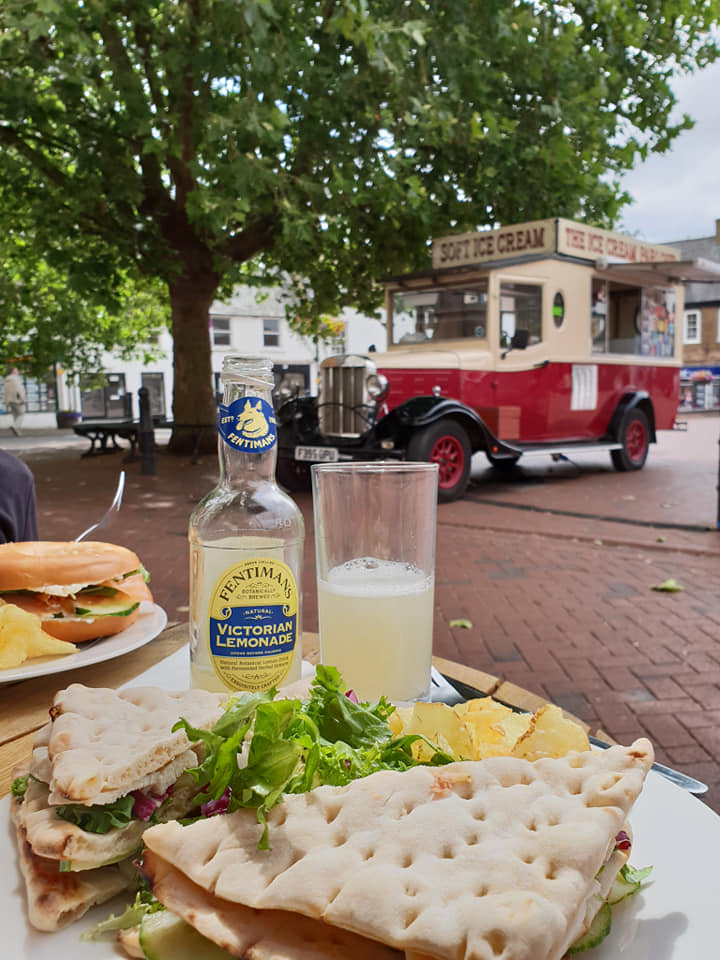 we drove on to Lincoln, which was still as charming as I remember.
The little streets surrounding the enormous cathedral are so charming! Be prepared to do some climbing though. Cute little shops and tearooms can be found everywhere.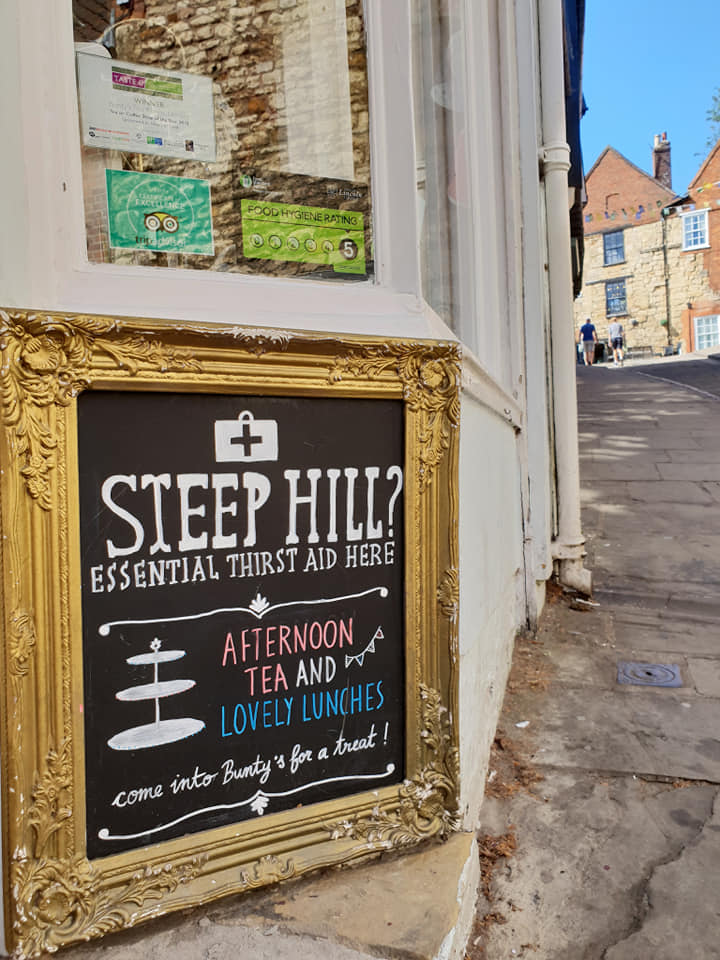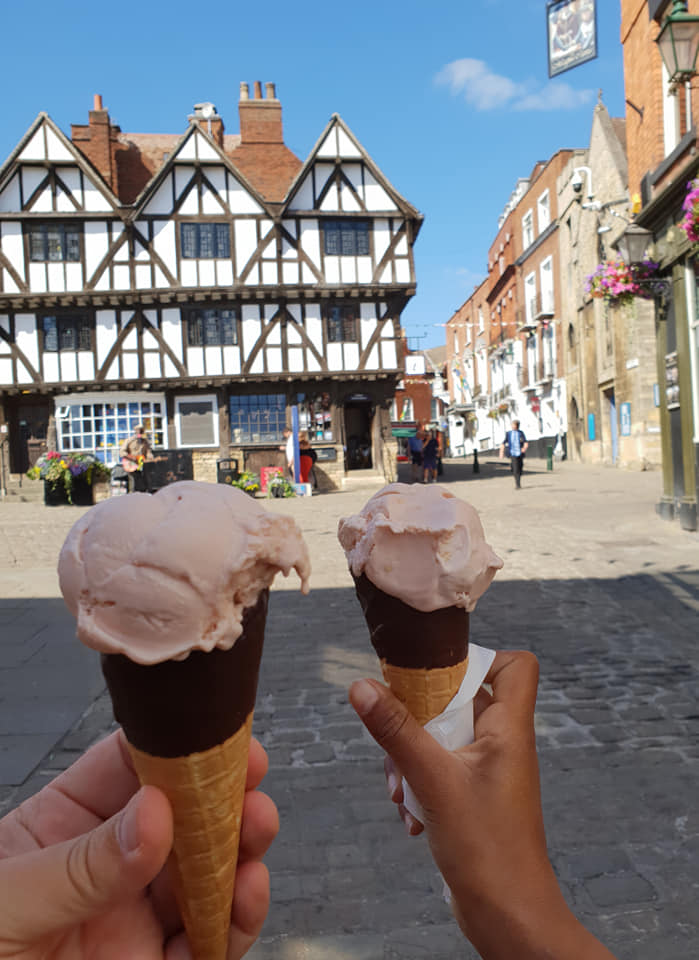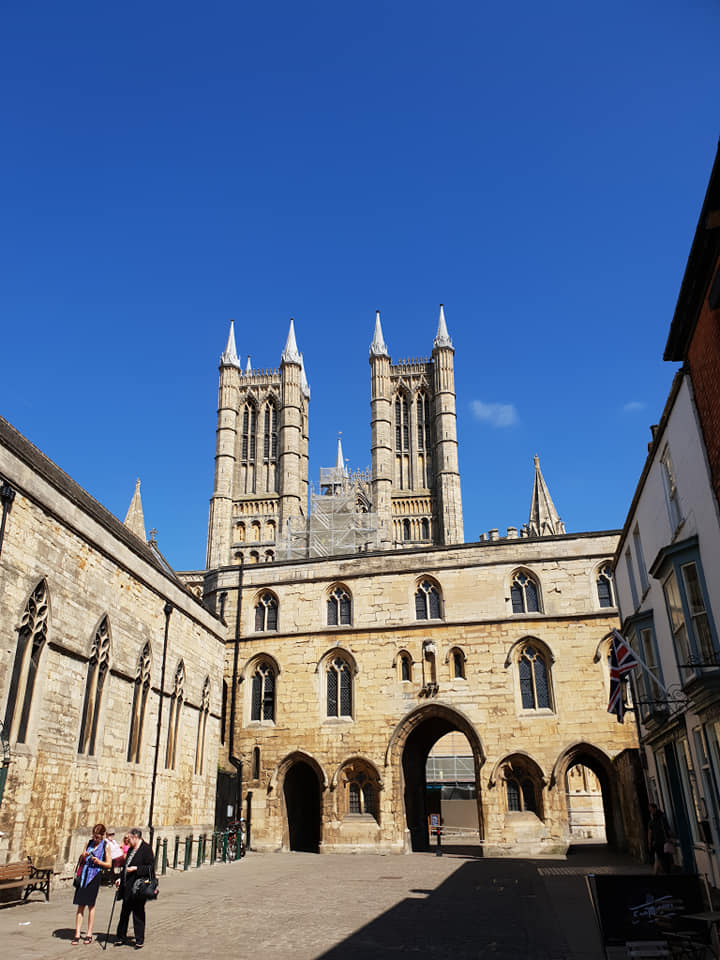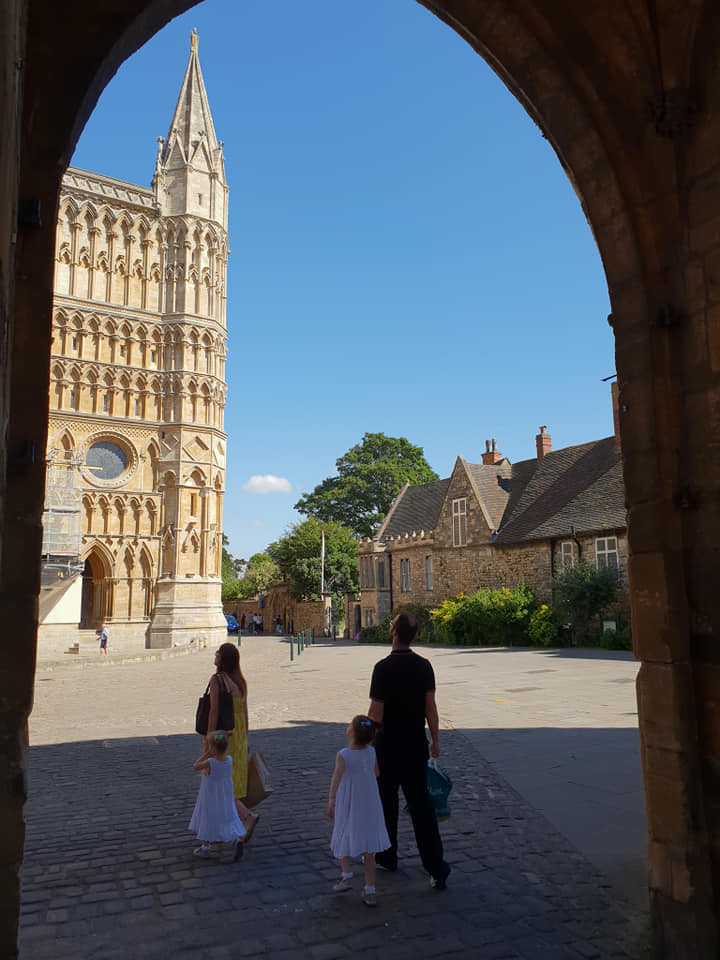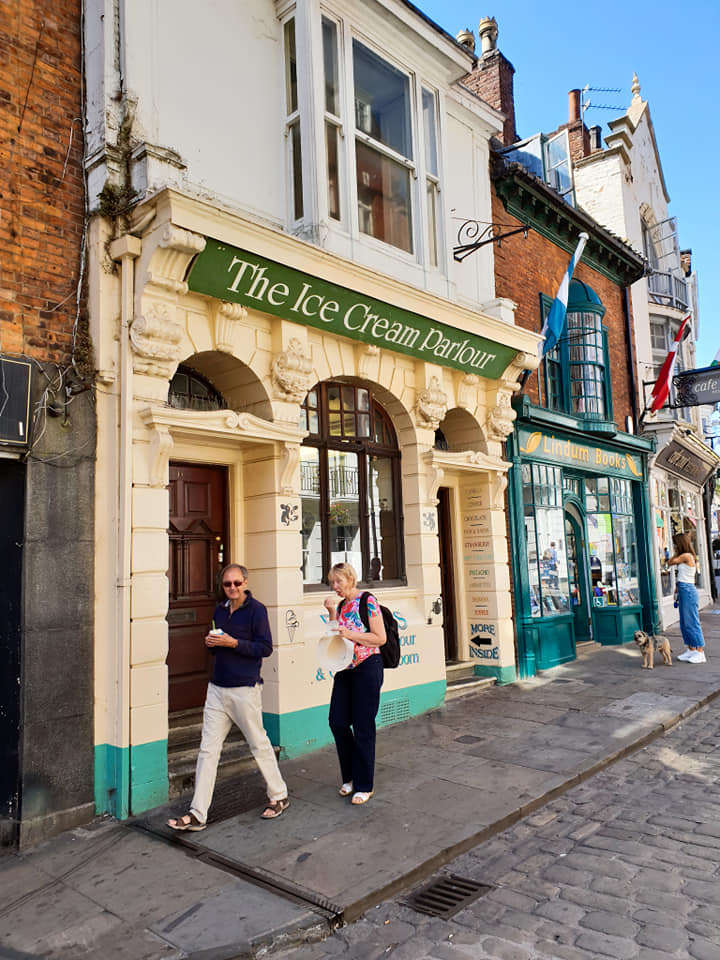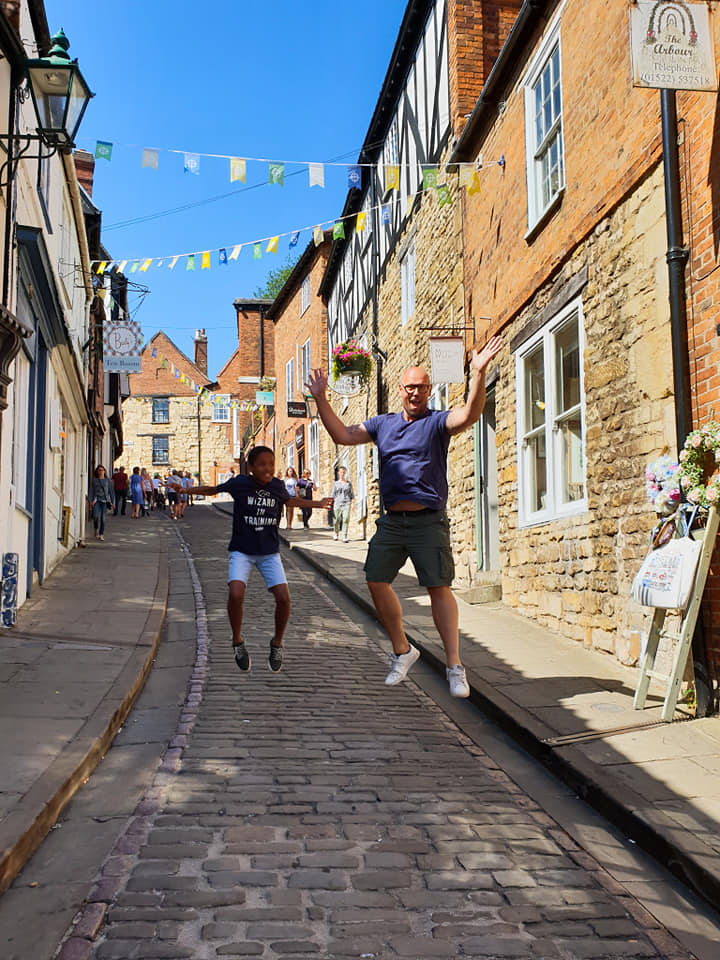 In the meantime, we fully got used to driving our Toyota CH-R Hybrid!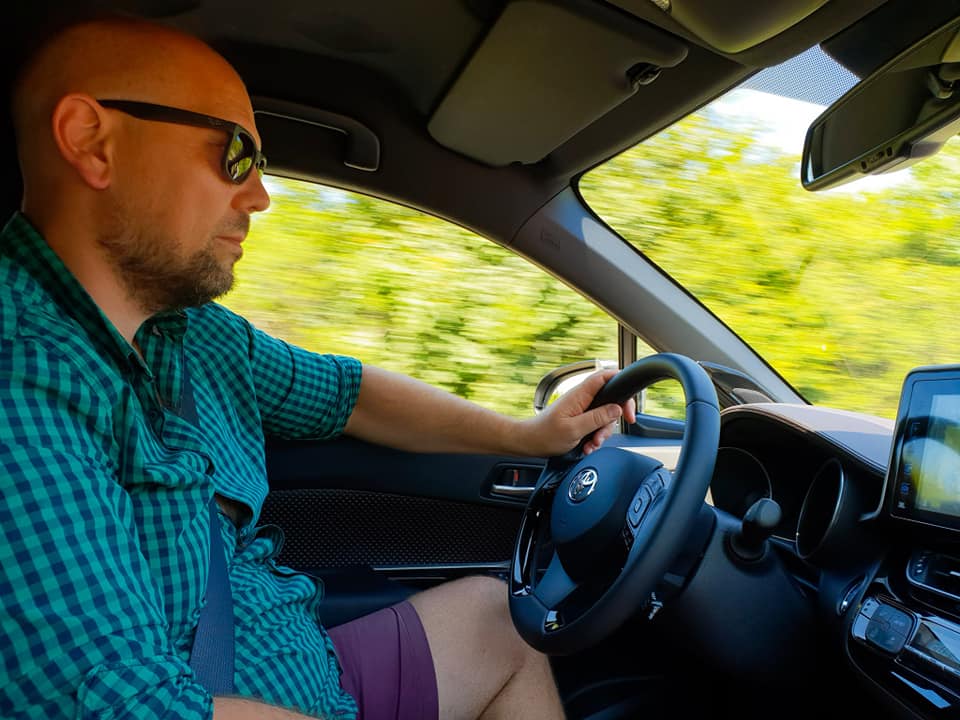 It really is a great car to drive. I personally loved the quite sporty design and the nice and well-designed dashboard and easy-to-use entertainment system. The famous Toyota build-quality can be felt throughout the entire car.
It's the perfect car for two to three people or a small family as the backseat spaces are not terribly big. The boot is very practical and quite large though. For the two of us on this trip, it was thé perfect car!
The thing is with driving a Hybrid, it automatically made me drive more 'conscious', 'safer' maybe?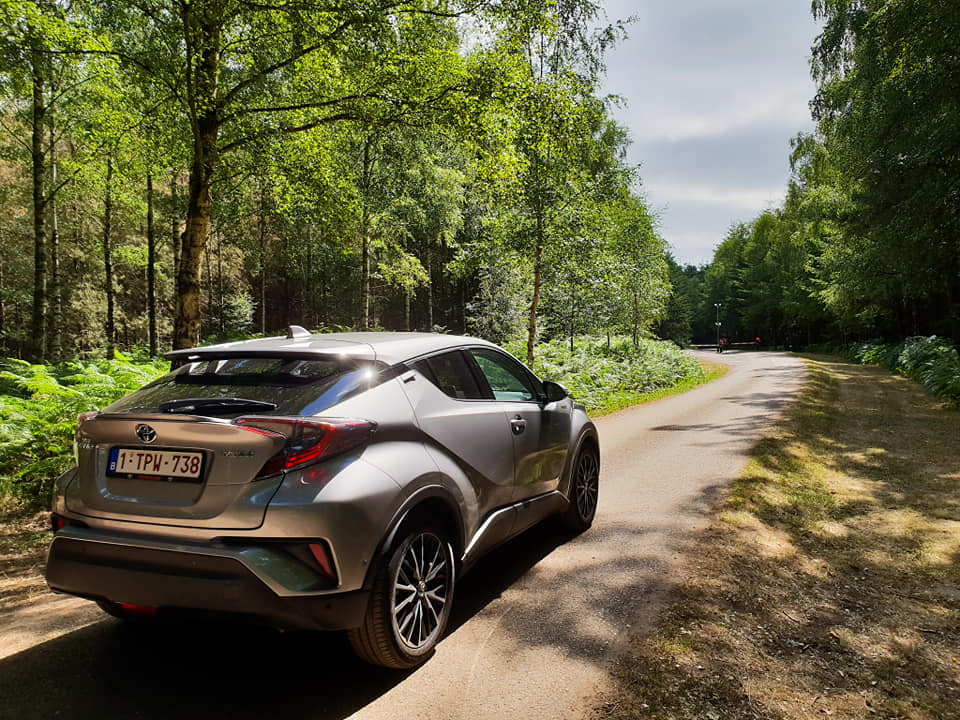 Anyway, for the ones who still have no clue what a hybrid car does or what it means, here goes: it's basically very simple: a hybrid car comprises two engines, one petrol and one electric motor which work together. While decelerating and braking, the system recycles kinetic energy to charge the battery. Excellent fuel economy and low emissions are two of the major bonus points about these cars. More info about this model and all the other Toyota Hybrid models can be found on the Toyota Belgium website.
We spent that night just outside Lincoln, at Lincoln Yurts. Very comfy yurts in the middle of the countryside. We slept in the 'Mongolian'.
Good thing about the place – besides the very friendly owners, the animals on site, the excellent full English breakfast ànd the peace and tranquility everywhere – is also the fact you have a little practical kitchen, which you share with the other guests and all yurts have their own private toilet and (quite luxurious) bathroom in a little outbuilding, just behind the yurts.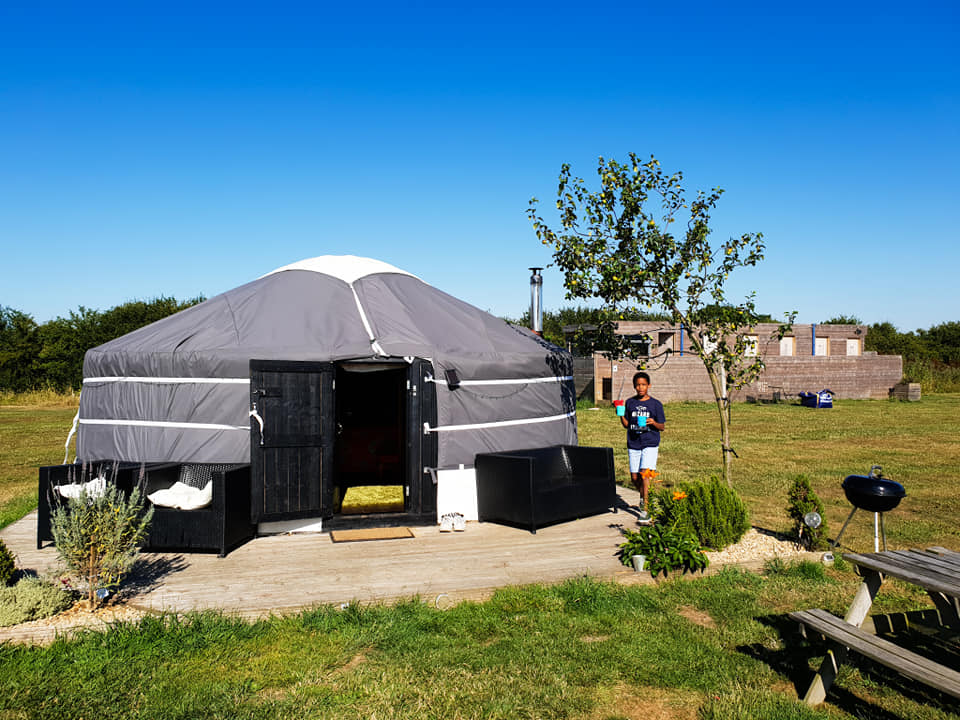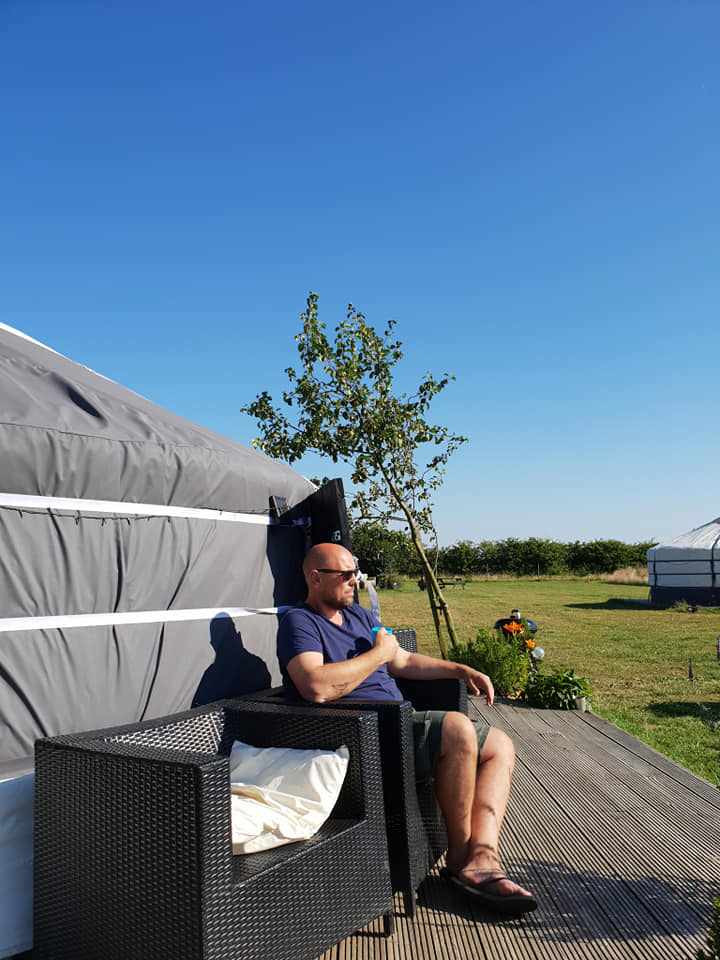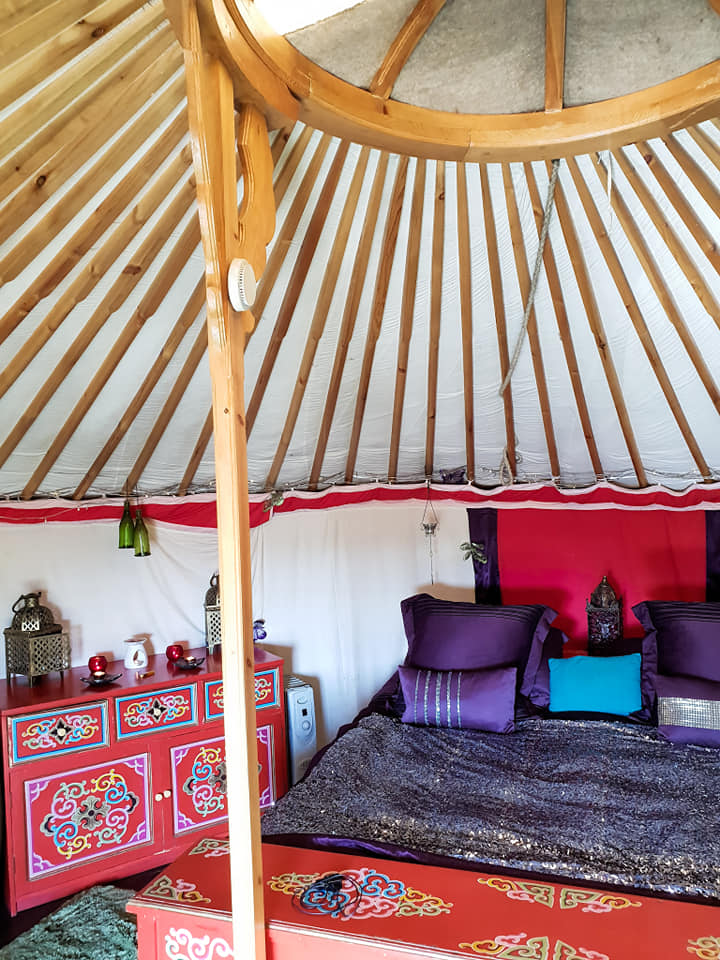 When evening fell over the yurt campsite, it turned into a magical place. We made a fire and watched the sun go down.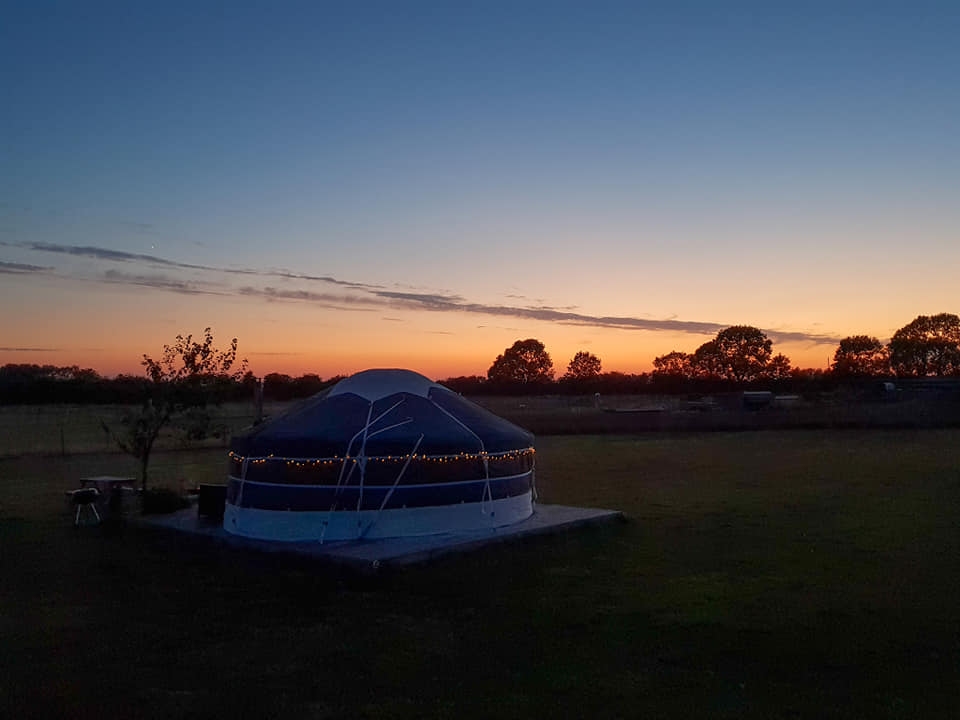 After an early breakfast, we drove to charming Pickering to board the North Yorkshire Moors Railway. What a lovely experience that was on board of this old steam train, making its way through the beautiful Yorkshire countryside. It is a very popular attraction, so we were happy to have booked our tickets beforehand.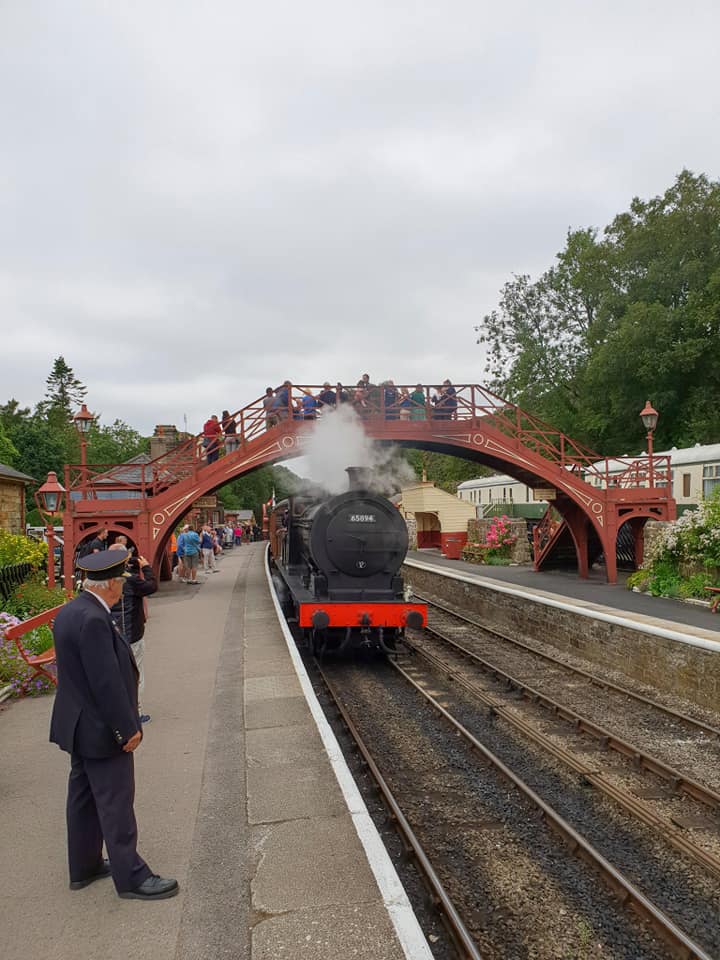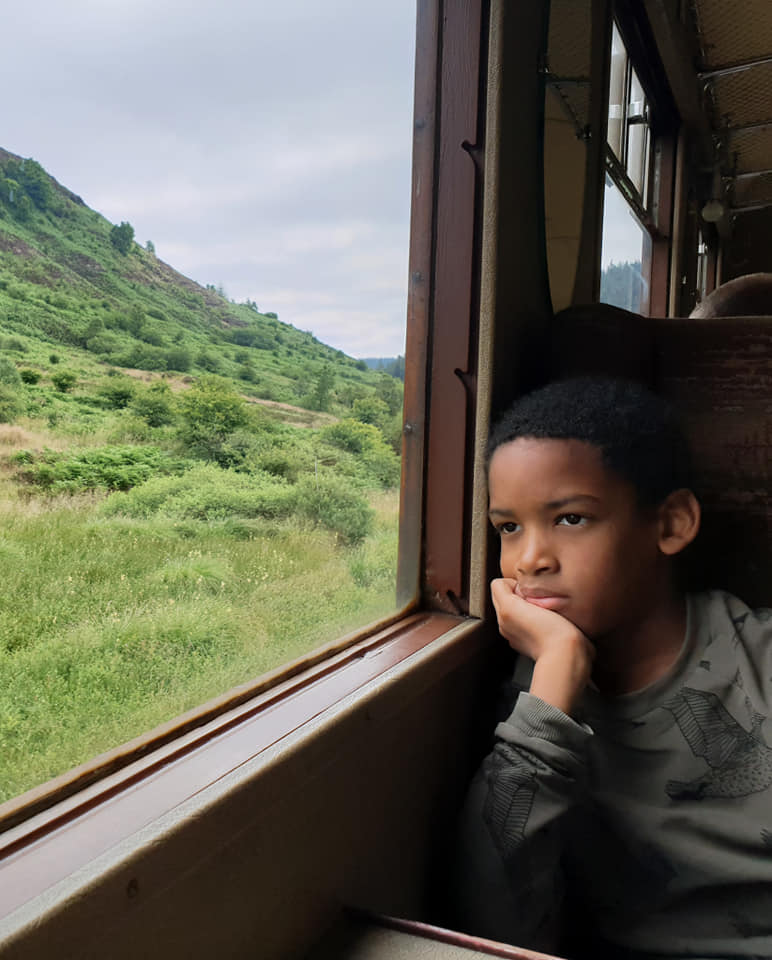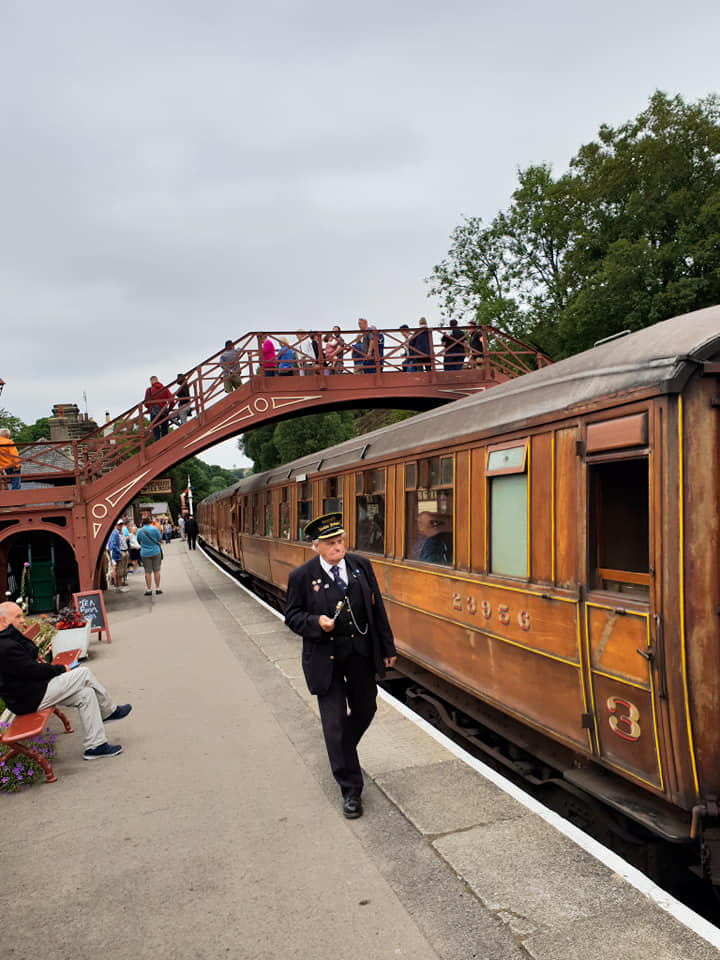 We got off at Goathland Station, which featured in the Harry Potter movies (my son being a HP-fan and all) and had some tea.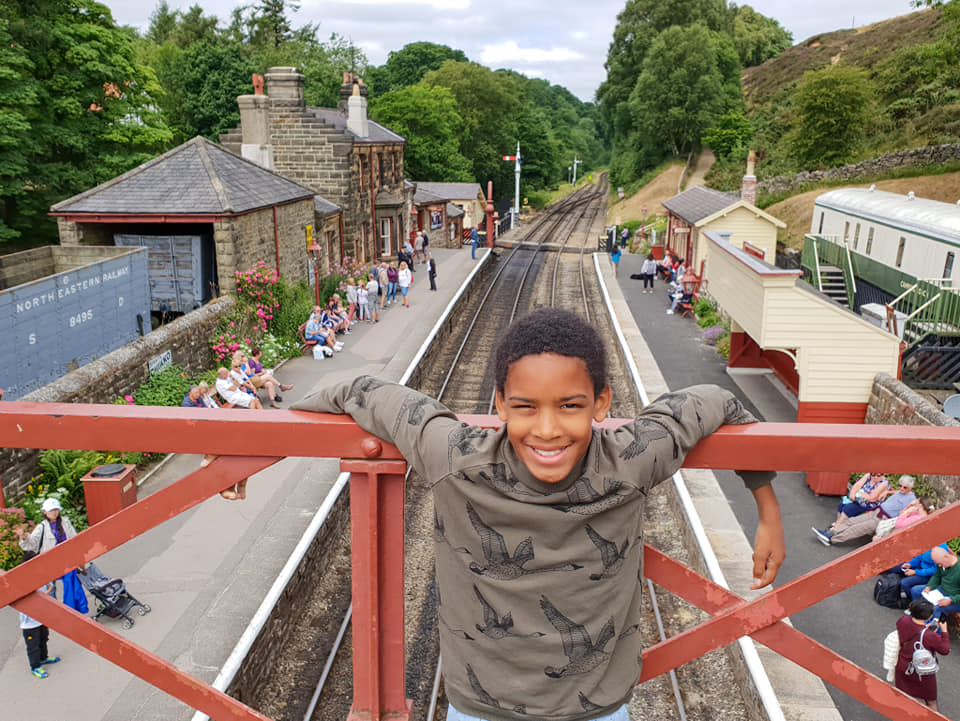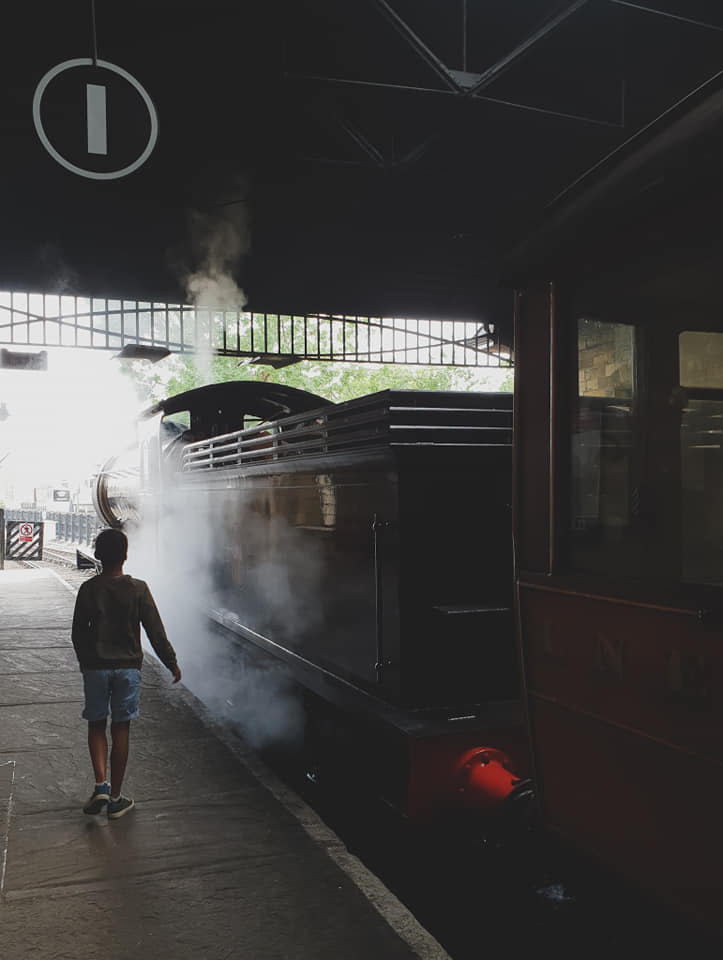 From there on, we drove to Whitby, a lovely coastal town with great seafood, great views and a lovely seaside atmosphere.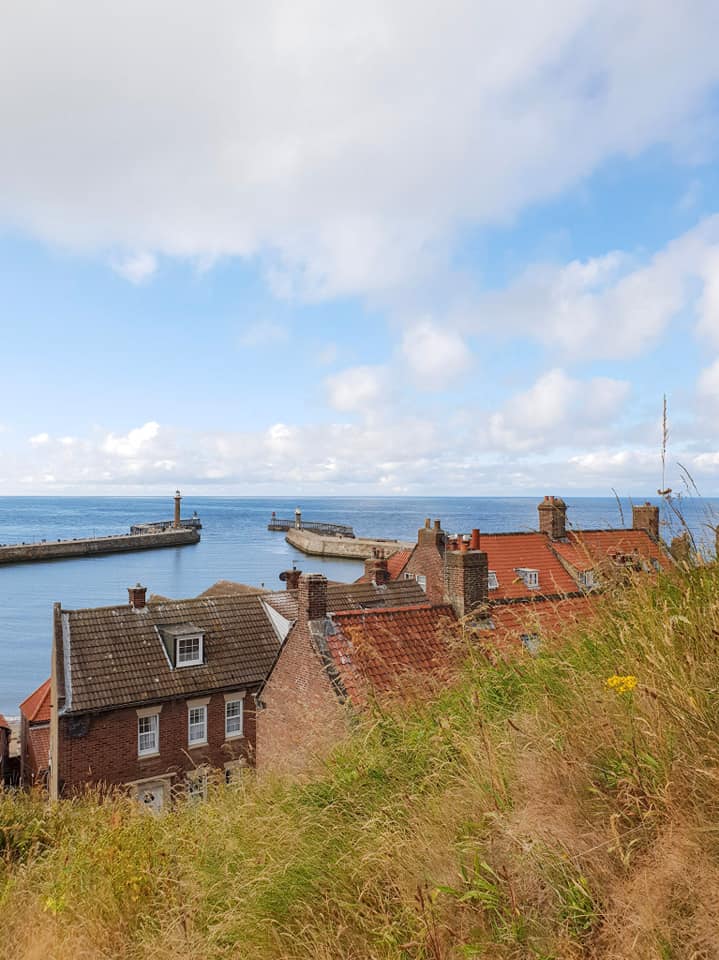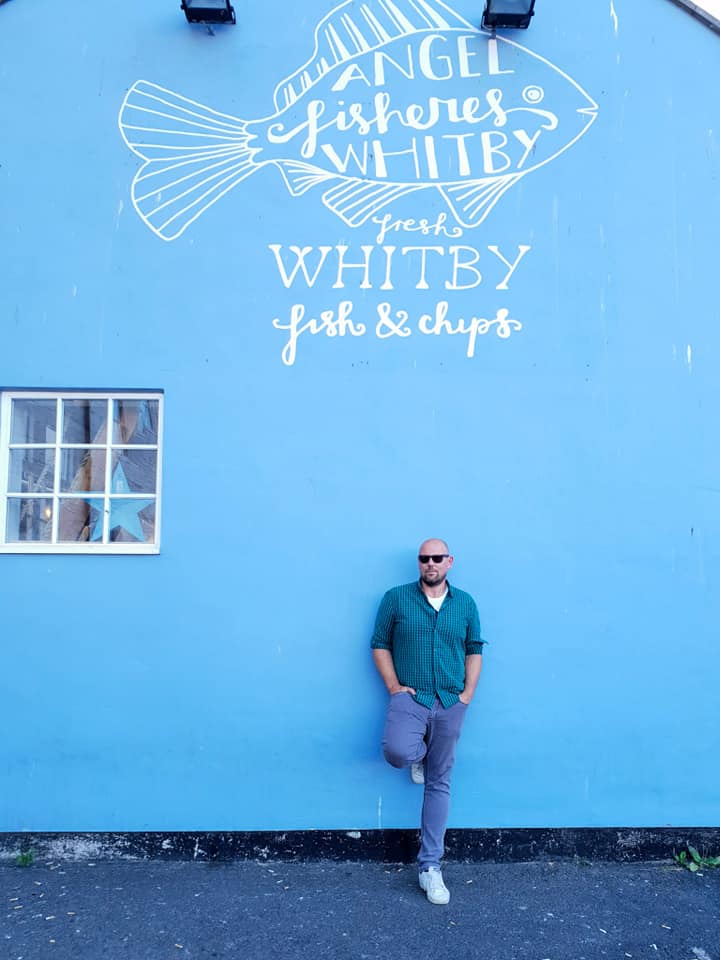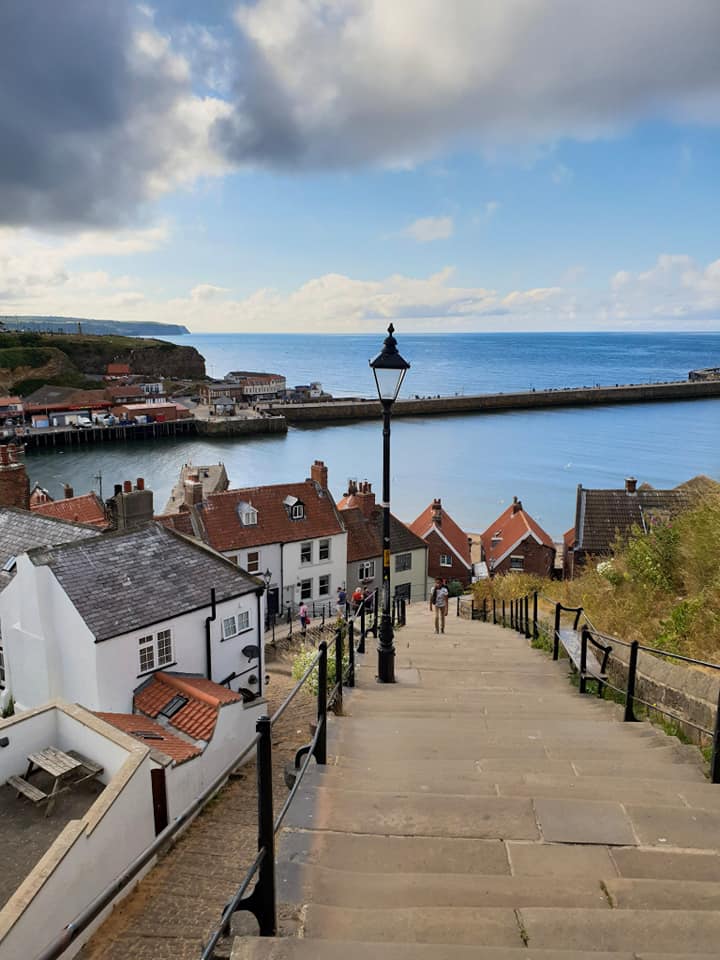 The old Abbey ruins high up the hill are just amazing! (even on a grey day) Well worth your visit.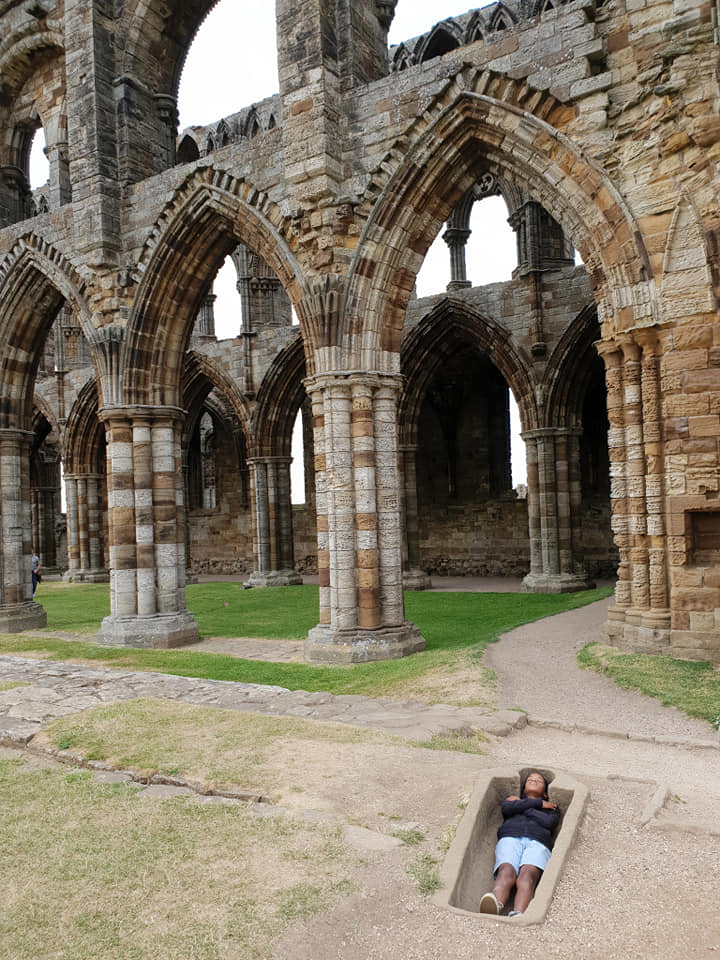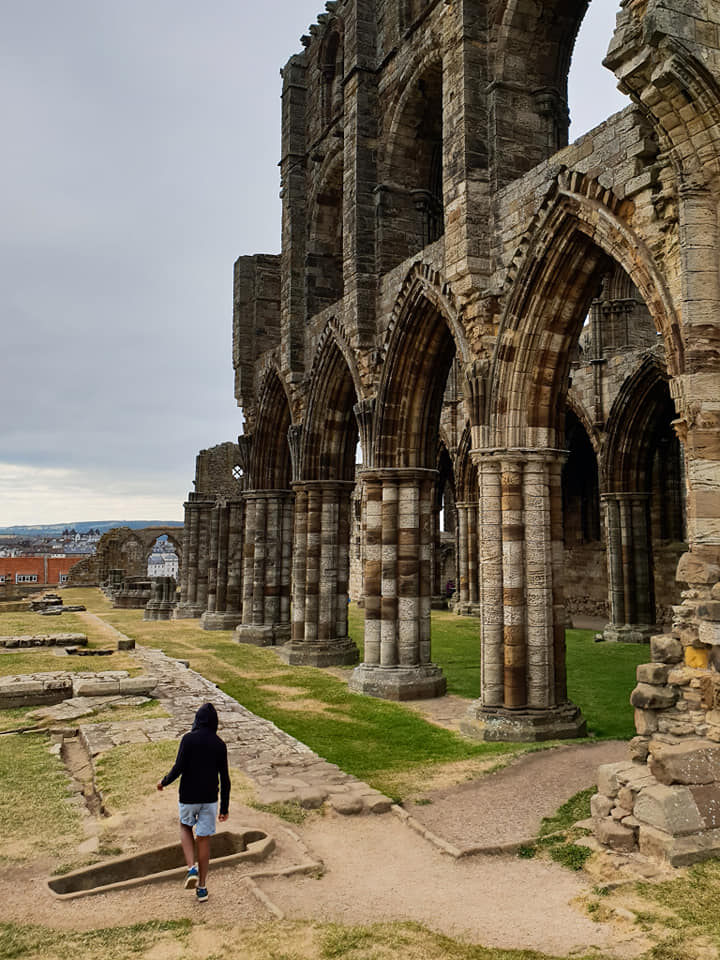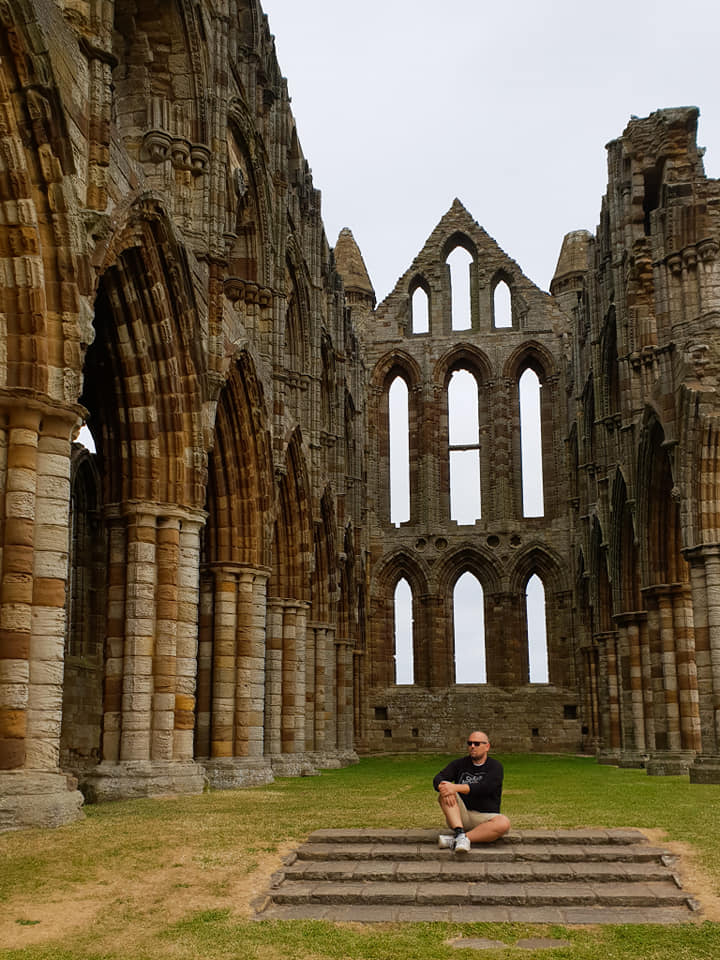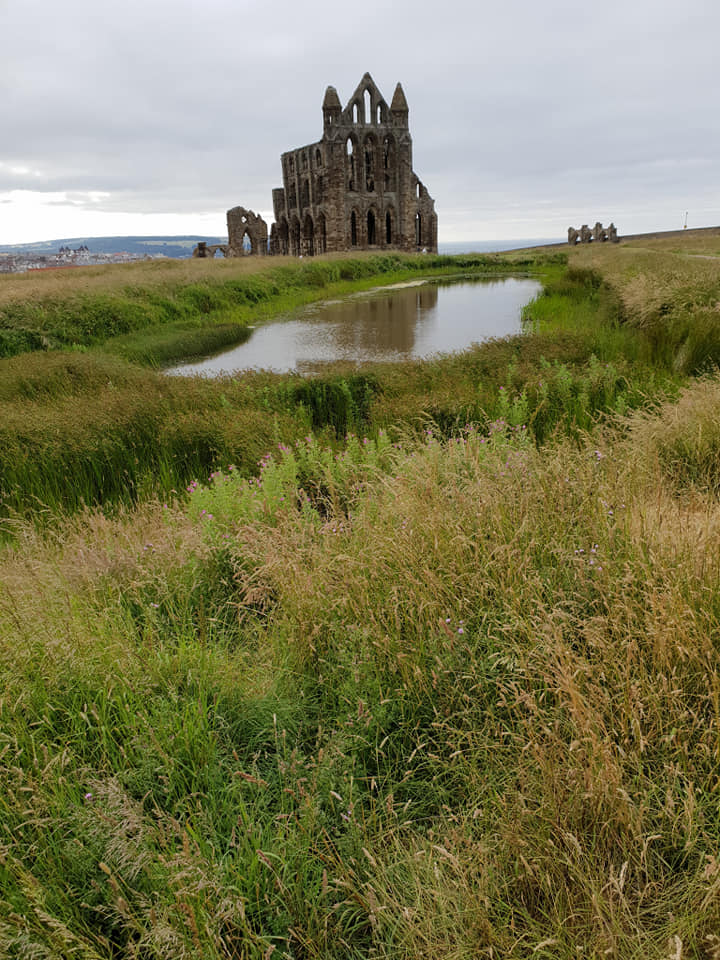 We camped for two nights at Bay Ness farm.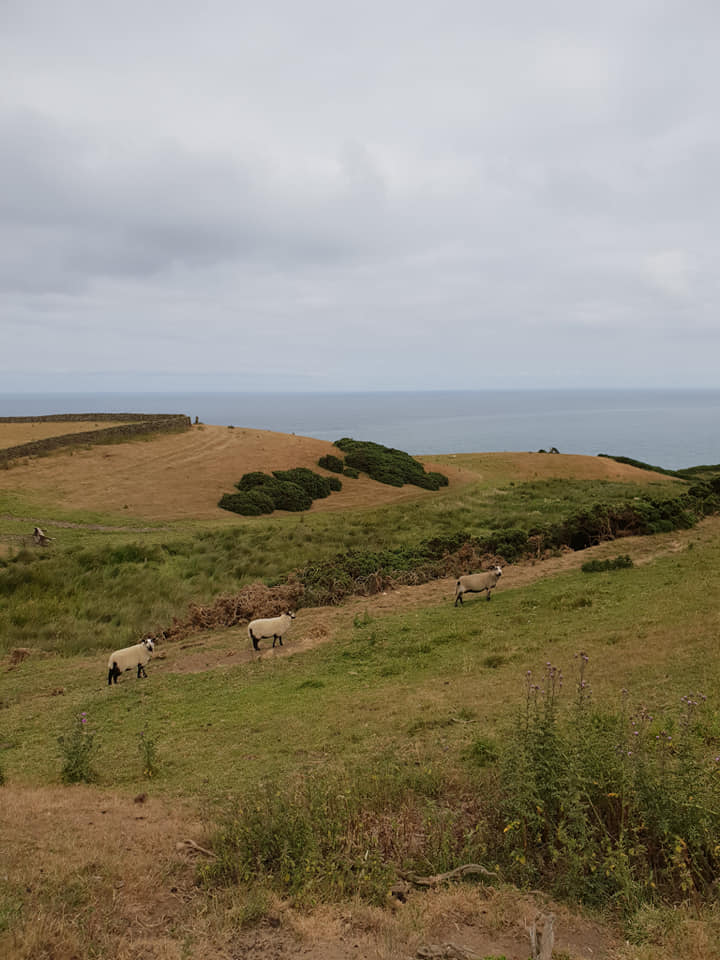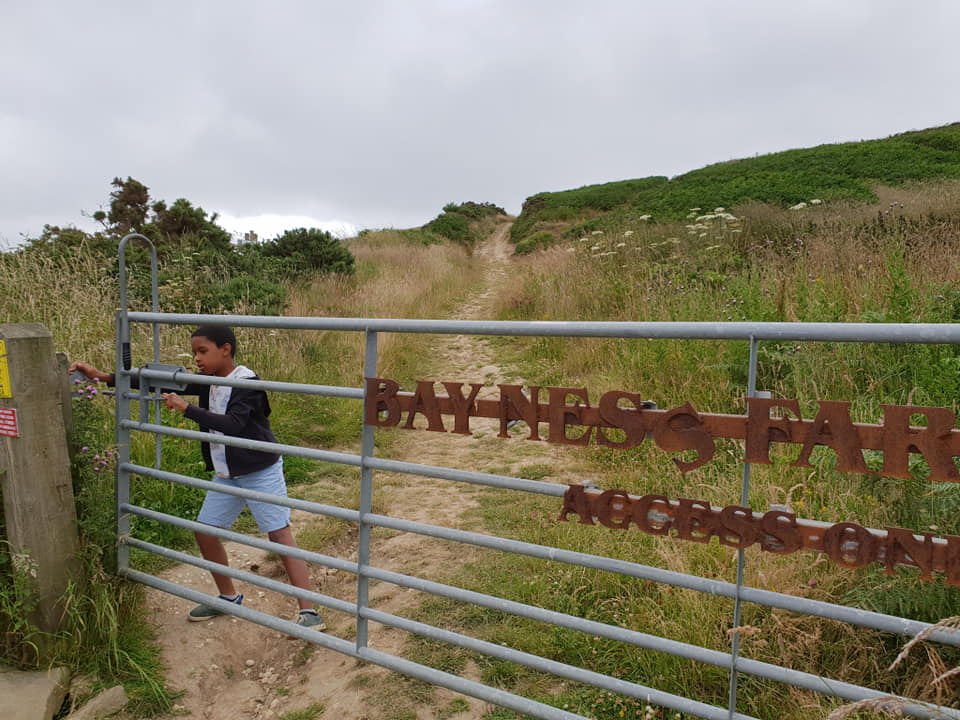 The campsite is situated between Whitby and Robin Hood's Bay and really…  at the end of the world, even our sat nav was completely lost at some point… 😉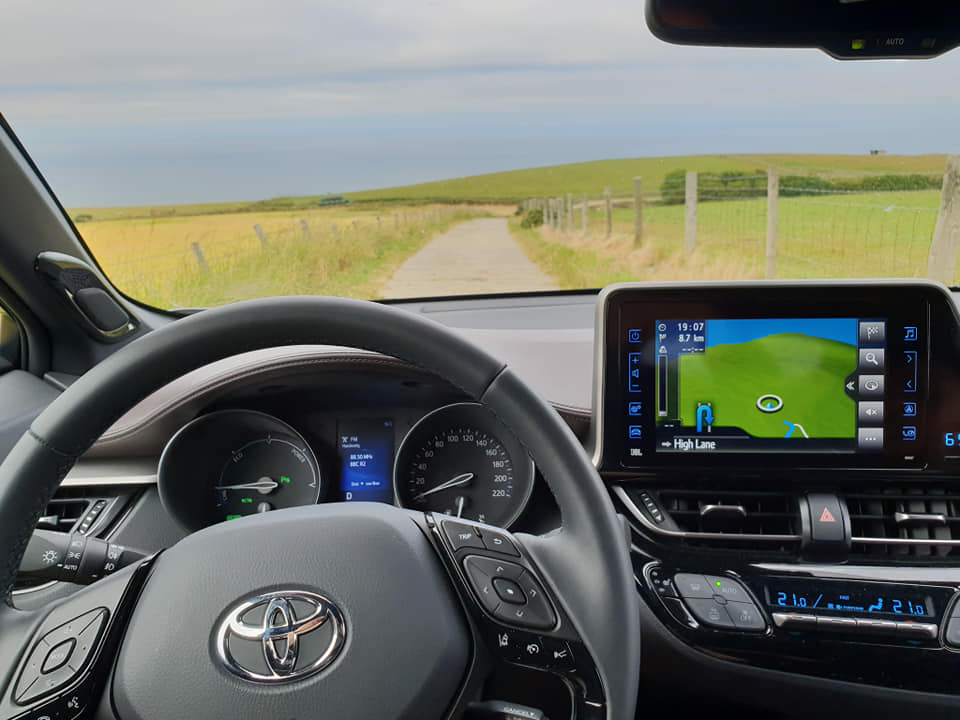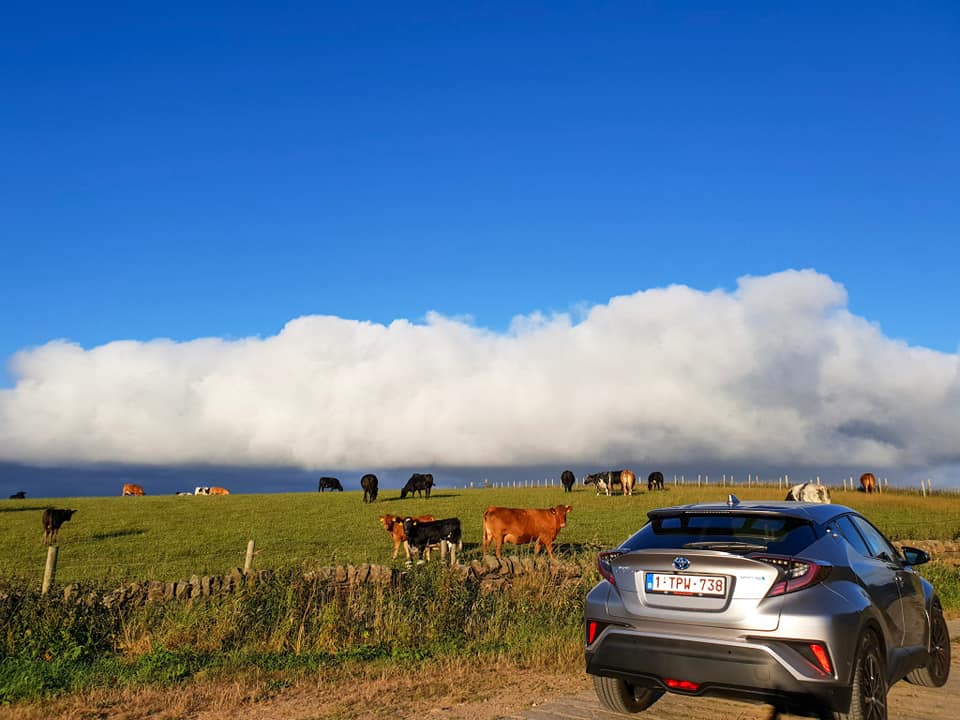 But, you get stunning views from your tent in return!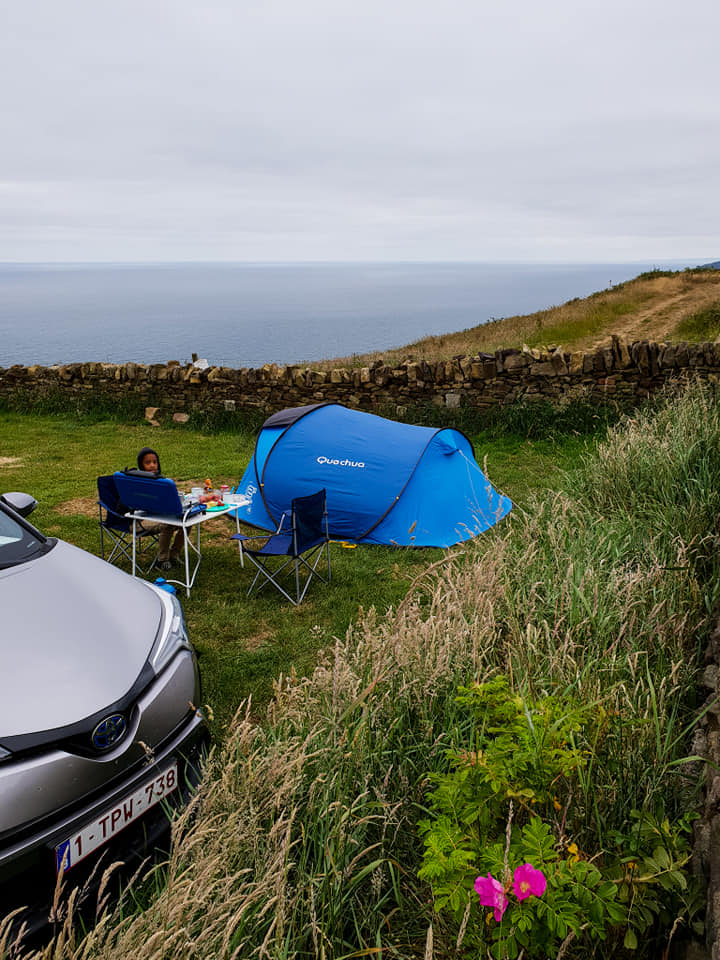 Facilities are basic, but ok, with toilets, sinks and showers in a nearby shed.
Nearby Robin Hood's Bay (you can walk to it from the campsite!), is very small, but really, really pretty and an ideal place to stop over for lunch or just to have some tea and watch village life go by…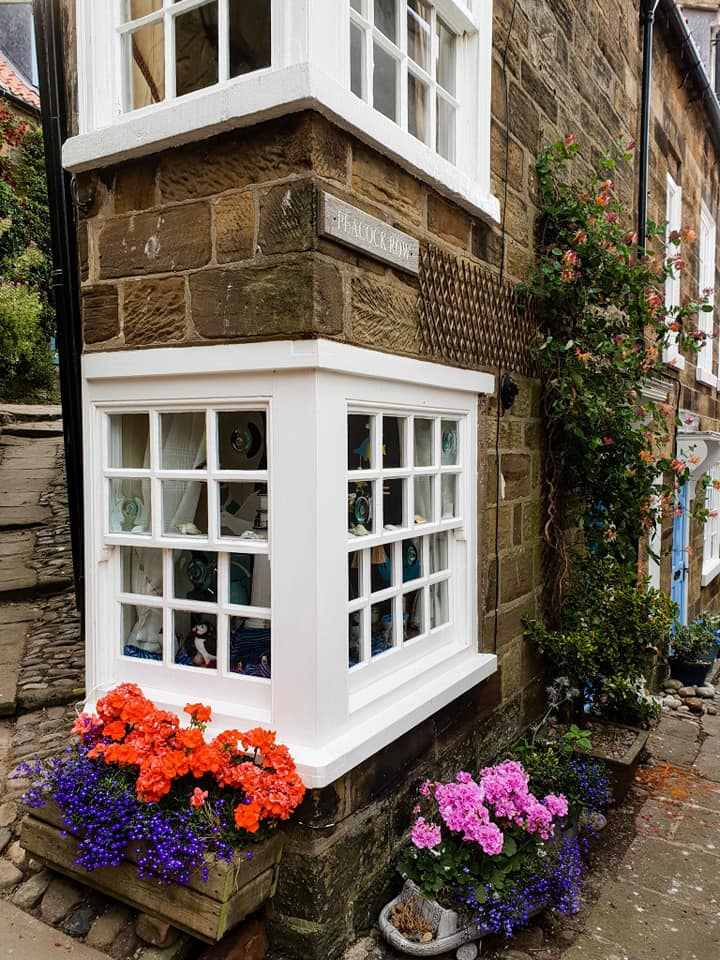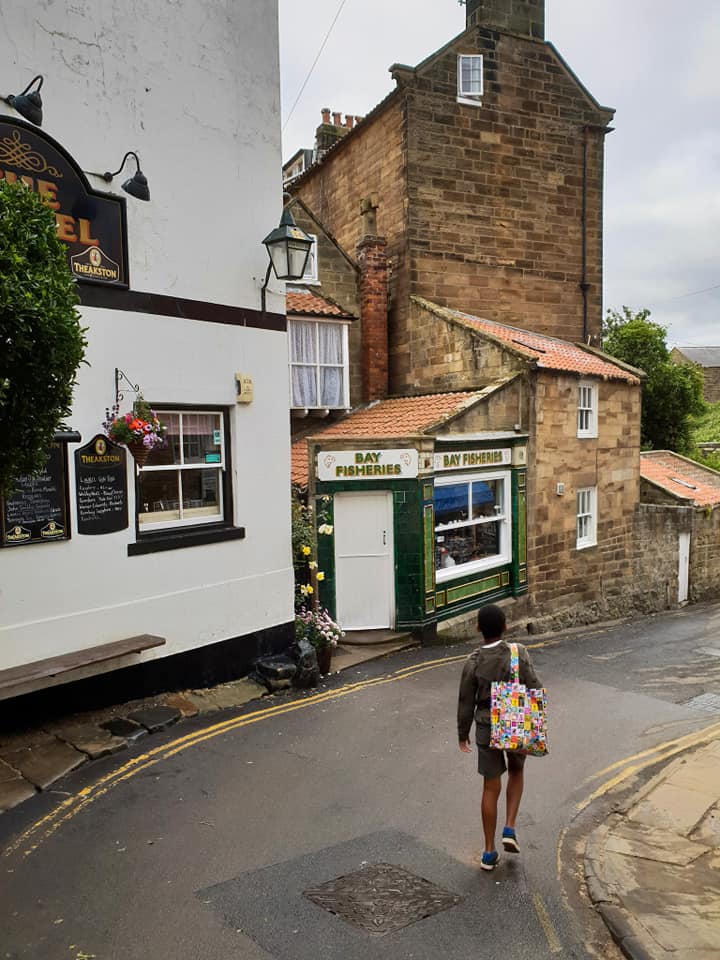 On the Thursday, we reached the most northerly point of our trip, the famous Alnwick Castle.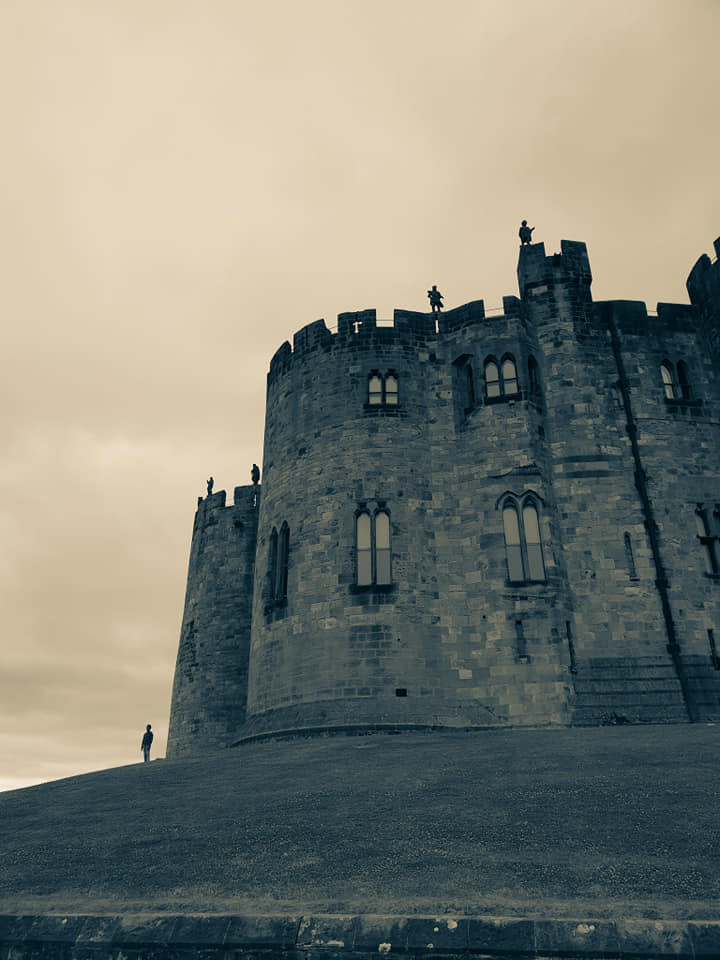 The castle is featured as Hogwarts (Zweinstein) in the Harry Potter movies and also featured in a few episodes of Downton Abbey.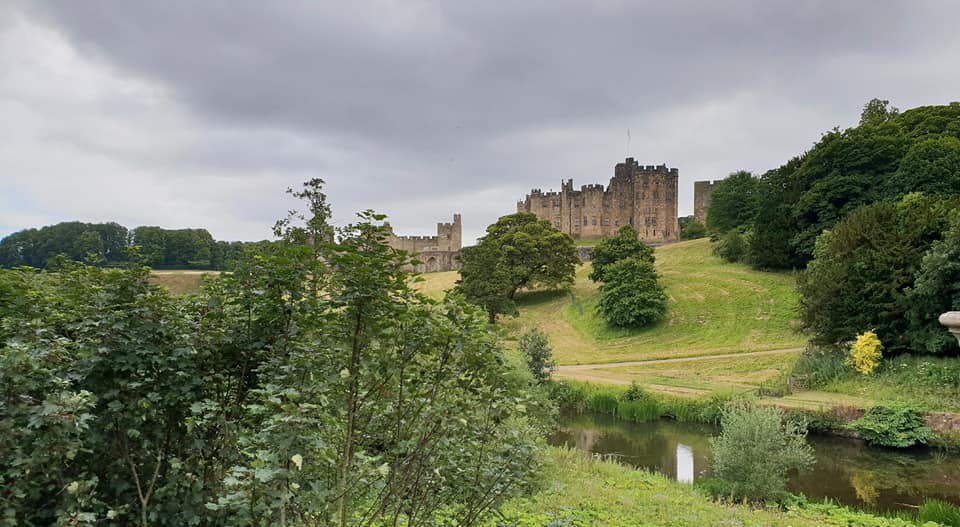 While I was more impressed with the lovely, large gardens surrounding the castle and the magnificent (that library!) state rooms (no pictures allowed),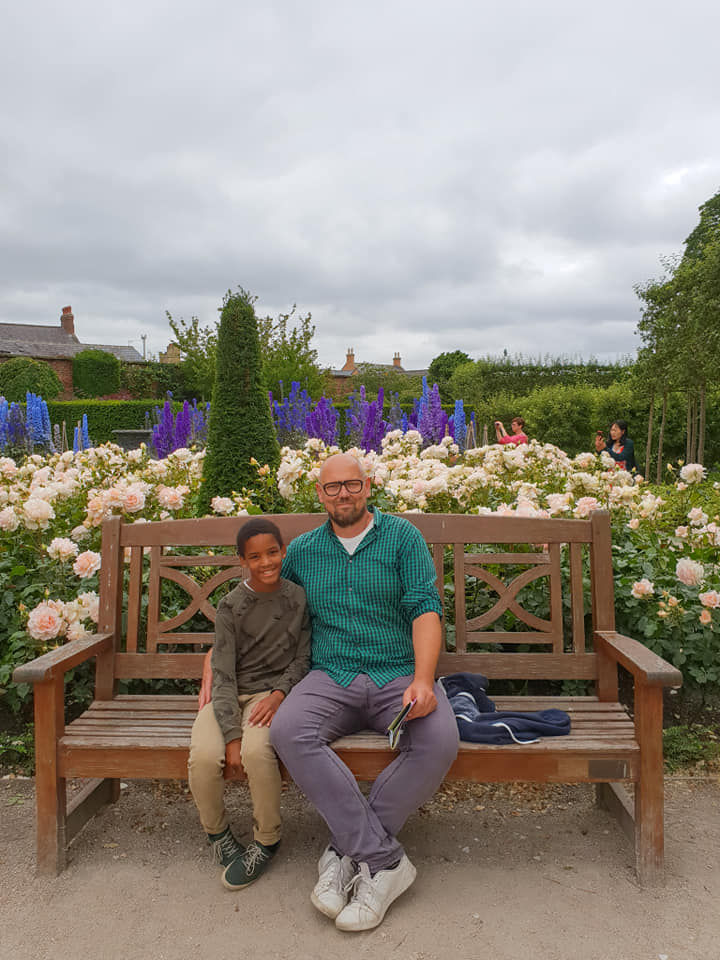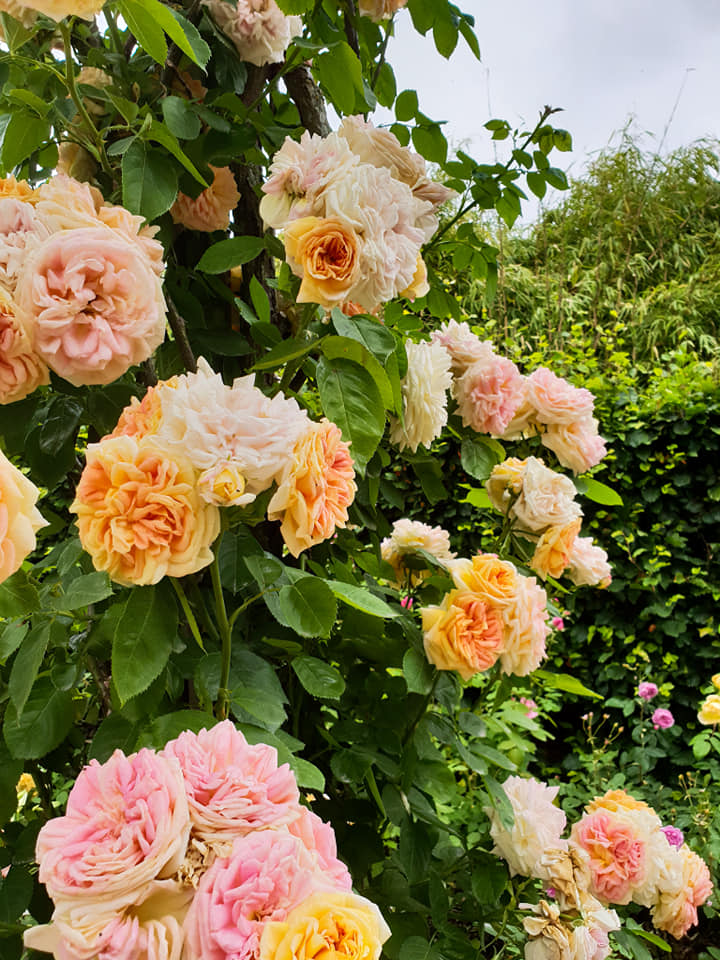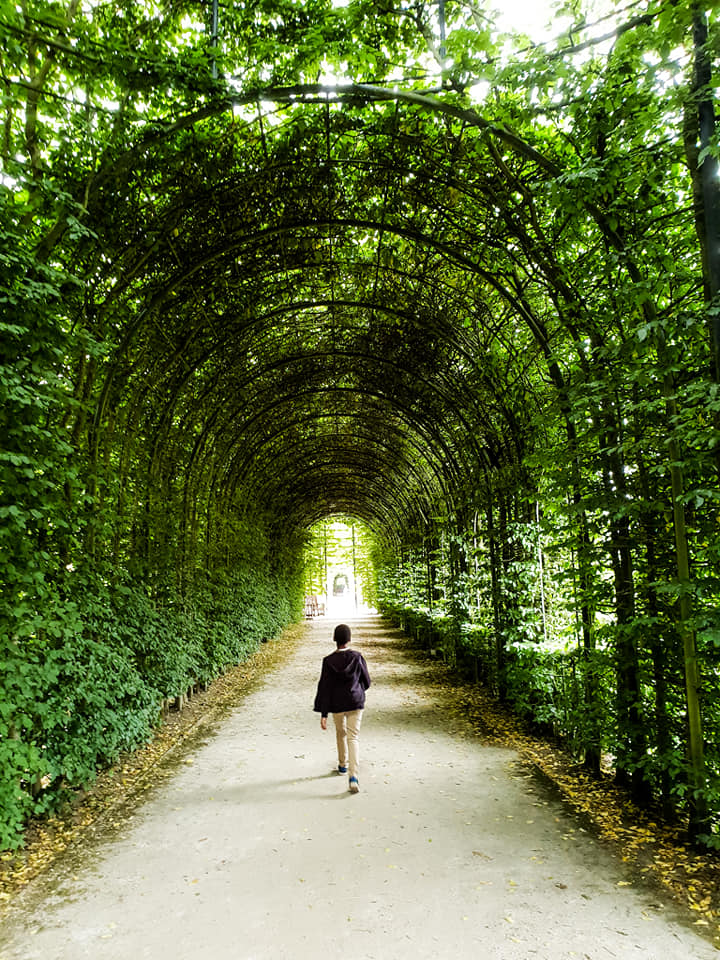 Jakob's main goal however was to pass at 'broomstick training'. 😉
He really enjoyed the lesson and was flying on cloud nine for days after.
A must-do with your kids!!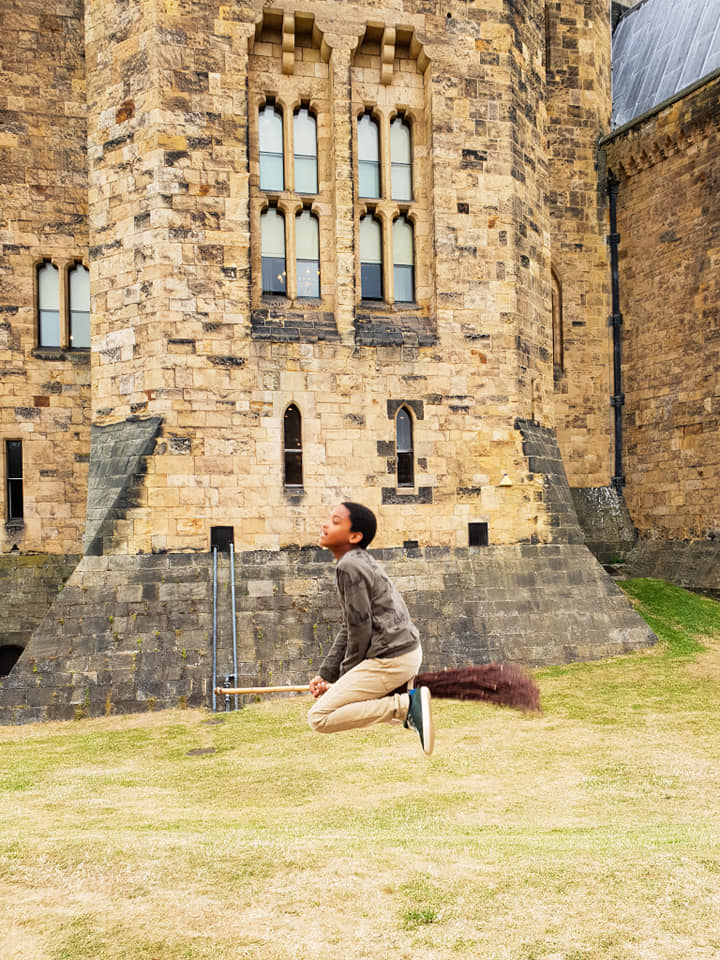 On our way back down to take the P&O night ferry in Hull, we stopped at Scarborough, where we spent some time on the beach, relaxing and trying to catch some crabs.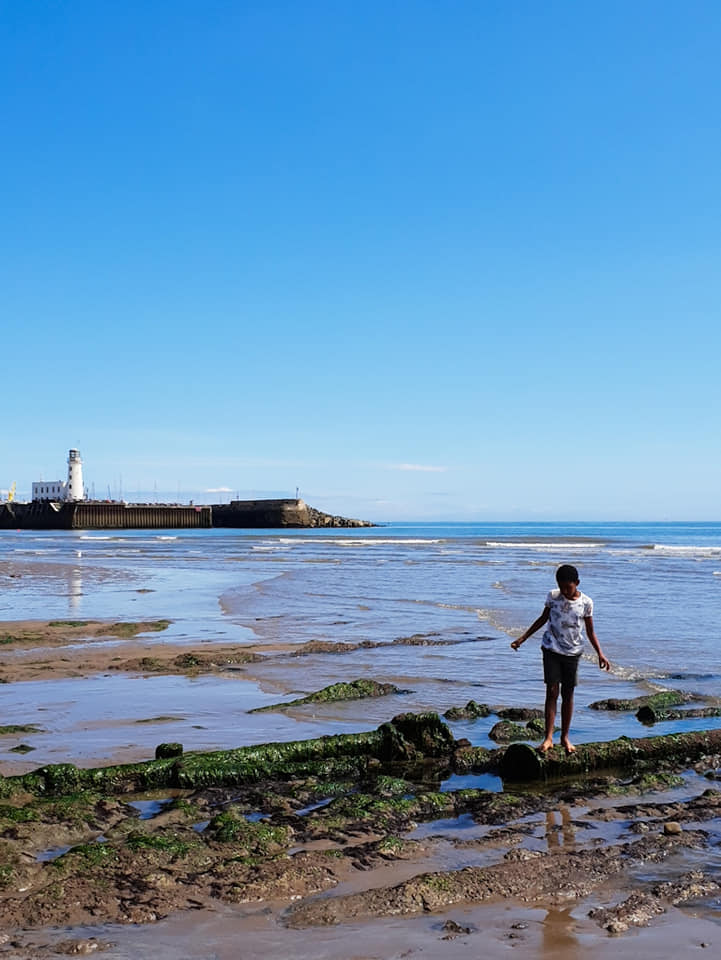 The Pride of York brought us safely to Zeebrugge, after quite an enjoyable crossing.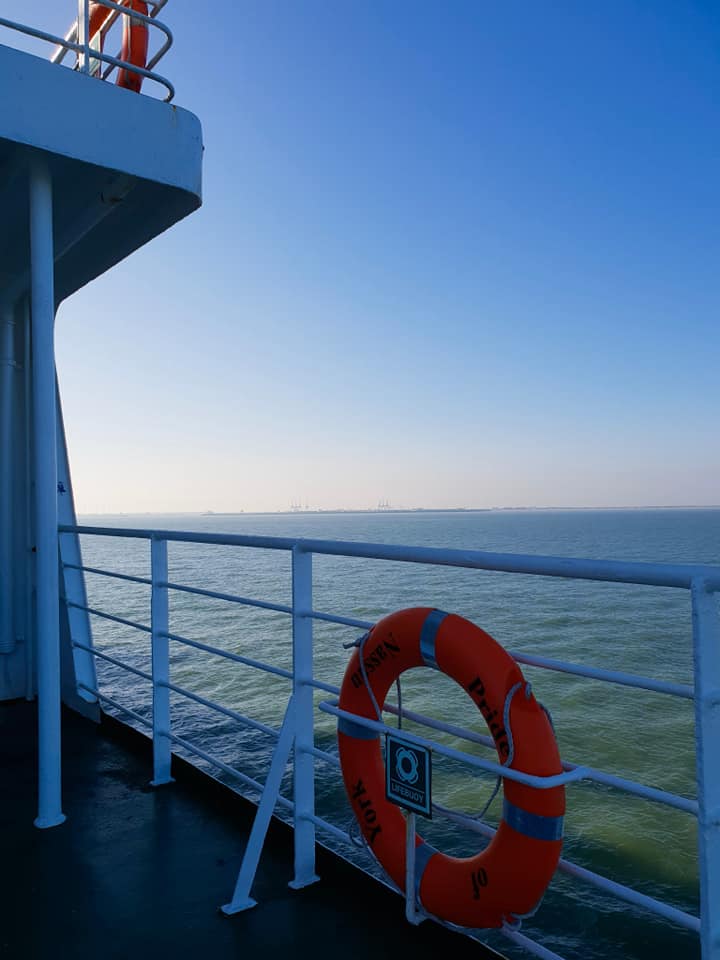 I so enjoyed this time alone together with my son and am already thinking of where to take my girls now… 😉
Thank you Toyota Belgium for suggesting to use the stunning Toyota CH-R Hybrid for the trip!
We drove 1644 km in total with the car and it was a real pleasure to drive.
In the next couple of weeks I'll be comparing this model with other models from the large Toyota Hybrid family, the Toyota RAV 4, the Prius and the Prius +.
Make sure to keep an eye on my Instagram for more on that!
Still not had enough of our trip? Watch this video! 😉