"If not now, when?" states one of the many signs next to Tulum's main beach road.
It pretty much sums up why @byevamaria and myself decided to head to Tulum for a short break, just the two of us.
This blogpost is by no means the ultimate guide to Tulum (plenty of blogs about that btw), no, it's just an overview of what we did (and didn't do) in the six days we had.
Tulum has such a relaxed, bohemian vibe to it, it's hard not to fall in love with it. It kind of reminded us of our trip to Bali.
Let's hope my pictures will inspire you to go and see for yourself.
Here we go: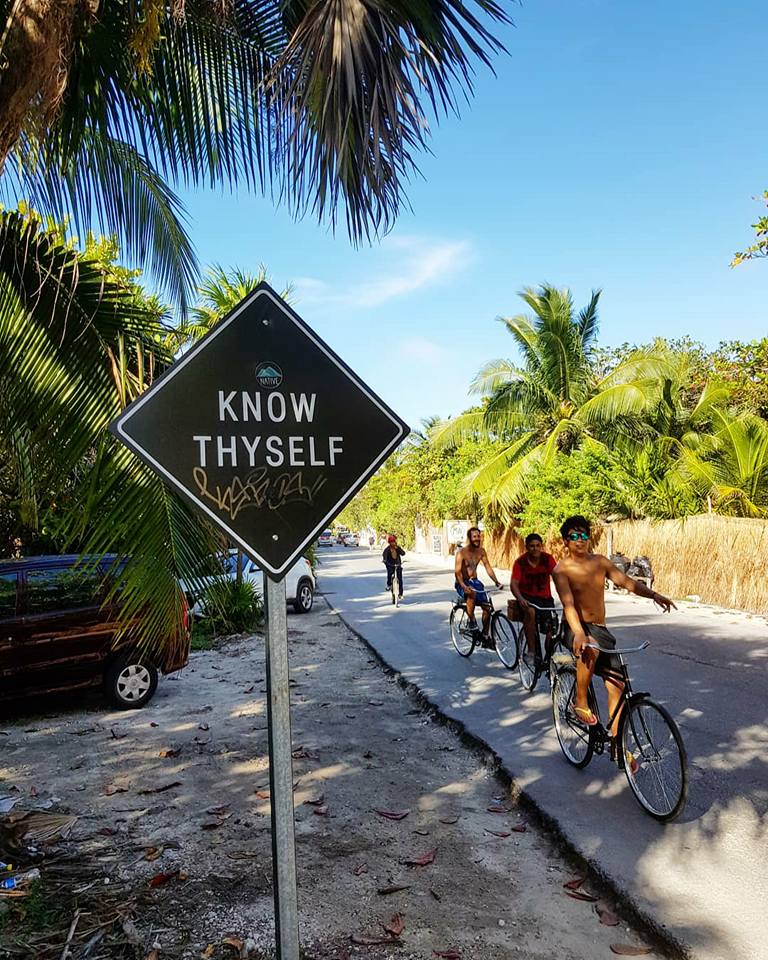 1. We stayed at the Prana Boutique Hotel.
It is a small hotel in the quiet Tulum village. The hotel makes you feel welcome from the moment you enter.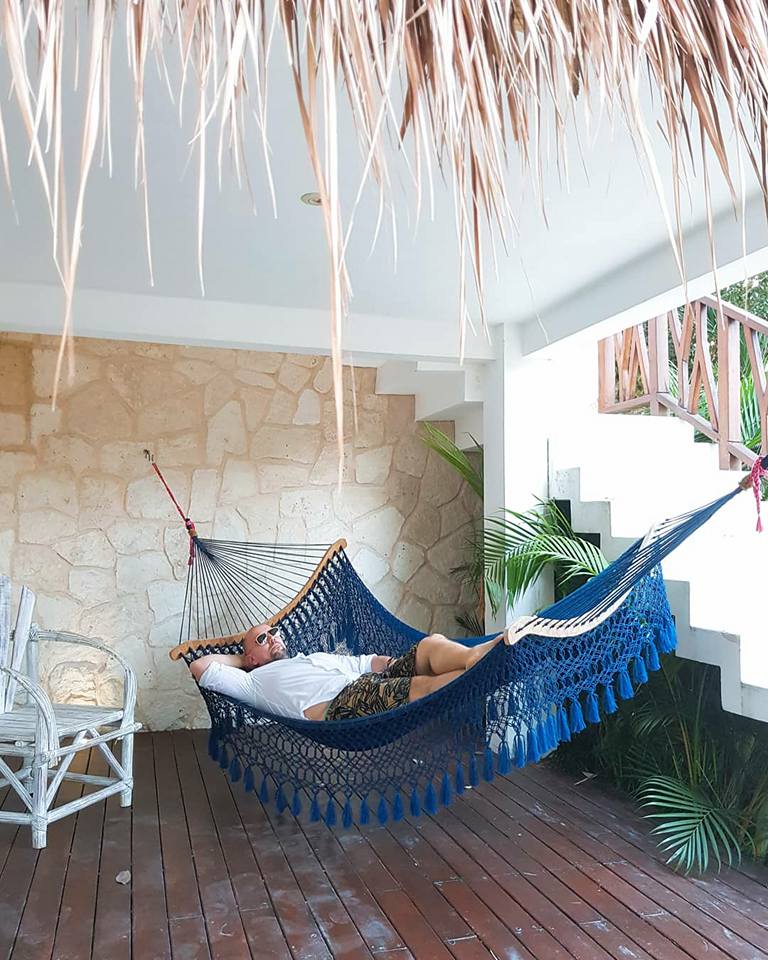 Our room was spacious, had a gigantic bed and a lovely designer bathroom.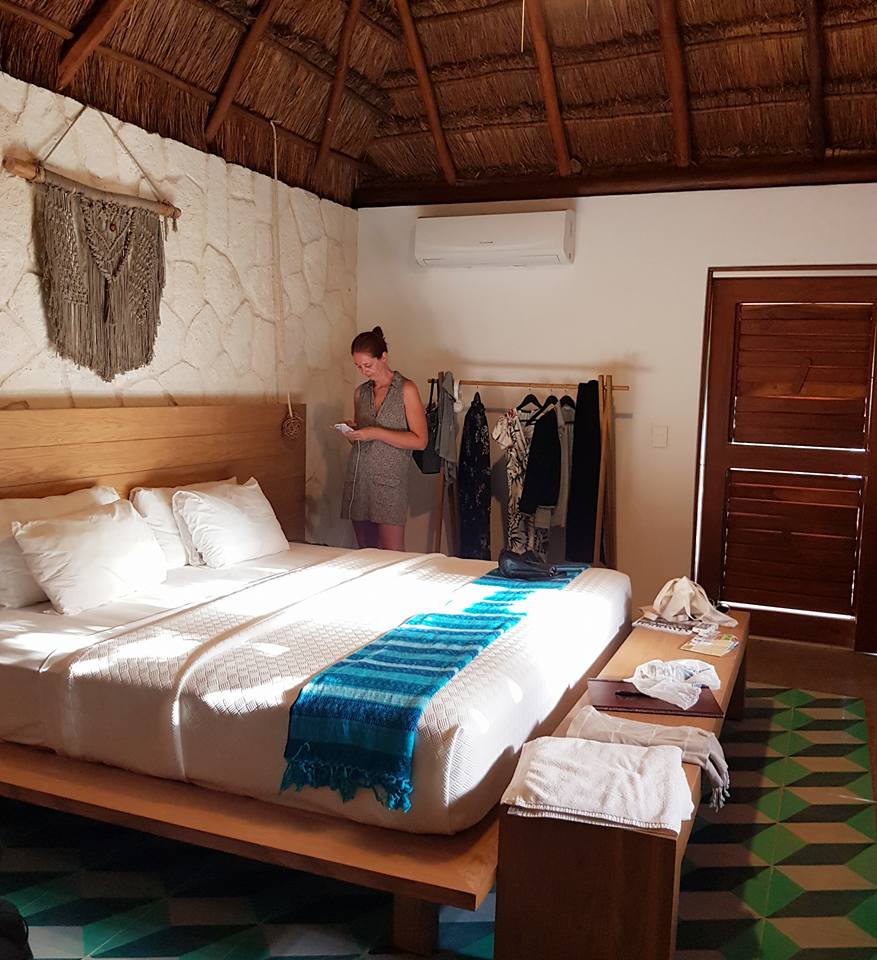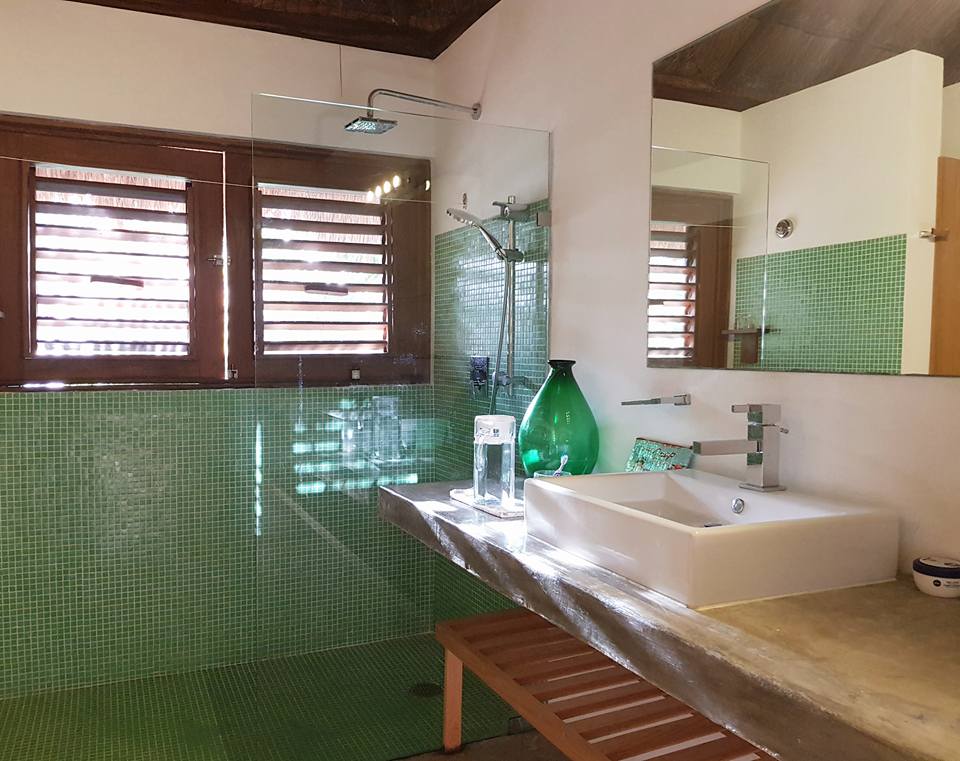 We loved hanging around in the garden/swimming pool area.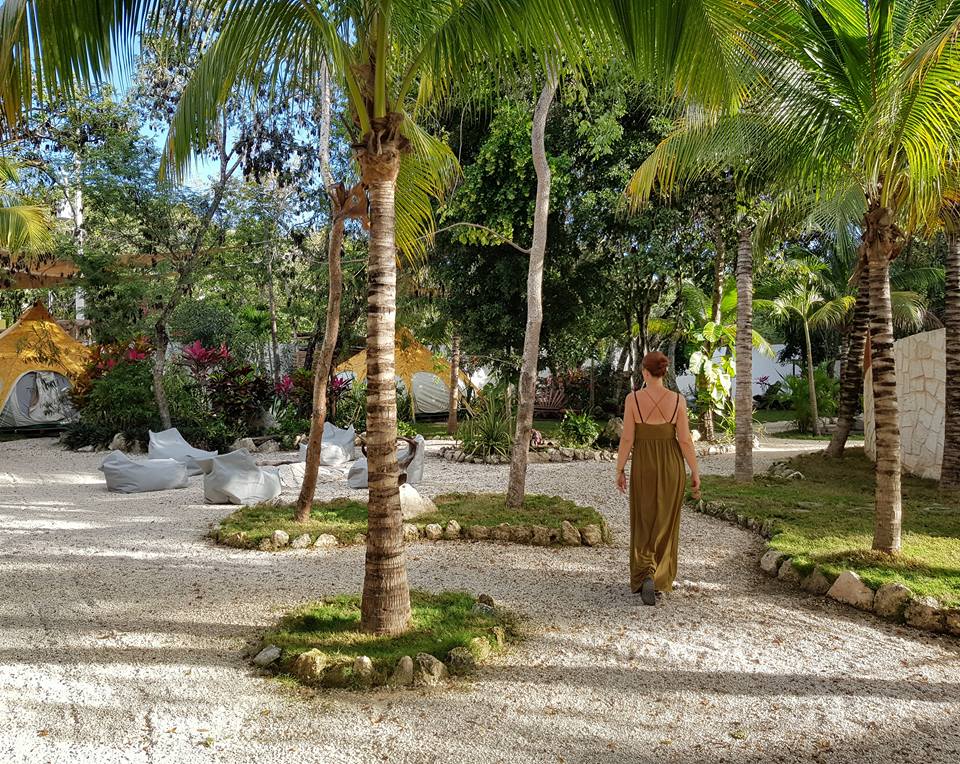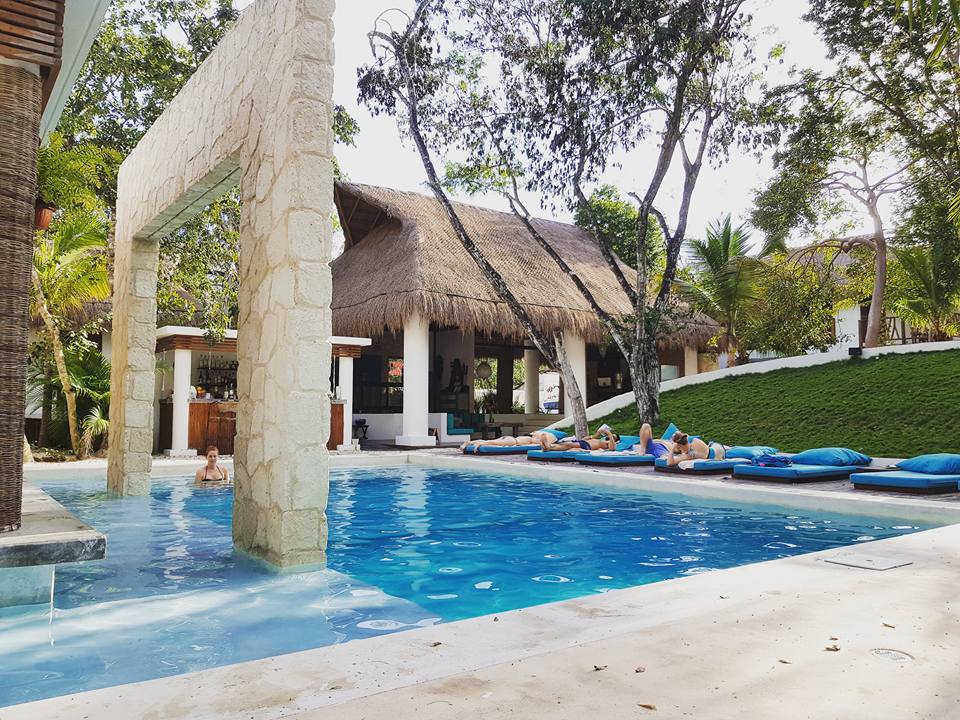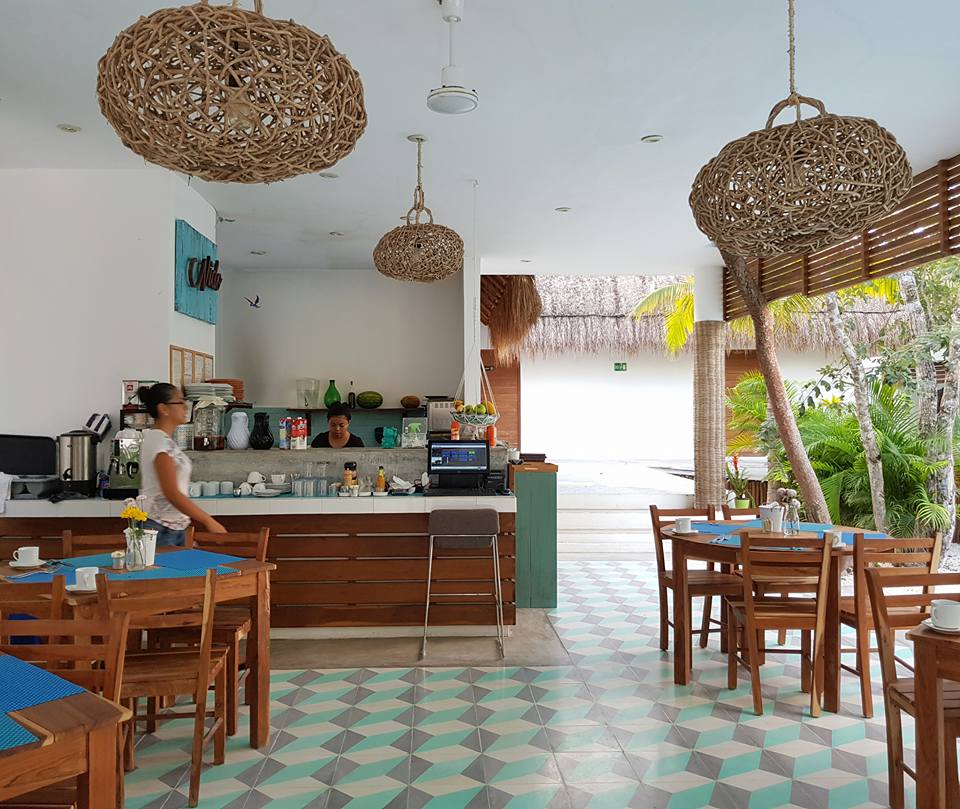 Staff is very friendly and helpfull (thx Fabiola for giving us insider tips on where to go!). The hotel provides free bikes which we used several times to either bike around Tulum Pueblo or to bike to the beach. We did feel that the included breakfast was a bit on the basic side so we ordered extra dishes (all lovely btw!) a couple of times.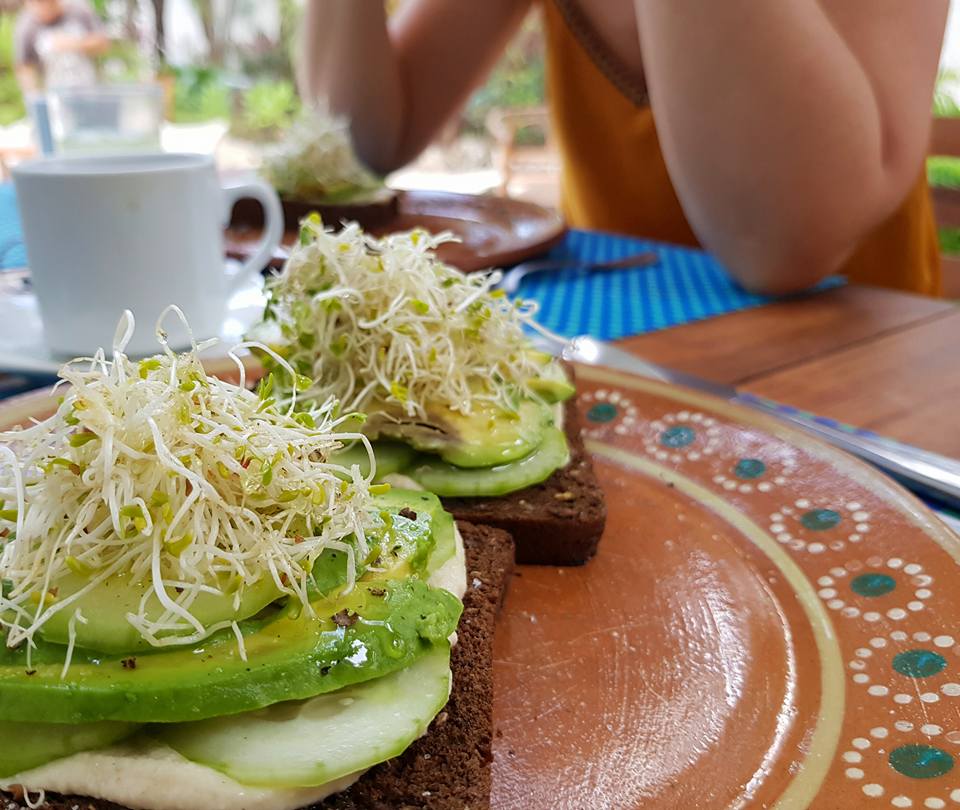 2. We went to the beach a lot (of course).
Tulum has great beaches, some public, some private, but all beautiful.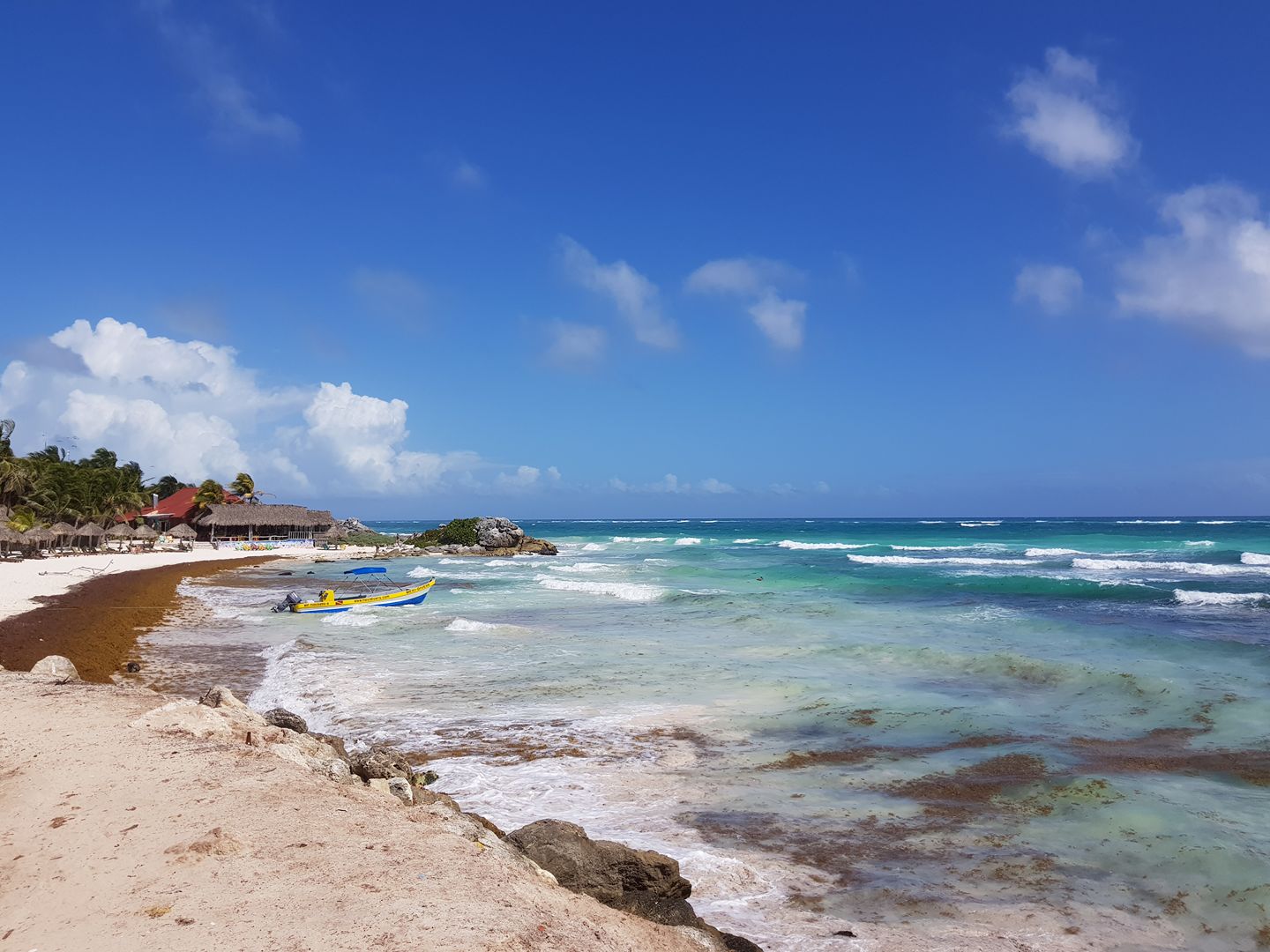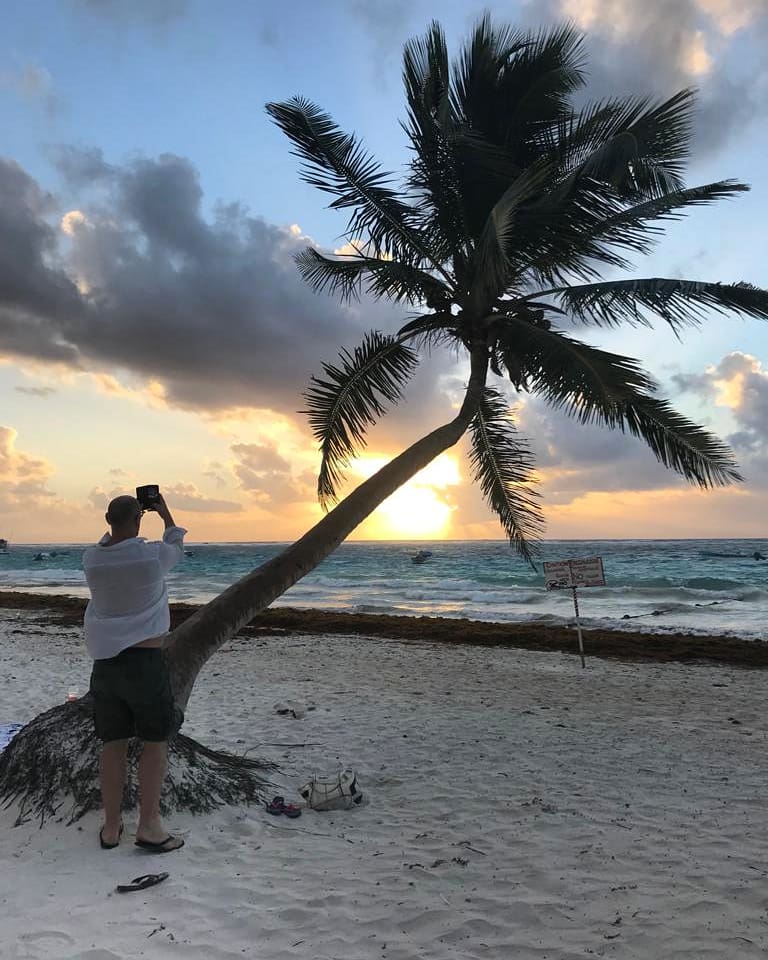 Our favourite spot on the beach however, the Italian restaurant Posada Margaritha, has it all (great food, lovely drinks and access to the beach ) and is the sort of place were breakfast turns into lunch turns into dinner… 😉
You can easily spend a day at their little beach spot and enjoy some of the most wonderful food (and drinks!) at the same time. The place totally agreed with me and the misses and we visited several times.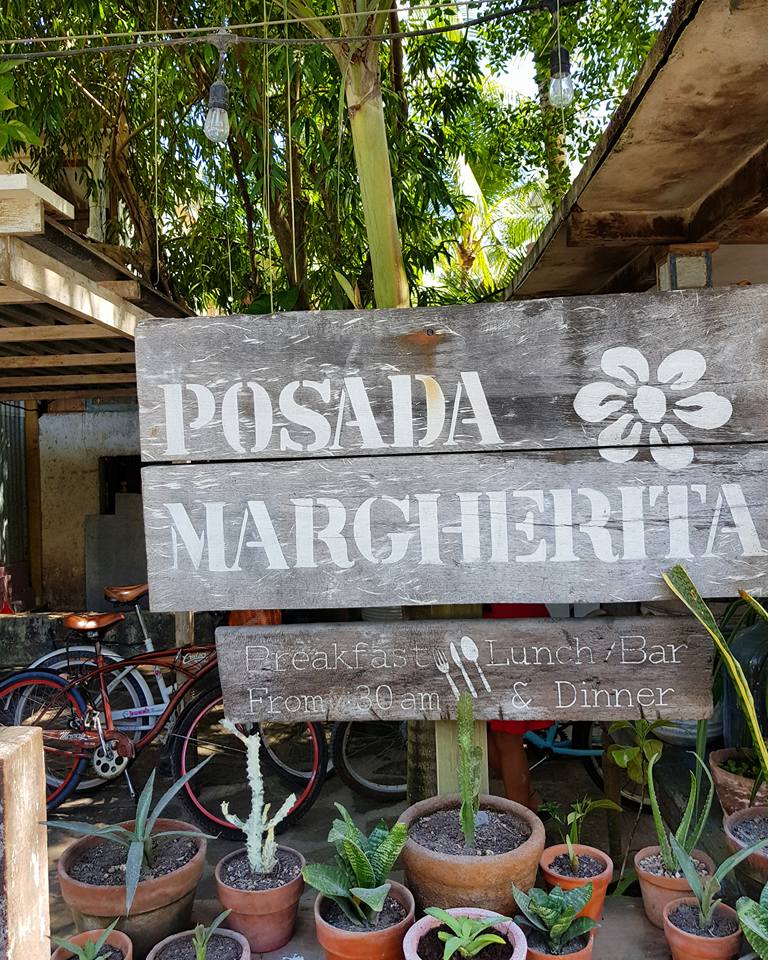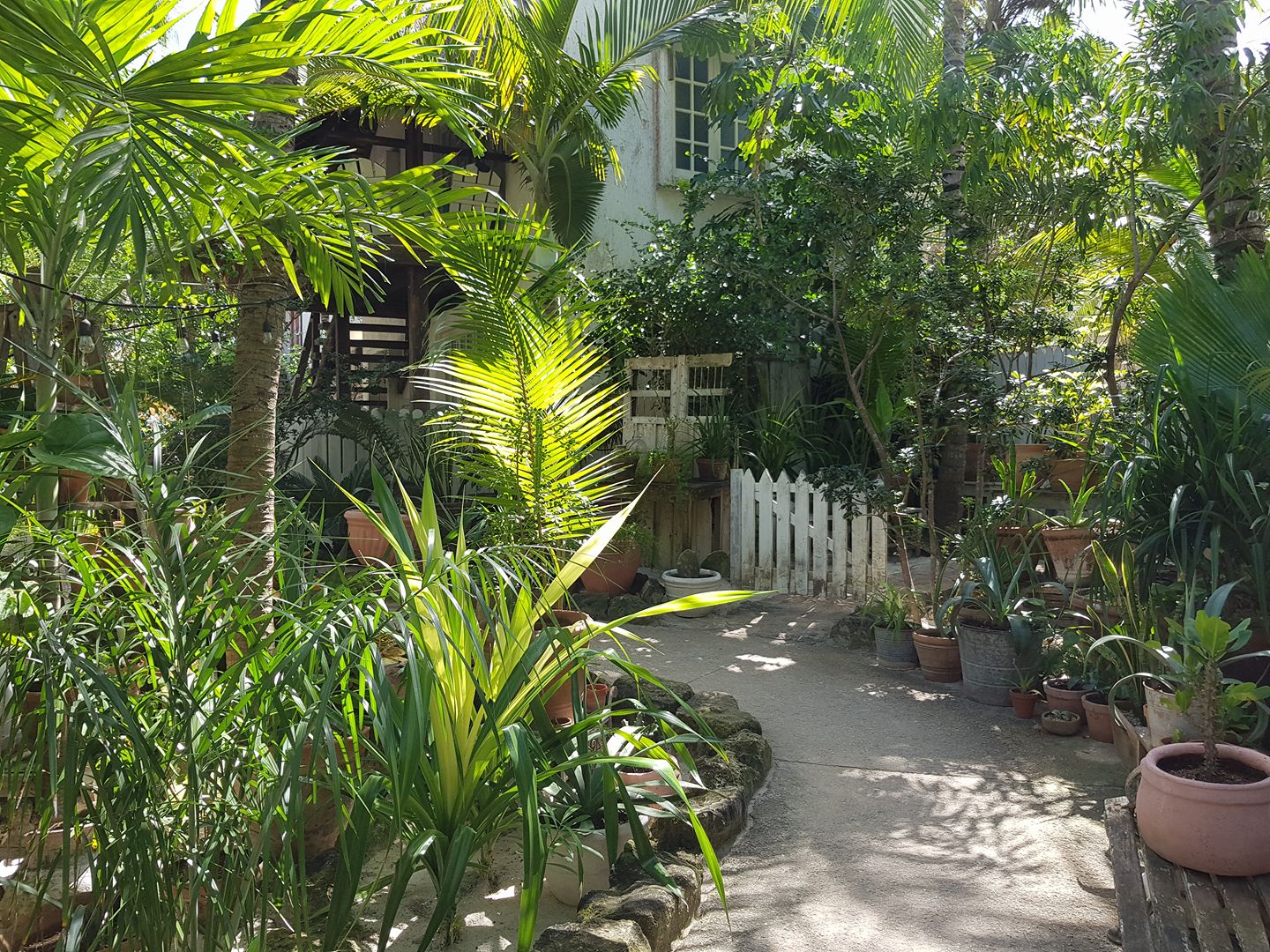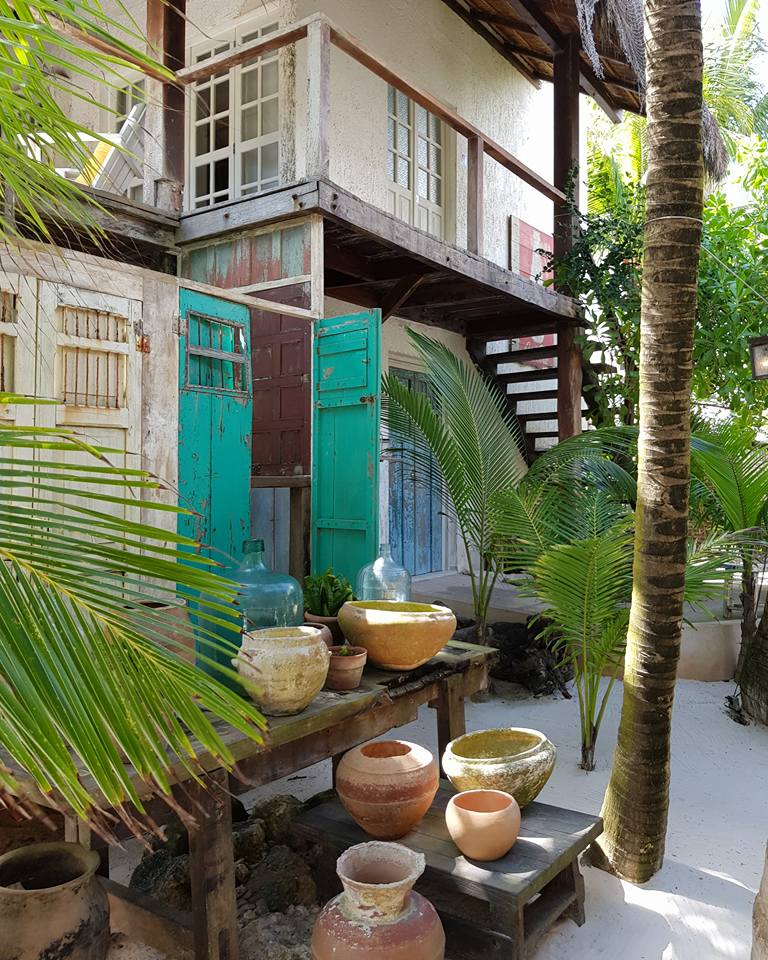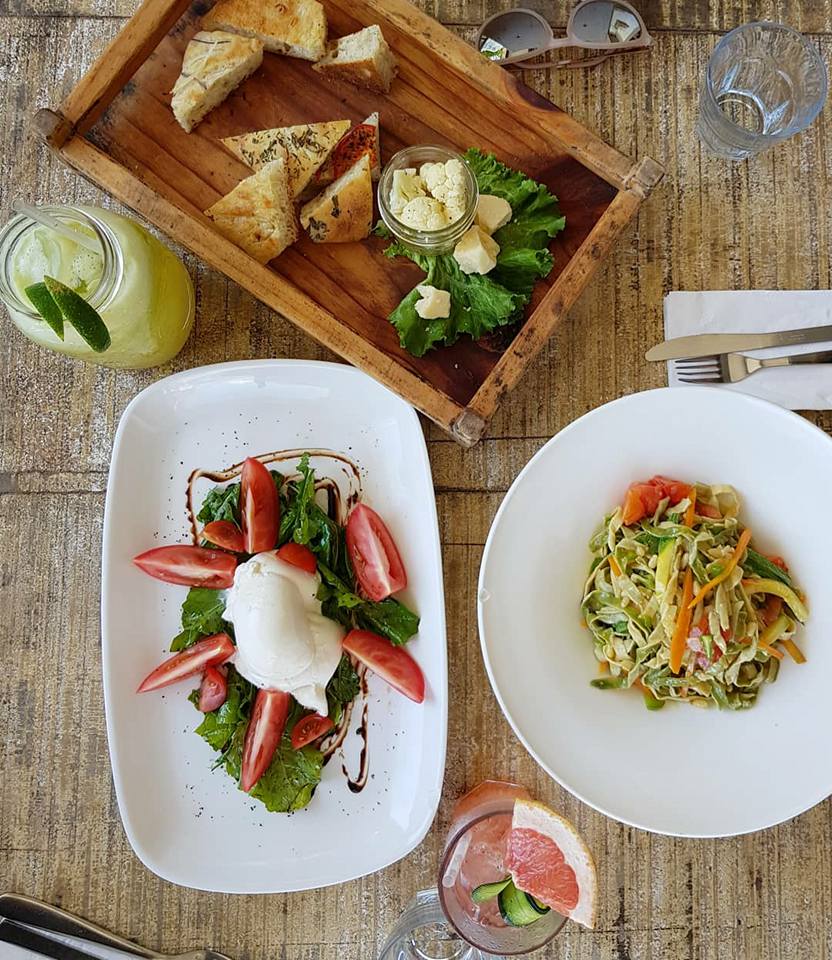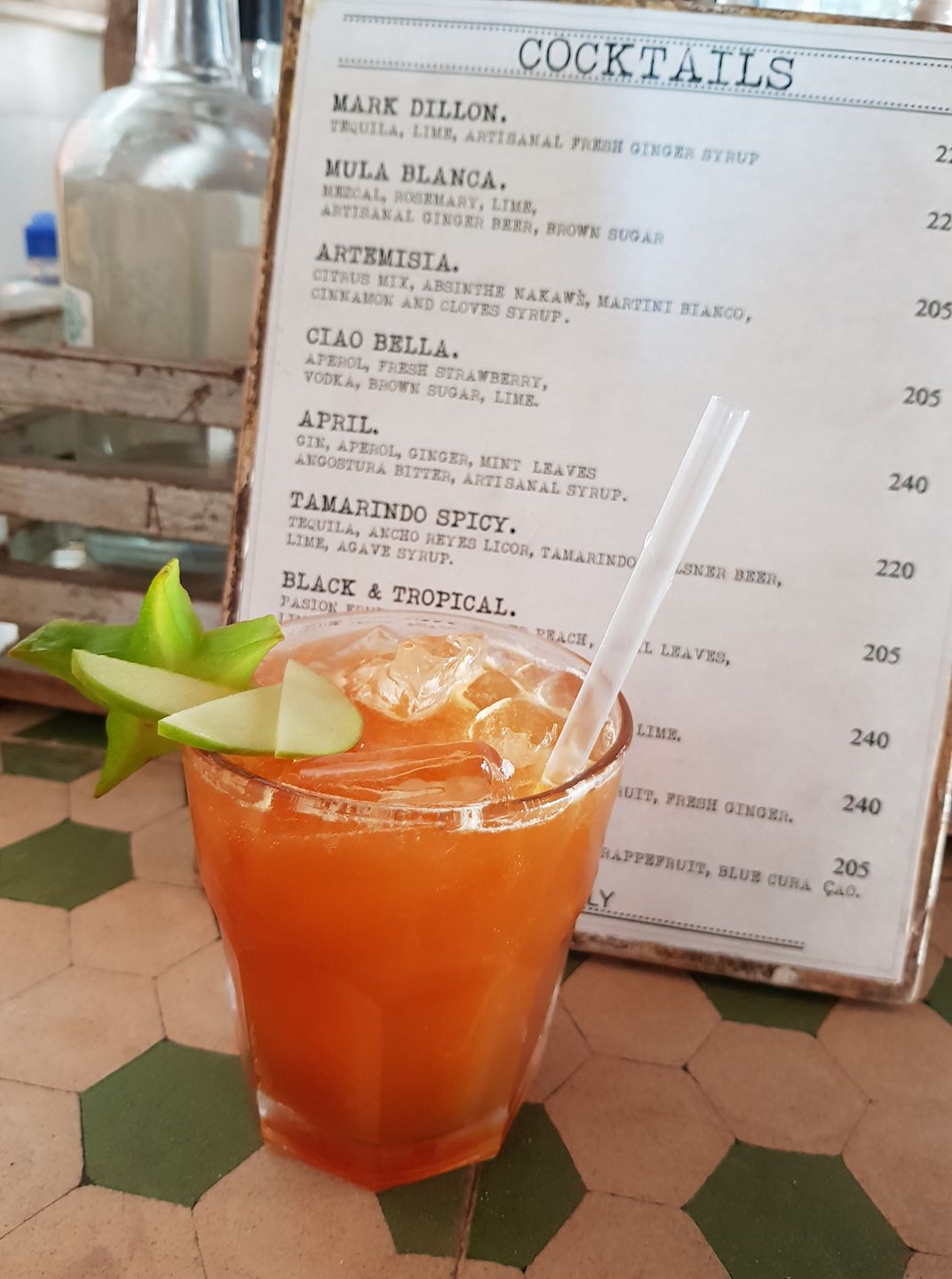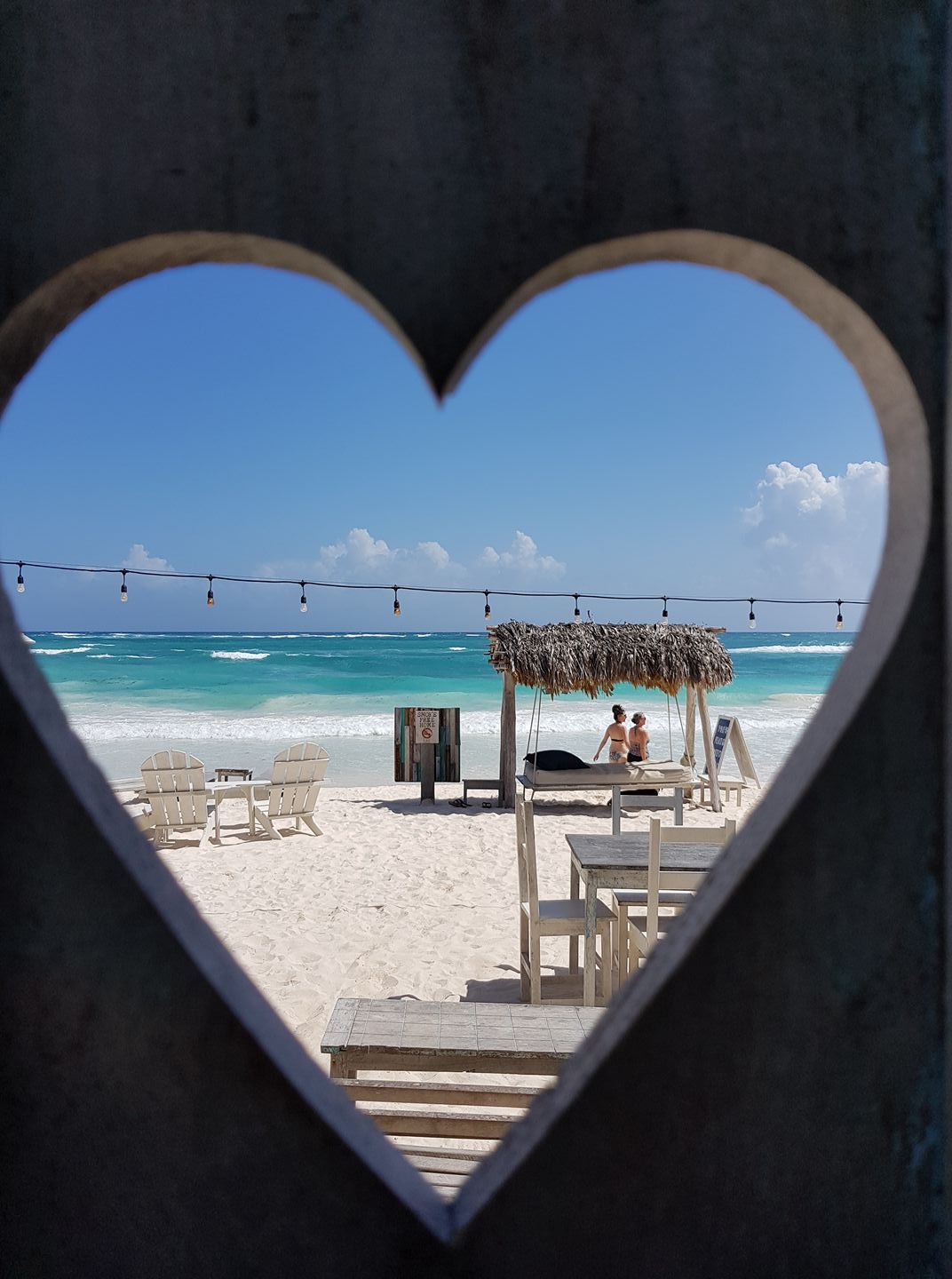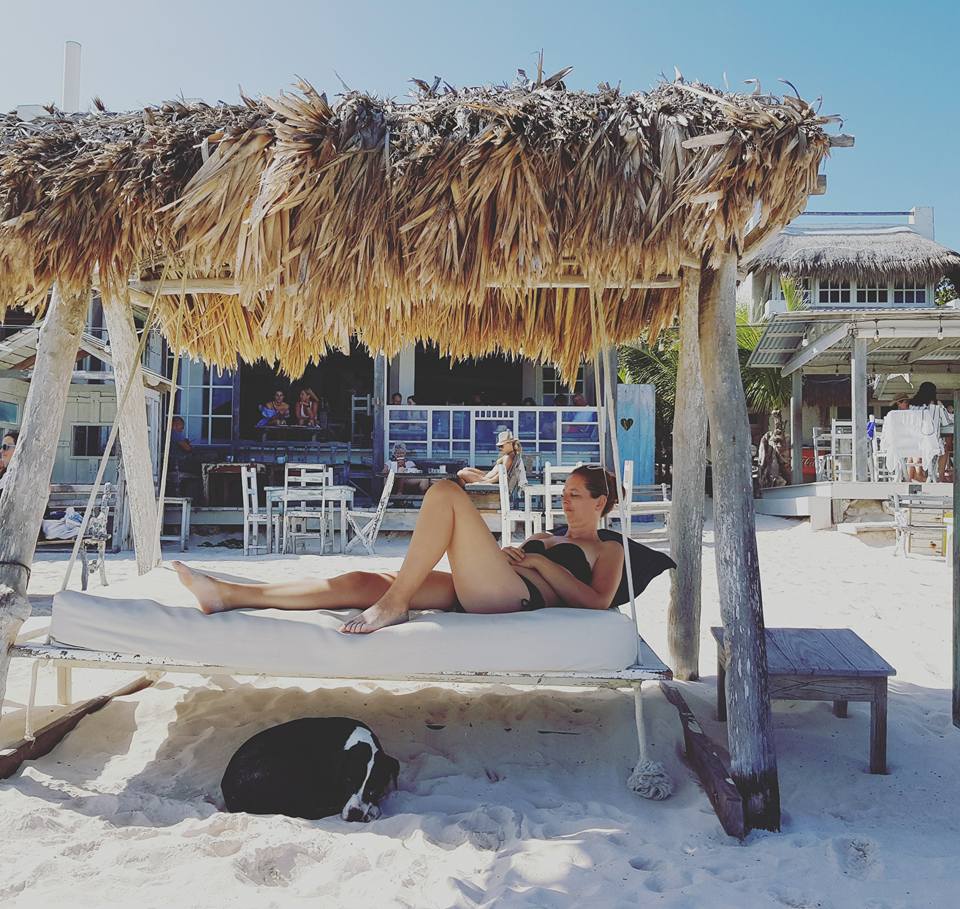 3. We rented a car.
We rented a car beforehand on the Sunnycars website because we wanted to have the freedom to go wherever whenever we wanted to.
We picked up the car at Cancun Airport and drove straight to Tulum (about an hour and a half).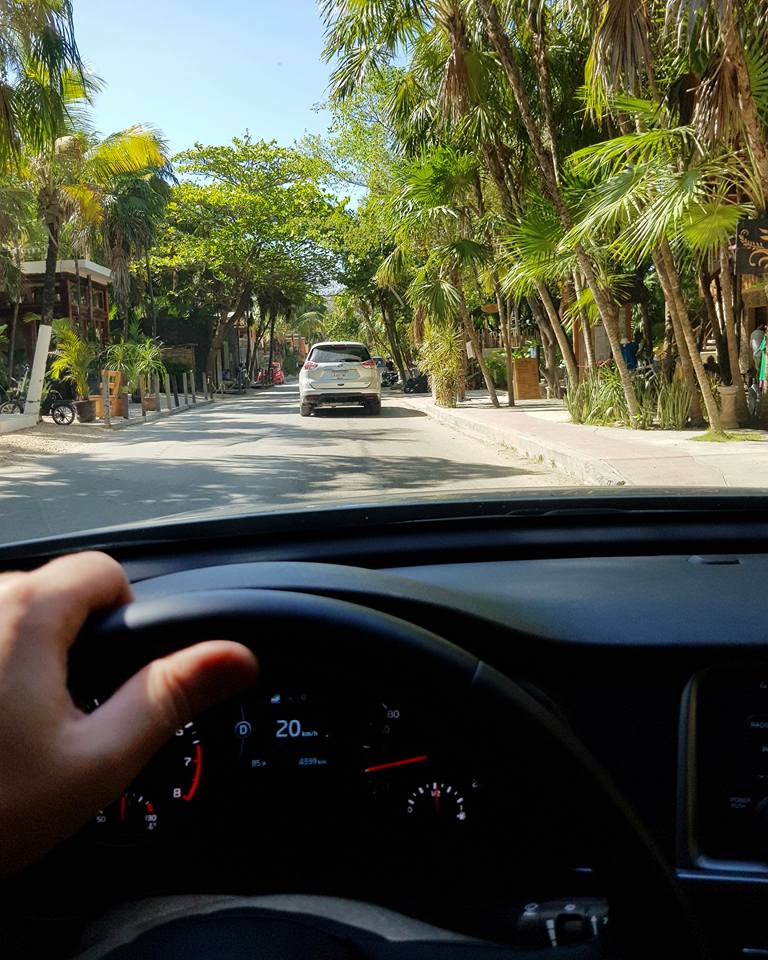 We also used the car for fun day trips to Coba and Valladolid, to some of the cenotes and sometimes took it to head back to the beach late in the evening.
Thx so much Sunnycars for this very relaxed experience!
Sunnycars provides a unique all-inn formula which really gives you peace of mind. Almost everything you can ask for is included or covered: unlimited mileage, theft insurance, local taxes, airport delivery costs, a Dutch emergency number that you can dial 24/7 (!) and so on and so on… We opted for the premium package which gives you the extra benefits of an almost new car (we loooved our brand new Kia Optima btw) , an online registration beforehand and a very quick and easy check-in. Nothing but kind words to the guys at the rental desk, they were super friendly and very helpful!!
Traffic in Yucatan is very relaxed by the way, so no worries there either!
During our day trip to Valladolid we strolled around the old, colourful streets.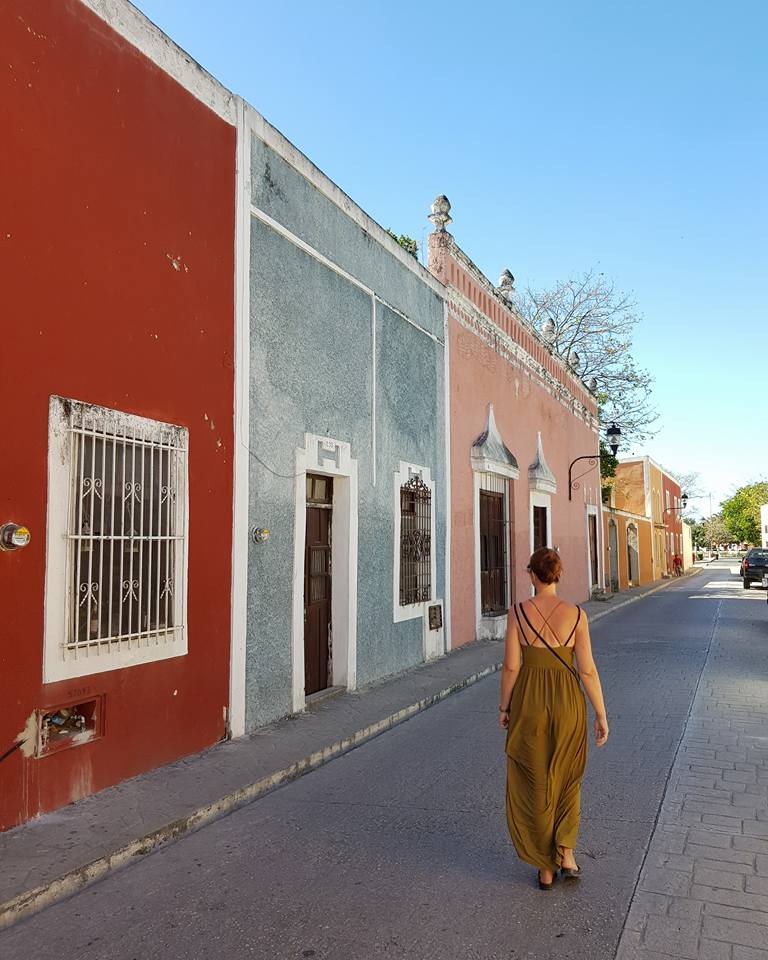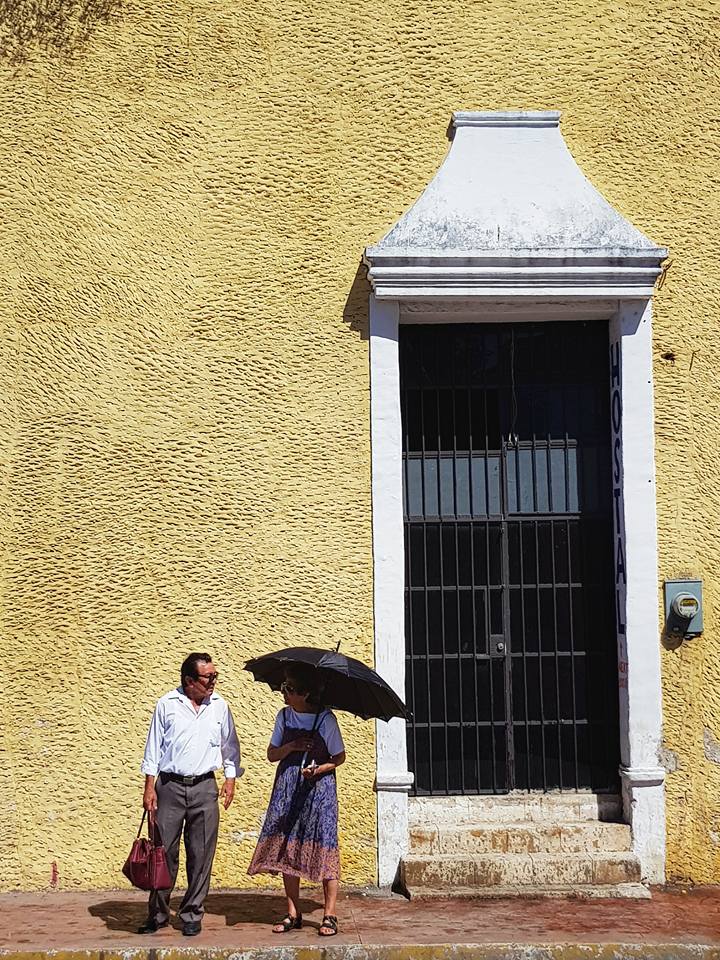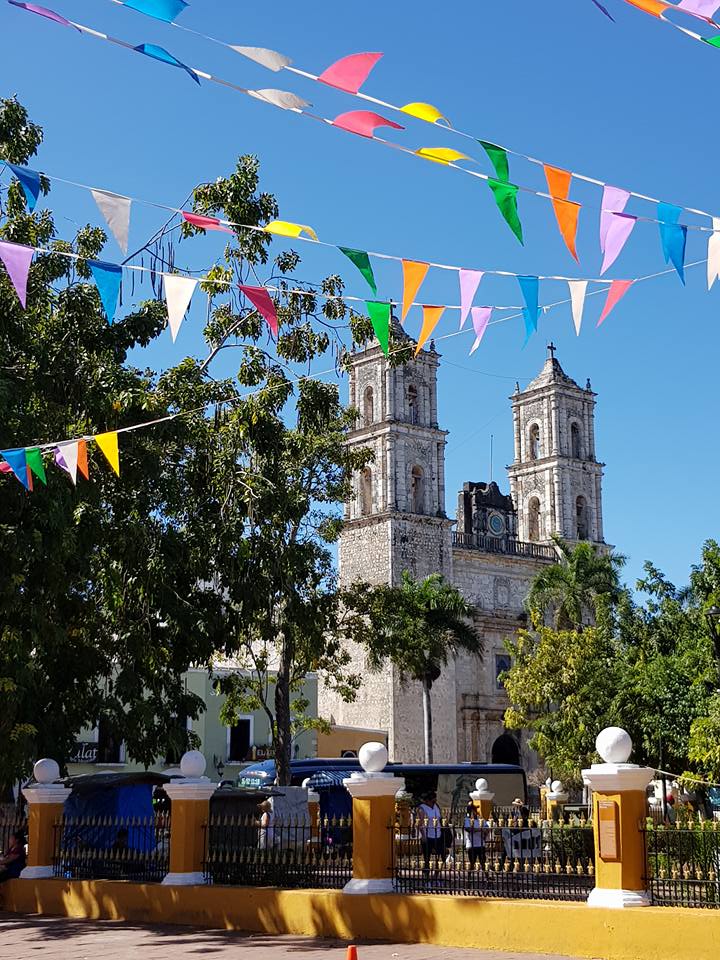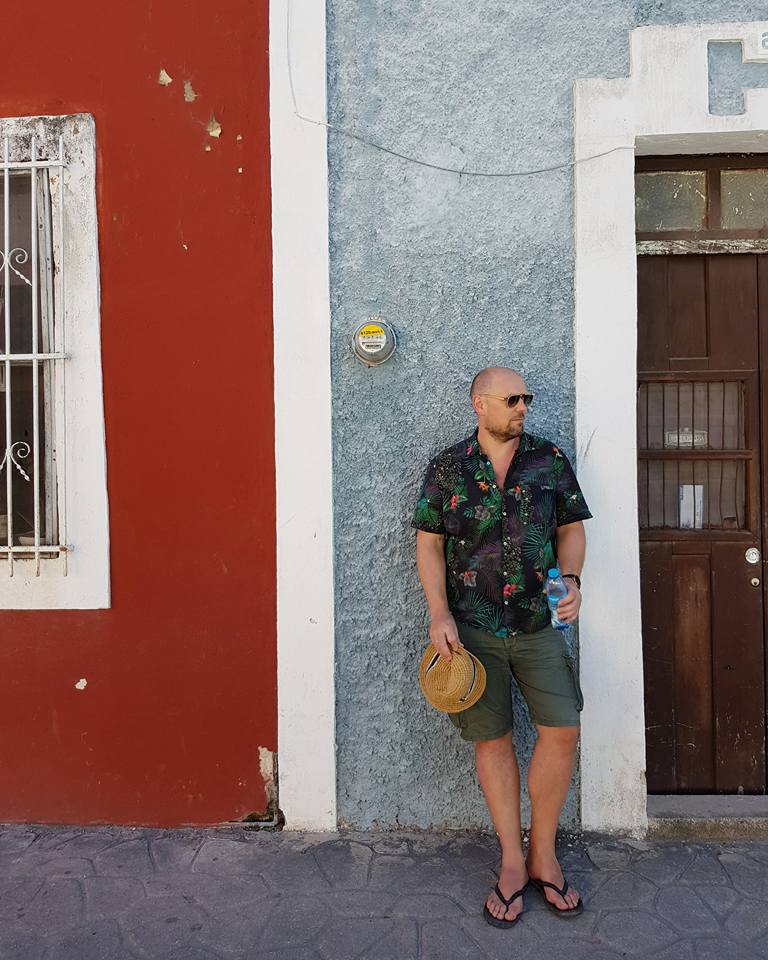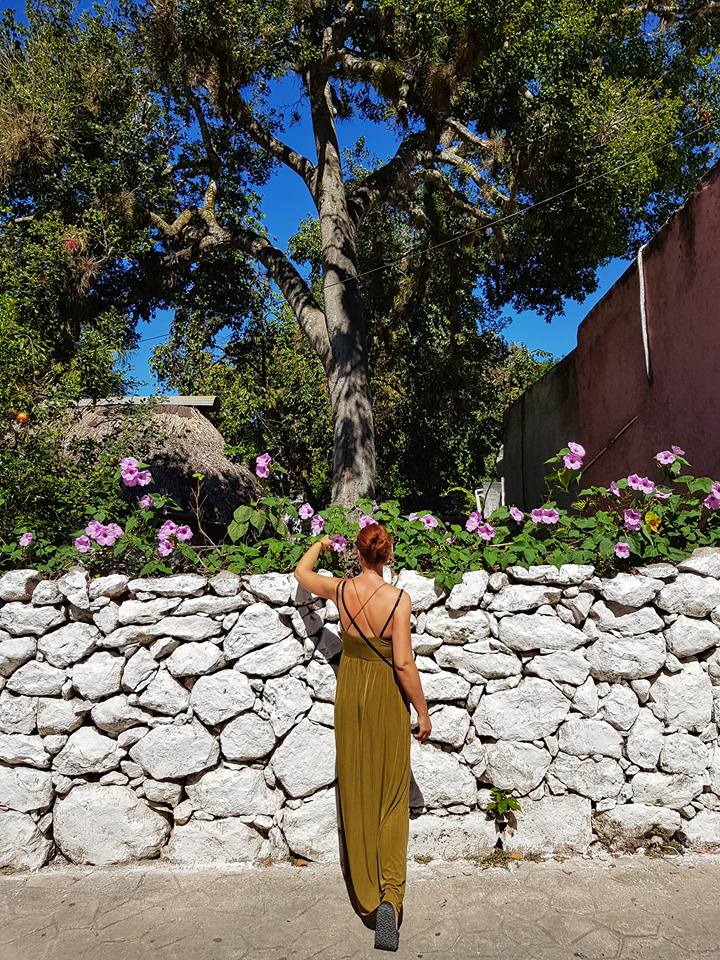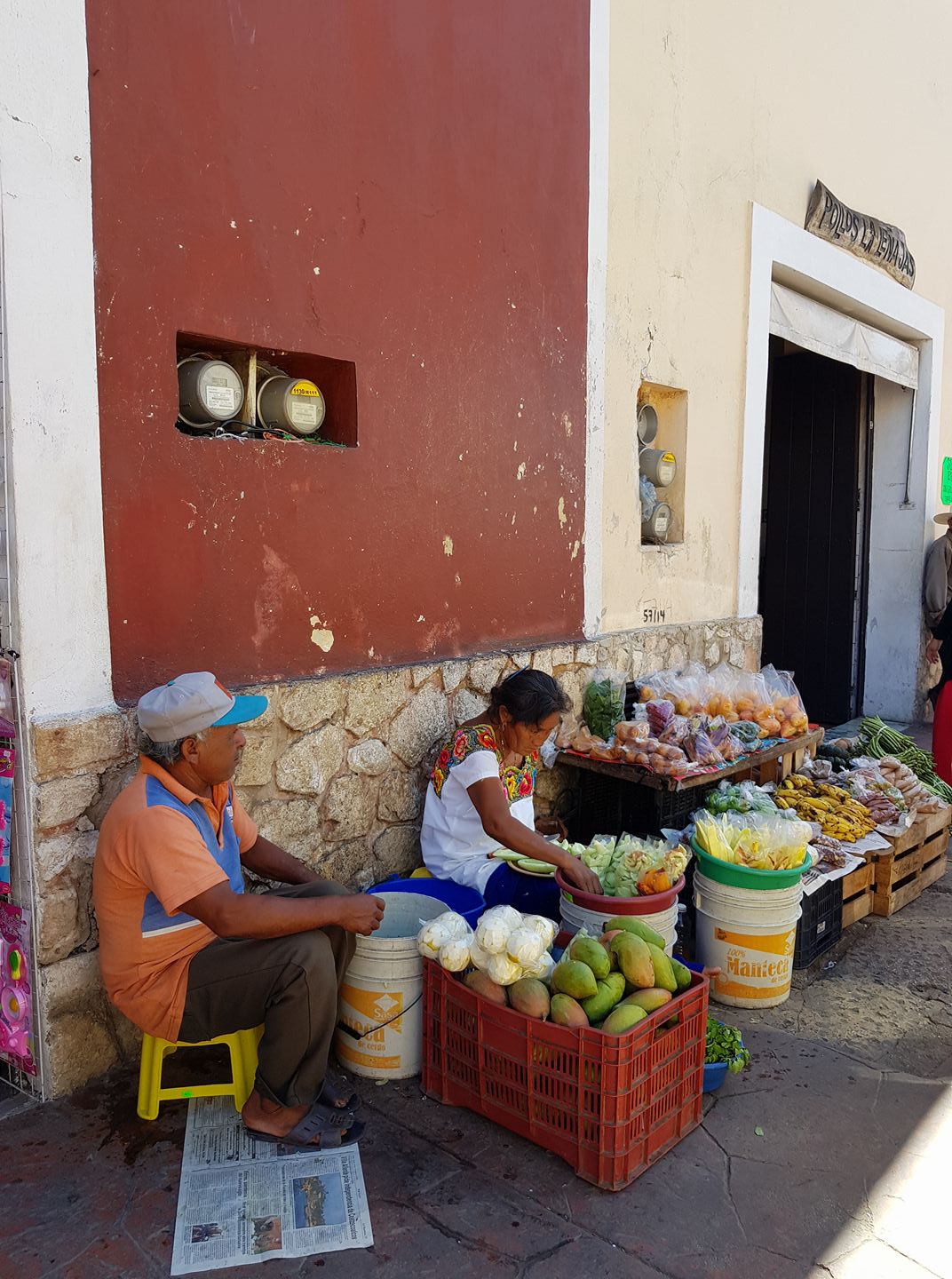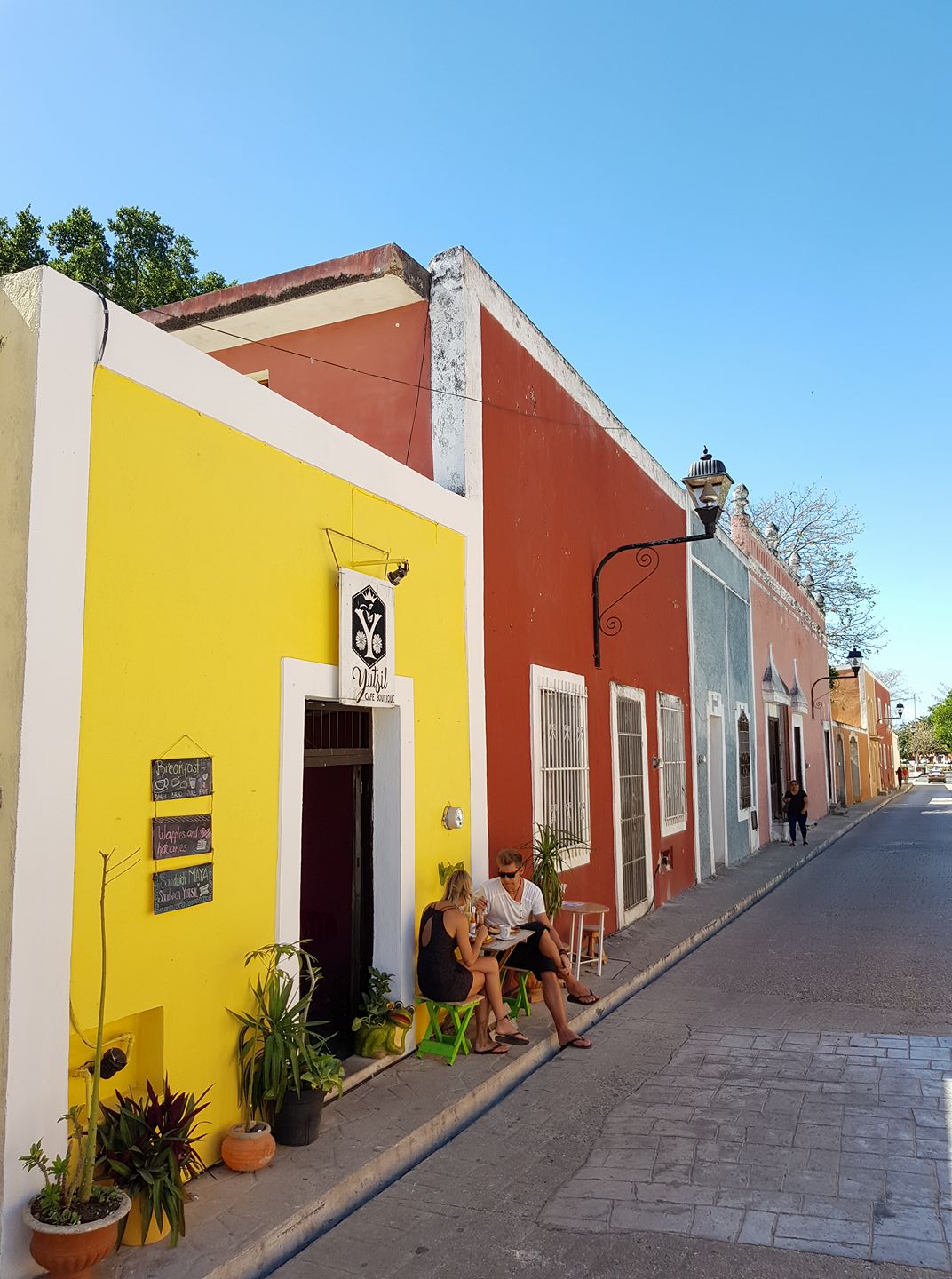 We had lunch at the Meson del Marques. A great place to have lunch around the shady courtyard. We loved that the guacamole was being prepared right at our table.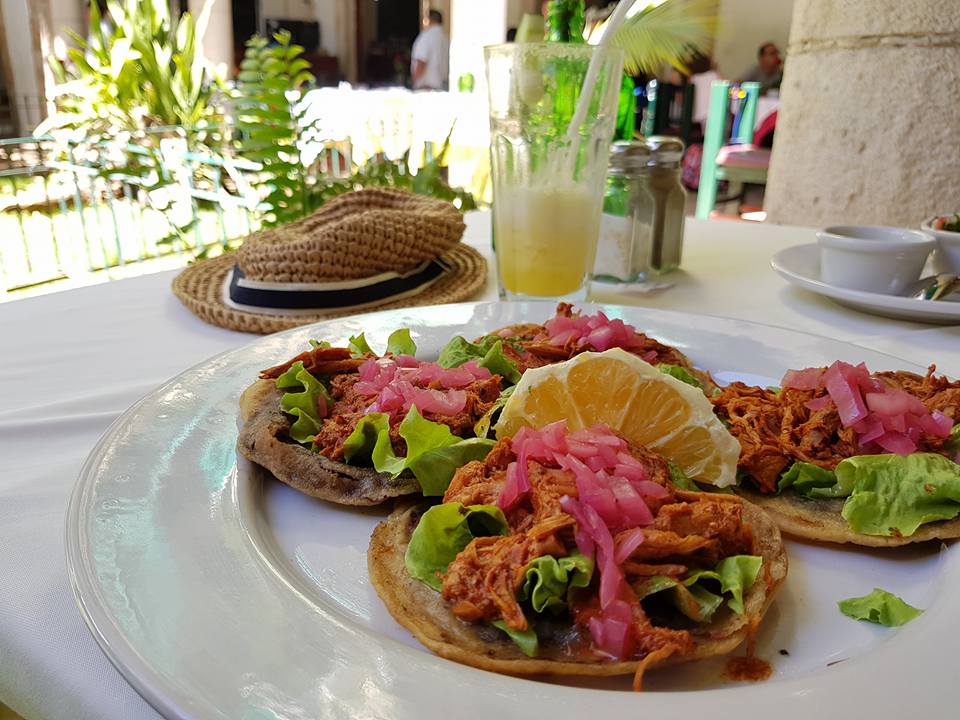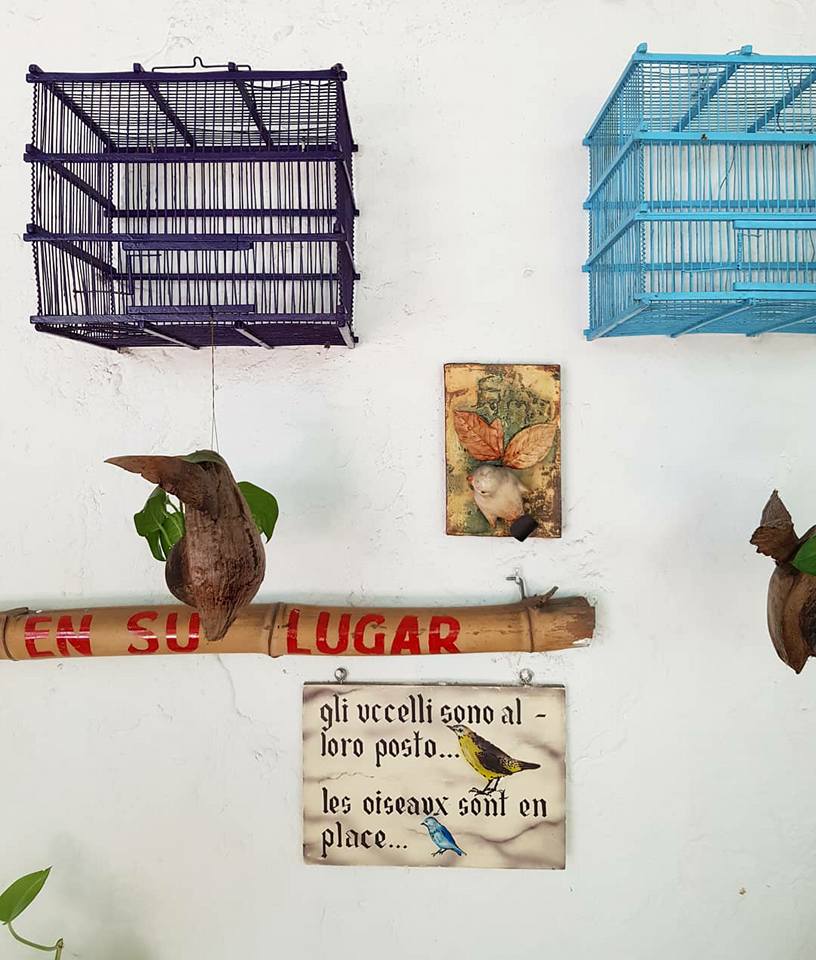 Make sure to pop in at Coqui Coqui, an amazingly beautiful perfumeria and hotel.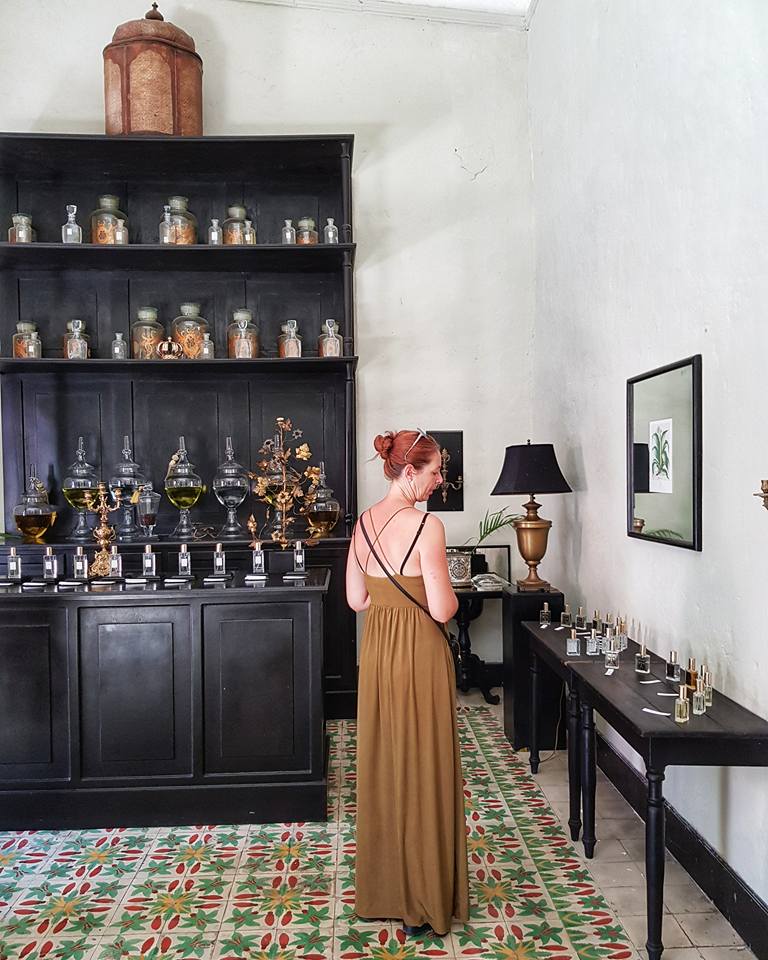 4. We went swimming in the most amazing cenotes.
You can find these sinkholes spread around over Yucatan.  Cenotes were sometimes used by the ancient Maya for sacrificial offerings and now make for the most idyllic spots for swimming. The water is always so cool and clear, you feel like new after your swim, which at my age is a benefit. 😉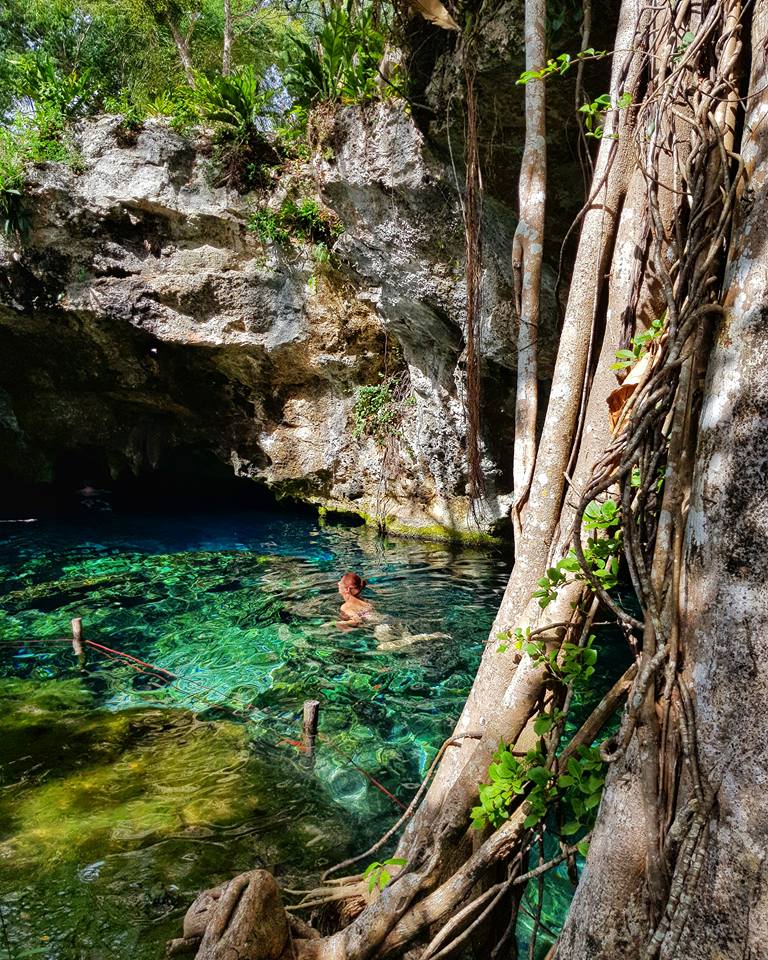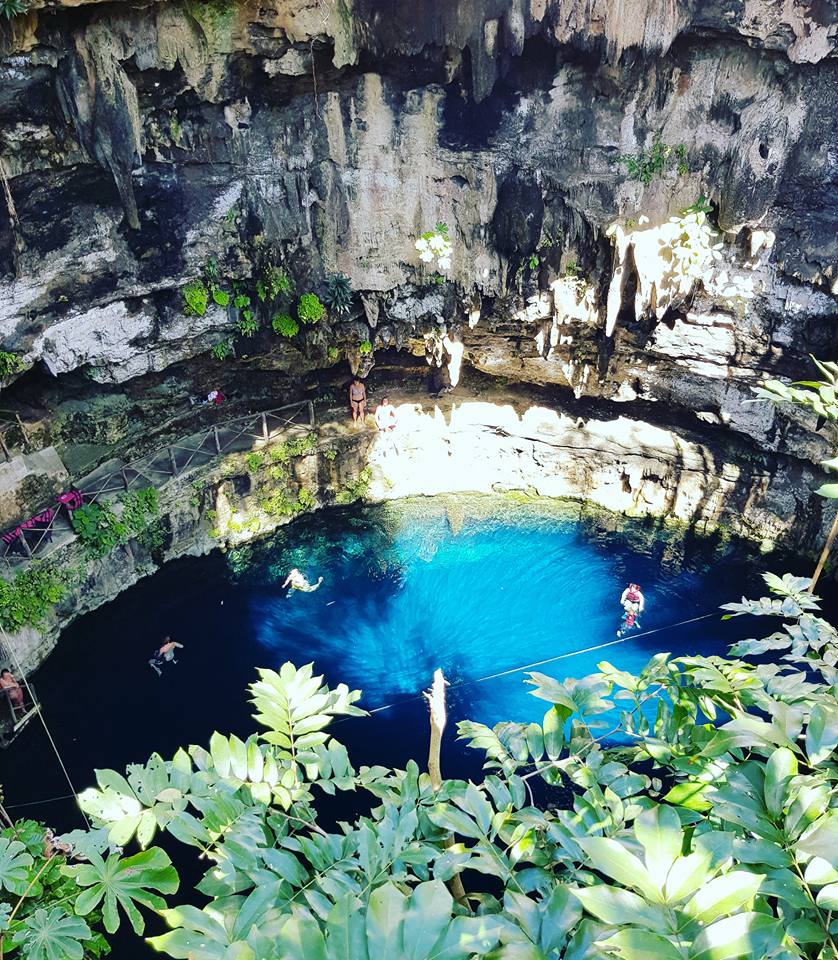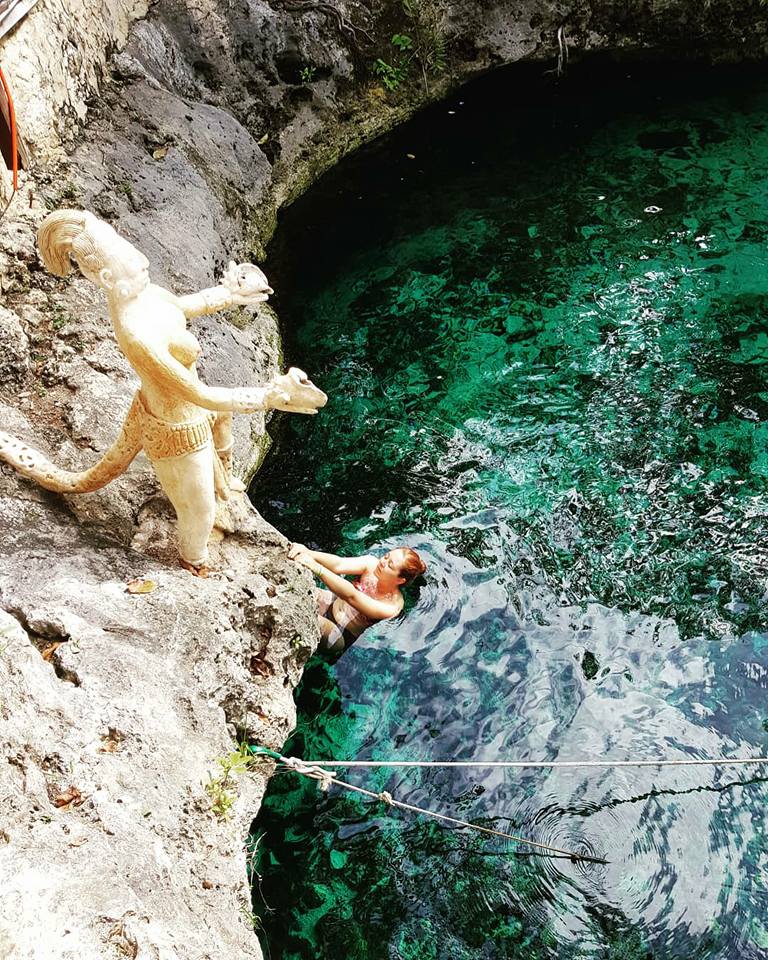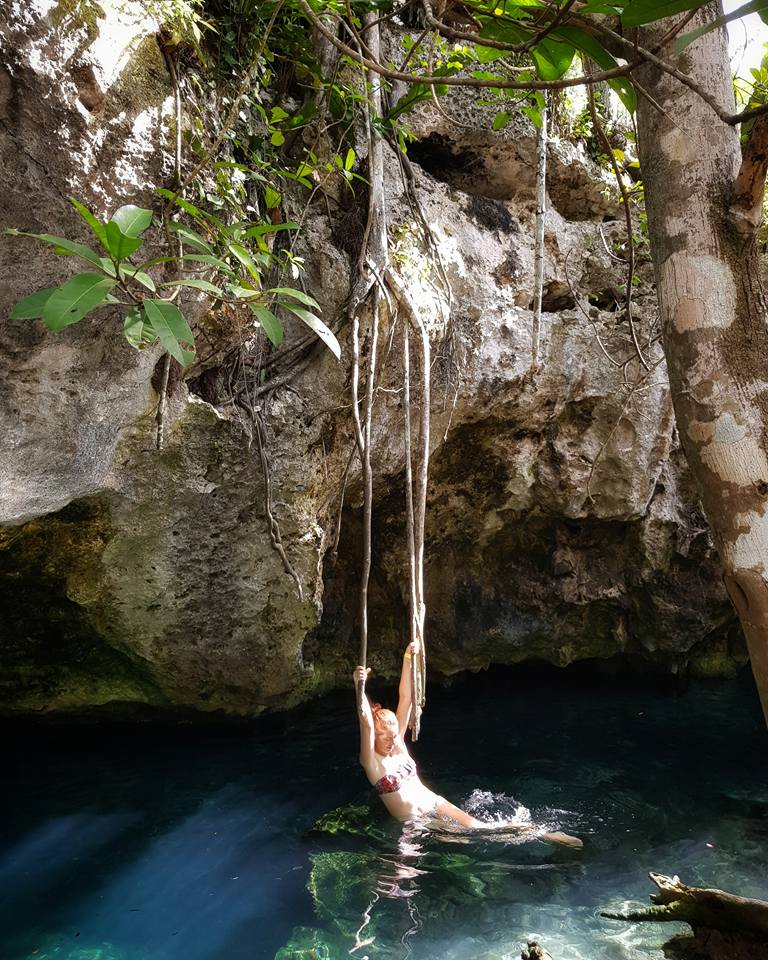 The ones we visited were the Gran Cenote, Zacil-Ha, Multum-Ha and Oxman , but like I said, there are many more!!
5. We cycled around stunning temples in the Coba jungle and didn't go to Chichén Itza.
Since we didn't want to drive all the way to Chichén Itza, we first visited the old Maya ruins in Tulum itself. Quite a lovely site because of its location near the ocean. The small beach at the end is a real bonus and gives you the chance to cool down after your visit.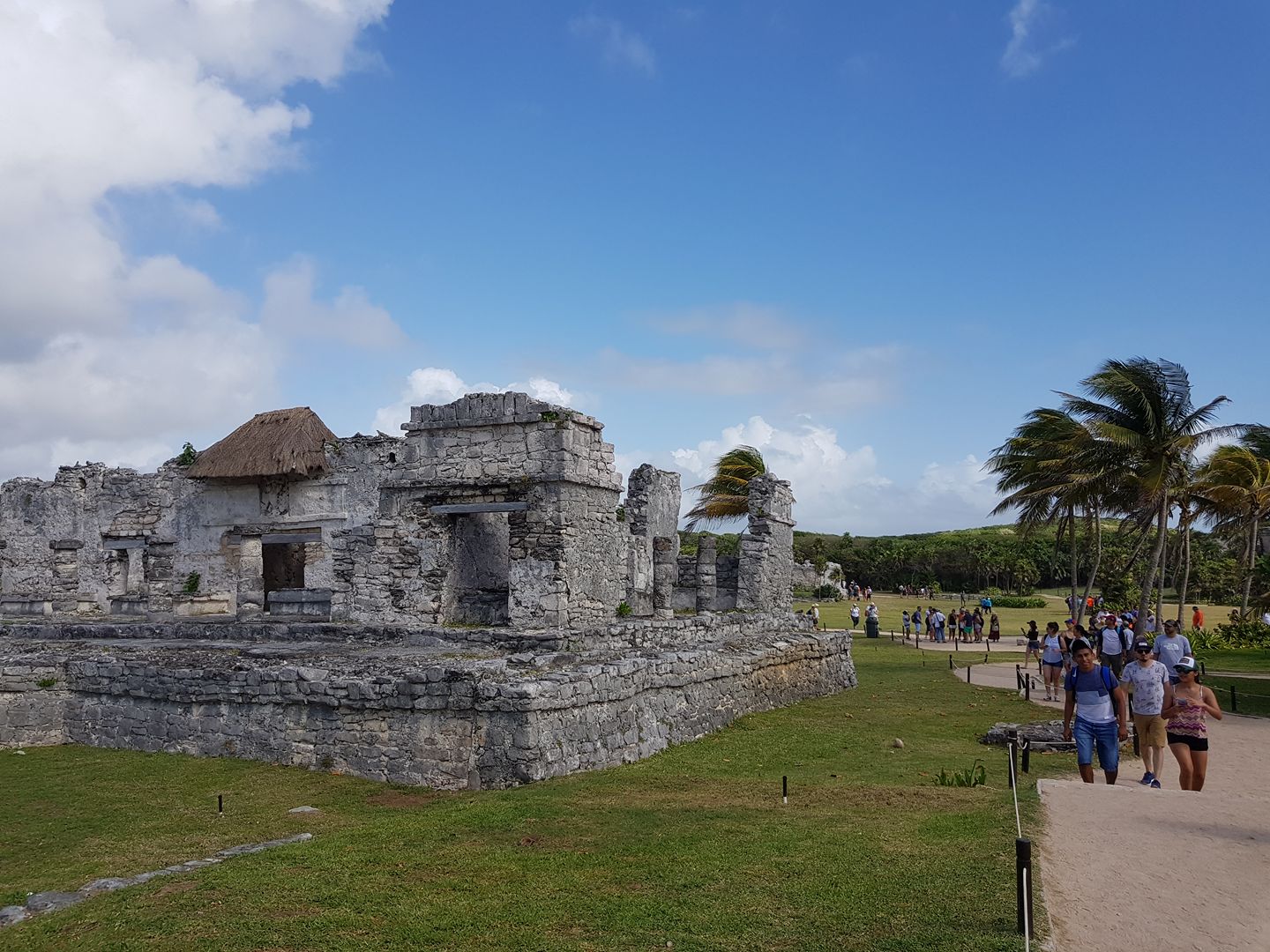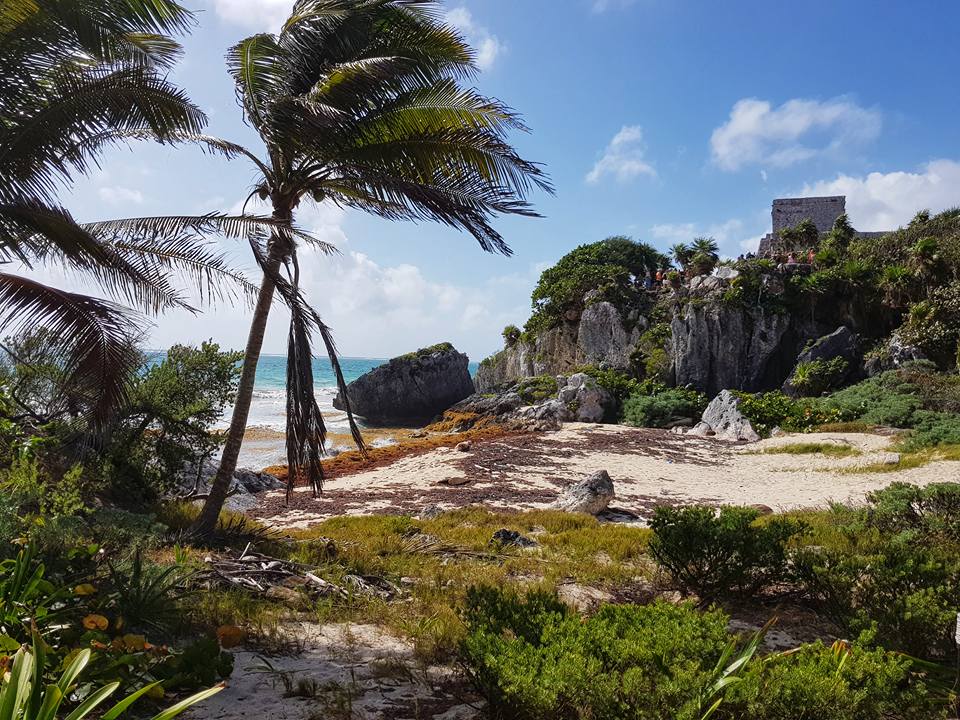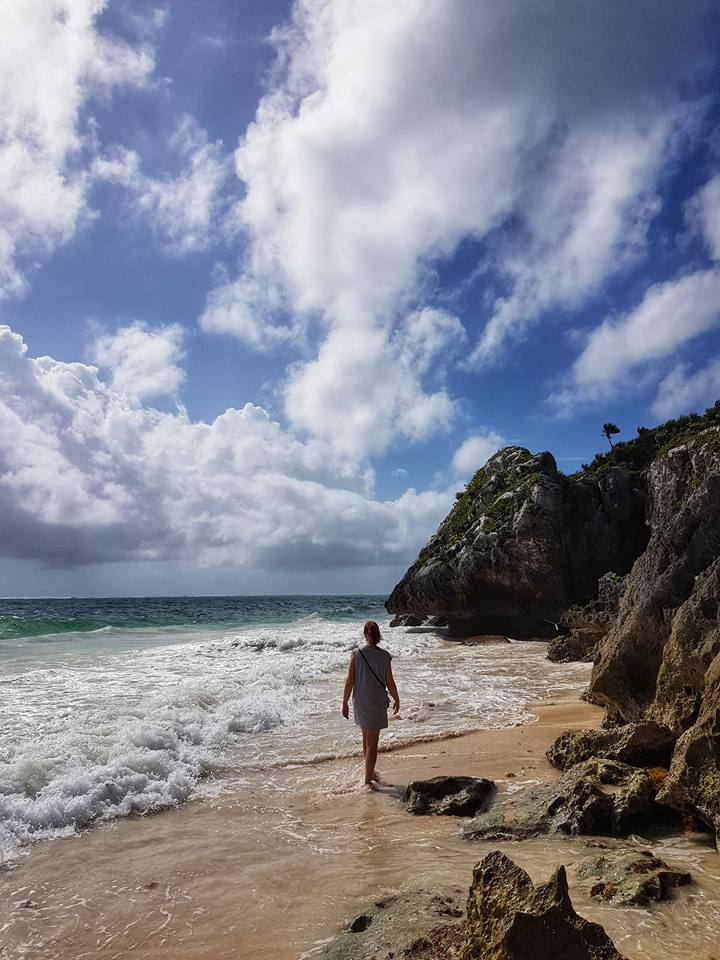 Coba is just a short trip away from Tulum and definitely worth going too! We arrived early in the morning to avoid the crowds and were welcomed by a stunning Lake Coba.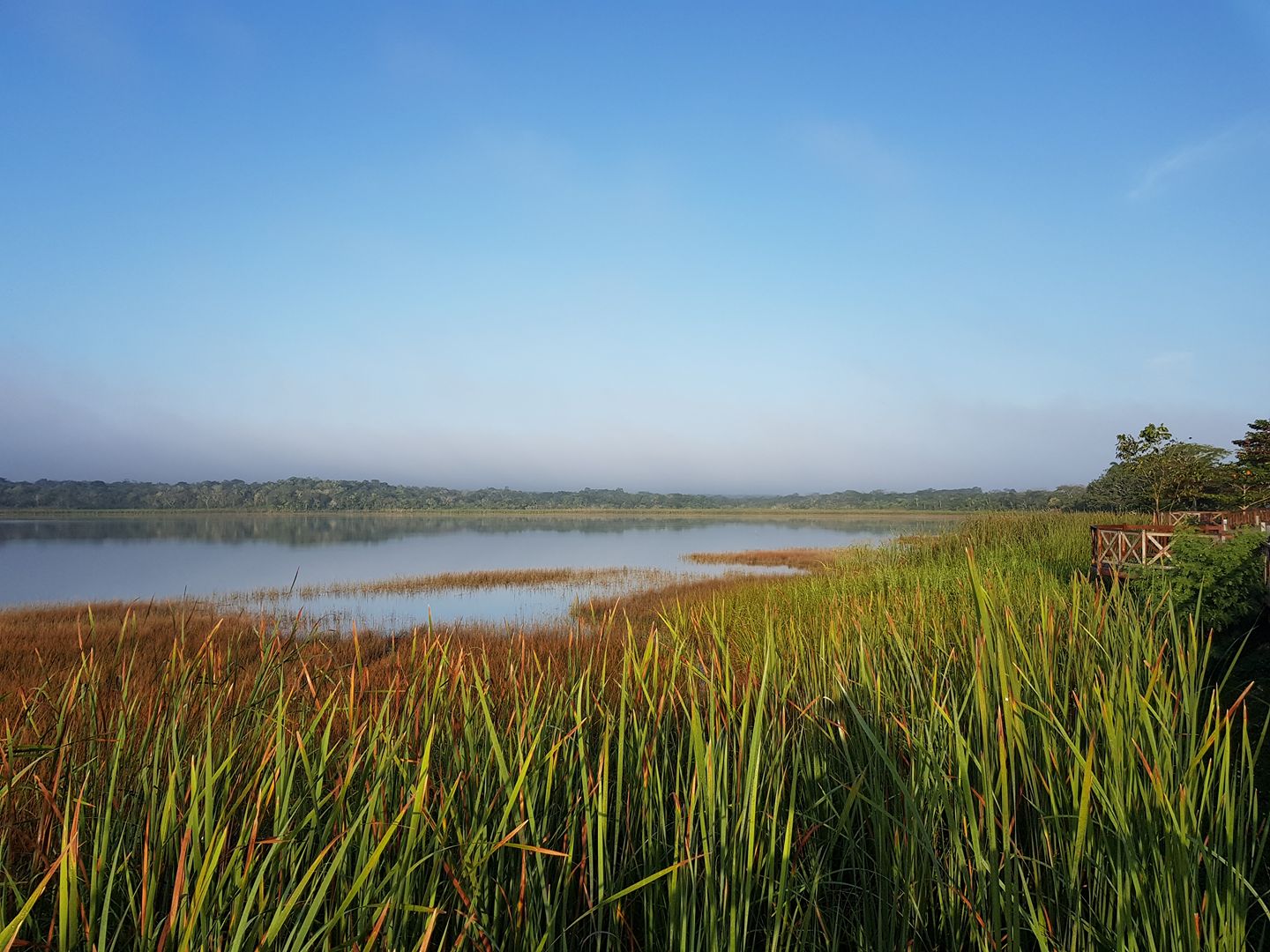 We loved cycling through the jungle and discovering the different groups of pyramids and buildings.
The climb on Yucatan's highest pyramid rewards you with a stunning view over the jungle.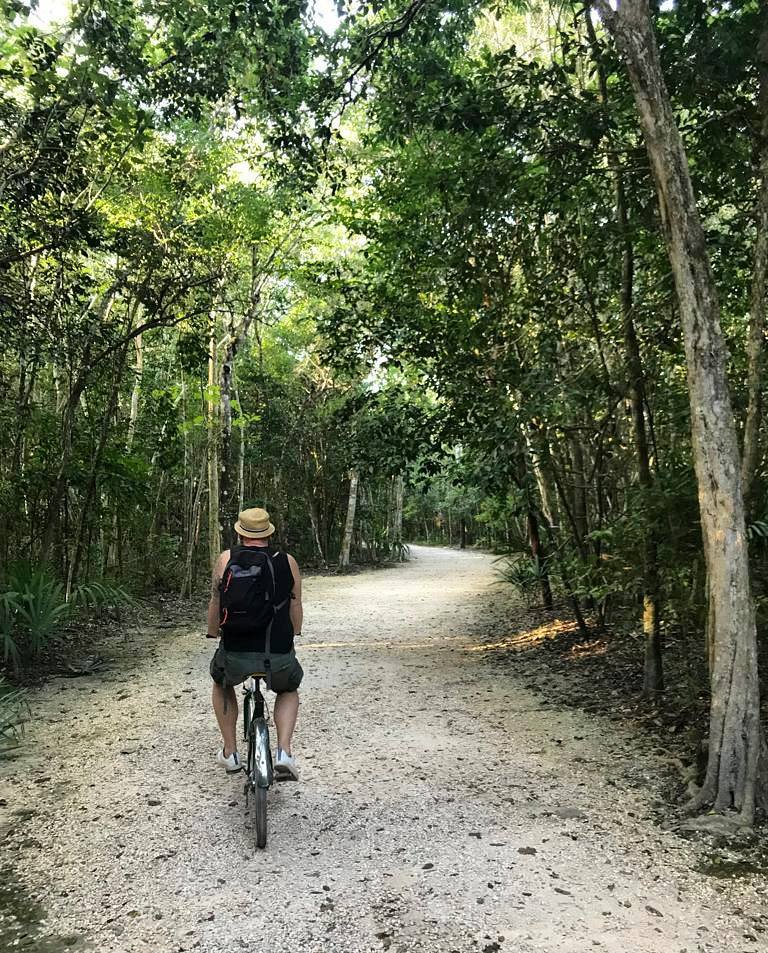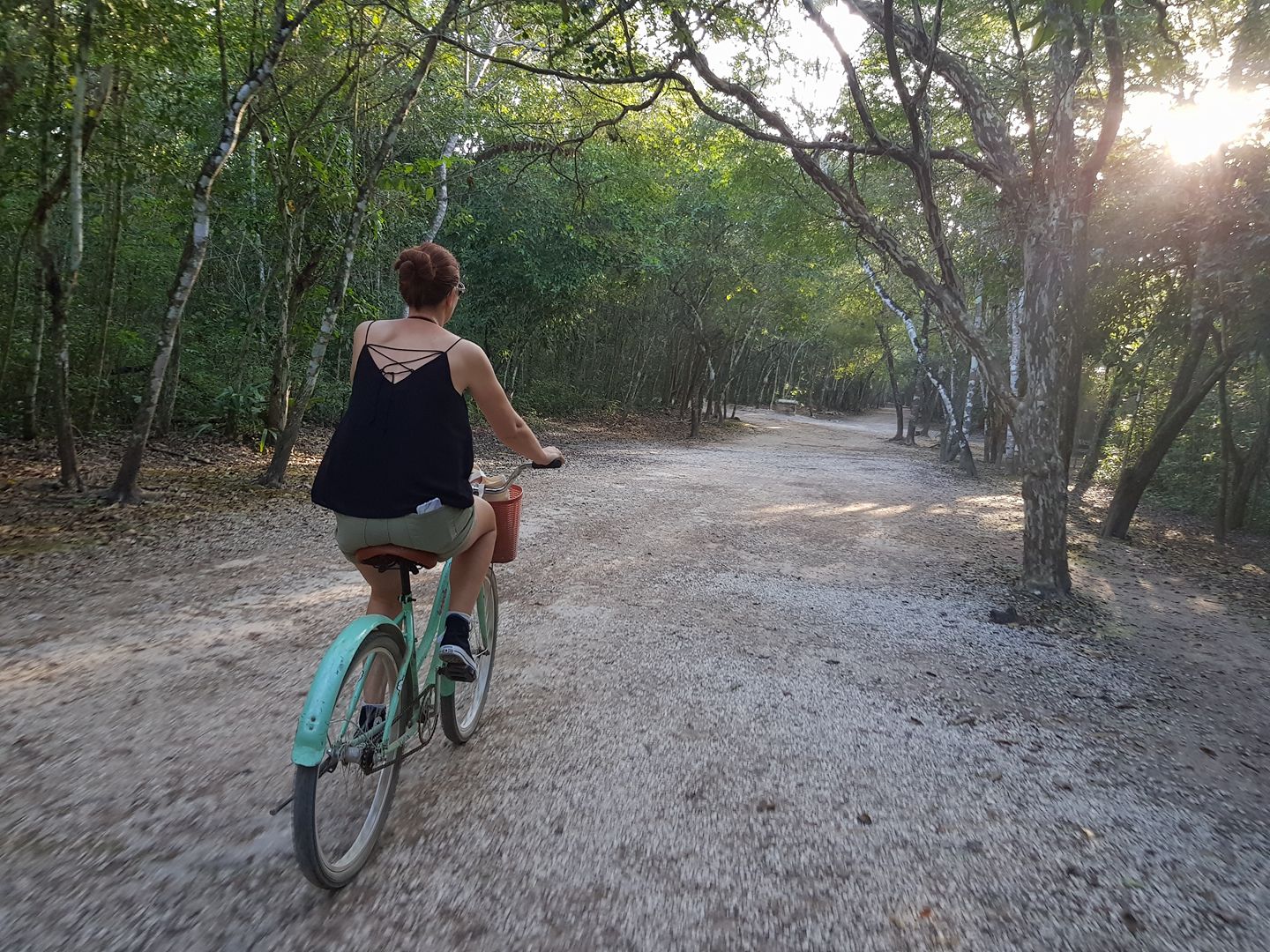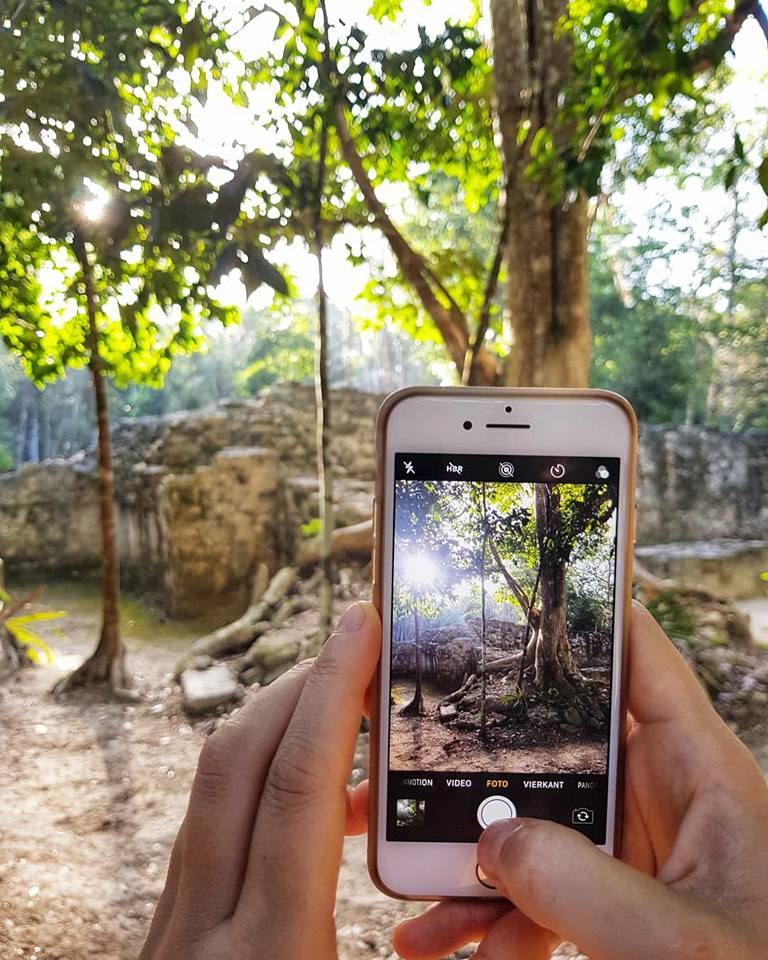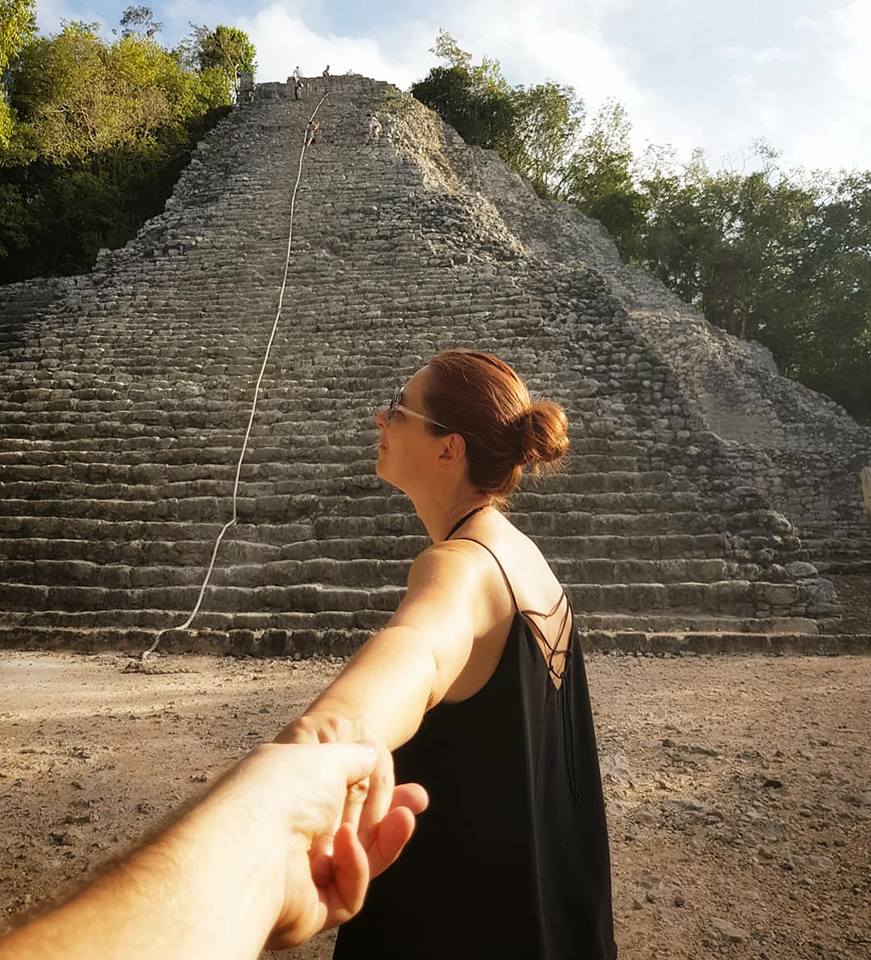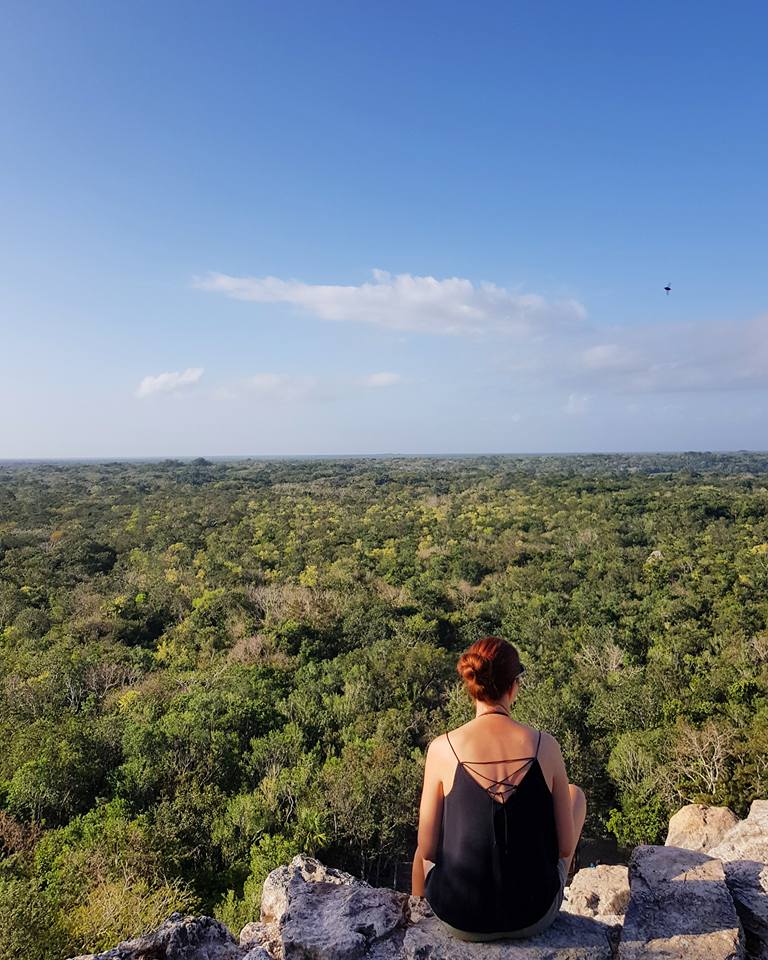 6. I was in foodblogger heaven as we enjoyed so much great food on this trip (off to the gym tomorrow!)!
Let me share some of our favourites:
A lovely little place on Tulum's beach road, jungle side, run by a delightful Cypriot-Mexican couple.
They serve delicious fresh food with a Turkish-Arabic twist.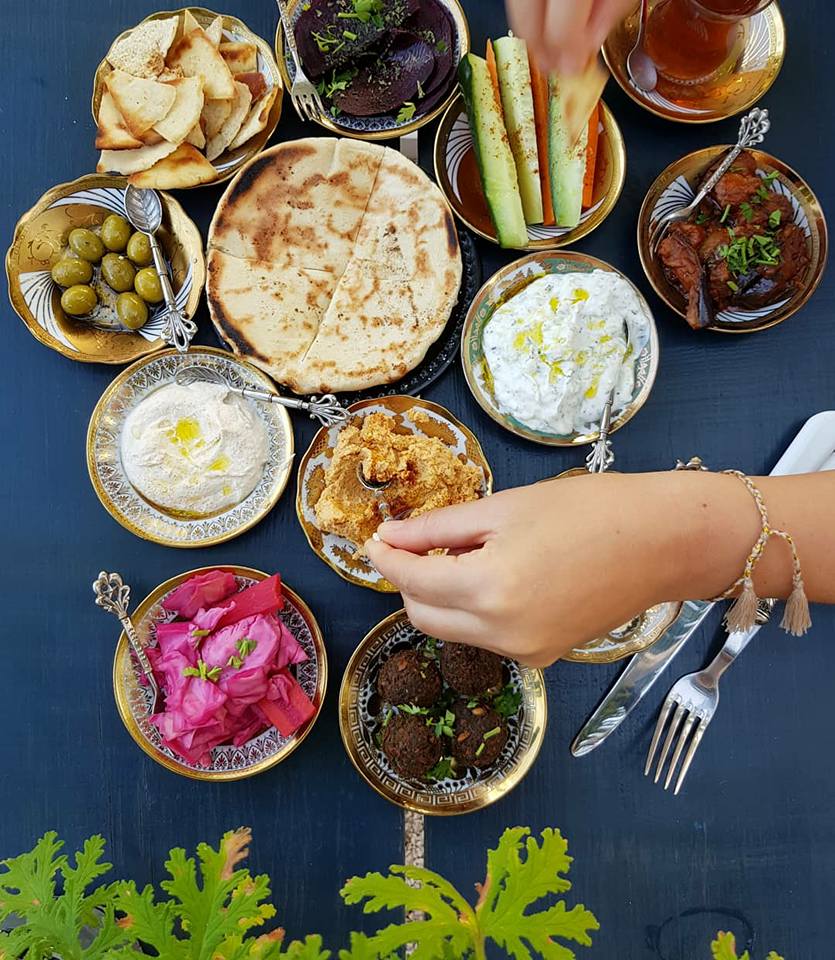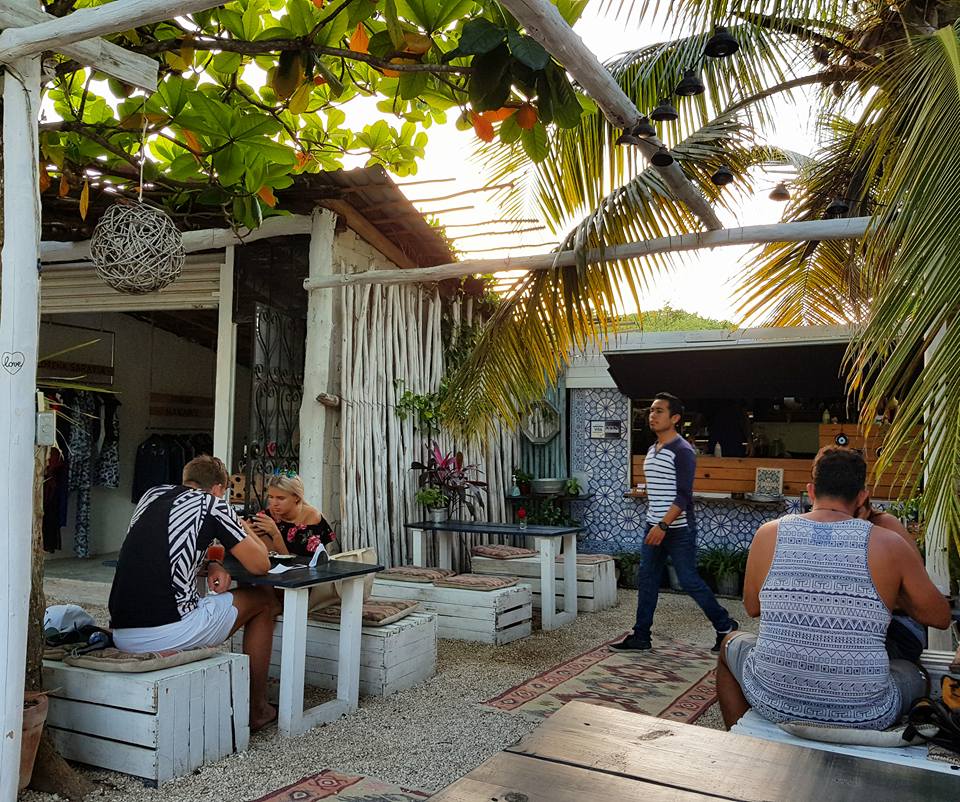 A very trendy breakfast, coffee and lunch spot in the heart of the village. Their rice pudding was to die for! 😉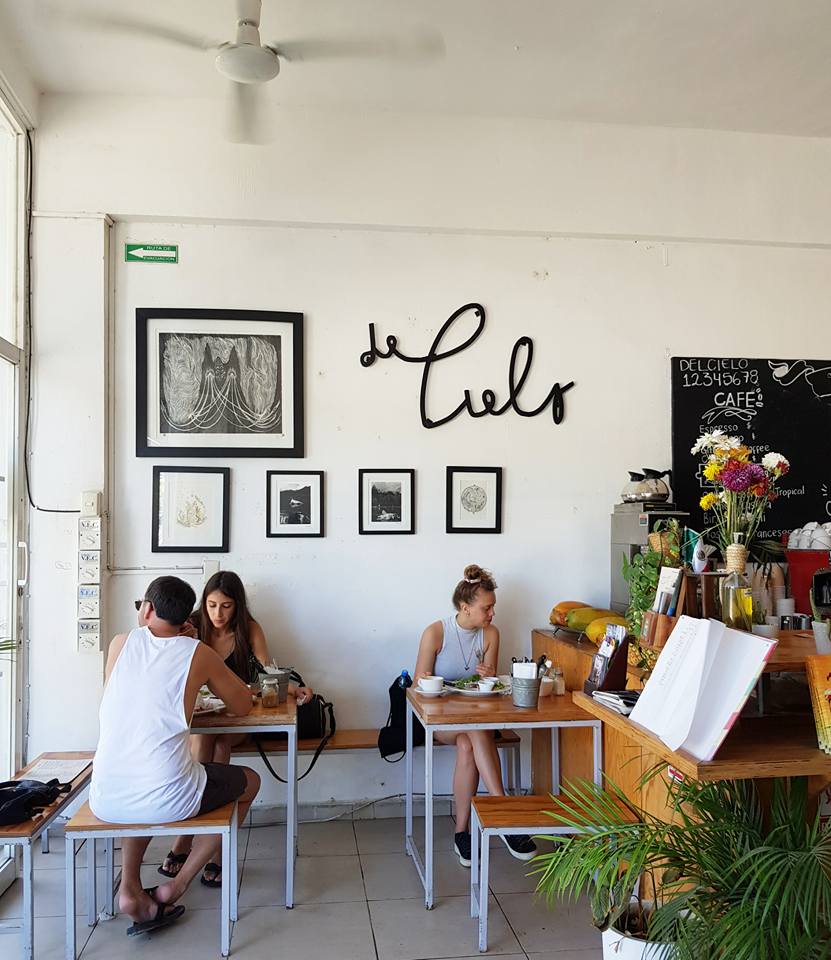 Not only yummy taco's here, but from the colourful, shady terrace you have thé best view on the little bay where the pelicans perform their daily diving show! A spectacle not to be missed!!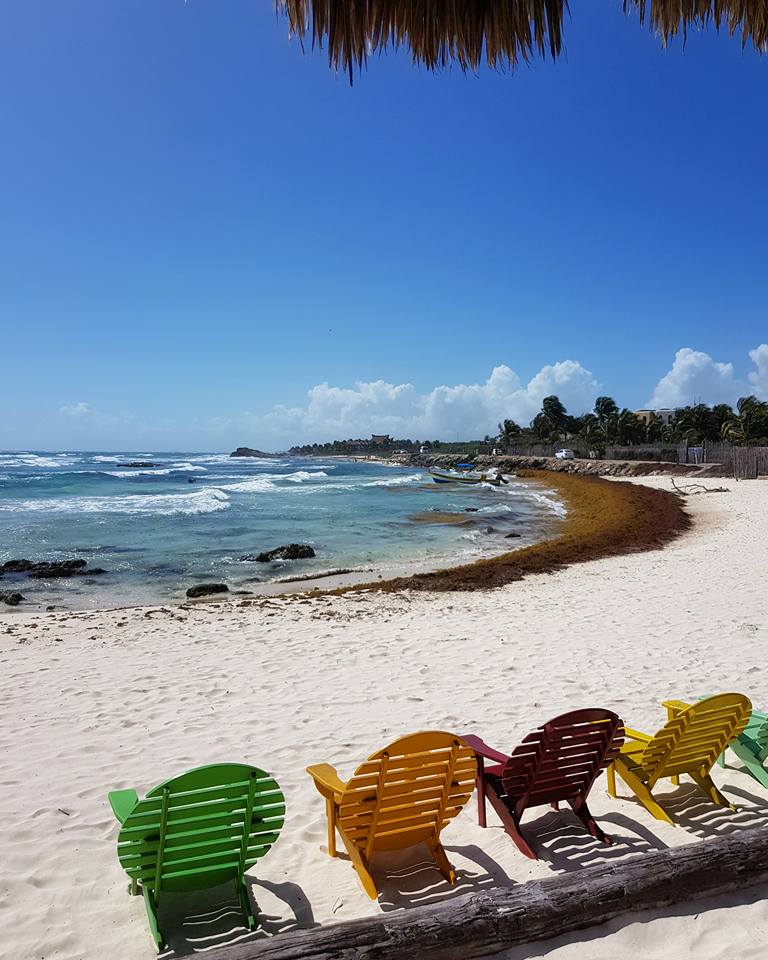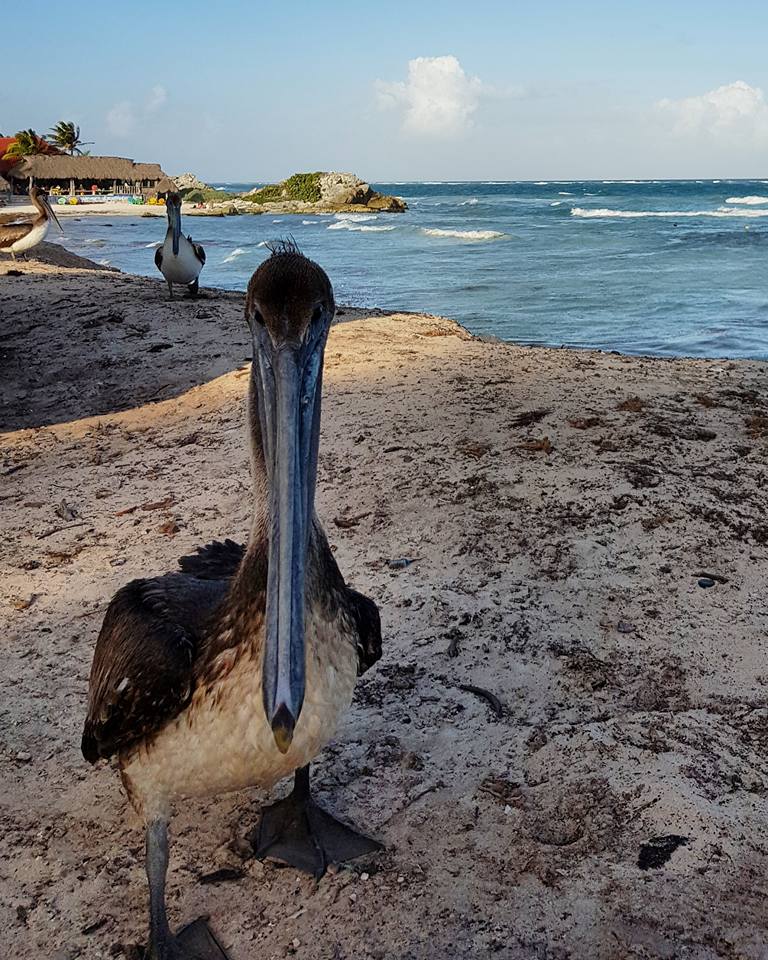 This is just the cutest little shack ever! We both loved their berry acai bowl. And you get to sit on a swing! 😉
A must-visit!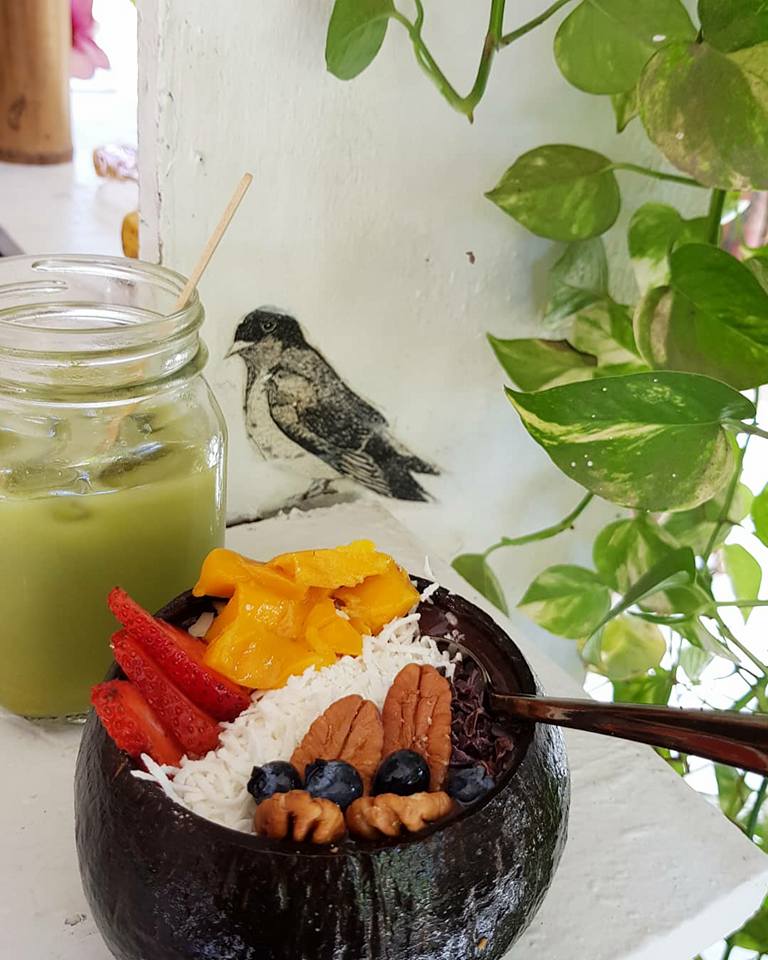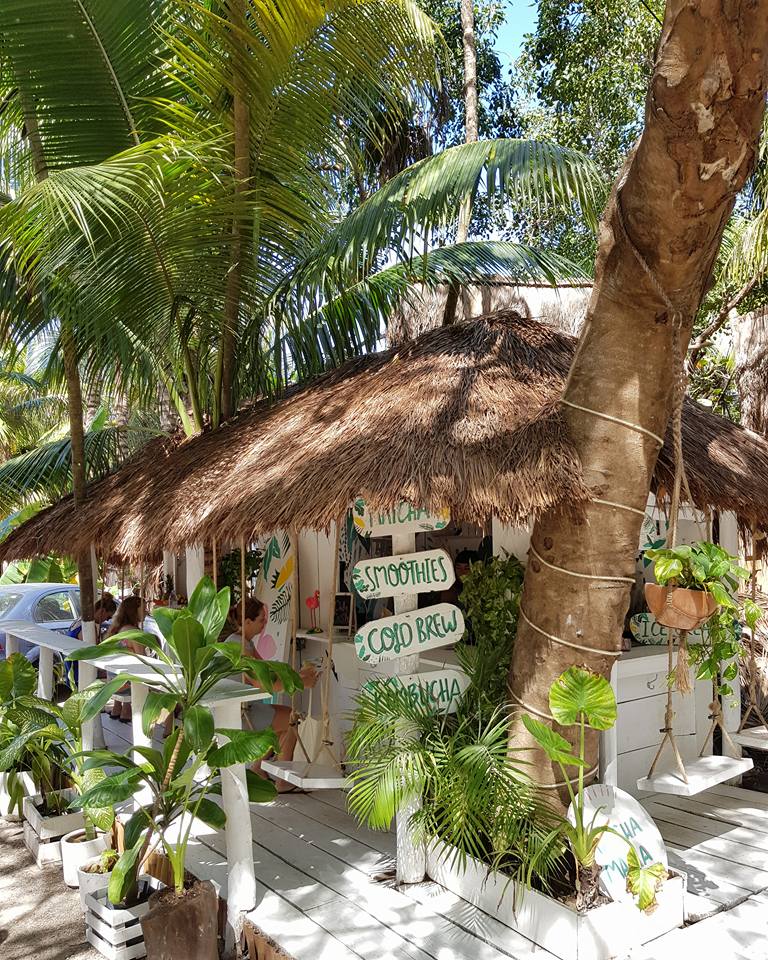 Alfonso just makes thé best vegan ice-cream à la minute!I I asked for a banana-cardamom combi and it was heavenly!
Find him on the road between the beach and the village.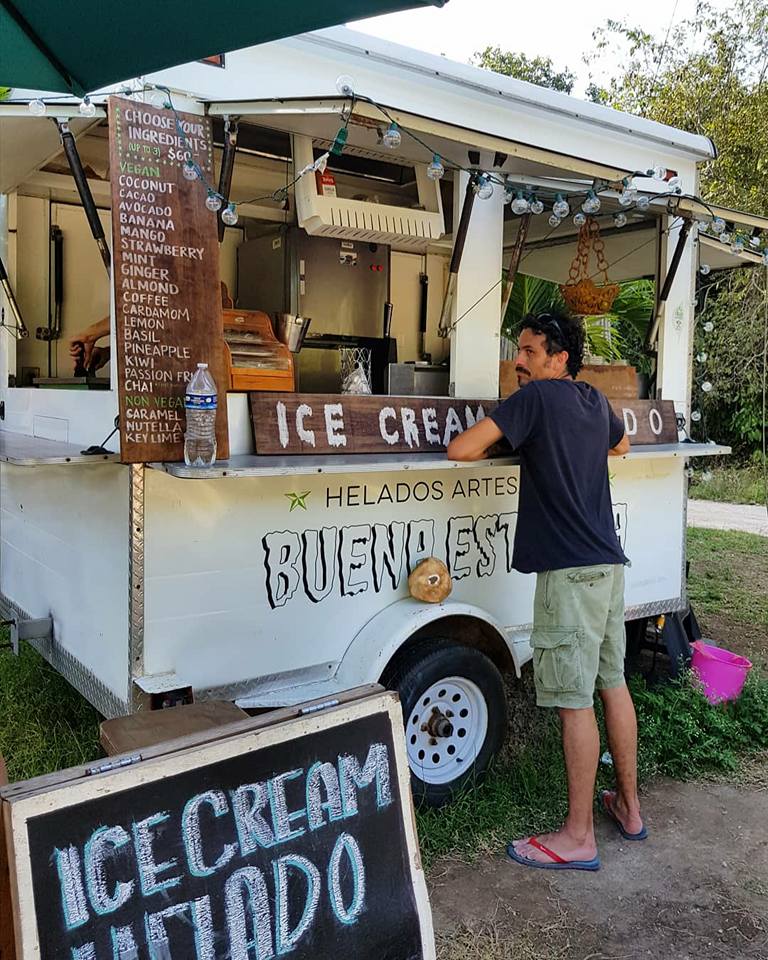 A trendy and cool spot in the Pueblo to enjoy some great coconut coffee.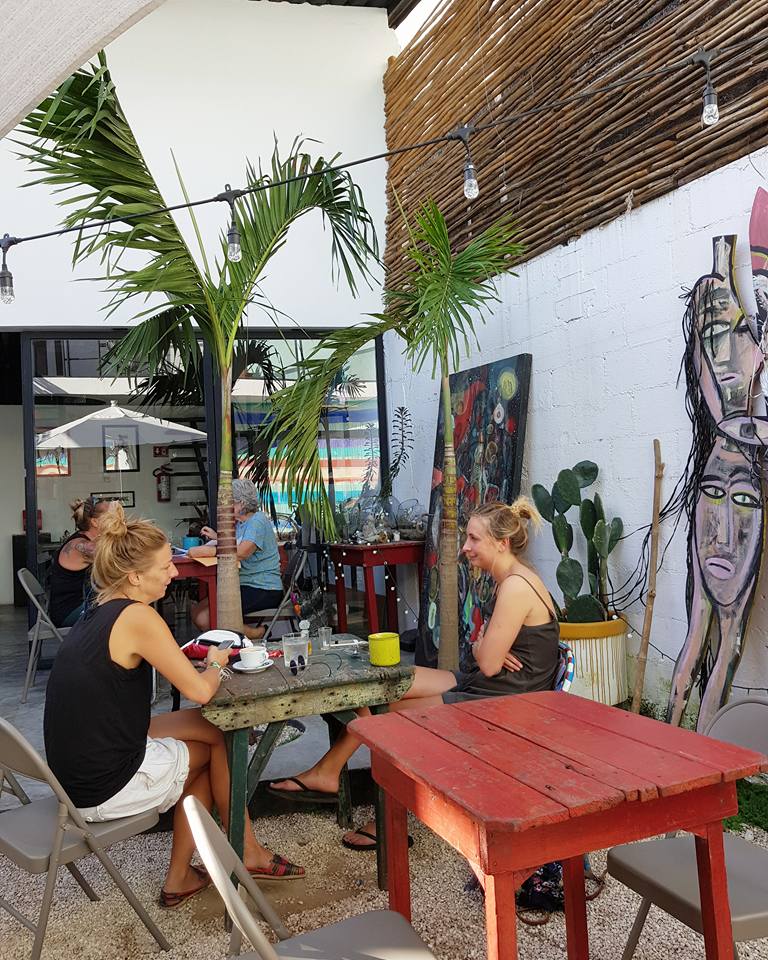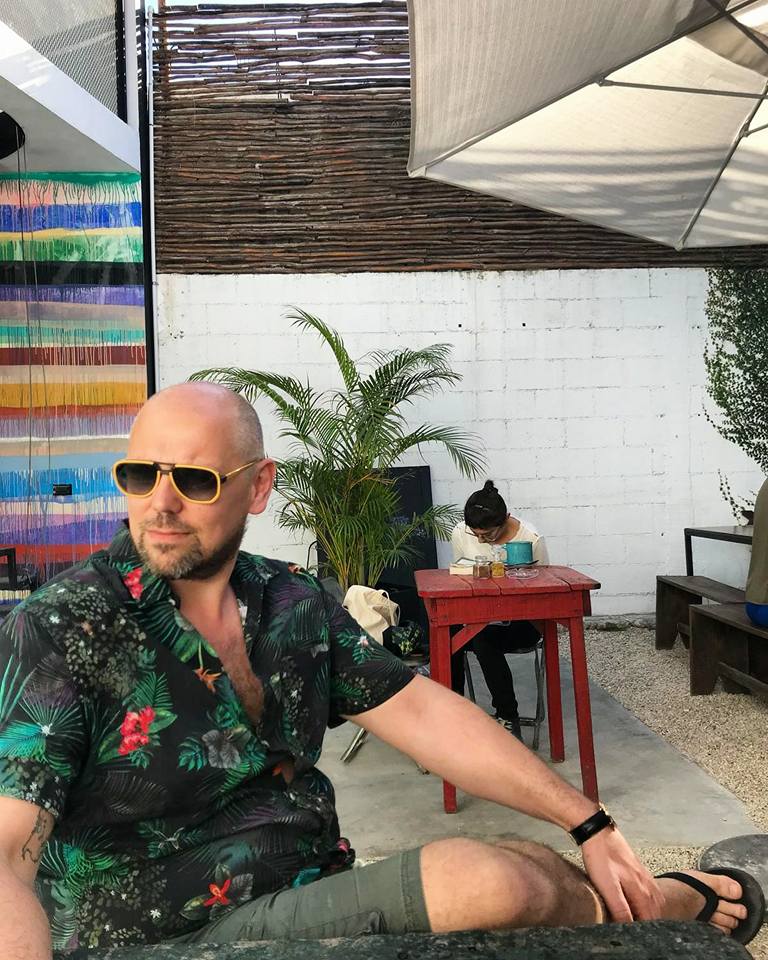 Eat taco's with the locals. An experience not to be missed.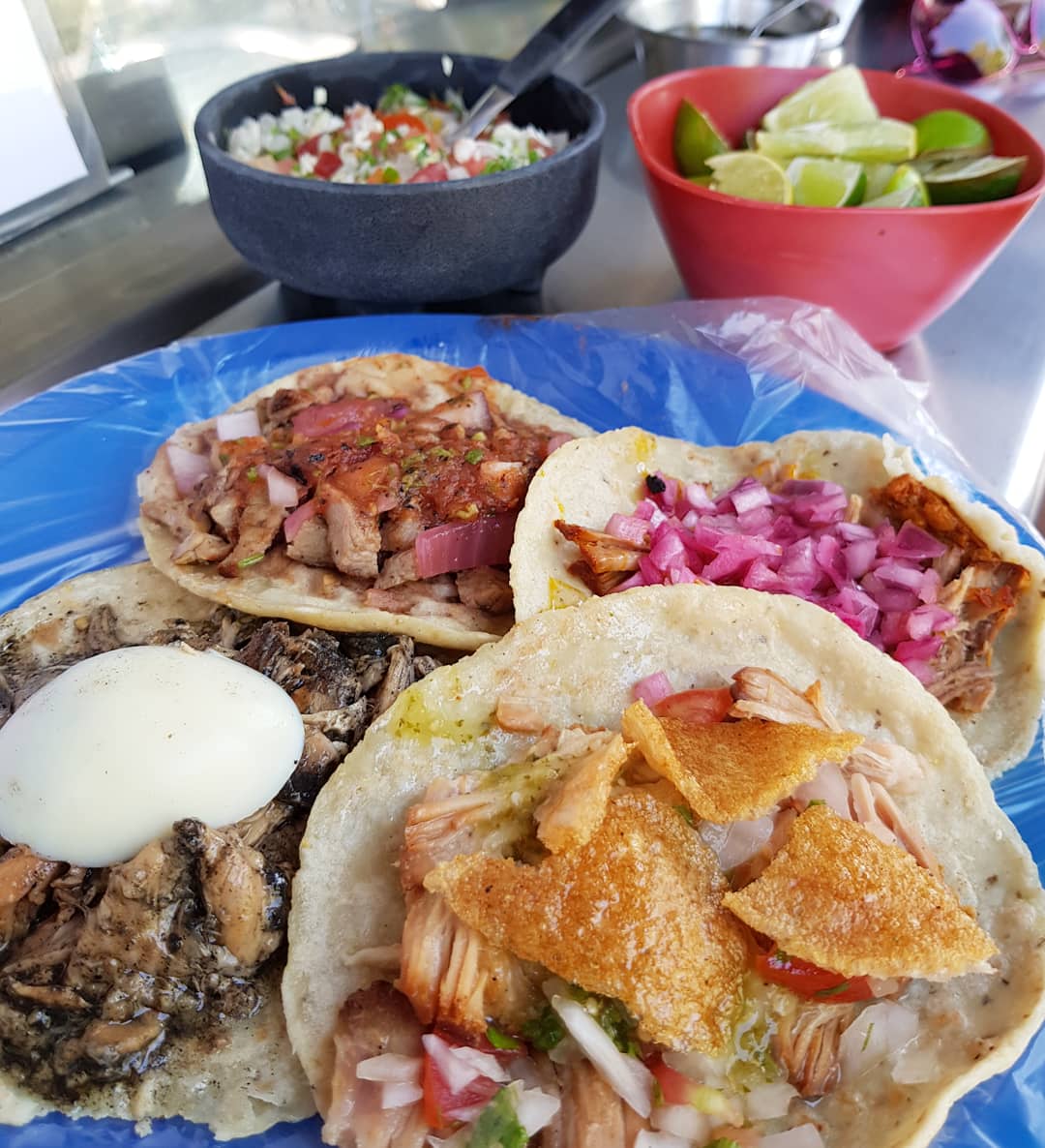 7. My wife and I celebrated our 25th Valentine together.
We often get complimented on what a great couple we are. Are we really?
Oh yes, we are. But please, know that we are only a very 'normal' couple and that we've certainly also had our ups and downs.
But yeah, 25 years on and we're still going strong.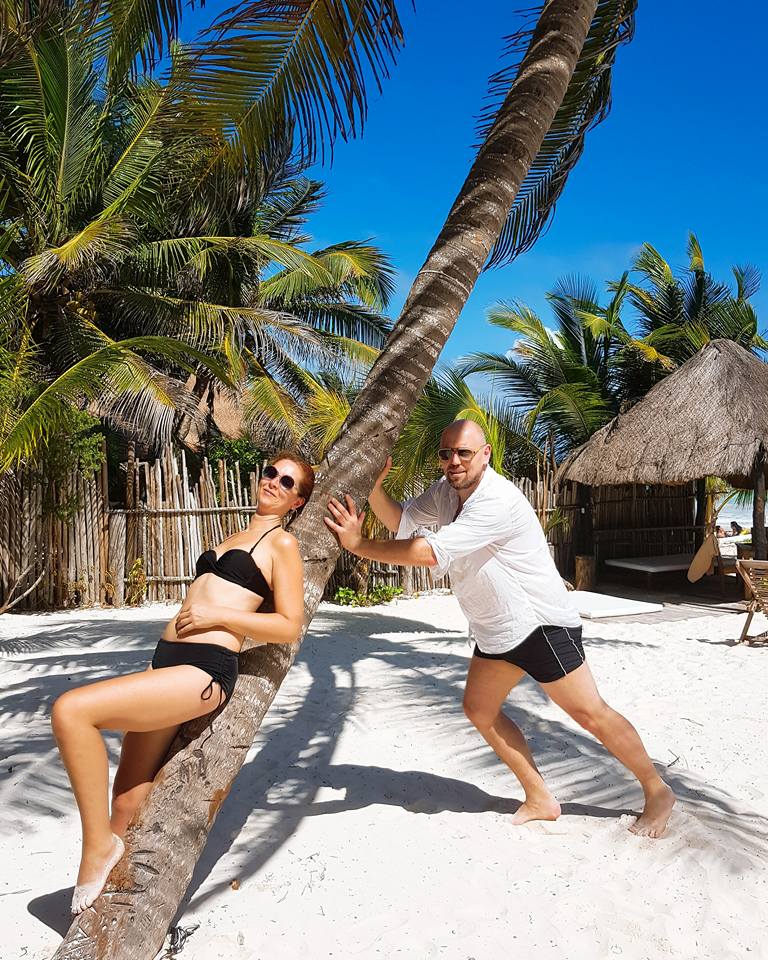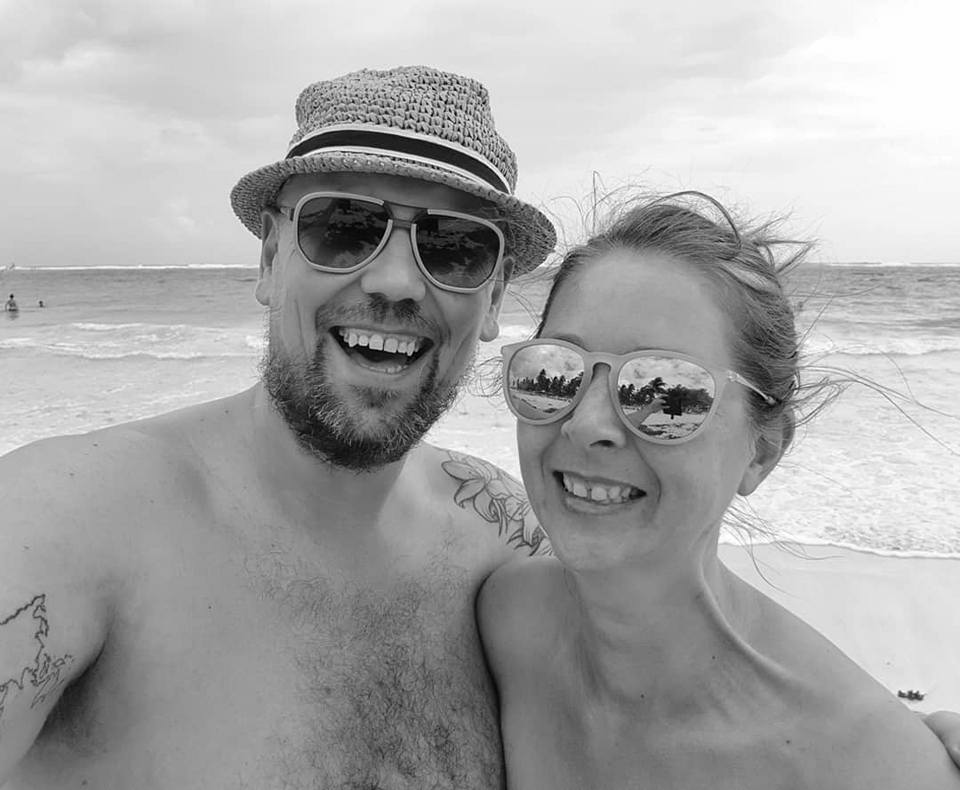 8. We had a sneak peak in some of the most amazing resorts.
Habitas is a very stylish beach resort. It will definitely be on our list for next time! Thx to the kind manager who let us enjoy a drink here! We wanted to see Azulik too, but that was closed for a private function.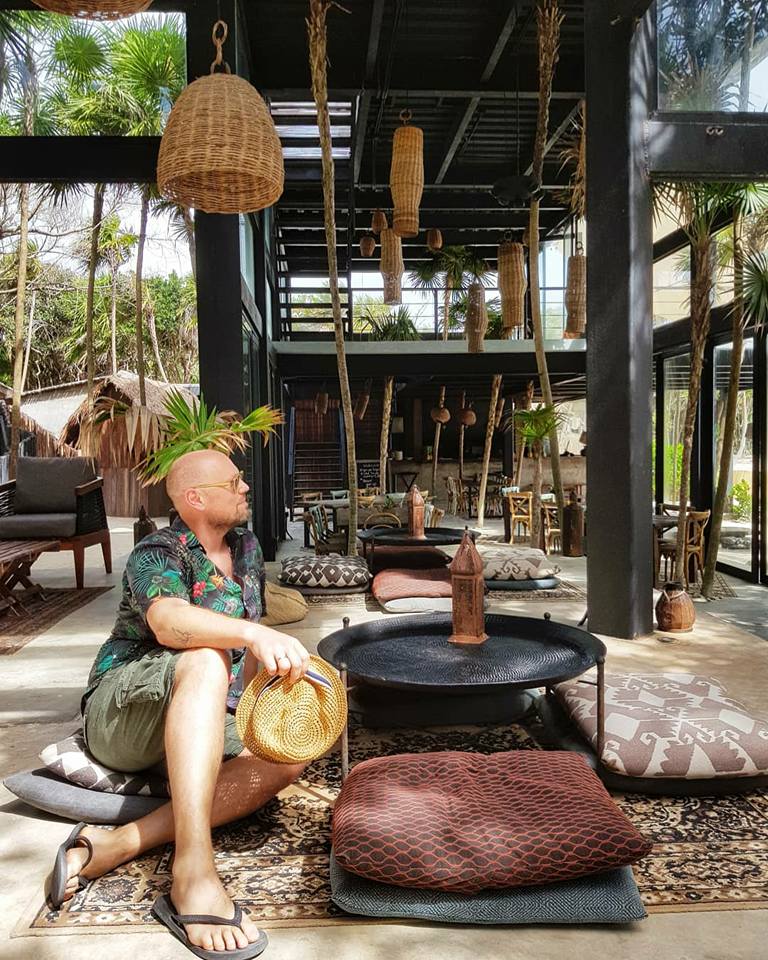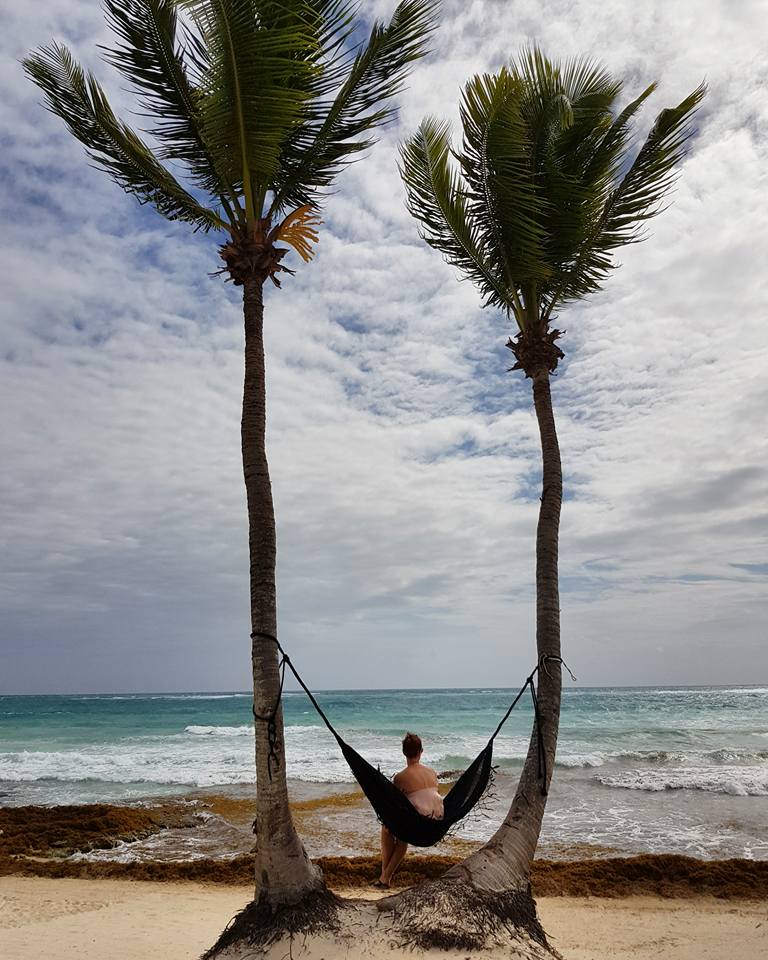 9. I spotted my favourite car (the VW Beetle) soooo many times… 
And every time, the setting was too good not to take a picture.
Here's a small selection. (please bear with me ;-))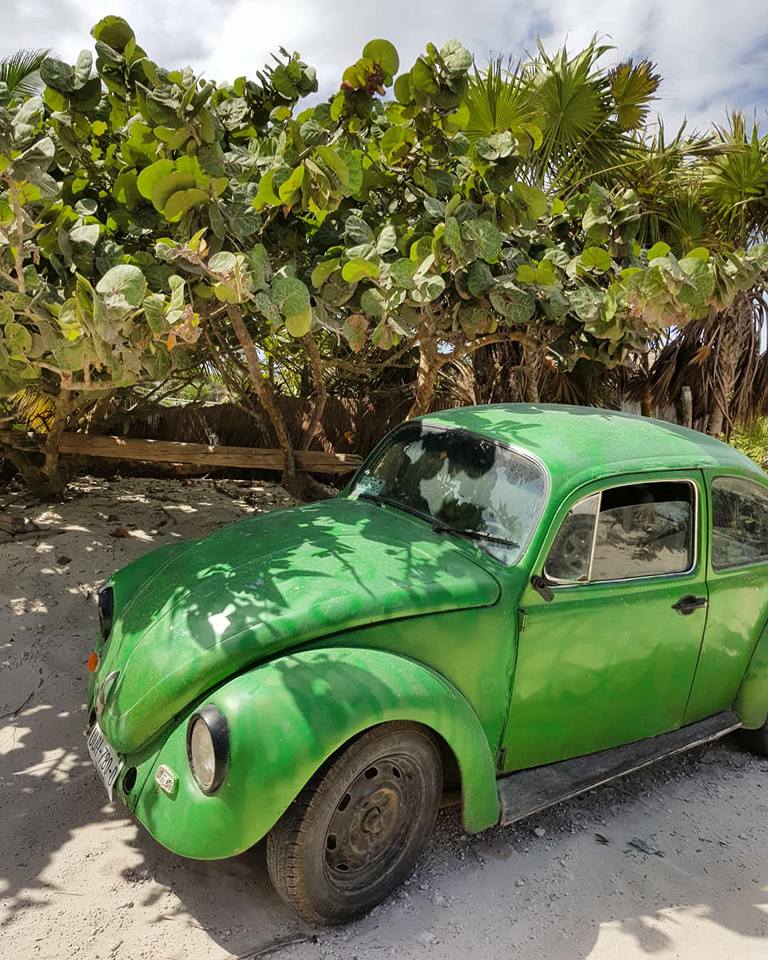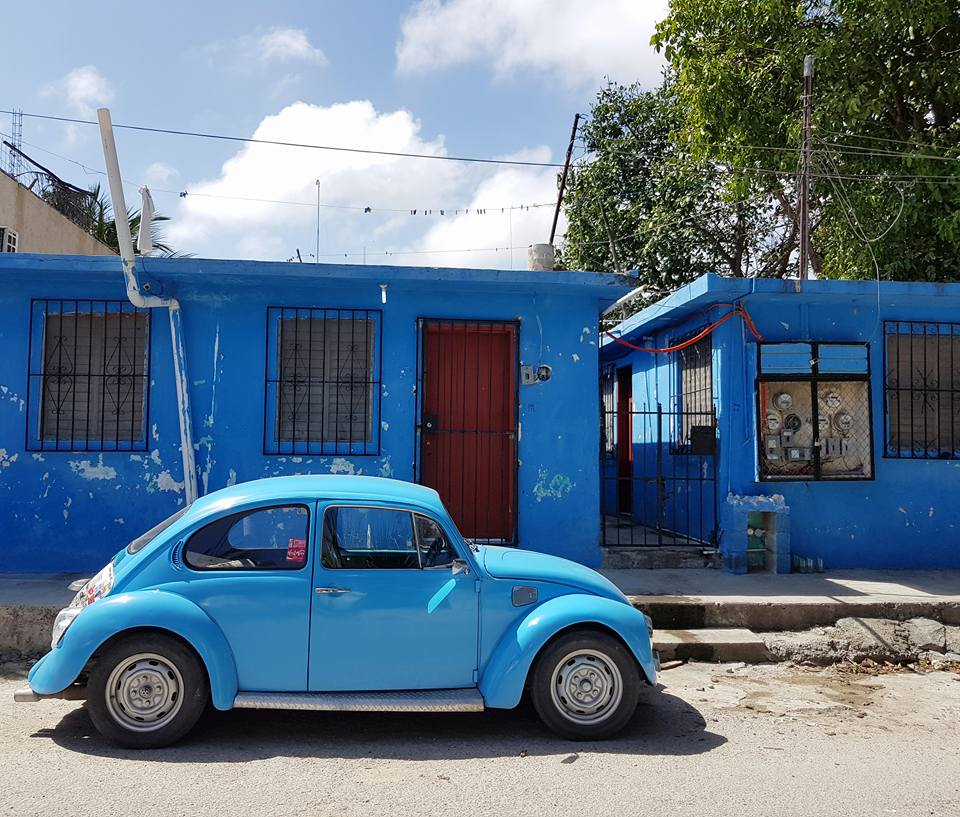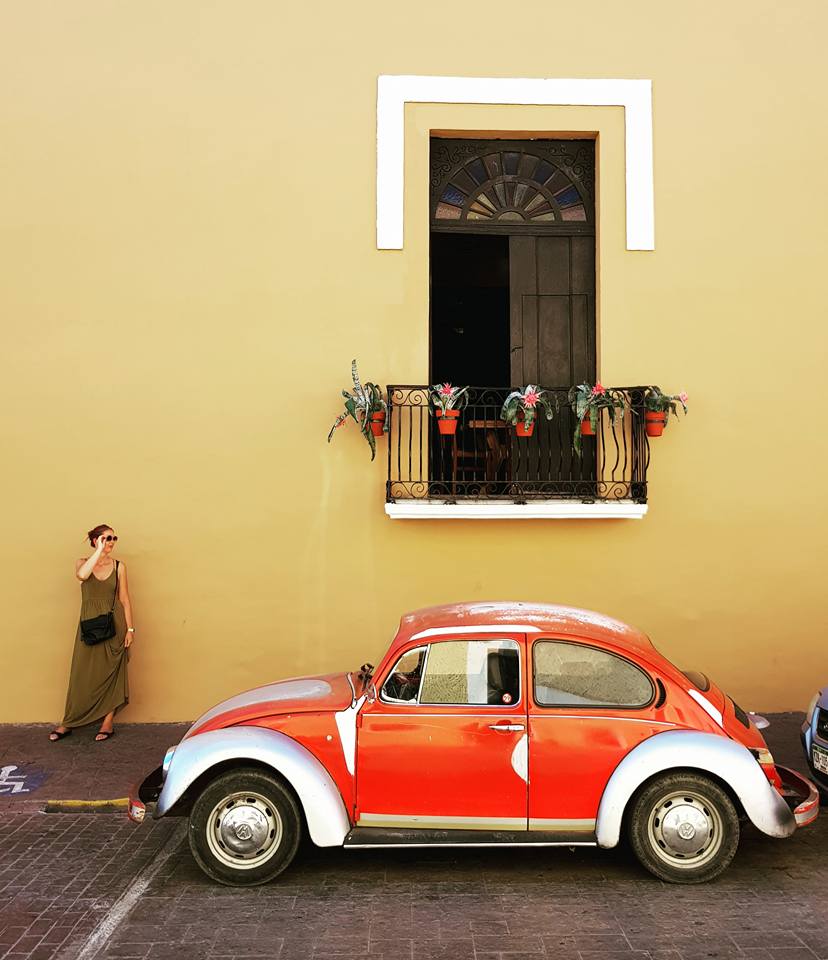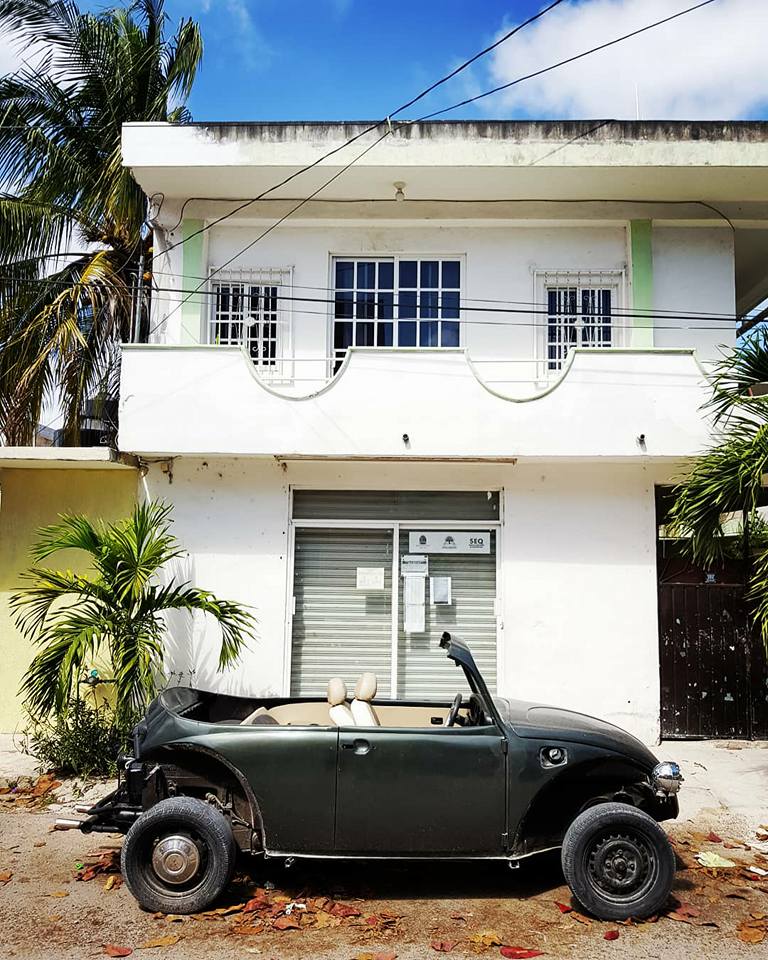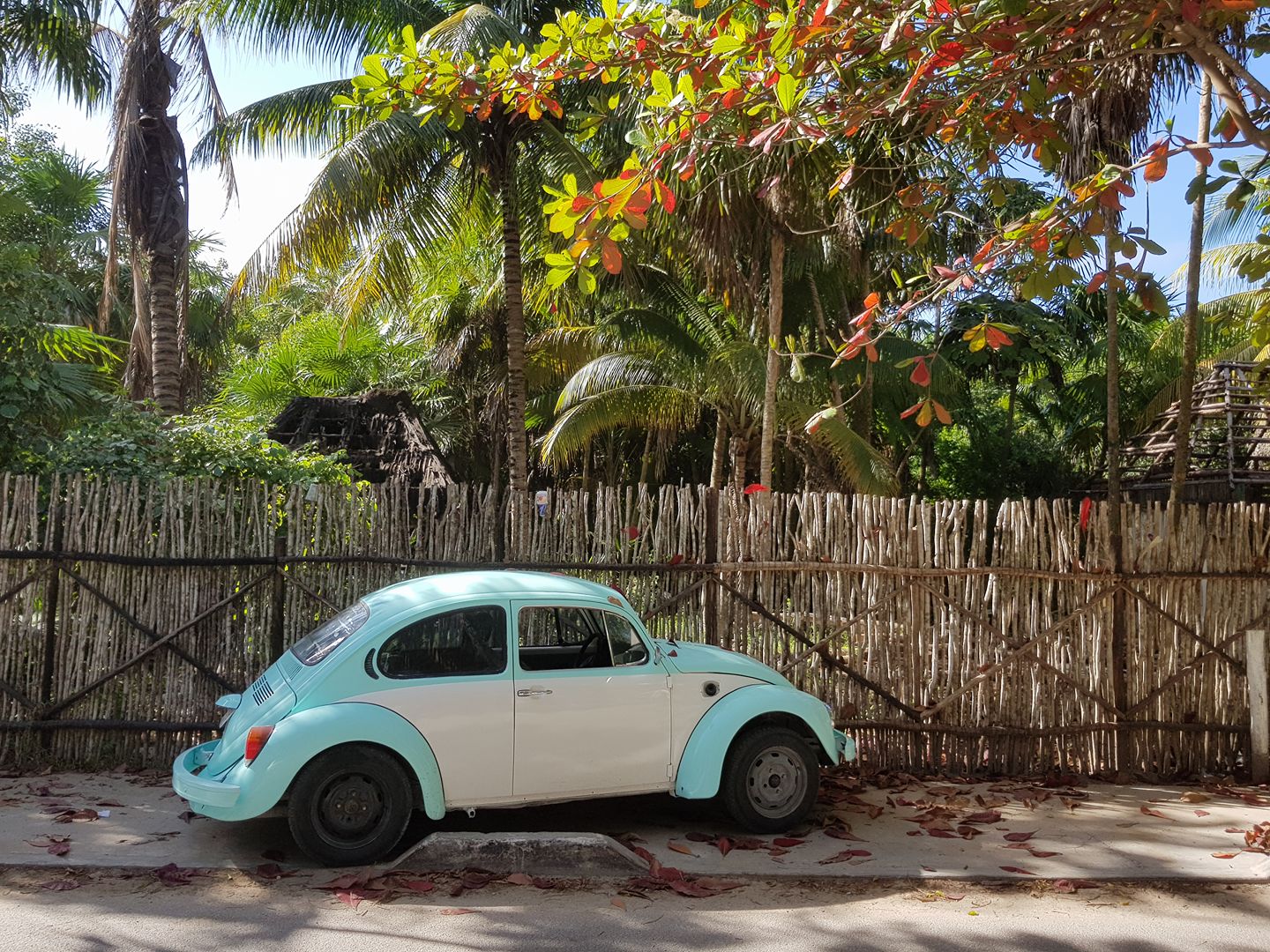 10. Thanks to the beautiful weather we enjoyed, I got plenty of chance to try out my new sunglasses.
Thx Optiek De Putter for providing me with these stylish Robert La Roche sunnies! You guys rock!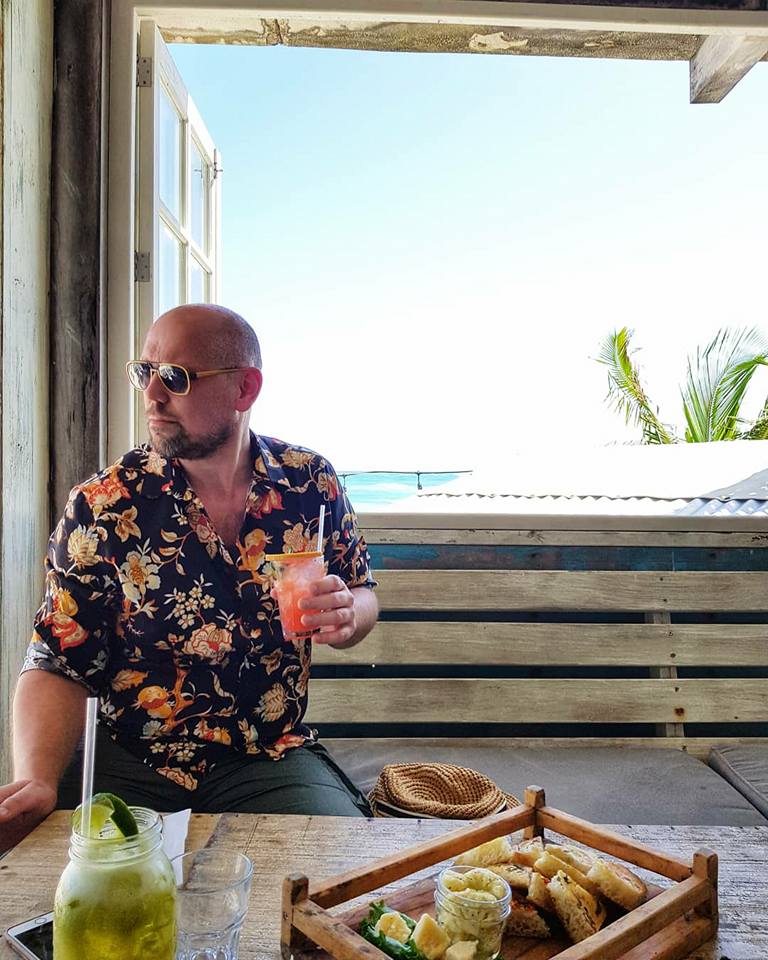 So, what can I say? We fell in love with the Tulum-vibe.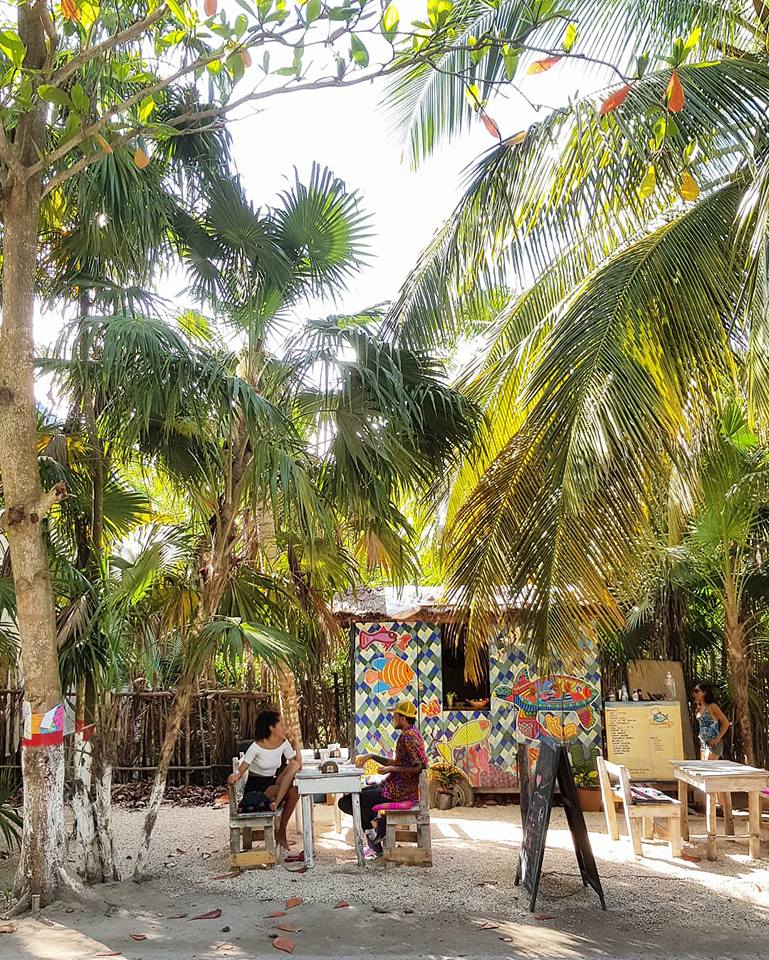 Flights were booked through Connections (not sponsored) and the hotel through Booking.com (not sponsored). The rental car was booked with Sunnycars. (sponsored/thank you!).
In Tulum, we found that paying with pesos was cheaper than paying in dollars. Just saying.
Thx Igor for inspiring me to go and see Tulum!
If you want to see more, watch this little video.