Freshly homemade guacamole equals pure bliss. At least in my mind it does. And it's so easy to make!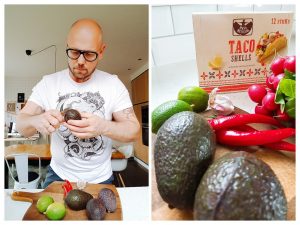 All you need is a couple of ripe avocado's, a clove of garlic, a chili pepper, some chopped up tomatoes and some lime juice. The trick to make the best guacamole is to use really ripe avocados so you get that rich, creamy effect. You first cut the avocados in half and remove the seed. You scoop out the flesh with a spoon and you mash the avocados with a fork. It's ok if it's still a little bit chunky! Sprinkle with lime juice (to prevent it from turning brown) and add the chopped chili, crushed garlic, tomatoes and some black pepper.
My kids also love Halloumi. They absolutely adore this salty cheese. So I decided to grill some to put on top of the taco shells. The
taco shells
just need 6 minutes in a 160 degrees oven.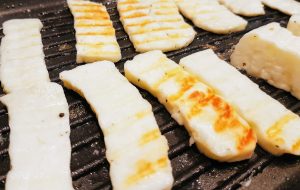 Start filling! I first put some greens at the bottom before scooping in the guacamole. Decorate with some radishes and fresh coriander. Look how colourful that looks! Fiesta time!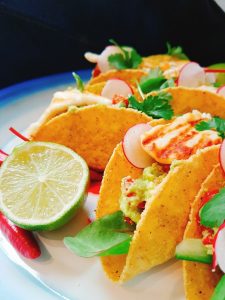 This is such a quick and easy recipe to make and it's just… pure heaven! Enjoy the weekend!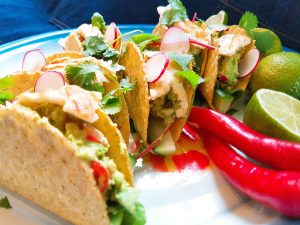 BewarenBewaren